Review: 2017 Porsche 718 Cayman – Middling Balance
Reviews In the early years, badge snobs often derided the Boxster and Cayman as cars for those 'who can't afford a 911'. Today, with two decades of history under its belt and having undergone three renewals, Porsche's entry-level sports cars have carved a niche of its own and built a reputation of being fun and incisive sports cars.
By placing the engine in the middle and putting seats only for two, Porsche ensured that the Boxster/Cayman twins were able to forge their own identities and successfully shed their unflattering '911-lite' labels.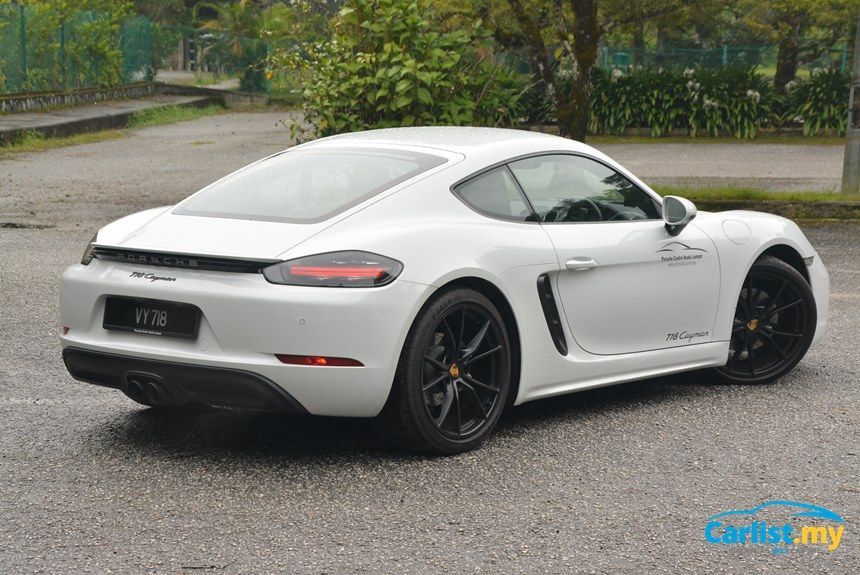 The Boxster/Cayman family entered its third-generation in 2012, but its model cycle was truncated in 2016 as Porsche bowed to the trend of engine downsizing. The range of six-cylinder engines got phased out and replaced, predictably, with turbocharged four-pots.
A new name also followed, both the Boxster and Cayman now carry the 718 designation, paying tribute to Porsche's mid-engined racer that competed in Le Mans from the late 1950s to the early 1960s.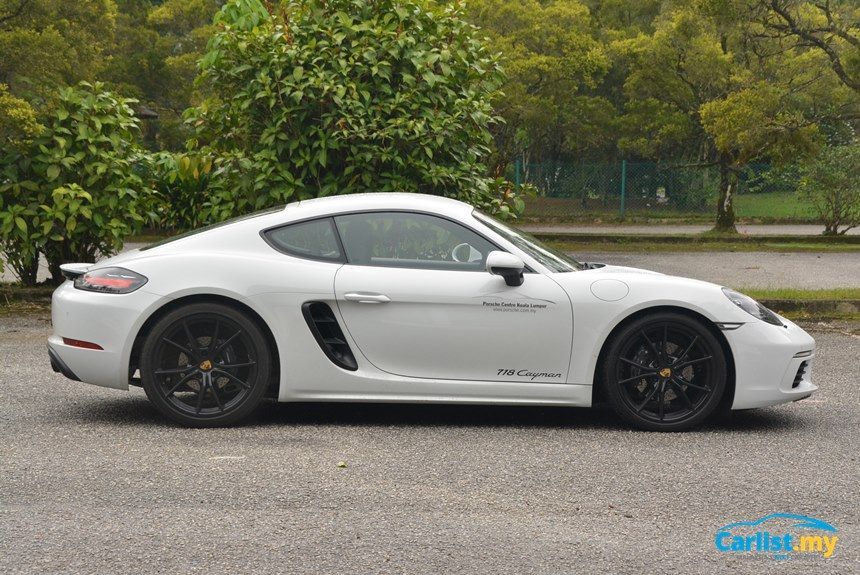 Specifications:
Price: RM530,000
Engine: 2.0-litre, Four-Cylinder Boxer, Turbocharged Petrol
Power: 300 hp @ 6,500 rpm
Torque: 380 Nm @ 1,950 – 4,500 rpm
Transmission: 7-speed dual clutch automatic, RWD
Safety: 6 airbags, Electronic stability control,
Origin: Fully-imported from Germany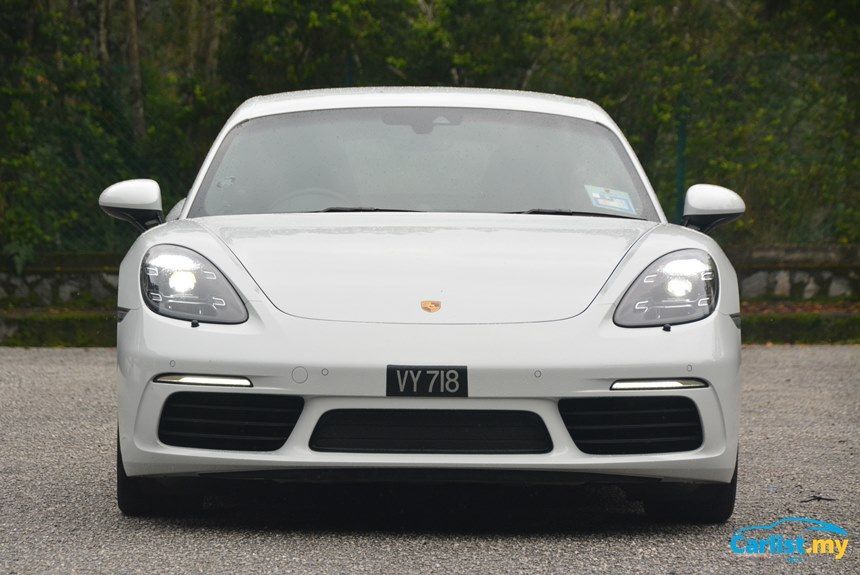 Overview
Whether it is the Boxster or Cayman, both models come with two powertrain choices. As tested, the base 718 Cayman, along with the 718 Boxster, is powered by a 2.0-litre fixed vane turbocharged four-cylinder boxer putting out 300 hp and 380 Nm.
Compared to the preceding Cayman's 2.7-litre NA flat-six, the new unit puts out 25 hp and 90 Nm more whilst returning claimed consumption figures of 6.9 – 7.4 litres/100km.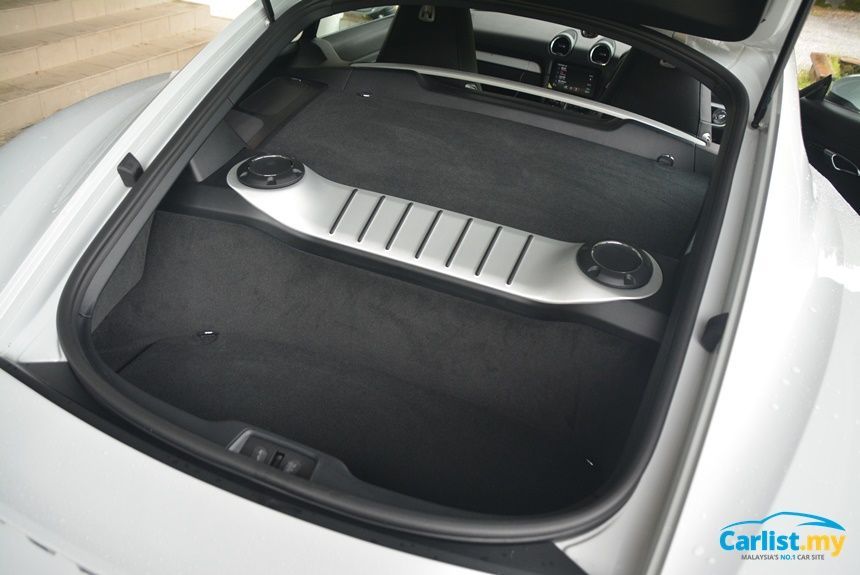 Higher up, the S models replace their 3.4-litre engine with a 2.5-litre powerplant boosted by variable geometry turbocharging to make 350 hp and 420 Nm. Fuel consumption of the S engine is rated at 7.3 – 8.1 litres/100km.
Whatever the selection, however, the engine sits amidships ahead of the rear wheels, but just behind the driver, sending power astern via a 7-speed dual clutch transmission.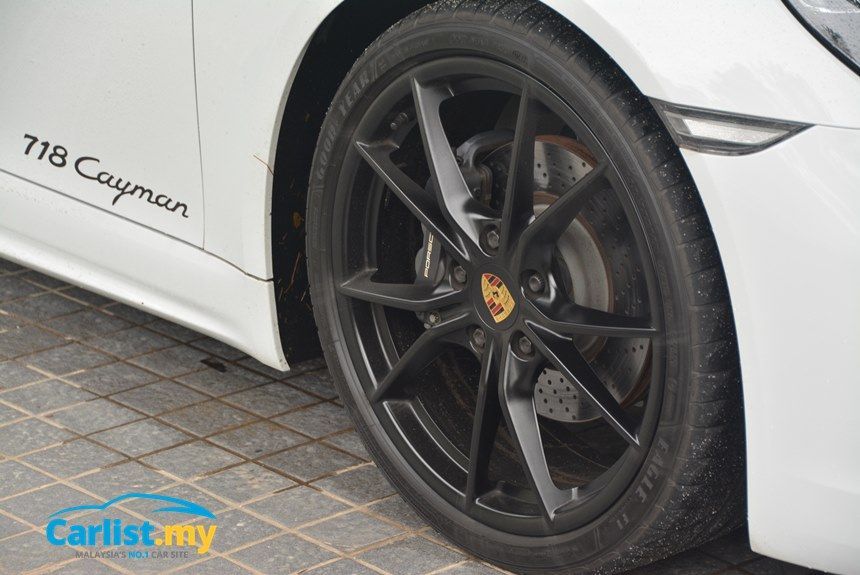 Exterior
In true Porsche fashion, the 718 Cayman retains its predecessor's familiar silhouette, but has its details thoroughly reworked for a fresher appearance. The overall design is clean in its execution and tastefully free of clutter. The C-shaped character lines running along the door around the engine air intake vents are the only creases of note on the sheet metal.
As standard, the 718 Cayman is specified with xenon headlamps, though our test car is upgraded with the optional four-point LED lights worth a cool RM4,800. Astern, revised clear lens tail lights show off more intricate details than before, exposing its lighting elements in a fashion reminiscent of a spaceship's exhaust when fully illuminated.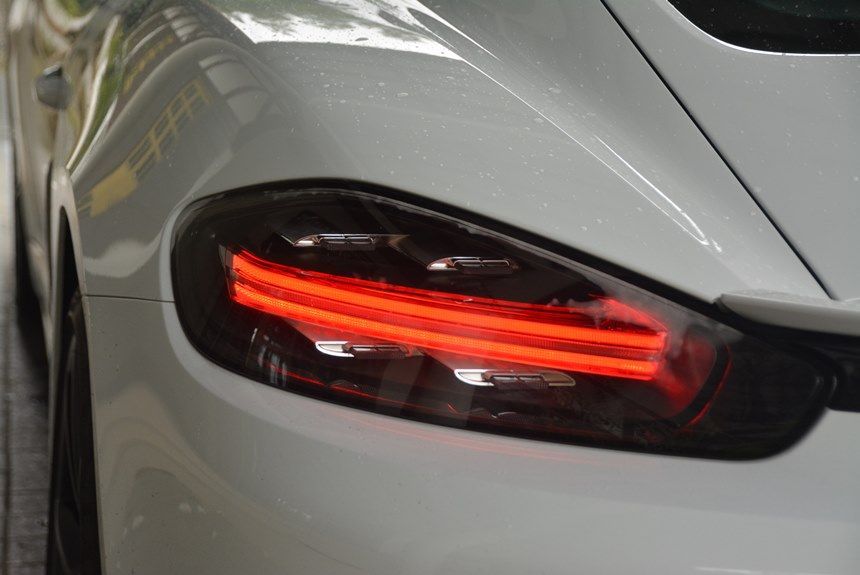 Simultaneously optimizing high- and low-speed aerodynamics, an active rear wing self-deploys at speeds above 120 km/h.
Consequence of its mid-engine configuration, the Cayman does not have much of a boot – the tailgate pops up to reveal only 275 litres of usable cargo space. That being said, a further 150 litres is available for use under the bonnet up front.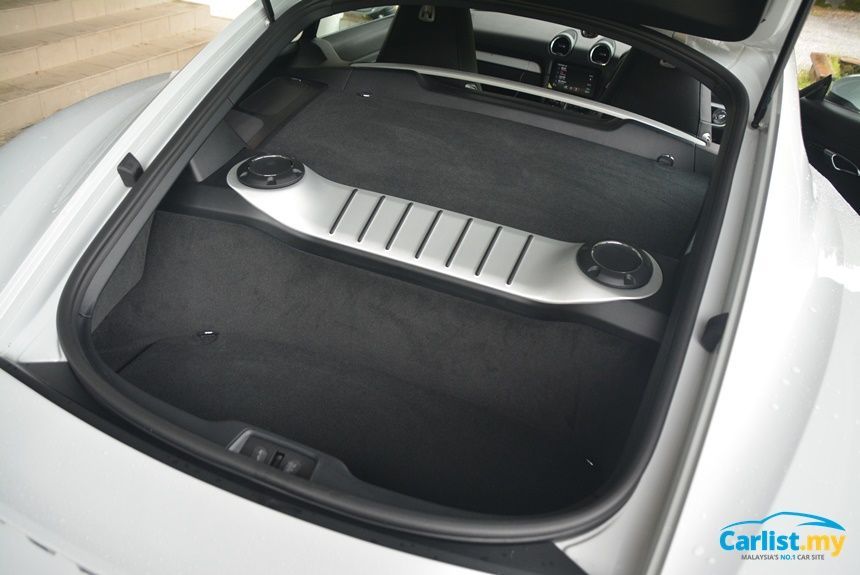 Interior
The top piece has been remoulded, but the cockpit-inspired dashboard is quite obviously carried over from the predecessor. Overall build quality maintains Porsche's typical high standards with fit and finish generally feeling faultless. Switchgear, despite their distinctive appearance, exude the distinctive tactile feel of Volkswagen Group vehicles, which is to say they click with satisfying solidity.
Practicality is unsurprisingly compromised, but this day and age, we feel all centre consoles should at least have a tray on which to drop your mobile devices within easy reach. As things stand, your phone goes either into the slim door pocket or the lidded box further aft – it's a shallow compartment, but big enough to swallow a couple of phones at one go, if not exactly natural to reach in its position.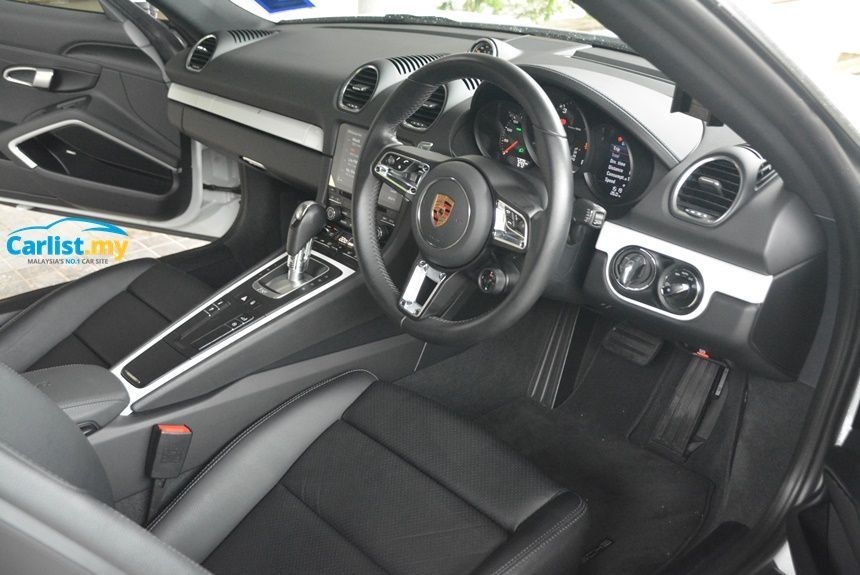 Driving Experience
Porsche's decision to implement a turbocharged four-cylinder powerplant to replace the predecessor's six-cylinder unit was greeted with no small degree of concern by enthusiasts, who feared that the natural balance that the Cayman was renowned for would be upset by the brutal power delivery of forced induction.
Happily however, the suspicions have turned out to be unfounded, the 2.0-litre turbo engine responds to accelerator inputs with the linearity and immediacy of a naturally-aspirated unit, thereby preserving its adjustability on the throttle. That it lacks the punchy mid-range muscular feel of most European turbocharged DI engines in the market today is inconsequential in light of the car's many other talents.
The only aspect that we truly regret is the engine's lack of overall charm. It gets about its business with competency, but does not seem to derive any enjoyment out of it. You step on it, it goes fast and without complaints, but neither does it invite you to push harder for more fun. It is a flat engine in more than just its configuration.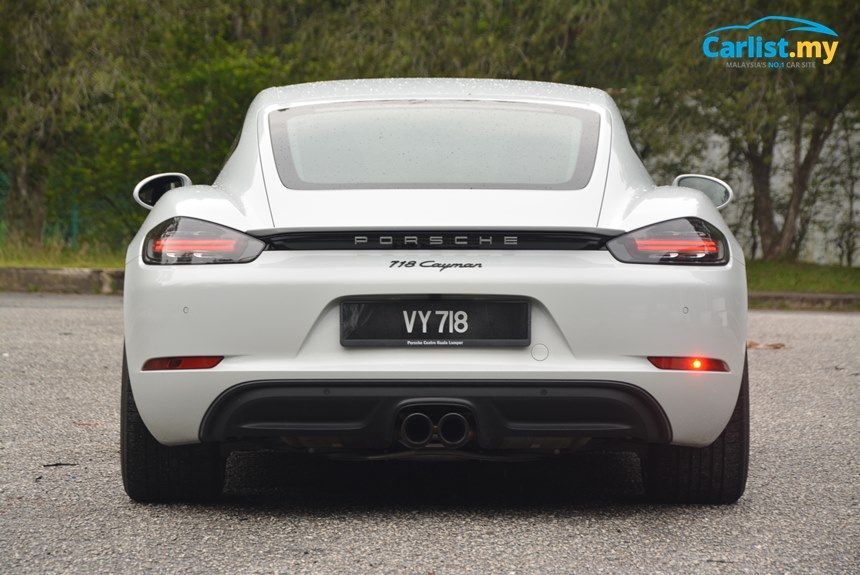 What has not changed from the previous Cayman to the new 718 is the sweet mid-engined balance of its chassis. With the biggest bulk of mass nestled between its two axles, the 718 turns corners feeling as if as it's pivoting around the driver. The electric power steering system also feels spot on with regards to its tuning – just right in its weightage; accurate yet linear in its response.
The 718's delectable combination of a sublime chassis setup with finely-tuned controls – steering, throttle, and brake – provides a car that inspires confidence in the driver and is easy to drive in a variety of conditions. It will potter around town without fuss, and it will blaze the trails of Ulu Yam just as easily and as rapid as you'd like.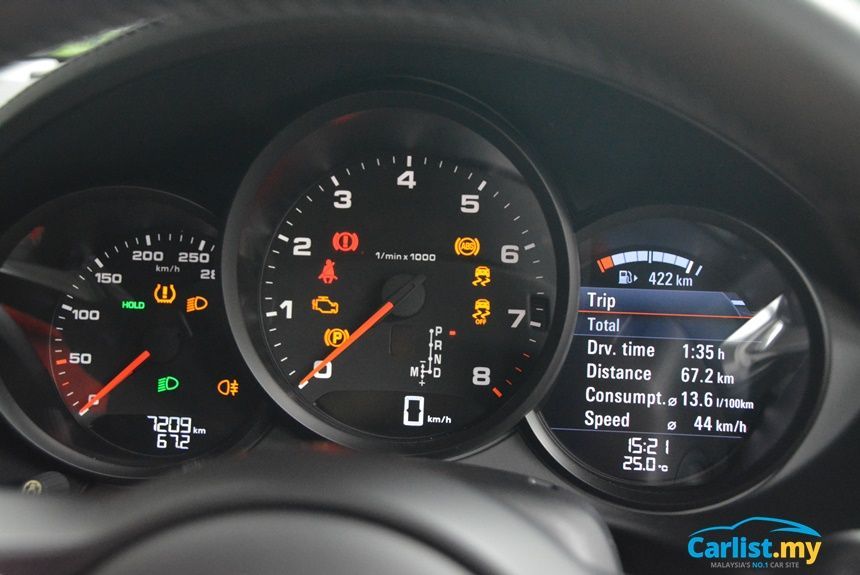 Comfort & Refinement
The 718 Cayman is another example that ride comfort and dynamic sharpness need not be mutually exclusive qualities. The suspension rates err on the side of firmness, but have just enough pliancy and travel in them to not feel brittle. It is a setup that many of us can live with on a day-to-day basis fairly easily.
Also deserving of praise is the low-speed behaviour of the 7-speed PDK dual clutch transmission. It creeps along smoothly in traffic jams and, surprisingly, with far greater finesse than the newer 8-speed unit tested recently in the Panamera 4S.
For those with no particular need for rear seats or a big boot, the 718 Cayman makes a decent case as a daily driver.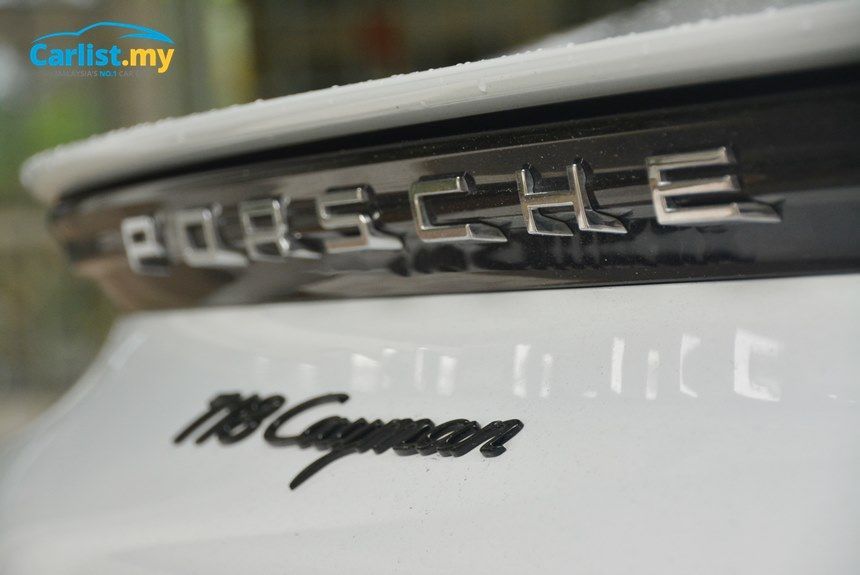 Conclusion
Right from the start, the Boxster and Cayman were never made to be as powerful as you'd expect Porsche can make them to be. The official marketing speak spins this by focusing on handling balance as the major selling point of these cars and so they have been noted for their prowess in this area. The cynics would add that this is a deliberate ploy to keep them from encroaching into the 911's sacred territory.
These factors in mind, Porsche's decision to shrink the 718's engines from the outgoing range of six-pots to the usual 2.0-litre four-cylinder sizing should really not be an issue to start with. The melody and character of predecessor's flat-six will undoubtedly be missed, but where performance and dynamics are concerned, there is little doubt that the replacements carry the torch on just as proudly.
So, like many new cars rolling out of Europe, the 718 trades off a little character and song to meet tightening emission standards, but what has not changed is that it still is a finely-balanced well-honed machine that is just as capable of putting a smile on your face as it is to serve your more mundane needs. Simply put, the core competencies on which this car and its predecessors have traded on for two decades remain meticulously preserved.
---
---
---
---
Comments