Review: 2017 Proton Ertiga 1.4 Executive Manual – A Fresh Alternative
Reviews While half the world was grumbling about how 2016 was a miserable year and it is destined to be forgotten forever, it was without a doubt, a fruitful year for some. Look at Donald Trump for example.
He beat all the odds and took us by surprise by winning the American Presidential elections. Bad news for some it may be but to him, it was jackpot baby!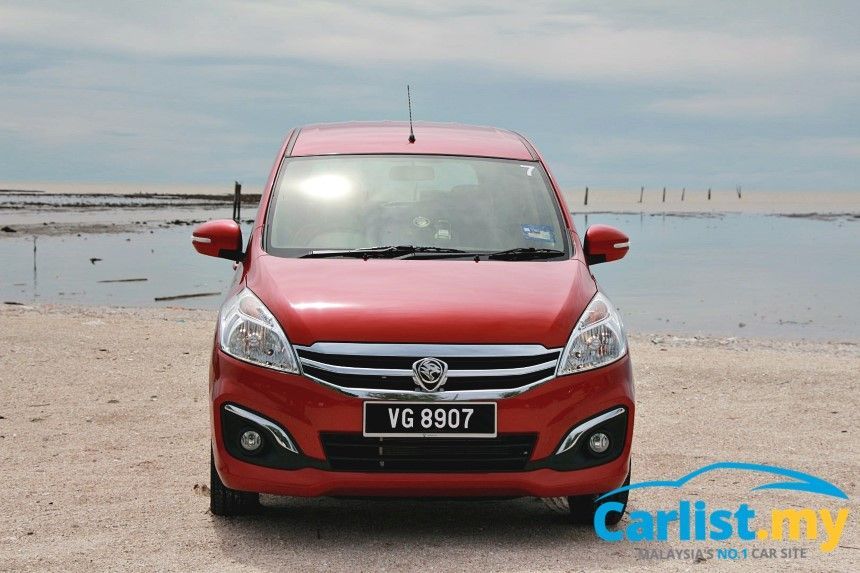 And then, we have our beloved national car brand, Proton. From being a little lost for many years, the brand came back, hit the 'Reset' button, and Voila – Four new models in a year; the Perdana, Persona, Saga, and the Ertiga which you are looking at now.
Now, say whatever you want to say but credit has to be given where it is due. Even though nobody forced Proton into this act of valour, they made a promise, delivered, and things are looking like they are slowly but surely turning for the better.
Before you conclude that this article has been paid for just because we have a couple of good things to say, let us allow the numbers do the talking shall we?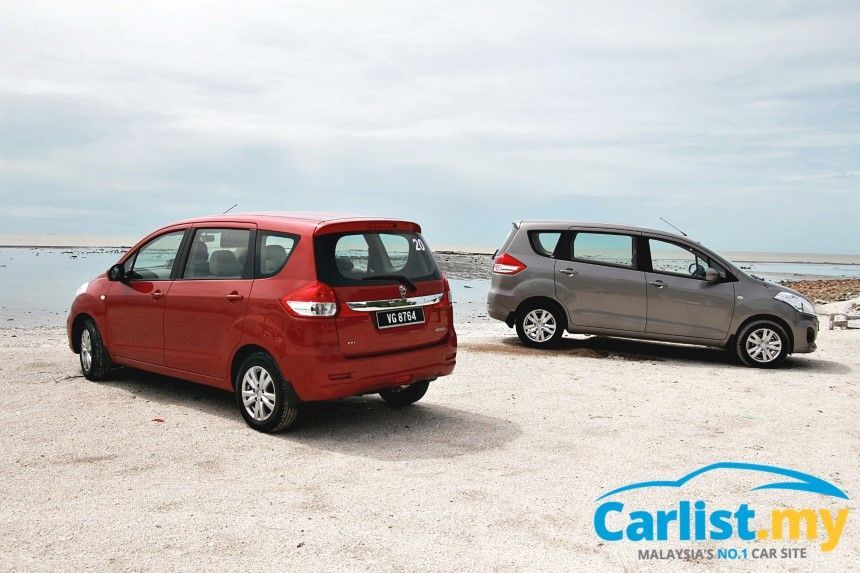 As of October last year, the Persona had already received more than 10,000 bookings with, while the Saga received 4,000. The Perdana on the other hand received more than 1,100 bookings. What about the Ertiga? 1,400 already bro… And it was launched only in end November.
So, to give us an opportunity to have a go at the MPV, Proton invited us over to their headquarters in Shah Alam and asked us to drive the Ertiga to Sekinchan and even threw in a fuel efficiency challenge to show how economical this thing can be, with our weapon of choice being the lower-spec manual variant.
Specifications
Price: RM58,800
Engine: K14B 1.4-litre, Petrol
Max power: 95 PS
Max torque: 130 Nm
Transmission: 5-Speed manual
Fuel efficiency (observed): 21km/L
Safety: Dual frontal airbags, ABS, EBD, and ISOFIX mounts.
Origin: Assembled in Tanjung Malim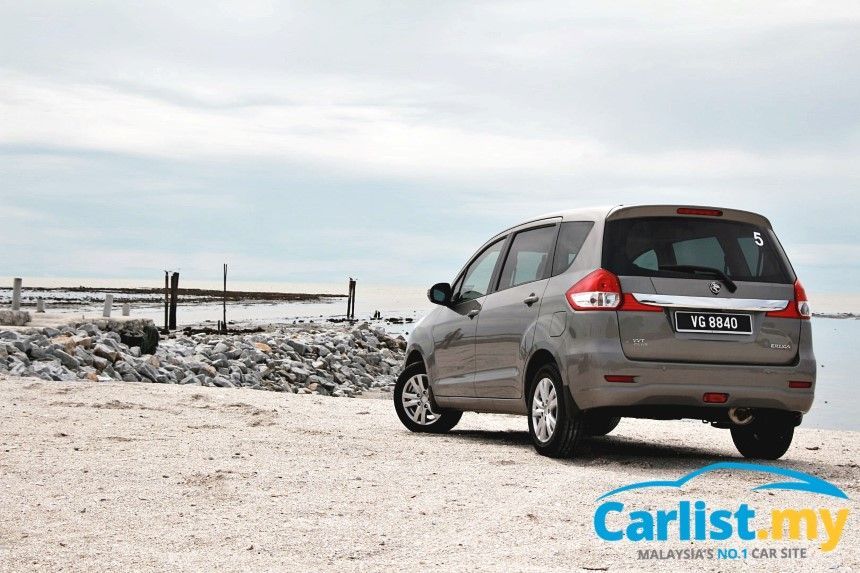 Overview
Built on an extended version of the Suzuki Swift's platform, the Ertiga is offered here in three variants:
Executive M/T - RM58,800
Executive A/T - RM61,800
Executive Plus A/T - RM64,800
Sharing the same 1.4-litre K14B powerplant as the Swift which produces 95 PS and 130Nm, all three variants get the same engine, only with a choice of either a 5-speed manual or a 4-speed auto.
Fuel consumption is rated at 5.7 litres/100km for the manual version and 6.0 litres/100km for the auto. Both numbers are obtained from testing under the New European Driving Cycle (NEDC) and thus qualify the Ertiga as an energy efficient vehicle in Malaysia.
Here to compete in the small MPV segment against the likes of the Perodua Alza, Toyota Sienta, Avanza, Honda BR-V and the Nissan Grand Livina, the Ertiga is assembled in Proton's Tanjung Malim plant with CKD packs supplied from Suzuki's plant in Indonesia. At present, the vehicle only sports 15 per cent local content.
As tested in its Suzuki format, the Ertiga is rated four stars by ASEAN NCAP, but unlike recent models, none of the variants on offer have electronic stability control – Suzuki didn't design the vehicle this feature in mind, and Proton was not given liberty to exercise any engineering changes to the vehicle.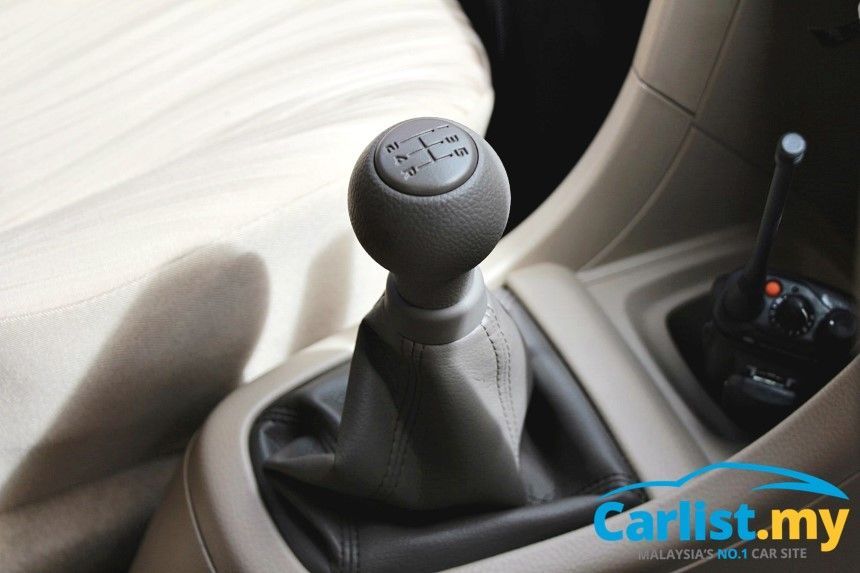 This explains why the safety kit of the Ertiga reads rather short by today's standards – dual frontal airbags, ABS, EBD, and ISOFIX mounts.
Exterior
Measuring at 4,265mm long, 1,695mm wide and 1,685mm tall with a wheelbase length of 2,740mm, there is very little difference between the Proton version and the original Suzuki. Besides the grille, the extra chrome bits and the bumpers, nothing much has changed.
In terms of size, the Ertiga is almost equal to the Alza, but it is bigger than the Toyota Avanza overall.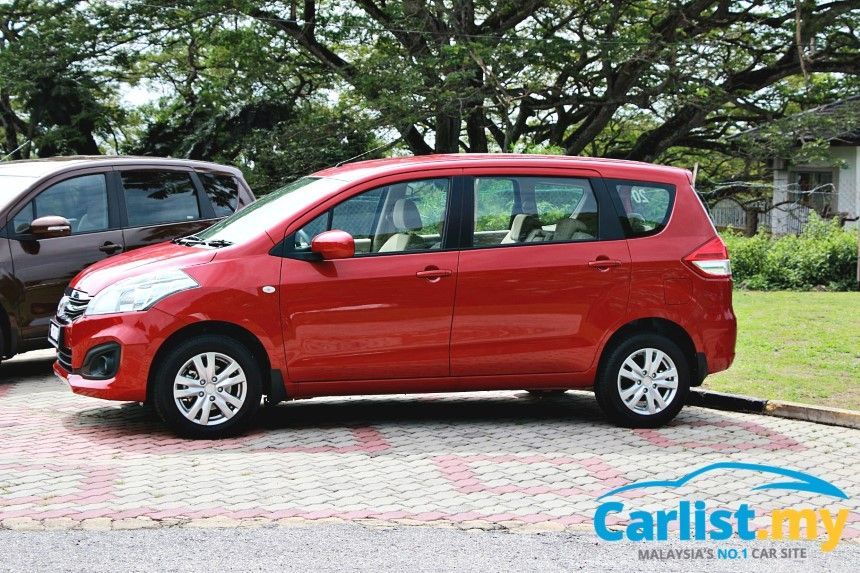 As far as the appearance is concerned, there is nothing much to talk about as it is still a conservative looking people carrier playing in a segment where the function plays a bigger role than form. So, if good looks are your priority, you may want to look at the Sienta.
Interior
There are high chances for you to mistaking the Proton Ertiga for the Suzuki Swift once you get inside as the interior has been carried over lock, stock, and barrel (except the steering wheel cover).
Love it or hate it, the Ertiga's cabin only comes in this Beige colour scheme you're looking at, and although there is enough space to seat seven passengers, it is legally allowed to ferry only six, because that's the number of seat belts it has.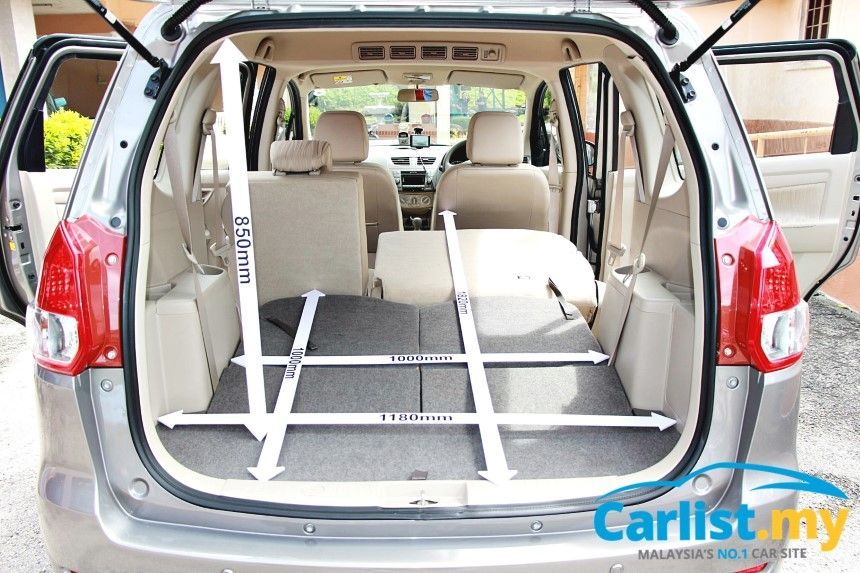 Rear passengers in the Ertiga get their dose of cold air with roof-mounted multi-speed blowers. These blowers take in cold air from the front section of the cabin but get a dedicated cooling coil.
Comfort wise, the Ertiga passes with flying colour for a vehicle in its category while NVH level was also very decent. We even found it to be more refined than rivals that cost much more like the Toyota Sienta. You can still hear the engine when you're accelerating but it was never a nuisance.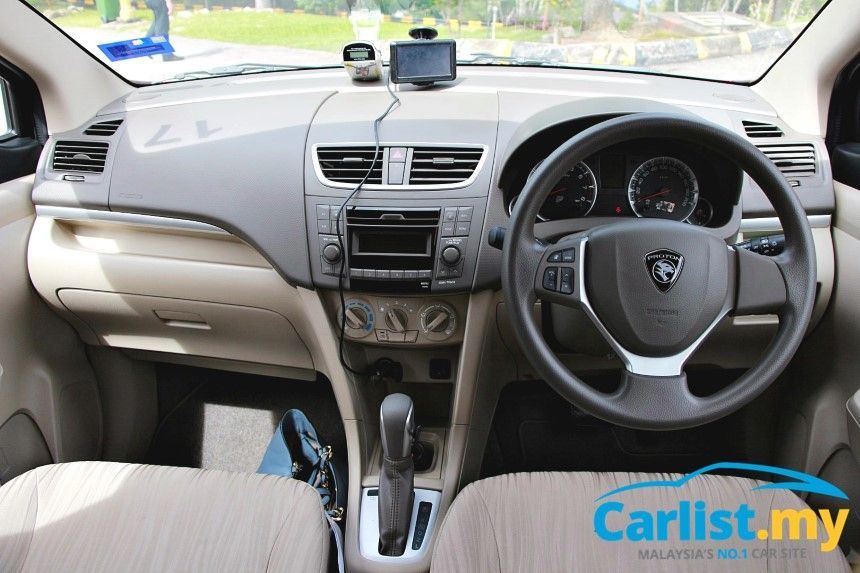 Space was never an issue in the first two rows but it was a premium in the third row. Adults can definitely sit behind but if you're a six-footer, things are going to be a bit tight.
While the second row of seats can be folded in 60:40 configuration, the third row are 50:50 split-foldable, and they all fold flat, making it an excellent vehicle to load huge amount of cargo.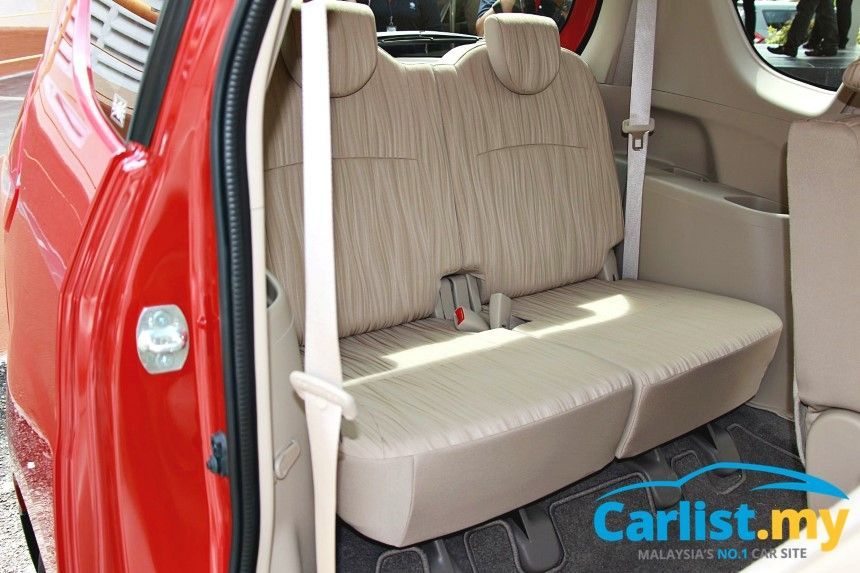 Overall, the Ertiga's cabin was very decent in terms of space, comfort and refinement, but for a vehicle that is being sold in this point of time, there is not much gadgets to fiddle with.
We also like how for once, the cabin of a vehicle in this price range doesn't feel cheap. We are not sure if we should thank Suzuki or Proton for this but it doesn't matter.
Driving it
As we mentioned before in the pre-launch first impression article, the Ertiga is still a Suzuki. So, there is no surprise that the Ertiga drove with pleasing fluidity and excellent mechanical refinement.
On paper, 95 PS doesn't sound all that great but it pulled delightfully with a spirited engine note. Plus, since the unit which we drove was a manual, the MPV felt just like a Swift, lively and responsive but with slightly more body roll due to the length of the vehicle.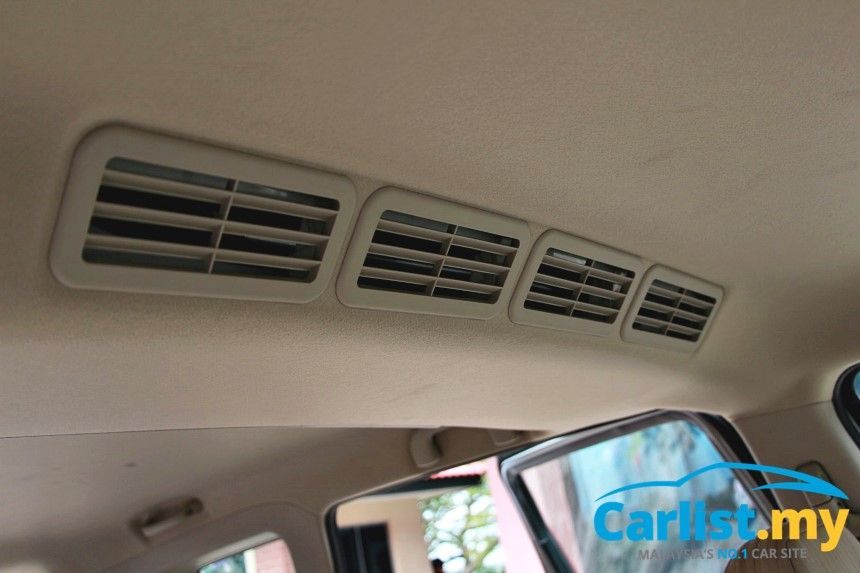 But despite the increase in height, the Ertiga felt stable even at speeds of about 150km/h on the highway. In addition, damping also exceeded our expectations as all the bumps, lumps and potholes along the Kuala Selangor roads were tolerated and absorbed smoothly.
And never once did it show any signs of struggling during our stint with it. So, if you're wondering if the Ertiga can ferry six people up Genting Highlands, the answer is yes, absolutely.
How economical is it?
First and foremost, there is no denying that this is among the more affordable choices in the small MPV category. So, monthly instalment will definitely not blow a big hole for those from the middle class who are looking for a decent family vehicle.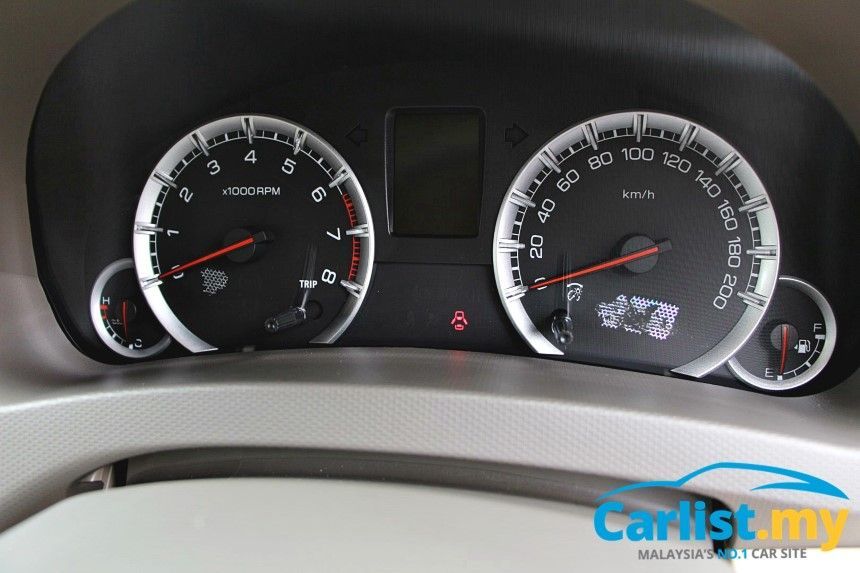 And then, since it's powered by a 1.4-litre engine, road tax cost will be cheaper than most of its rivals that come with 1.5-litre engines. Besides that, the fact that the Ertiga is quite basic means that there is less electronics and gadgets, which translates to lesser maintenance cost.
Last but not the least, in terms of fuel economy; we managed to stretch the Ertiga to an extent where it returned 4.7L/100km. But since we were in a fuel efficiency challenge, we were driving slower than usual.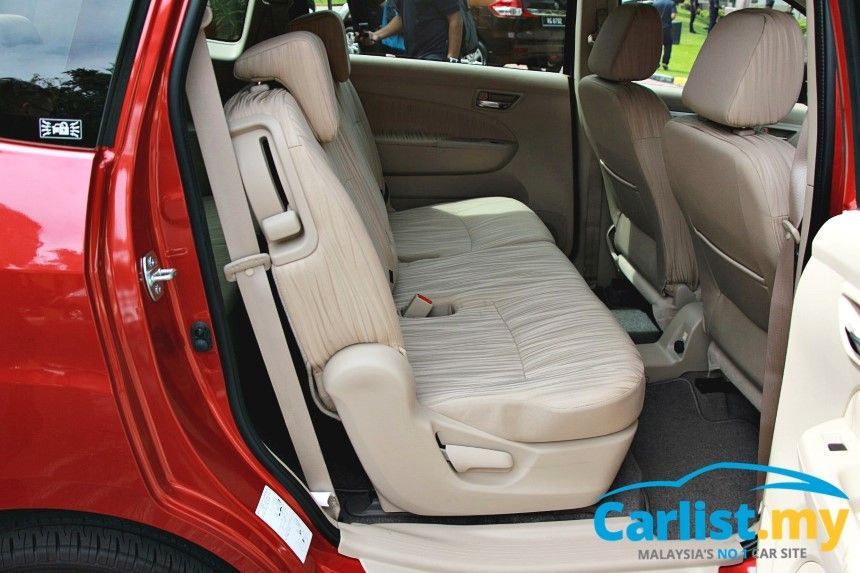 When we drove it normally, we were able to achieve 6.2L/100km, which can be considered as a good figure by today's standards.
So, overall, what you're getting here is a package that is well worth the RM60,000 you spend on it.
Conclusion
There is no denying the fact that the Proton Ertiga is a decent proposition. Not only does it drive well, but it also feels more lively and refined than many vehicles that cost much more.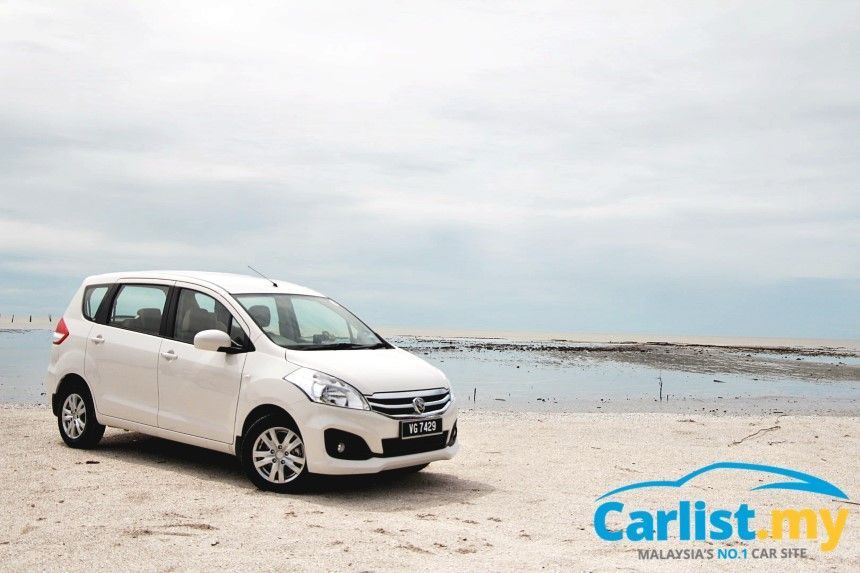 However, it bothers us that it lacks some fundamental features like the Electronic Stability Control (ESC). But then again, many of its rivals also face the same issue.
Being a Suzuki-built vehicle, its quality and reliability has already been proven where the Ertiga has been sold before this. Plus, it is also a somewhat fresh alternative for those looking for a budget MPV, who were only left with the Alza, Avanza and what not over the past 10 years.
---
---
---
---
Comments