Review: BMW 730Li (G12) – Efficient Opulence
Reviews At the lowest point of its century-long history, BMW came within a whisker of being bought over by Mercedes-Benz. The intervention of Herr Herbert Quandt, however, kept the firm afloat and independent. The decades that followed saw BMW growing in size and stature to the point where it is seen as equals to the company that very nearly swallowed it.
Yet, whilst the 3 and 5 Series models have consistently held their own against their contemporary C- and E-Classes, BMW has never quite managed to get the measure of the S-Class in five iterations of its 7 Series flagship to date. It's not for the lack of effort, mind. Every generation of the 7 Series receives the best engineering and innovations that BMW has to offer, but the result every time round is a familiar one – the towkay balak's default choice continues to be the Mercedes-Benz S-Class.
Far from giving up on a seemingly futile chase, BMW has redoubled its efforts to take on Stuttgart's best with its latest sixth-generation G11/G12 7 Series. This time, BMW aims for the 7 Series to beat its age-long nemesis at its own game by loading its flag-bearer with even more technology to give it a legitimate claim of being the future of the automobile.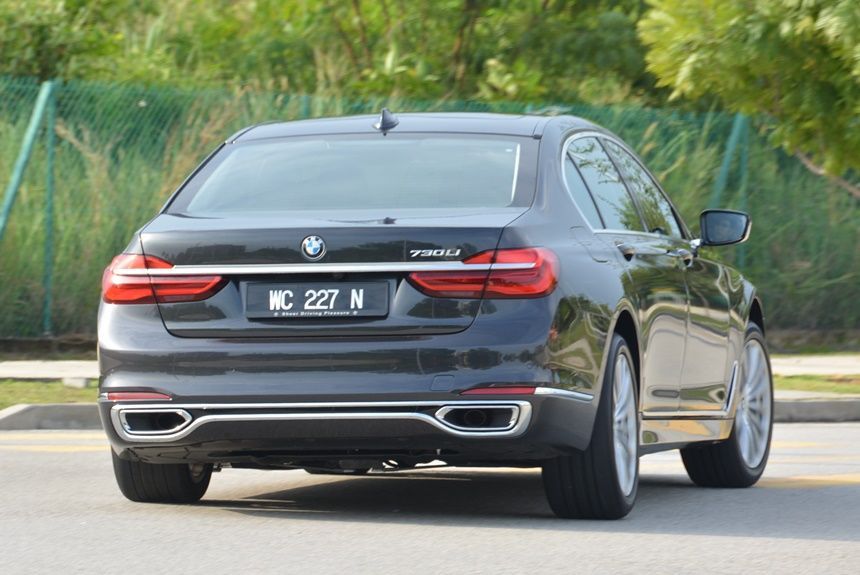 Specifications:
Price: RM698,800 (100th anniversary celebration pricing – RM598,800)
Engine: 2.0-litre, inline-4 longitudinal, turbocharged, petrol direct injection
Power: 258hp @ 5,000 – 6,500rpm
Torque: 400Nm @ 1,550 – 4,400rpm
Transmission: 8-speed torque converter automatic, RWD
Safety: 6 airbags, Electronic Stability Control, Traction Control, Brake Assist, ISOFIX (rear), Lane Departure Warning, Autonomous Emergency Braking with Pedestrian Detection, Rear Cross Traffic Alert
Origin: Fully-imported from Dingolfing, Germany.
Overview?
Where do we even start? This is, make no mistake, BMW's most concerted and perhaps most credible effort to bring the 7 Series out of the S-Class' shadows. Besides building on traditional 7 Series strengths in the department of driving dynamics, BMW also piled on the innovations in its latest flagship, trickling down goodies from its i division to produce a genuine technological tour-de-force.
Perhaps the most important bit of technology transfer from the likes of the i3 and i8 is the incorporation of carbon fibre in its monocoque frame. Blended with high tensile steel and aluminium, the 7 Series' Carbon Core construction gives the current model superior strength to its predecessor whilst making it weigh significantly less. At 1,755kg as tested, our 730Li test car is a full 100kg lighter than its predecessor, which admittedly carried the weight of a bigger capacity engine.
Will this fancy mix of exquisite materials potentially affect repair costs? It sure does, but let's put it this way, if your 7 Series comes out of an accident with the carbon fibre sections damaged, the car would probably be better-off declared as a total loss.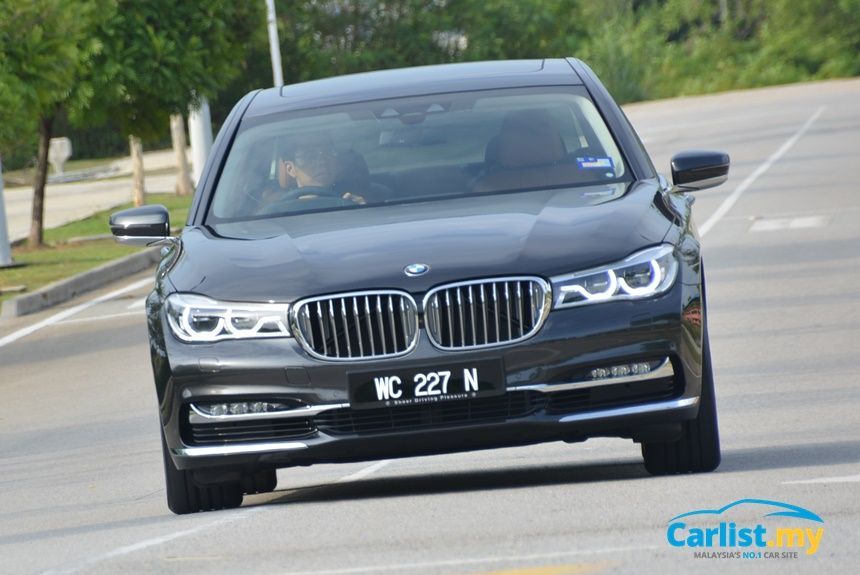 The previous model's 3.0-litre engine was among the last surviving members of BMW's famed naturally-aspirated inline-sixes that made way for downsized four-cylinder turbos that delivered equivalent or better performance with improved emissions. So, here in the 730Li, we have, for the first time in a BMW 7 Series, a 2.0-litre four-cylinder engine.
Essentially the same B48 powerplant that also features in the 330i, the engine is tuned to more potent outputs of 258hp and 400Nm (up from the 330i's 252hp and 350Nm). The previous 730Li, in comparison, generated the same amount of power, but had to make do with 90Nm less torque. If you must have your 7 Series with a 3.0-litre engine, the 740Li gives you outputs of 326hp and 450Nm to play with for RM888,800.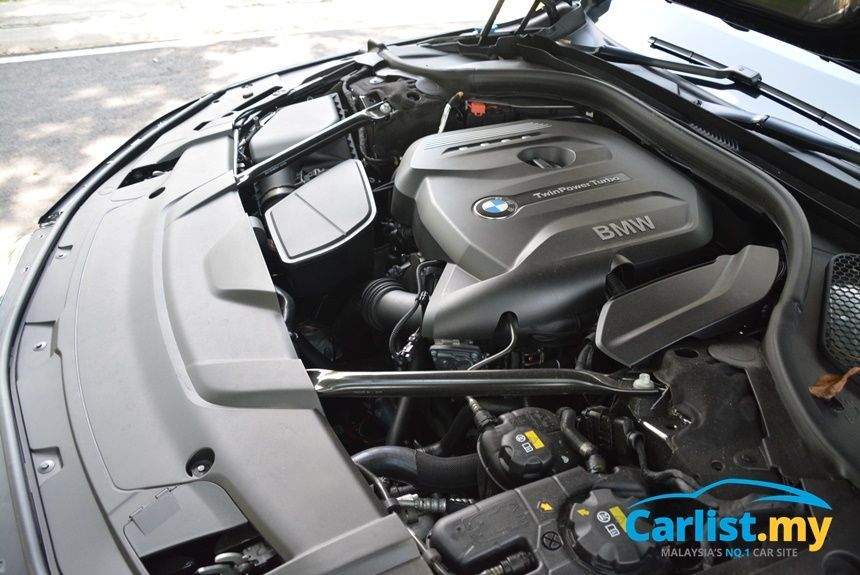 Although it is the cheaper of two variants available in our market, the amount of standard kit packed in the 730Li is nevertheless impressive – adaptive LED headlights, all-round parking sensors with 360-degree camera, panoramic glass roof, paddle shifters, and a key fob that almost resembles a smart phone – remember to charge it regularly. It also comes with Driving Assistant Plus, a system which actively intervenes in the vehicle's directional control upon detection of an imminent collision.
Whilst it is an impressive overall package, all of the 7's technical innovations will be for nought if it continues to play second fiddle to the S-Class, an already formidable opponent further strengthened by competitive pricing made possible by EEV incentives. BMW's special 100th anniversary celebratory pricing (which wipes RM100k off the price tag of both 7 Series variants) does at least put the 730Li on pricing parity with the S 400 Hybrid.
We believe, however, there is more to this story. The recent announcement that BMW plans to make Malaysia the export hub for the 3, 5, and 7 Series to Vietnam and the Philippines by 2018 effectively confirms that locally-assembled variants of the 7 Series are due to enter our market at the same time. Watch this space for more.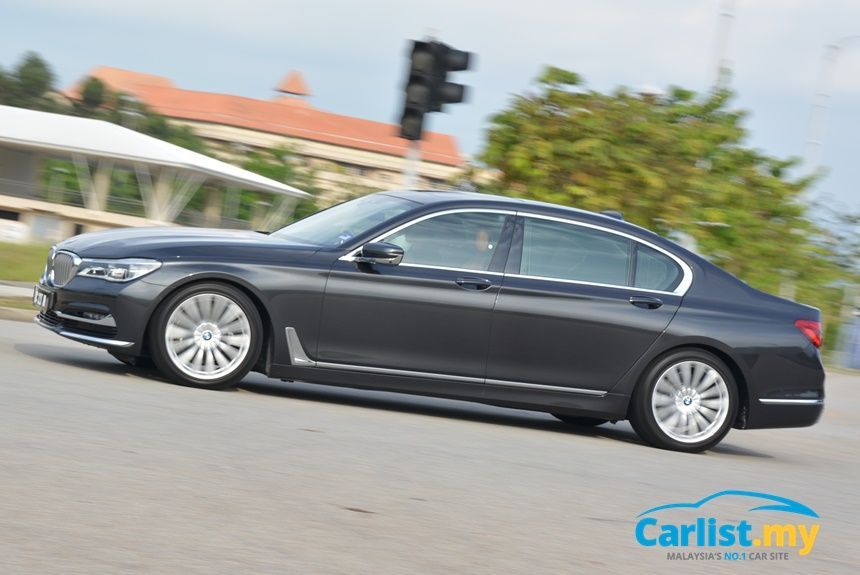 Exterior
The new 7 Series in its long wheelbase guise that is standard for our market measures a massive 5,238mm long by 1,902mm wide. To put its size into perspective, it is wider and almost as long as most pick-up trucks. More pertinently, it is longer than most parking lots you'll find in downtown KL. Be sure to have your chauffeur along, or spare a few more ringgits for the parking jockeys.
The sheer size of its footprint gives the 7 Series commendably imposing presence, amplified by its enlarged kidney grilles. Yet, the overall bodywork is notably free from overtly fussy details. Some commenters have remarked that BMW's styling effort here is lacking in adventure, but we find it tasteful and dignified in a manner that befits a stately flagship.
The little details are good too. It may miss out on the fancy-sounding laser lights as fitted in the 740Li, but the standard Adaptive LED headlamps in our 730Li test car is no less sophisticated a piece of lighting hardware. Its built-in DRLs illuminate in a distinctive double-C pattern first pioneered in the facelifted F30 3 Series. Standard 19-inch alloys ensure that the 730Li is not let-down by under tyred proportions.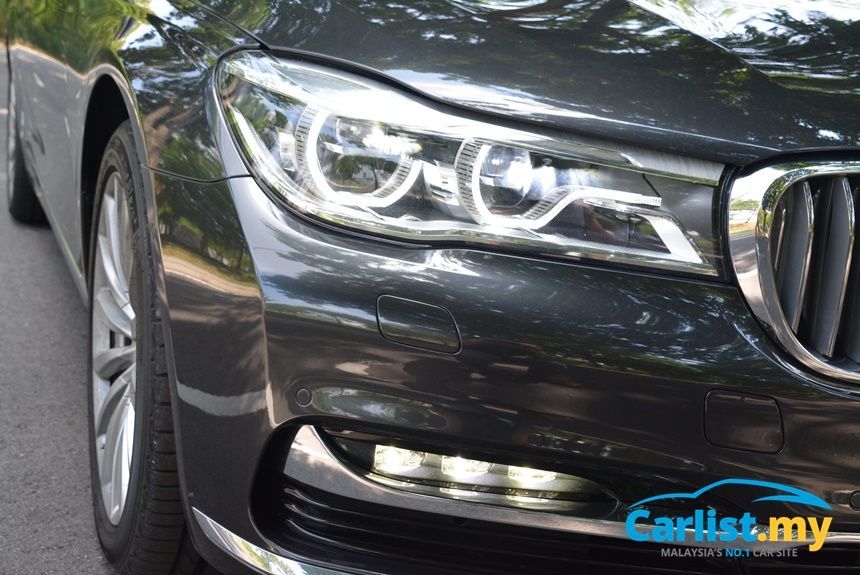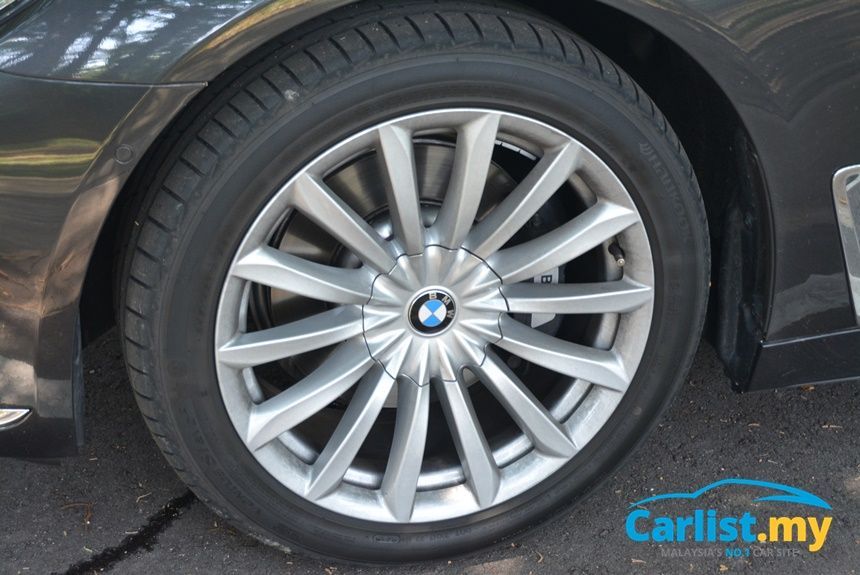 Interior
BMW cabins have always been more functional than fashionable. They have never been the last word in plushness, but typically excel in providing easy-to-use clarity of ergonomics. For keen drivers like us, it's an agreeable compromise, but for those in the mind of buying luxury vehicles as a status symbol, being merely functional is not quite enough.
Judging from its efforts this time, BMW has evidently learned the lesson well enough. The new 7 Series sports what currently is the best cabin of the BMW line-up by a huge margin. It does not exceed the high standards set by the Mercedes-Benz S-Class, mind, but the gap in overall quality and ambiance is much narrower compared to what its predecessors had to contend with.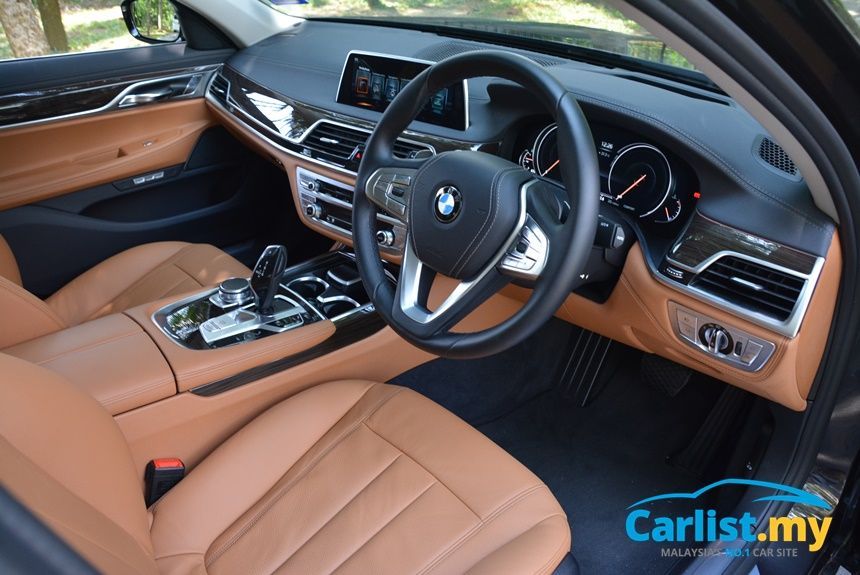 Material selection demonstrate an impressive leap from BMW's current standards, whilst clarity of switchgear is consistent with other members of the BMW family. Stepping inside treats you to a sense of occasion that is typically amiss from most BMW cabins. It would have been even more impressive if BMW were able to offer its Executive Lounge Package for our market, but that feature has yet to be made available for right-hand drive markets.
The latest iteration of BMW's iDrive infotainment platform debuts in the 7 Series and its already class-leading user-friendliness levels are further elevated with the incorporation of touchscreen and gesture control. Rear passengers are also given access to the iDrive system via a detachable tablet supplied by Samsung, from which they can also control various other interior features of the car – sun blinds, seat adjustment, air-conditioning, and others. Our brief video below shows some of these features in action.
How does it drive?
Can a 2.0-litre engine properly power a 7 Series? If you look at it purely from a performance standpoint, BMW's previous N20 was already good enough to match the outgoing model's 3.0-litre inline-6 for outputs. The bigger challenge is to engender the kind of gentle yet relentless power delivery that does not come naturally for a turbocharged engine and gets progressively harder to achieve as you ramp up boost levels.
For the most part, the new B48 powerplant does adequately to fill in the shoes of a larger engine. Helped along by ZF's excellent 8HP automatic transmission, the engine responds to throttle inputs with sufficient immediacy. Its revs are accompanied by pleasing engine tones, and it's hardly short on muscle in its mid-range. An electronic limiter is needed to cap its top speed to 250km/h, and BMW claims 6.3 seconds to hit 100km/h from rest – a mere 0.7 seconds longer than the more powerful 3.0-litre 740Li.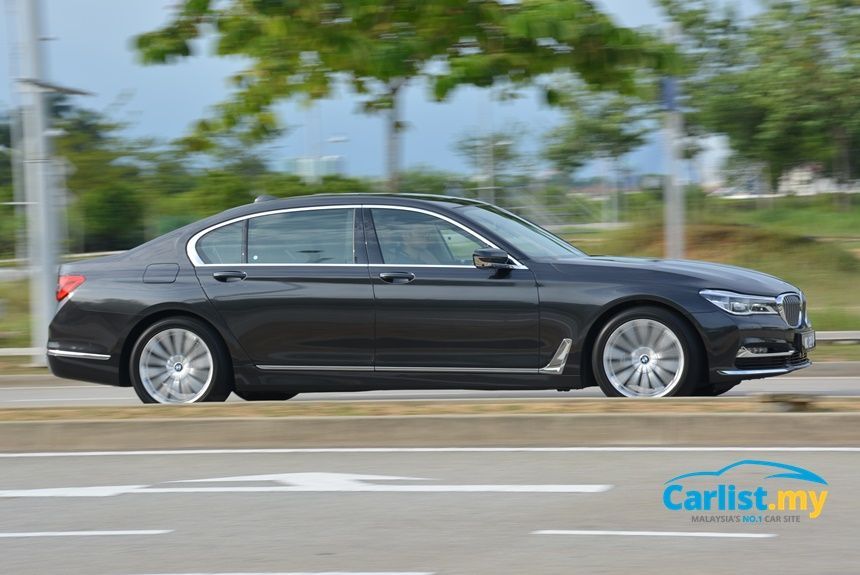 Besides being frugal on fuel, the benefits of a smaller engine include a lighter nose, which in turn benefits handling. Granted, the 7 Series is an exceptionally light vehicle in its class, but even with that fact kept firmly in mind, the agility of this car and the alertness of its steering feels borderline supernatural, such is the impressively even keel it exhibits when dealing with cornering forces. We'd like little bit more feedback to trickle through the steering, but there is otherwise very little to complain about the way this car drives.
At high speeds, the 7 Series feels no more bulky or intimidating to steer than a 5 Series. It is only when the space around you shrinks that the car's sizeable dimensions really trouble a less-than-skilled driver; a good thing, therefore, that BMW specced a 360-degree camera package as standard with this car. Supplemented by all-round parking sensors, the system has a good knack of self-activating at the right time, and BMW's advanced image extrapolation software is even able to generate a projected visual of the vehicle's surrounding from a variety of well-judged angles.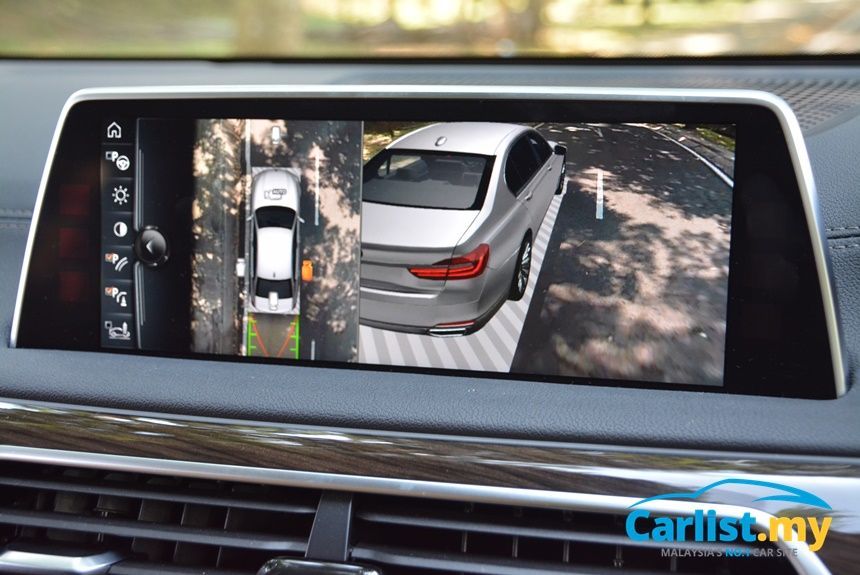 How comfortable is it?
More than any other model in the BMW range, the 7 Series is evaluated more critically from the comforts of its rear quarters. As far as BMW's target clientele for this car is concerned, a great driving experience counts for naught if this is not a comforting vehicle to be driven in.
Thanks to its light, rigid, and exceptionally well-setup chassis, the 7 Series does a fairly convincing job of balancing the much-lauded alertness and agility we talked about earlier against the need for a cosseting ride. Long undulating surfaces are well coped with, but we could not find a selection within the car's adaptive damper that gave us a suspension setting that was able to seamlessly absorb sharper intrusions.
Overall, it is a compromise, we suspect, that those of a slightly more enthusiastic mind will be happy to accept in exchange for the 7's dynamic superiority over its peers in other areas.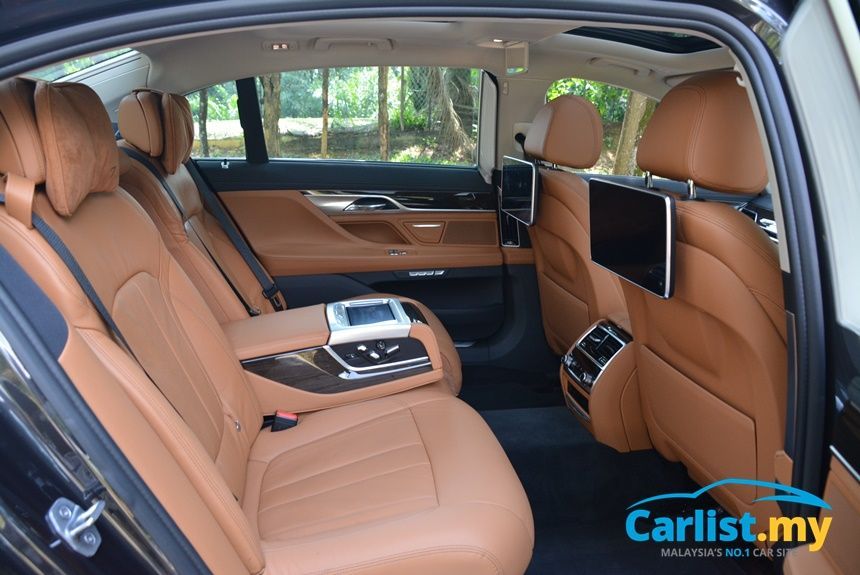 How economical is it?
BMW's claimed fuel consumption of 5.8 litres/100km in the European combined cycle was never going to be realistically replicated in the real world. We did not come close to achieving even the official urban average of 7.5 litres/100km, but a reading of 12.9 litres/100km on our test car's computer averaged over a 360km mixed route represents a decent return for a petrol-driven vehicle in this segment.
The last time this writer was behind the wheel of a previous-gen BMW 7 Series, the test car asked for 15.5 litres/100km. For further comparison, the Mercedes-Benz S 400 Hybrid claims an official fuel consumption of 6.3 – 6.8 litres/100km whilst offering outputs of 302hp.
As with all BMWs, the 7 Series is covered by BMW Malaysia's comprehensive 5-year unlimited mileage warranty programme in addition to a 5-year / 100,000km free service package, which covers labour, lubricants, filters, spark plugs, and brake fluids. Brake pads and wipers are on your own.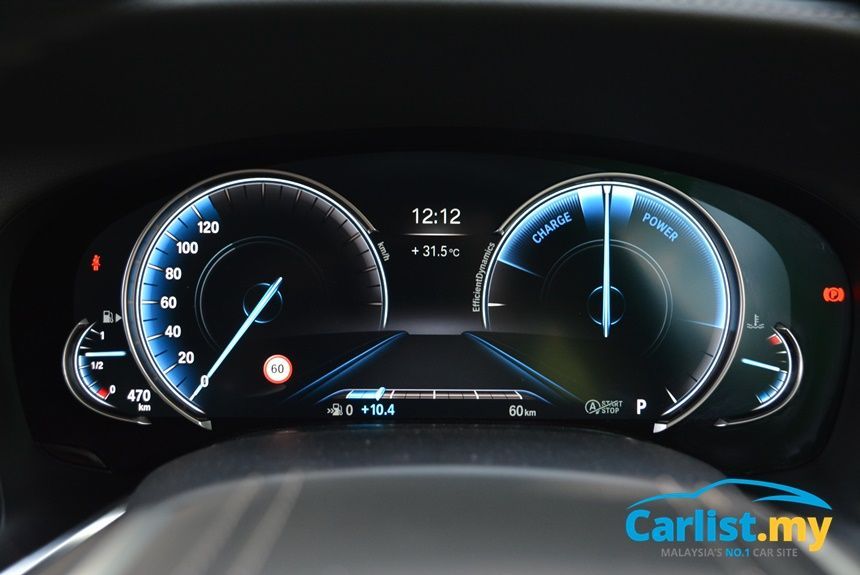 Conclusion
There are times when you've got to wonder if the BMW 7 Series' purpose in life is to play second-fiddle to the S-Class, such is the overwhelming dominance of the Mercedes-Benz in the decades of their respective existence. Whilst technically good cars in isolation, previous versions of the 7 Series were always found lacking in some area or another that make them less-than-convincing options for industry captains and politicians.
This time round, BMW has upped its ante like never before. The new 7 Series retains much of what its predecessors were good for – exceptional dynamics within the segment – whilst also going for the jugular with impressive technology. BMW's decision to steal a march over its rivals (bar the Jaguar XJ) in betting big on a small engine to power its flagship is a courageous call, and one which we anticipate will be handsomely rewarded in markets such as ours that are displacement-sensitive.
The latest 7 Series still has some way to go before Mercedes-Benz's segment crown is seriously threatened, but perhaps for the first time, Stuttgart's flagship will do well to look over its shoulder at a competitor breathing down its neck closer than ever.
---
---
---
---
Comments