Review: Honda City 1.5L Hybrid – A Performance Car For The Common Man
Reviews This may be hard to believe, but Honda's Variable Valve Timing & Lift Electronic Control System or VTEC system for short, will turn 30 next year.
What began as a dream – to build an engine that would produce a specific output of 100 hp/litre, deliver high torque across the rev range, and achieve good fuel economy – required nothing short of inspired thinking and cutting-edge engineering, to say the least.
The best part: Honda wanted to do all this with an engine capacity of just 1.6 litres.
Yet when Honda's NCE (New Concept Engine) program began in 1984, not one engineer backed down. Under the stewardship of Project Leader Ikuo Kajitani, after nearly five years of brilliant engineering, development, and execution – the "B16A" engine was born. Honda's first engine with a specific output of 100 hp/litre (total 160 hp at 7,600rpm).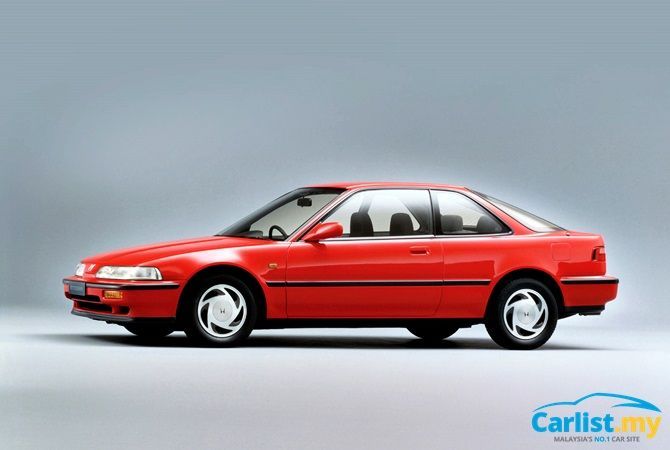 The first Honda model to receive the new 1.6-litre VTEC engine was the 1989 Honda Integra. The engine technology was subsequently adapted for use in other models such as the NSX, Accord and Civic.
It's worth noting that in 1989, the 3.2-litre V8 that powered Ferrari's 328 GTS produced 84 hp/litre (total 270 bhp), and the 3.3-litre turbocharged flat-six in Porsche's (930) 911 Turbo developed around 85 hp/litre (total 282bhp).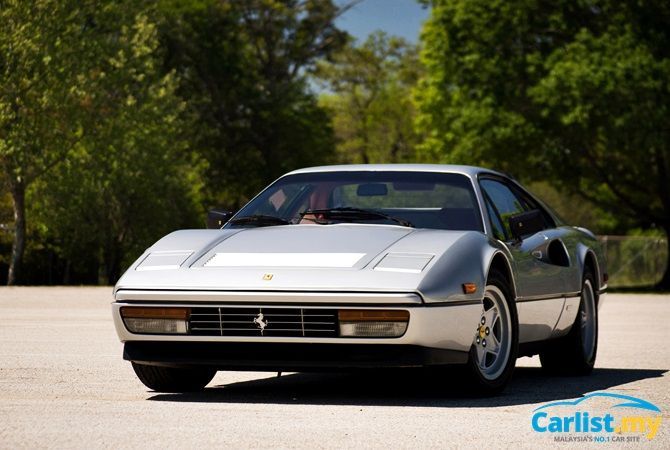 29-years on, Honda's little 1.6-litre VTEC powerplant is lauded as one of the best engines ever created, and remains popular for its perfect fusion of power, reliability and tuning potential.
More than just an engine, Honda's VTEC system became a calling card for the company. In much the same way the quattro AWD system did for Audi, and the three-point seatbelt for Volvo – VTEC established a reputation for Honda as purveyors of exhilarating, technologically advanced cars for the common man.
That ethos of cheap and brilliant is still carried on today – in particular with the Honda City 1.5L Hybrid.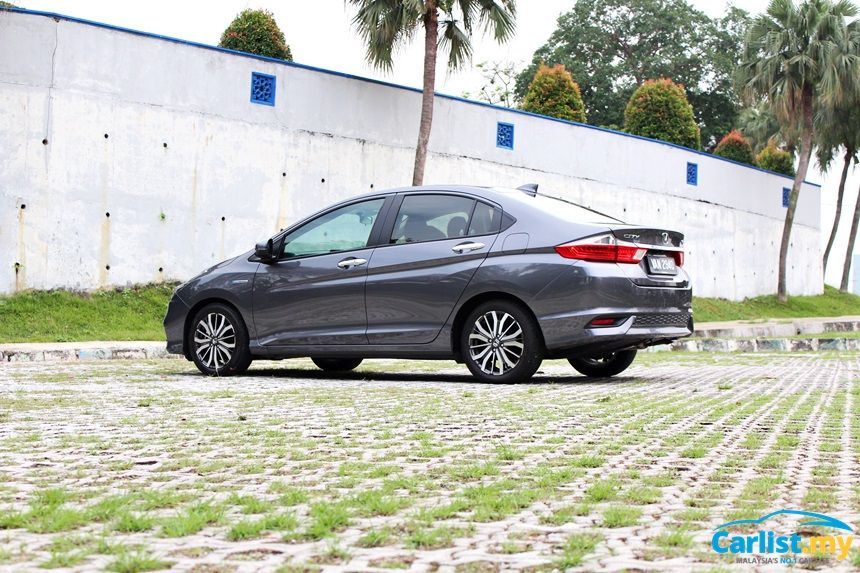 Now, while you may think I may have lost my marbles, by placing a hybrid sedan and high-performance in the same sentence – let me assure that with its high-tech hybrid powertrain, and advanced seven-speed dual-clutch transmission, the City Hybrid is dripping with technology, and has more than enough performance to back its "Sport Hybrid" claims.
Overview
Introduced in July last year, the City Hybrid is the second hybrid model of the current model line-up, after the Jazz Hybrid, and is sold alongside the 1.5-litre naturally aspirated S, E, and V variants.
Do note, however, that while the City Hybrid boasts a highly-advanced powertrain, it skips on some equipment that is exclusive to the Honda City "V" variant – namely the leather seats, leather steering wheel and gearknob, and perhaps most notably, side curtain airbags.
The City Hybrid shares the same 1.5-litre DOHC i-VTEC engine as the Jazz Hybrid, which produces 110 PS and 134 Nm of torque. The engine is paired to an electric motor which outputs another 30 PS and 160 Nm.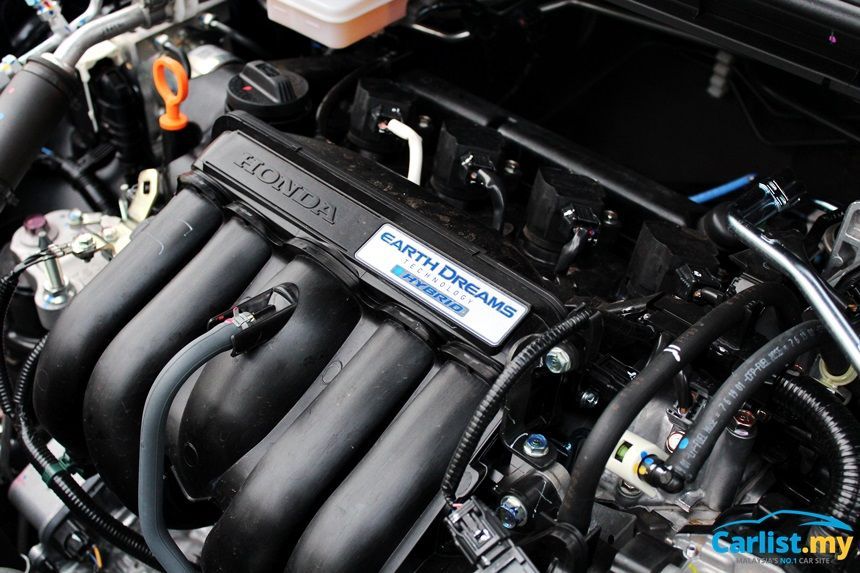 Of course, total output is less than the numeric sum of both power units because the two peak at different rotational speeds. Combined, the total output is rated at 137 PS and 170 Nm, which is 17 PS, and 25 Nm more than the naturally aspirated 1.5-litre City model.
Unlike previous Honda hybrids that were equipped with the company's Intelligent Motor Assist (IMA) system, the City Hybrid (and Jazz Hybrid) is a full-hybrid, meaning that it is able to accelerate from a standstill in electric power alone for smoother stop-go traffic driving.
Crucially, the air-conditioning compressor is now electrically driven, meaning that the air-conditioning's cooling performance will remain optimal even when the petrol engine is shut down.
Also, previous IMA systems were fitted with a CVT transmission, with the electric motor sandwiched between the engine and gearbox; this time, however, the City Hybrid uses a seven-speed dual-clutch transmission, which interfaces individually with the 22kW electric motor.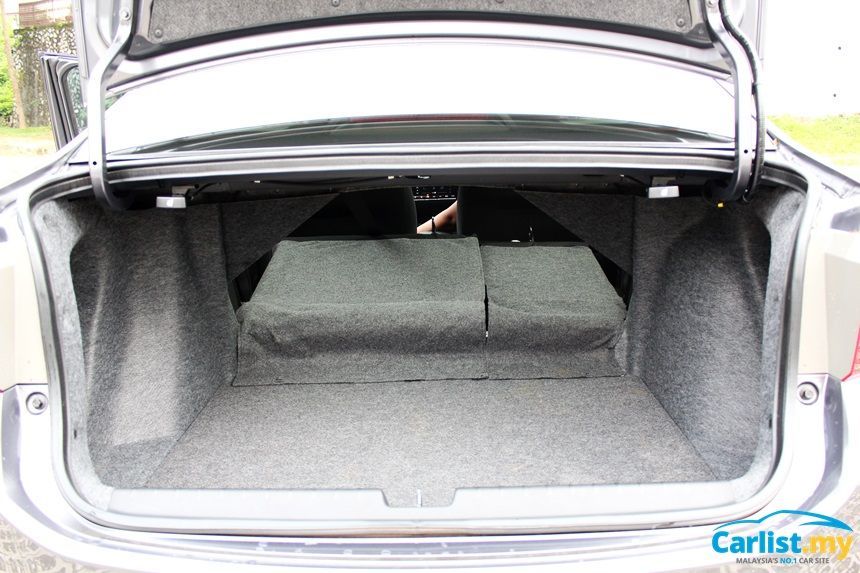 The electric motor is powered by a 0.86 kWh lithium-ion battery located under the boot, fortunately, hasn't compromised boot space - boasting an identical 536 litres of cargo volume as the non-hybrid model.
Elsewhere, the City Hybrid also uses an electric servo brake system, which offers a wider brake regeneration range, because it works even when the engine is shut down, and helps improve electricity regeneration.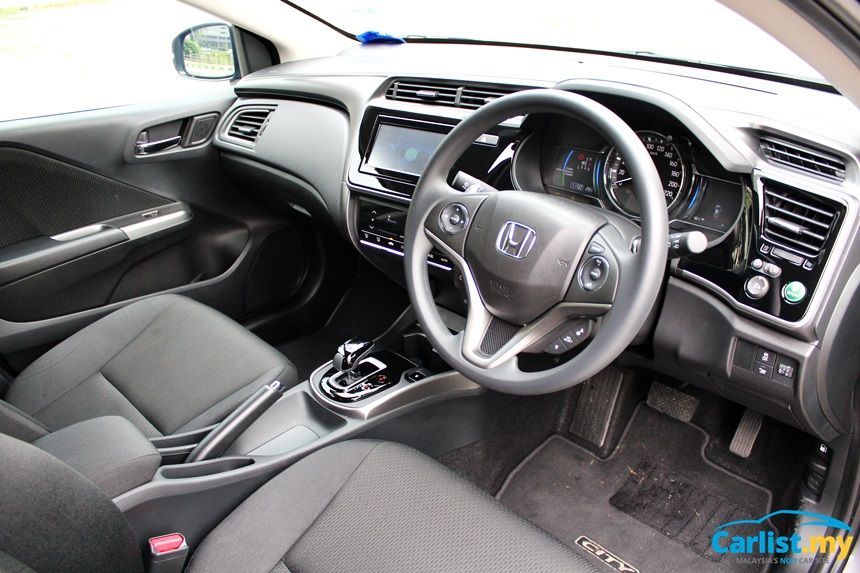 For more information on Honda's hybrid powertrain, check out Hans' extremely detailed explanation of the technology that makes the new City and Jazz Hybrids tick.
In terms of competitors, the City Hybrid's closest rival is the Hyundai Ioniq Hybrid. It is powered by a 1.6-litre direct-injected four-cylinder, aided by a 42kW electric motor to produce nett total output of 140 PS. The power unit is paired to a six-speed dual-clutch automatic transmission. Like the City Hybrid, the Ioniq is locally-assembled, which helps in giving it an attractive sticker price that starts off at just above RM100k.
Specifications :
Engine: 1.5-litre DOHC i-VTEC Atkinson cycle, transverse, naturally aspirated
Engine power: 110 PS, 134 Nm
Motor output: 30 PS (22 kW), 160 Nm
Combined system output: 137 PS, 170 Nm
Traction battery : 0.86kWh, Lithium-ion
Transmission: 7-speed Dual-Clutch Transmission with Integrated High-Power Motor
Safety: 4 airbags, VSA, Hill Start Assist (HSA), ESS, ISOFIX, Multi-angle reverse camera
Price: RM 89,200 (on-the-road without insurance)
Origin: Locally-assembled in Pegoh, Melaka
Exterior
Nothing much has changed on the outside, save the hybrid badges on the bootlid and front fenders – the City Hybrid is pretty much identical to the facelifted Honda City model.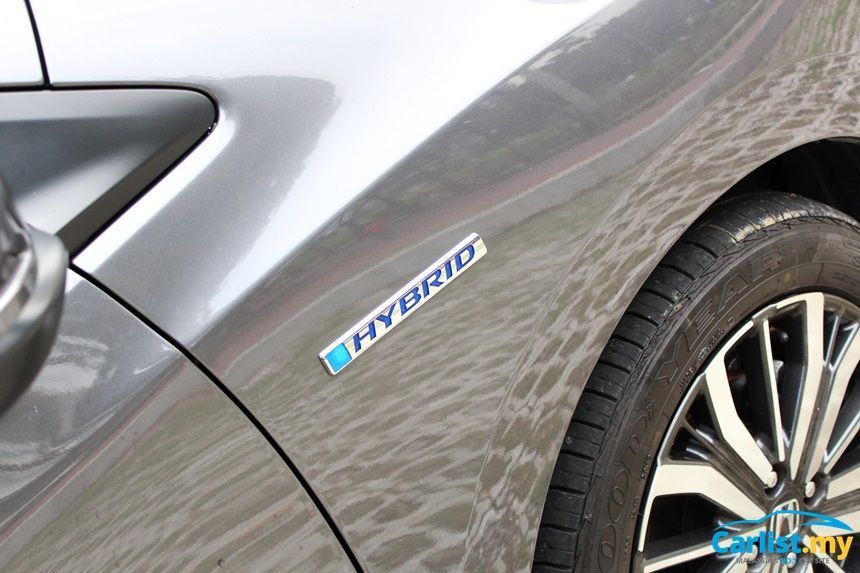 The City Hybrid only gets halogen headlights at the front, which is similar to the S and E variants (only the V gets LED items), which is quite an omission given the car's high-tech credentials, but it does get LED taillamps.
Along the flanks, dual-tone 16-inch alloy wheels help give the City Hybrid a stylish look. And I am particularly fond of the new front grille, which has likened the front fascia design of the new City to that of its bigger brother, the Honda Civic.
Interior
The biggest difference of the City Hybrid's interior is the addition of a 'joystick' style gearknob. It's a shift-by-wire system meaning there is no physical connection (such as cables and linkages) between it and the gearbox. The shifter itself looks super futuristic and works smoothly. To the right of it is a small button, marked with an "S", which engages sports mode.
The instrument cluster is also new – the speedometer takes a central position, flanked by two small digital displays. The one on the right allows us to cycle between multiple info screens that show power flow, trip information, and fuel economy. The display is crisp and looks even better during night time driving, creating an overall cockpit ambience that feels high-tech and premium.
If there's one criticism that I have of the interior, it's the infotainment unit. The 6.8-inch display screen reflects a lot of glare from sunlight during the day, and the graphics aren't as clear as the older unit found on the pre-facelift models.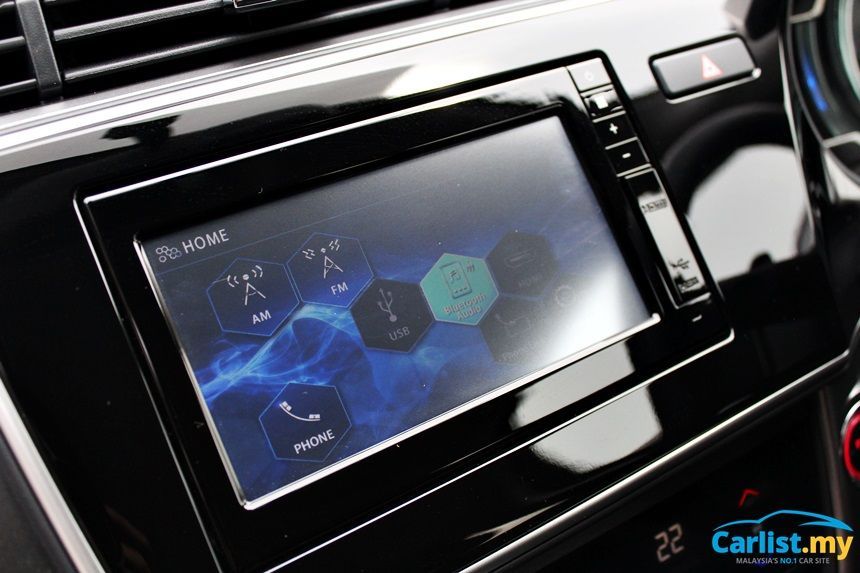 The system itself isn't as intuitive as before, and I struggled quite a few times to get my Bluetooth paired up. It does have an in-built USB and HDMI port, which is good, but overall functionality is let down by complicated screen layouts and multiple function menus.
Driving Experience
Honda claims the City Hybrid performance is very close to that of a non-turbo Civic 1.8, and I couldn't agree more. Get it in 'Sports' mode and proceedings get even peppier. Now, I'm not saying its VW Golf GTi quick, but it's no slouch either.
Power delivery is sublime right from the start in hybrid mode, and the torque delivery is meaty and linear right to the upper limits of the rev range. Transitions between the electric motor and engine happen rather seamlessly depending on the driving requirements. After a while, you simply feel like you have a bigger engine under the hood than the claimed 1.5-litres.
Throttle harder though, and the City Hybrid will accelerate with some gusto, and keep the accelerating quite rapidly to around 150 km/h.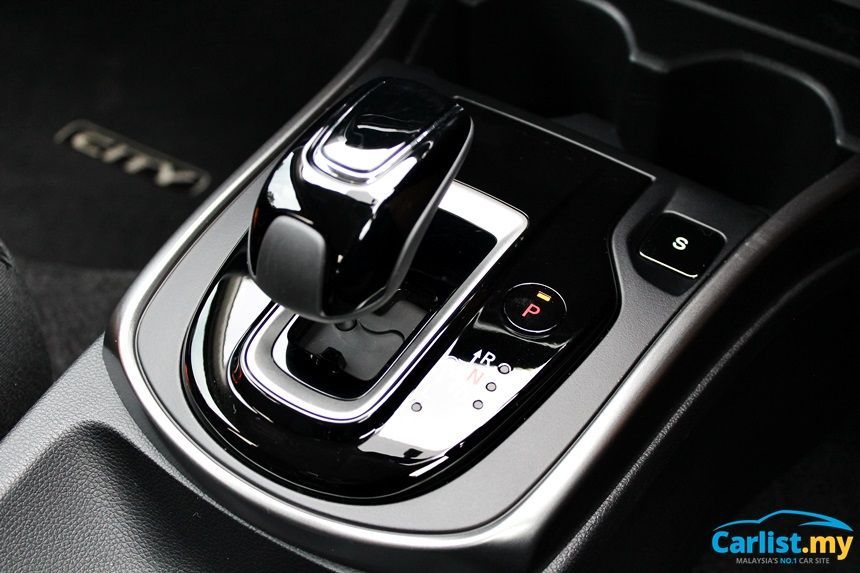 The seven-speed transmission offers up a wide spread of ratios for the engine to work on and shifts, up and down, are despatched rather quickly. The City Hybrid is offered with paddle shifters, which does spice things up a little during an enthusiastic drive, but for the most part, the gearbox is intuitive enough to shift up and down depending on the throttle load, such that I rarely needed them. Still, in keeping with the car's sporting ethos, it's a welcomed addition.
The transmission is smooth in traffic and comes into its own on the highway, ticking away at just under 2,000 rpm in seventh gear at the speed limit.
The City Hybrid tips the scale at 1,188 kg, just 76 kg more than the Grade V 1.5-litre model, so it hasn't lost its edge in the handling department. If anything, the added (battery) weight at the rear gives it better high-speed tracking and stability.
Steering is sharp, and offers relatively good feedback. On a hard thrash on a twisty road, one would run out of mechanical grip from the tyres before the City reaches the limits of its chassis. Turn-in is good, as is mid-corner body control, and given the engine's instantaneous torque delivery, the City Hybrid exits corners with considerable verve.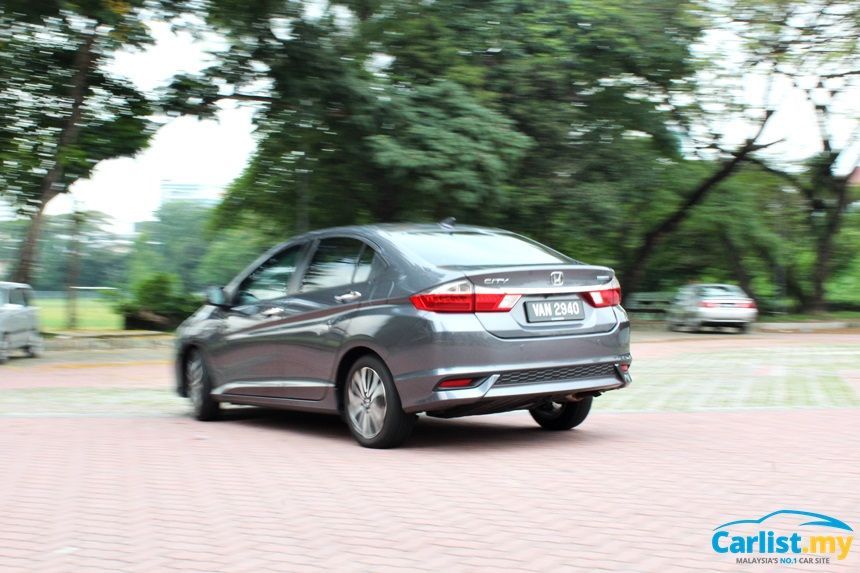 Perhaps a drawback of the advanced drivetrain is that the engine is worked quite hard, between powering the car and its battery regeneration duties – it groans and bellows from time to time, especially when it's called on to recharge the battery.
It's much the same with any other hybrid vehicle, such as Toyota Camry Hybrid and the Hyundai Ioniq, however, the power unit in the City Hybrid is less refined.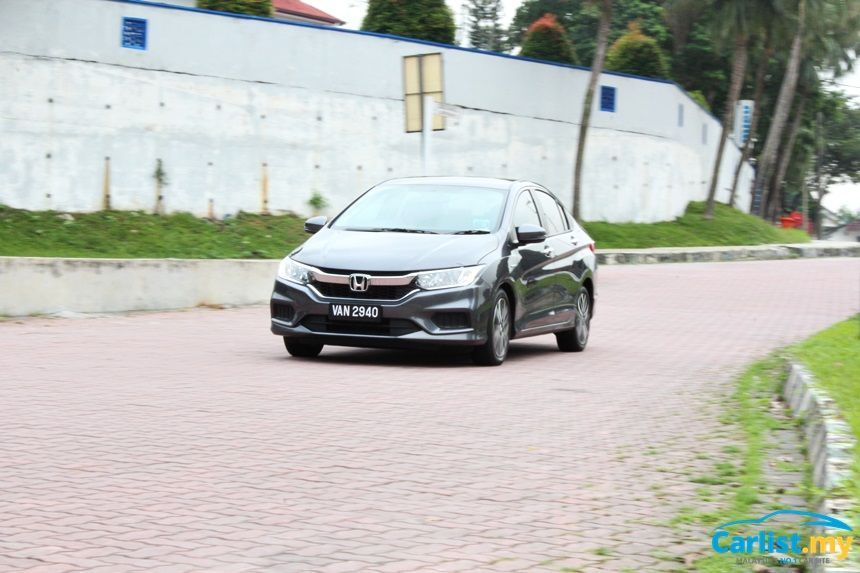 Also, given that the electric motor is connected to only alternate gear ratios – downshifts during deceleration, mostly when coming to an (urgent) complete stop can sometimes feel a bit notchy. Because the transmission is jumping between alternate gears (when in a regeneration phase), instead of cycling through them sequentially, small drivetrain jolts are felt as the car slows down. But, as this only happens during sudden slowing, it isn't a deal breaker.
Conclusion
Having also tested the Hyundai Ioniq in recent time, in my opinion, the Ioniq surpasses the City Hybrid most notably in terms of safety kit and overall refinement levels. Its innovative drivetrain isn't to be scoffed at, and it too is a champion in value. If you're in the market for a hybrid vehicle, especially at this price range, the Ioniq Hybrid definitely warrants a close look.
However, the City Hybrid trumps the Hyundai Ioniq in terms of cabin space both at the front and rear, making it the more practical choice of the two.
Elsewhere, the City Hybrid excels with a sublime power unit, superb fuel economy and driving dynamics that will satisfy most die-hard driving enthusiasts.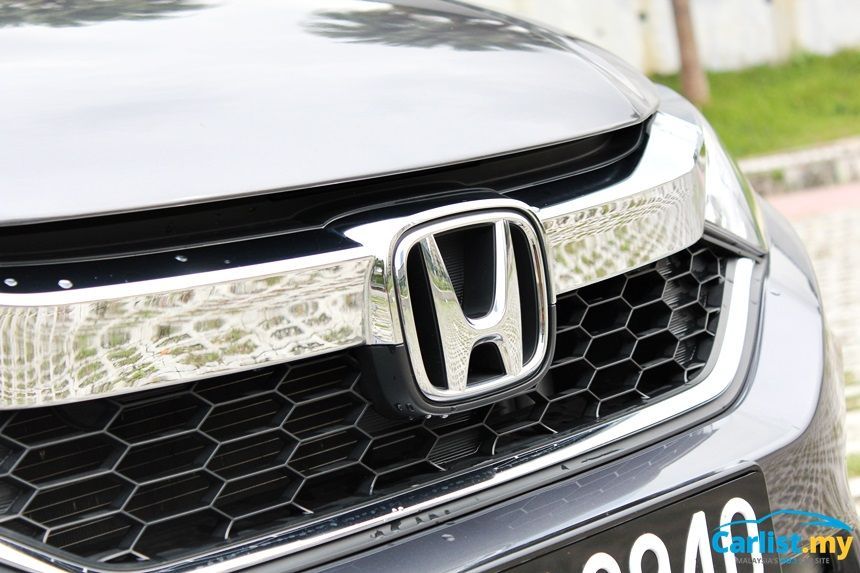 Given its attractive price tag, and backing from a brand synonymous with great engineering, performance, and reliability – it's a purchase one can commit to with peace of mind.
Plus, despite its claims of being a sporty vehicle, it hasn't forgotten its premise of being an economical and versatile family sedan: over 1,000 km of driving, I averaged around 6.4-litres/100km in city driving, and achieved as low as 5.0-litres/100km during conservative highway cruising, which is excellent by any measure.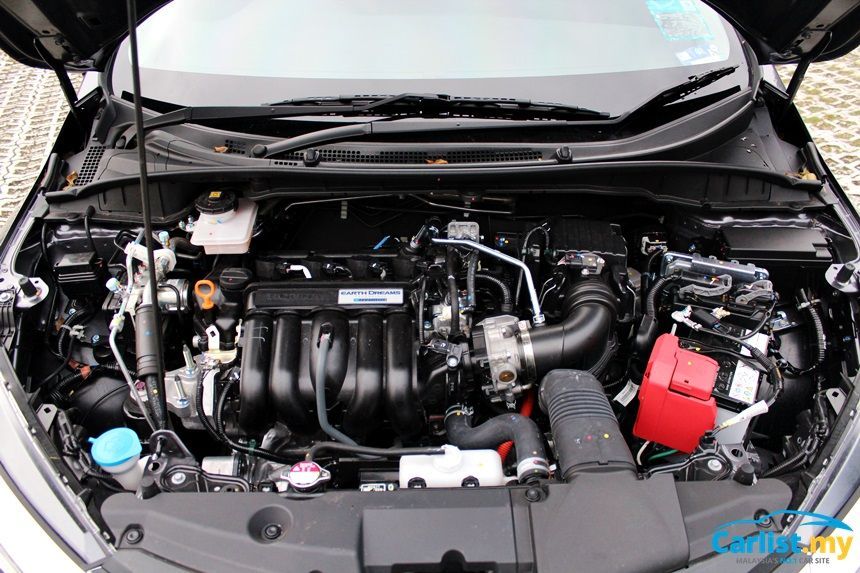 And with a specific output of 91 hp/litre, it's almost as power dense as the VTEC powerplants that came before it, yet substantially more efficient. Progress.
---
---
---
---
Comments