Review: Hyundai Tucson 1.6 T-GDI and 2.0 R-Series CRDI – Punching Above Their Belts
Reviews It seems that all everyone can talk about these days are compact crossovers based off of small hatchback platforms. It's difficult to fault them given that they're the perfect fit for urban life, featuring both compact dimensions and extra practicality over the majority of passenger cars.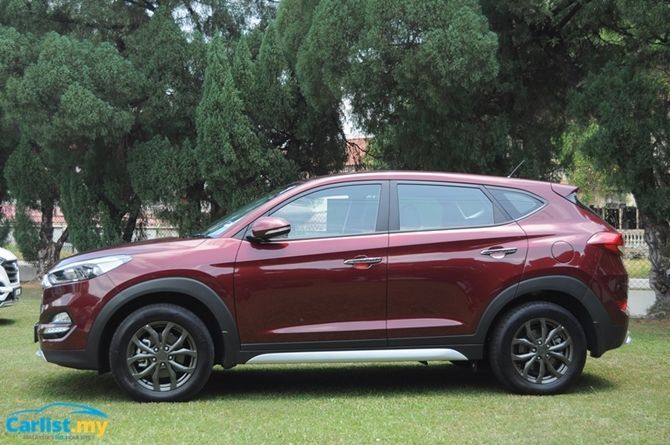 But there was a time when a mid-sized SUV was simply known as an SUV. It was the only option for those who wanted something a little more rugged than your average road car, but didn't want to commit to life with a pickup truck or didn't find an MPV as good of a fit to their needs. The Hyundai Tucson has happily sat in that class, evolving with each generation to become the product it is today.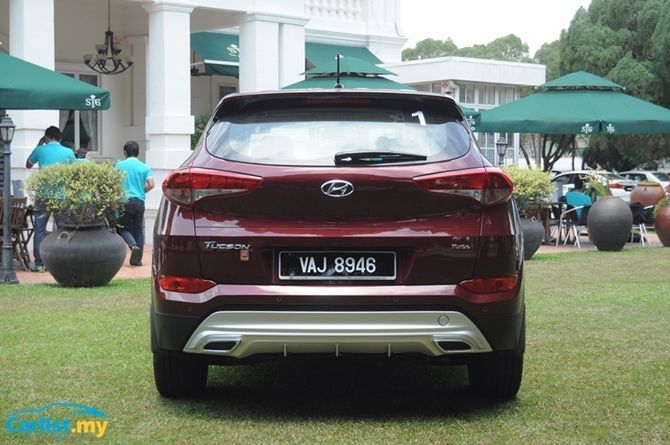 The Tucson isn't as popular as its contemporary rivals, but there's no reason why this should be the case. The recent addition of the 2.0 R-Series CRDI diesel variant is highly welcome as well, offering a nice alternative to the turbocharged petrol powerplants that are becoming more and more common with new SUVs.
To showcase their Tucson range, Hyundai Malaysia took us on a trip up to Ipoh, with both the 1.6 T-GDI and 2.0 CRDI models available for testing. We got a little bit of time in both, and here's what we found.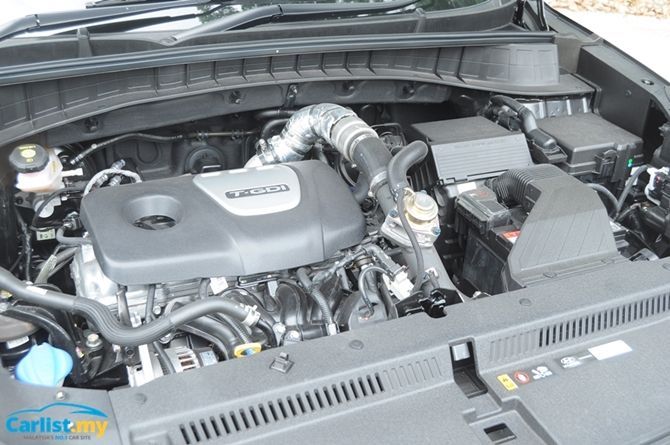 Specifications for 2017 Tucson 1.6 T-GDI
Engine: 1.6-litre turbocharged, direct injection
Transmission: 7-speed dual clutch, front wheel drive
Power: 177 PS at 5,500 rpm
Torque: 265 Nm from 1,500 – 4,500 rpm
Safety: Six airbags, ABS, ESC, VSM
Price: RM 145,688 (on the road, without insurance)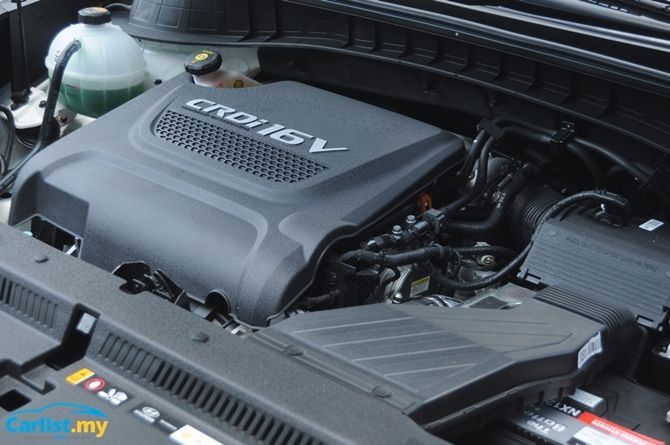 Specifications for 2017 Tucson 2.0 R-Series CRDI
Engine: 2.0-litre twin-scroll turbocharged
Transmission: 6-speed automatic, front wheel drive
Power: 178 PS at 4,000 rpm
Torque: 400 Nm from 1,750 – 2,750 rpm
Safety: Six airbags, ABS, ESC, VSM
Price: RM 155,788 (on the road, without insurance)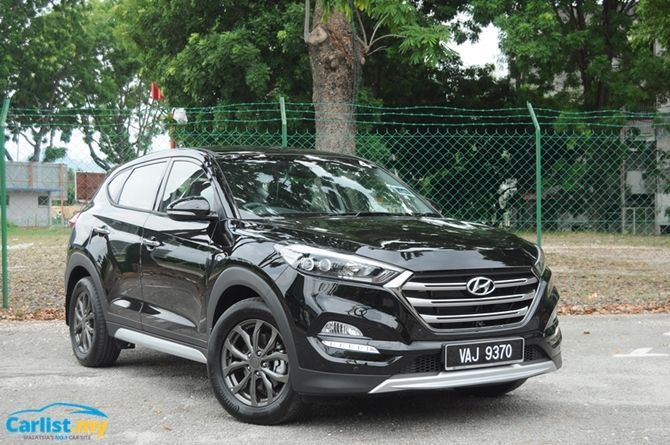 Overview:
The Tucson is Hyundai's most current mid-sized SUV, and it comes highly specified. The mass market isn't the target for Hyundai Malaysia, and you're likely to find many premium features in the Tucson that you wouldn't normally expect in a car of its class. Naturally you would also expect to pay a hefty price as well, but the Tucson comes in at a more reasonable price of RM 145,688 for the 1.6-litre T-GDI and RM 155,788 for the 2.0 R-Series CRDI. Both prices are on the road, without insurance.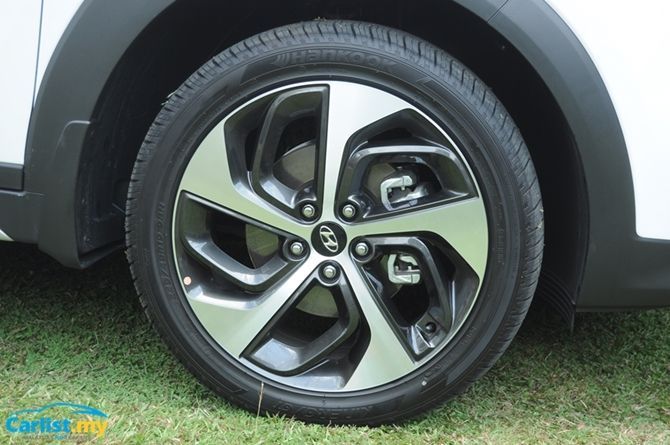 Beyond the large difference in powertrain, the two models feature fairly similar specifications. Both the CRDI and T-GDI get LED headlamps with bending lights, auto hold functionality for the brakes, and a smart powered tailgate along with optional 19-inch rims. There's also an optional bodykit, along with red, white, or black interior trim colours. These, plus the more complex powertrains, are more than enough justification for the premium to pay over the normal 2.0 Elegance model.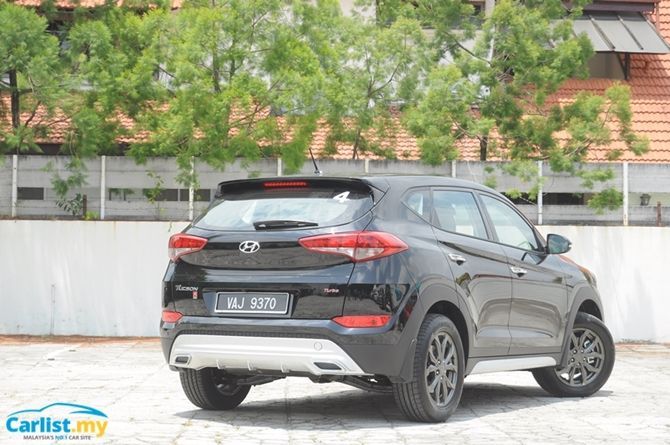 Exterior:
Hyundai's design language has gone through numerous revisions, and you wouldn't be at fault if you didn't instantly recognize the Tucson as a Hyundai product apart from the badge. The car sits high up, with traditional SUV dimensions and proportions, blended with sharp angular lines from head to tail. It's an interesting mishmash, but the end result is a handsome looking car with strong features that help it to stand out from the crowd.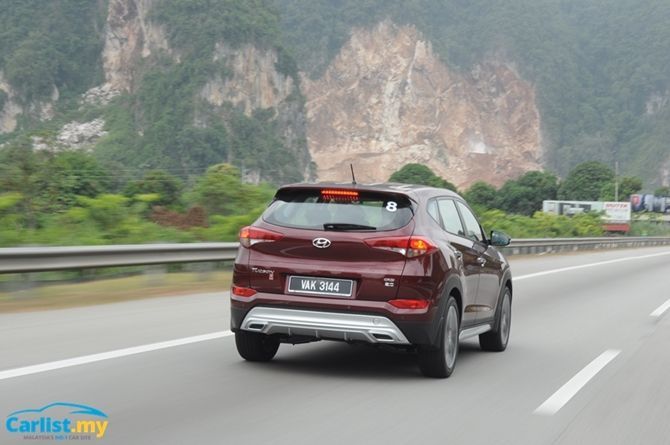 Opting for the larger 19-inch wheels is a little peculiar at first, although you get used to how the wheels really fill out those wheel arches. At the end of the day you will be trading some comfort for style and marginally improved performance, so whether you opt for the wheels or not is entirely your choice.
Interior:
On the inside is where you begin to see what Hyundai has really done with the Tucson. It isn't the overall looks or the functionality that matter the most, but rather the interior layout and the features available to occupants. The audio visual navigator, or AVN, sits front and centre- and while it can be a little clunky in operation, it doesn't take long before you figure out how to make it do what you want it to do.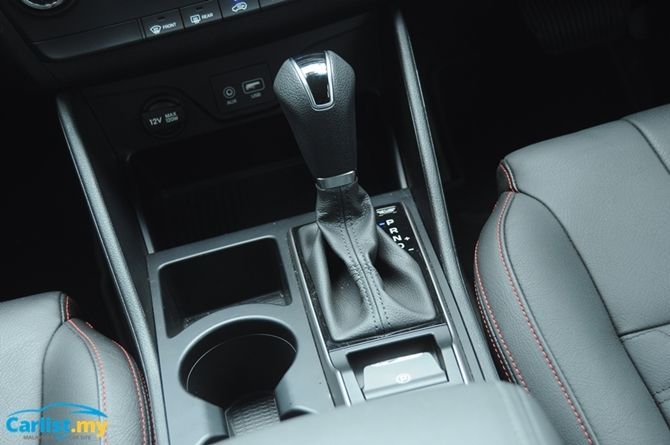 The layout has been kept clean and simple, sort of in the way a Volkswagen Touareg manages to keep it clean and simple without feeling particularly boring. Both rear legroom and trunk space are well accounted for, with the trunk swallowing up luggage for two with plenty of room to spare. Then again, would you expect any less from a modern mid-sized SUV?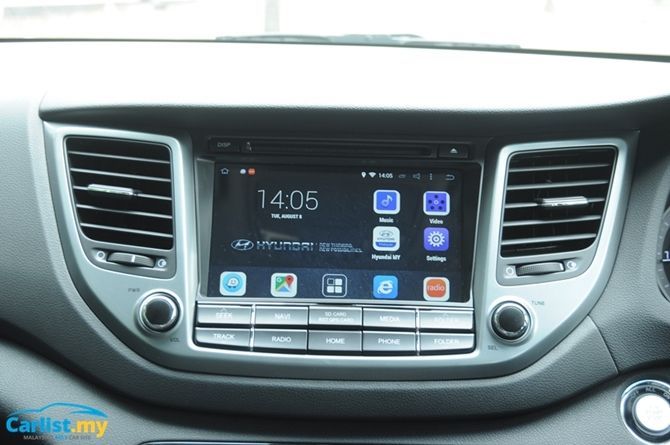 Perhaps the only recommendation we can make is to be careful with your interior colour choices. Don't opt for the red leather interior unless you're absolutely sure you can live with the colour, because it can be extremely bright and distracting at times. But if you're in the market for something different, then it could very well be a deciding factor between the Tucson and something more mainstream.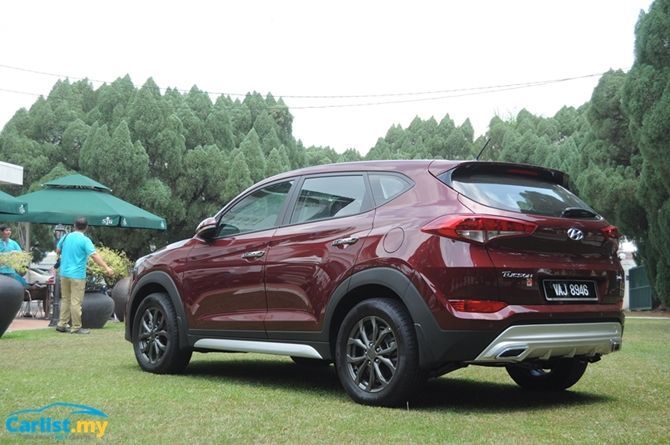 How does it drive?
Perhaps we are at a point in time where an SUV that handles well isn't all too surprising anymore. The Hyundai Tucson is no different, with passenger-car like dynamics in the majority of situations you throw at it- that is, until the absolute limit. But again, nobody buys a mid-sized SUV to do battle at Sepang, so it's not exactly a priority for Hyundai's engineering department.
What you can expect from the Tucson is well-weighted precise steering, with body control that does a good job of hiding the high kerb weight. It reacts well to throttle and brake inputs, excelling on both highway and trunk roads. You don't really feel the lack of all-wheel drive being a problem, although the roads were mostly dry during our excursion. On the return trip we were faced with a little bit of rain, although once again the car wasn't particularly fussed about it.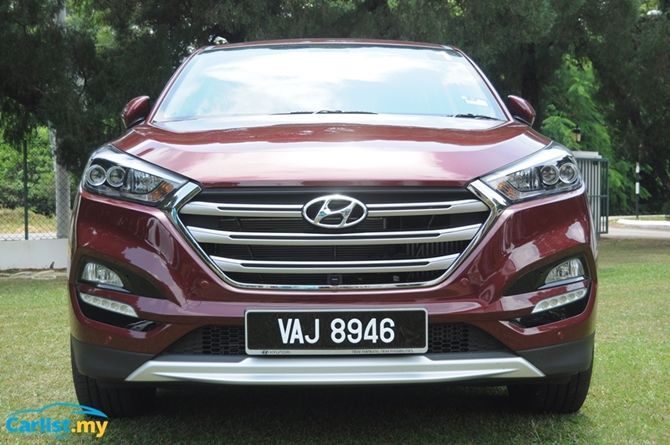 Between the two models, however, there are some differences worth noting. While the CRDI has great specs on paper, with 1 PS more and far more torque than the T-GDI, it doesn't quite feel as effective in the real world. Most of our driving was conducted at high speed on empty roads, where the low-end grunt of a diesel isn't as apparent. That being said, the powerplant is smooth, coupled with a responsive 6-speed automatic gearbox.
On the other hand, the T-GDI variant seems to outperform our expectations. At higher speeds in continuously provides a wave of torque, also courtesy of that extra gear ratio in the 7-speed dual clutch transmission. It still feels slightly unnatural that such a small engine can propel a car at such high speeds for long durations, and yet it manages to make do.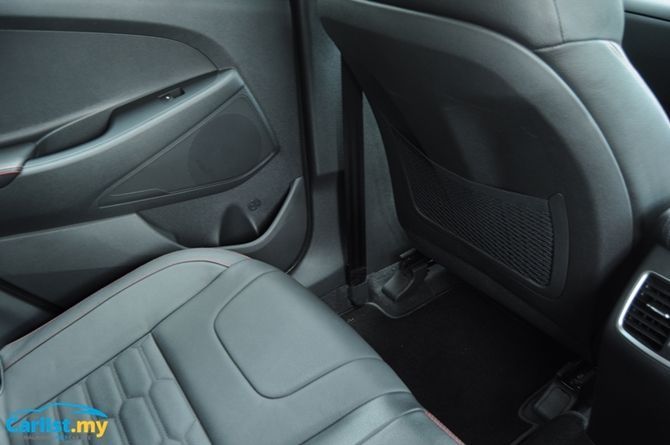 How comfortable is it?
While the body control is surprisingly good, it doesn't take away from the overall comfort of the Tucson. The car soaks up highway undulations and bumps with gusto, eating up the kilometres ahead effortlessly. It was so comfortably, in fact, that one of us managed to sneak in some sleep time on the return from Ipoh and did so comfortably. Both front and rear passengers have plenty of leg, head, and elbow room to stretch out and enjoy the ride.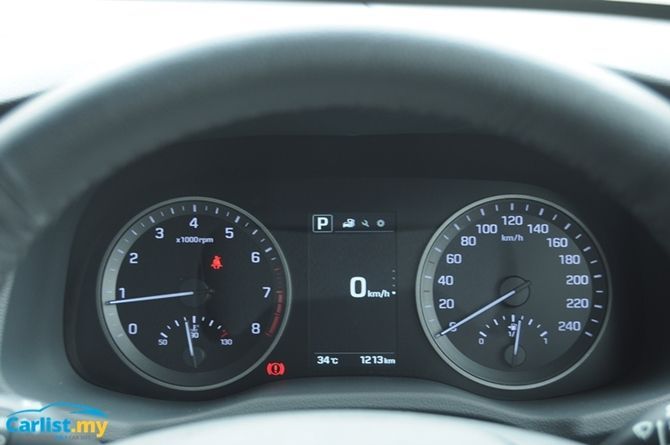 How fuel efficient is it?
Over the course of our drive to Ipoh, we didn't have as much time to test out real world efficiency- especially travelling at less than realistic speeds and with most of our journey being on the highway. That being said, we would expect the CRDI to be more efficient than the T-GDI in real world testing, given that you would use far more revs with the T-GDI to get around.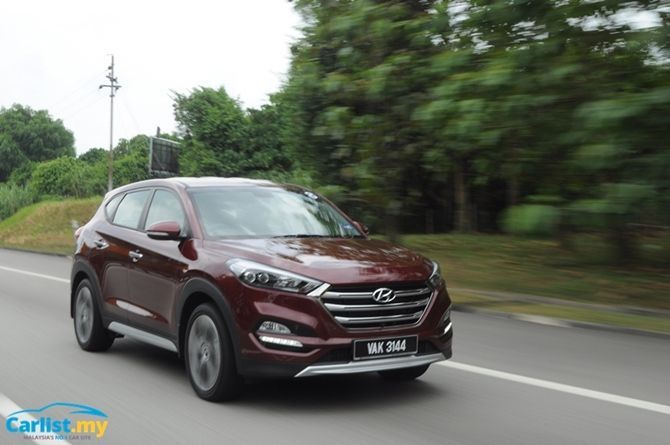 Conclusion
Hyundai has really embraced the idea of the modern SUV, neatly fulfilling the expectations of potential buyers. The Tucson is a great product that delivers on both practicality and comfort, even affording a little bit of luxury along the way. Both powertrains tested here provide adequate performance for a car of its class, but if you feel that you don't particularly need that amount of low end torque, the 2.0 Elegance is a perfectly fine model at RM 126,188 (on the road, without insurance).
Of course you don't get some of the goodies of the higher end models, but the base platform and comfort are definitely things that are maintained through the range. If you really feel like you could benefit from a little more luxury, then feel free to take either T-GDI or CRDI, depending on your personal preference.
---
---
---
---
Comments