Review: Mercedes-Benz SLC 300 Roadster (R172) – Playfulness With Substance
Auto News For some reason, luxury brands see no need to give their cars proper names. Whilst the Fords and Toyotas and Hondas of the world crack their collective heads to come up with names like Mustang, Camry, and Odyssey, the people at BMW and Mercedes just throw together collection of numbers and alphabets on the boot lids of their vehicles.
There are systems behind these numbers, of course; in the case of Mercedes-Benz, people know straight up where do the C-Class, E-Class, and S-Class stand relative to each other. Things get a little more confusing to the casual observer, however, with niche models that carry three-alphabet model names – where do the likes of the GLA, CLS, and SLK fit in the big picture?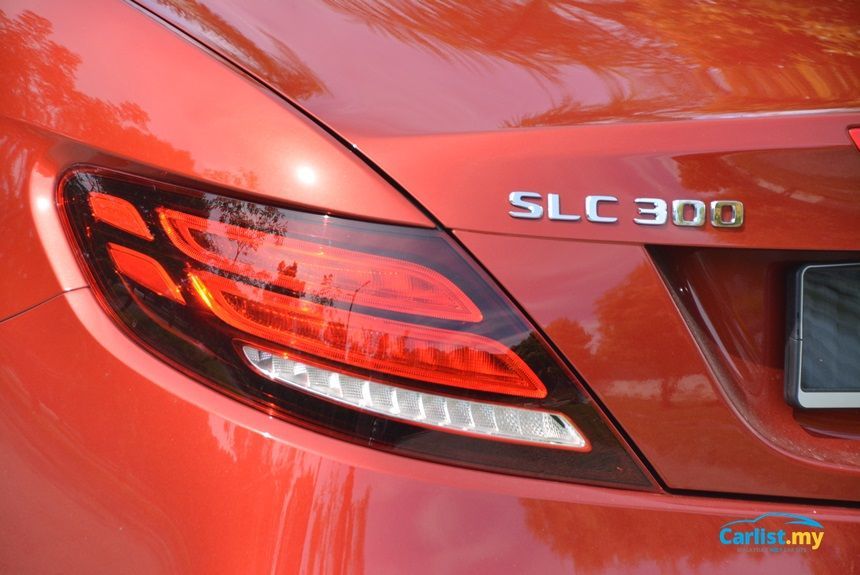 To solve that conundrum once and for all, and also to prep for an unprecedented expansion of its model range, Mercedes announced in late 2014 that it is reorganizing the naming structure for its models. Under this new system, the third alphabet in the model name tells us how high up the food chain a given car belongs.
What was previously the M-Class now becomes the GLE – an SUV positioned on level standing with the E-Class. The new naming system also spells the end of the road for the SLK name, which now becomes the SLC, a roadster positioned same level as the C-Class. Whether an SLE is coming or not is anyone's guess – we're not betting against it.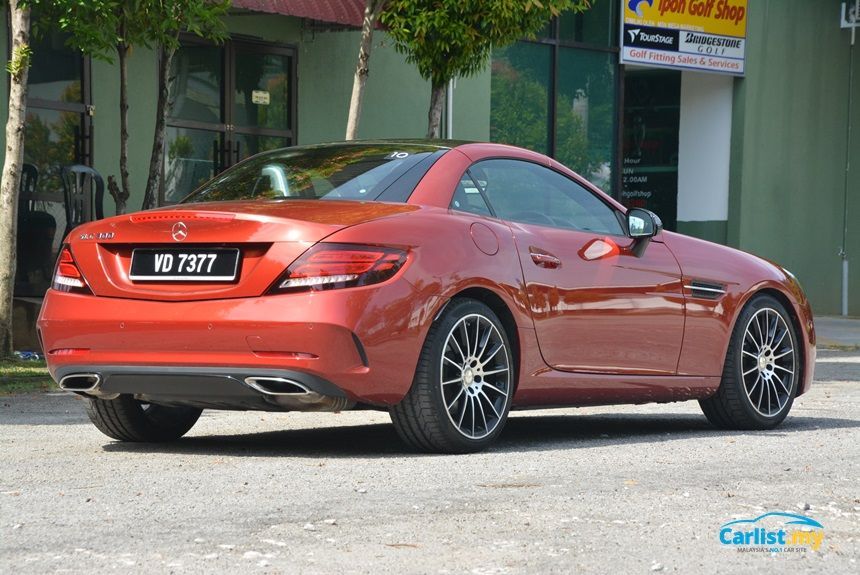 Incidentally, the SLC name itself is not new in Mercedes-Benz history. In the 1970s, this name was applied to the coupe version of the R107 SL-Class, a lineage that eventually led us to the CL-Class coupe and now the S-Class Coupe.
Back to more immediate concerns, the present day SLC is a part of the growing Dream Cars model family by Mercedes-Benz aimed not to sell in any great numbers but still nevertheless crucial in growing the brand's overall desirability to a larger audience.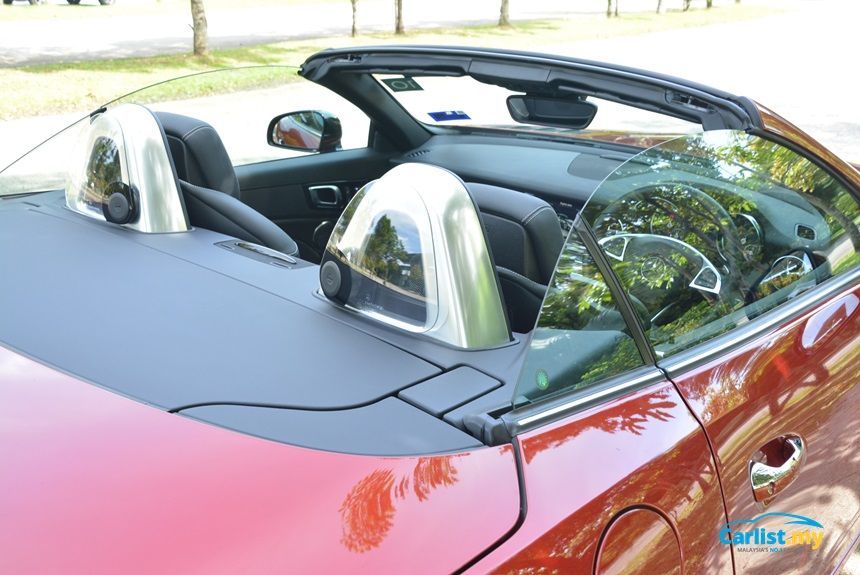 Specifications:
Price: RM468,888 (CBU, OTR without Insurance)
Engine: 2.0-litre, Inline-4 Longitudinal, Turbocharged, Petrol
Power: 245hp @ 5,500rpm
Torque: 370Nm @ 1,300 – 4,000rpm
Transmission: 9-speed torque converter automatic, RWD
Safety: 6 airbags, ABS, EBD, Electronic Stability Control, Traction Control, Brake Assist, Hill Start Assist, Active headrests, Autonomous emergency braking
Origin: Fully-Imported from Germany
Overview
Despite the new name, the SLC is, in effect, a facelift of the third-generation SLK Roadster that was launched in 2011.
Five engine options are available globally, headlined by the new AMG SLC 43 variant powered by a 367hp 3.0-litre bi-turbo V6 replacing the hairy-chested 5.5-litre V8 monster found in the outgoing SLK 55 AMG.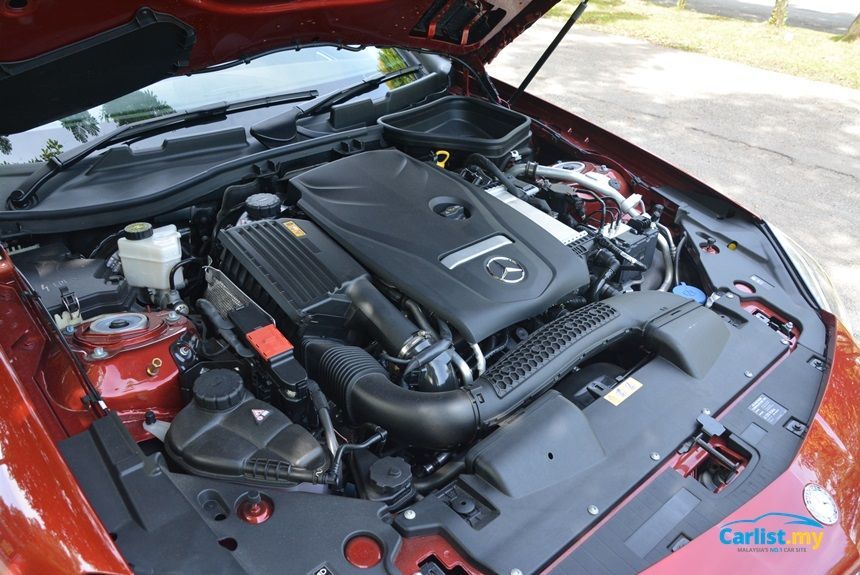 For the Malaysian market, the line-up currently consists of the SLC 200 and SLC 300, both powered by Mercedes-Benz's familiar 2.0-litre M274 four-cylinder turbo. As is the present norm, the different badges point to different engine tunes – 184hp/300Nm for the SLC 200 and 245hp/370Nm for the SLC 300 that we are featuring in this review.
Both engine tunes are paired standard with Mercedes-Benz's new 9G-Tronic 9-speed automatic transmission. Paddle shifters are standard, but unlike other recent Mercedes models, the electronic transmission shift lever is placed along the centre console as opposed to the sometimes confusing column-mounted stalk.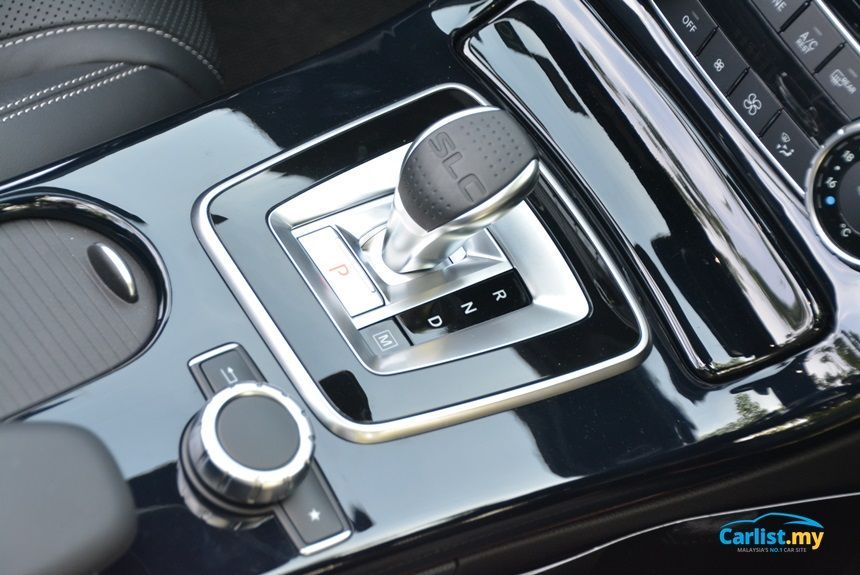 Exterior
The SLK's overall appearance had not departed significantly over three model generations, and Mercedes certainly saw no reason to tamper with a formula that has yielded two decades of continued success.
Despite the name change, the SLC's bloodlines are obvious; the proportions are reassuringly familiar – a lengthy bonnet crammed within a small footprint, in turn pushing the passenger cell astern thus compressing the rear overhangs.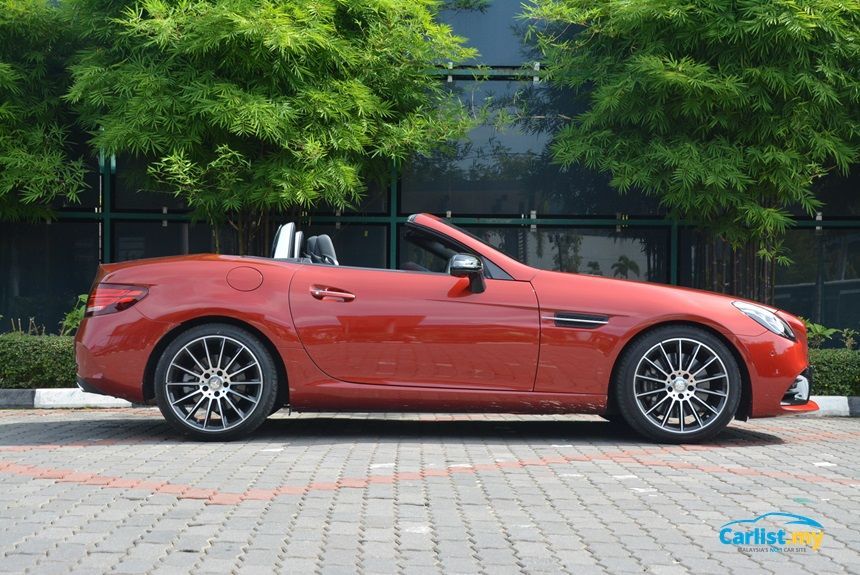 Continuing the original SLK's traditions, the folding roof is metal and power operated. It is, of course, recommended that opening and closing should be done with the vehicle at a standstill, but if you need to move off, the mechanism remains operable at speeds up to 40 km/h.
As with all folding metal roofs, the trade-off for superior refinement over a soft top is an exceedingly bulky mechanism – indulging in open air motoring inevitably wipes out at least half of the available 335 litres of boot space.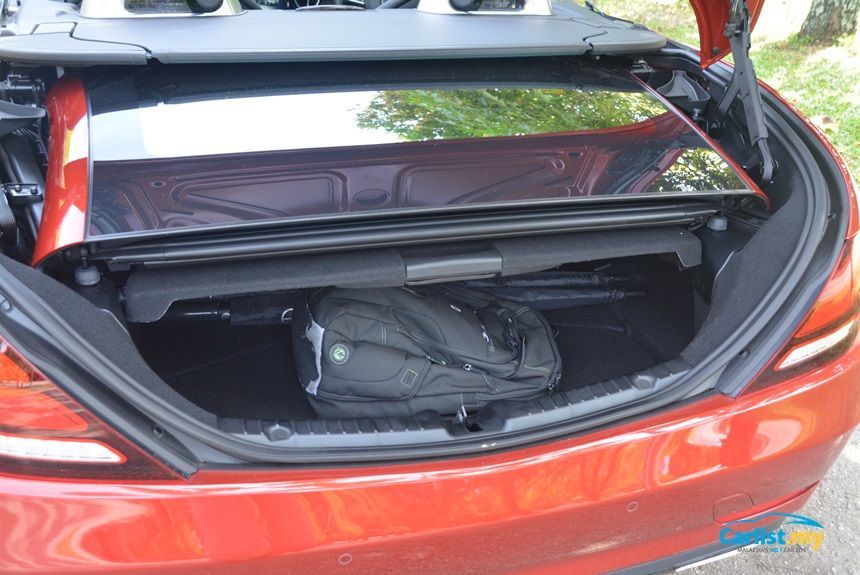 Interior
The SLC's button-stacked centre console immediately communicates its origins as a car engineered for the tastes of 2011 rather than 2017. Having gotten ourselves accustomed to the likes of the W205 C-Class and W213 E-Class, the SLC's switchgear feels distinctly last generation in its presentation.
We do not find the cabin wanting for quality, however, and material selection is sufficiently tasteful to justify the price tag.
This being a two-seater roadster, compromise in practicality is inevitable. Occupants are not pinched for space, but there is a limited amount of storage bins, trays, and pockets to swallow your small items. You've got just about enough room for your phone, Smart Tag, plus may be a takeaway coffee cup.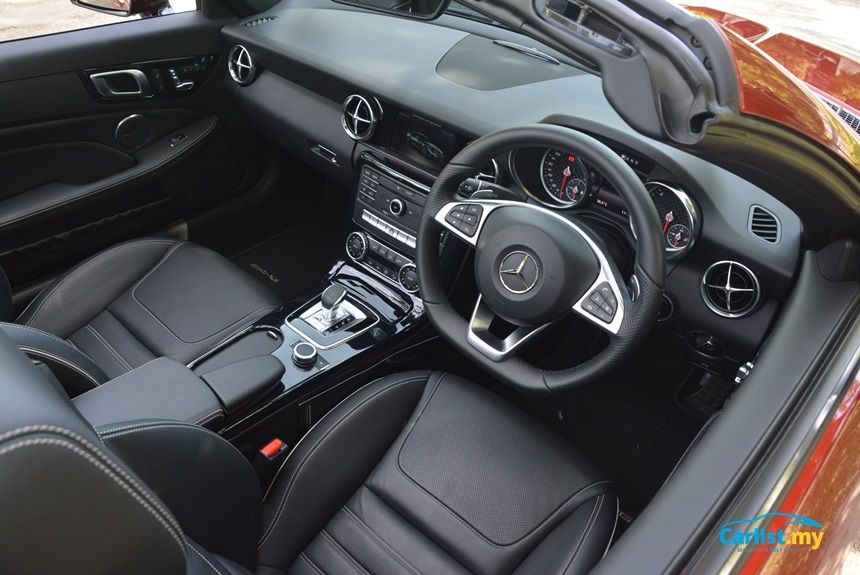 Driving Experience
If there is one benefit of the SLC's advanced mechanical age, is that Mercedes has six years' worth of user feedback and data to call upon in its efforts to fine-tune the product. The overall impression gleaned from driving this vehicle on a mixed route of highways and curved mountain roads from the Klang Valley to Cameron Highlands and onward to Ipoh speak the story of a car that has all its rough edges carefully ironed out to yield a commendably polished product.
The basics were, of course, strong to start with; Mercedes laid this car out right from the onset in a configuration that came with inherent balance – compact dimensions, short overhangs, engine within the wheelbase. The car turns with a sweetly-struck natural poise, its chassis tuning seemingly calibrated to take even the inevitable body flex of a roadster into account. It lacks the free-flowing joy of a Mazda MX-5 or the scalpel precision of a BMW Z4, but is by all accounts just about good enough to inspire confidence when stitching a few corners together.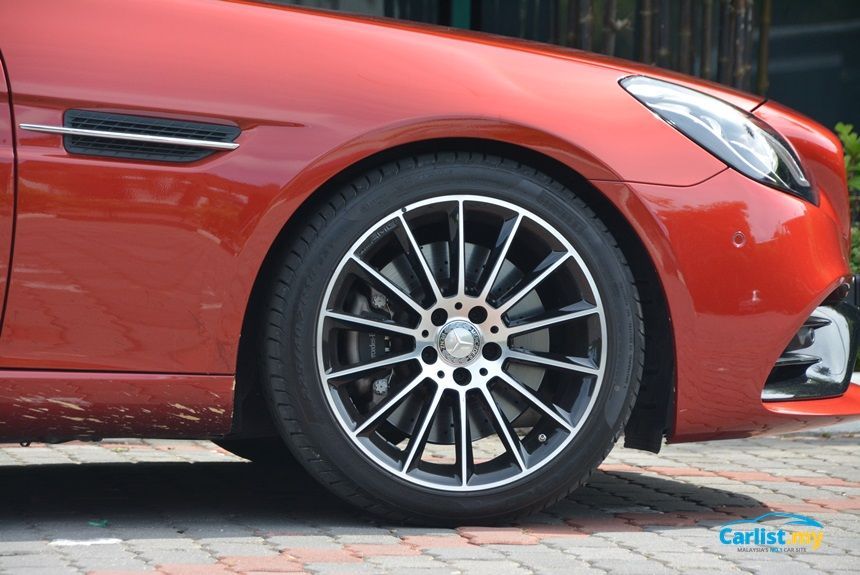 There is sufficient pace on tap too; the M274 turbo engine certainly holding up its end of the bargain in giving the SLC 300 legitimate claims of sportiness. Under full bore acceleration, the engine's strong wave of torque makes light weight of the SLC's mass, propelling its diminutive frame to extra-legal speeds with great ease.
Helping out, Merc's new 9-speed transmission is an upgrade from the outgoing 7-speeder in terms of its ability to swap cogs smoothly, though it still seems to lack the intuitive intelligence in the ZF 8HP 'box used by a number of its rivals. Under most driving conditions, however, it gets the job done and you do get paddle shifters to chip in your instructions to the gearbox.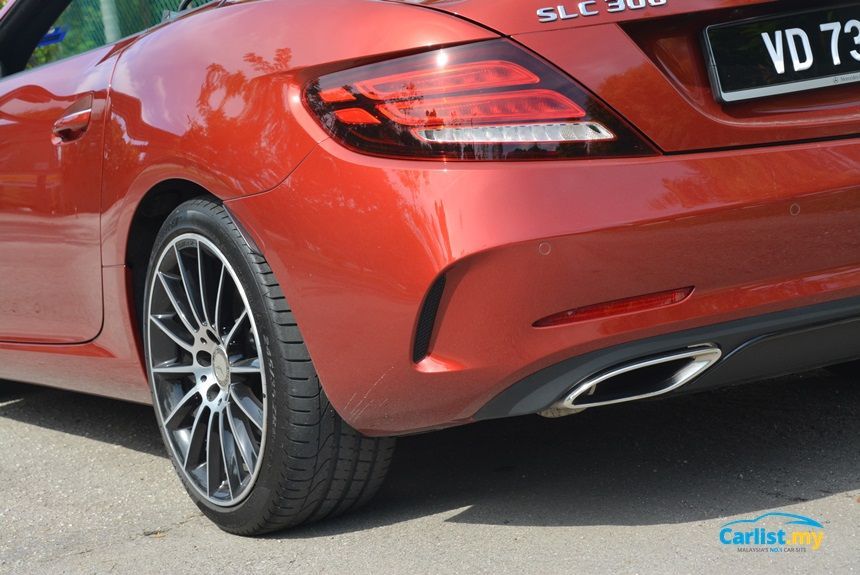 Comfort & Refinement
Sporty as its intentions may be, a Mercedes-Benz, we feel, should always set about its stuff with comfort at the forefront of its agenda. The SLC accomplishes this. There is the occasional scuttle shake, but damping feels sensible and well-judged; allowing the car to not only glide over ripples and potholes but also turn a corner with composure.
As we've said many times, ultra stiff suspension makes you faster only around a track; in the real world, you need pliancy to keep your wheels planted on the road to negotiate those patchy bends.
Roadsters are not meant to be daily cars, but from a driving perspective, the SLC is easy and pleasant enough to live with if you are okay to live with other compromises of the package.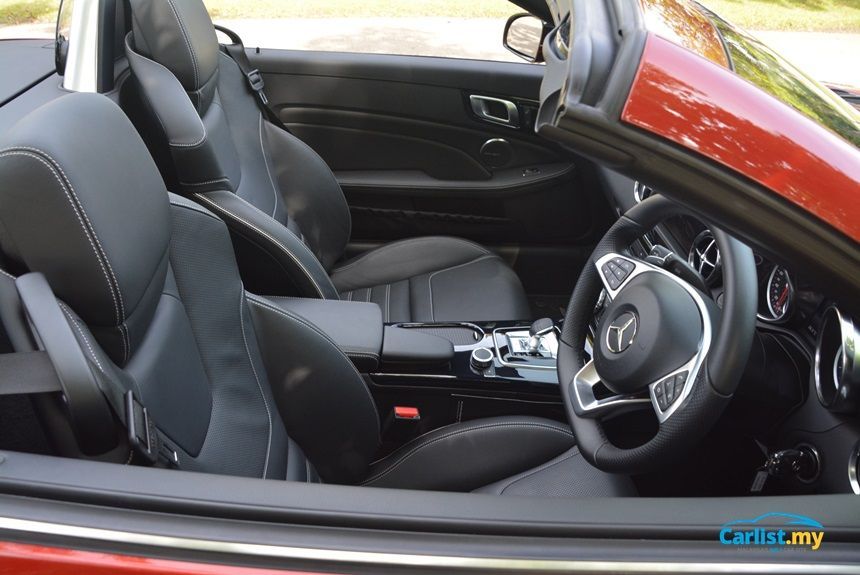 Conclusion
There is never a rational or logical reason to buy a roadster. Besides providing the obvious allure of cruising into the sunset with air in your face, a roadster also needs to exude desirability – sportiness, at the end of the day, becomes just one facet of its appeal.
Mercedes has a long glorious heritage of some of the finest roadsters; the SLK alone was a product refined over the course of two decades before its recent name change. The formula was a winning one – compact in size, but no less luxurious inside than the bigger boys.
The SLC drives well enough that its merits as a product extend beyond just being a moving fashion toy. It's more 'show', yes, but there is enough 'go' that we found ourselves enjoying the drive a little bit more than we had expected to.
---
---
---
---
Comments