As A Replacement For The SLK, Mercedes-Benz Reveals Its New Roadster, The SLC
Auto News It's the same car, pretty much, so don't worry. Just think of it as the new SLK, just given a new name, and you'll be fine. Mercedes-Benz was due to release the next-generation of its compact roadster, and all was going as we thought until it was revealed that a new name will be given to go along with the revamped car. Now dubbed SLC instead of SLK, and divided between the five variants, which includes the louder, more powerful Mercedes-AMG SLC43 at the top.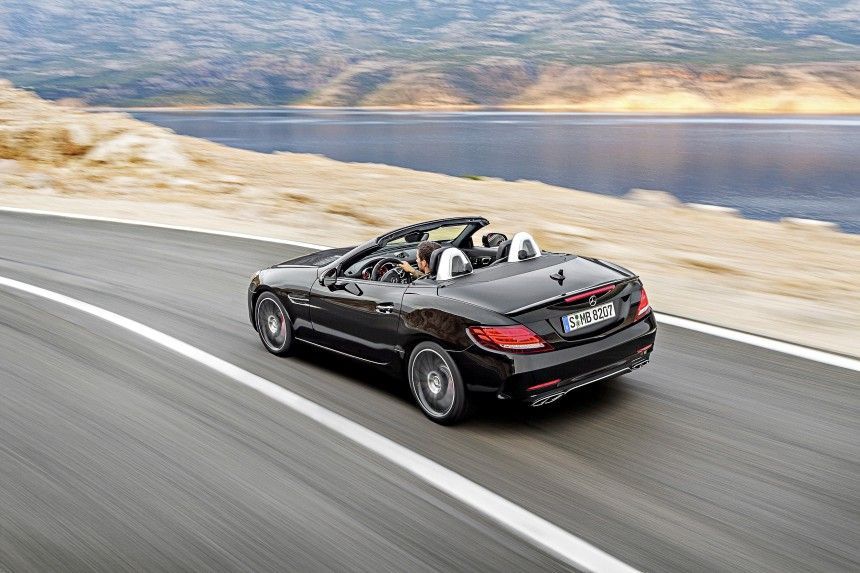 The formula that so defined the previous SLKs are kept: the folding metal roof, long hood, and small overall dimensions. The base SLC180, despite the now-typical numbering mismatch, will be powered by a turbocharged 1.6-litre four-cylinder engine that chucks out 156hp and 250Nm of torque. Moving further up the chain comes the SLC200 and SLC300, both of which are powered by a turbocharged 2.0-litre four-cylinder engine, albeit tuned differently: 184hp with 300Nm of torque and 245hp with 370Nm of torque, respectively.
There's also a turbodiesel variant, the SLC250d, in the mix with a 2.1-litre displacement and a power output of 204hp and a torque figure that, at 500Nm, comes very close to the highest-spec AMG SLC43 version. It will certainly make quick work of any overtaking manoeuvres, albeit at the expense of an inspiring engine note, which in a roadster could be a paramount concern.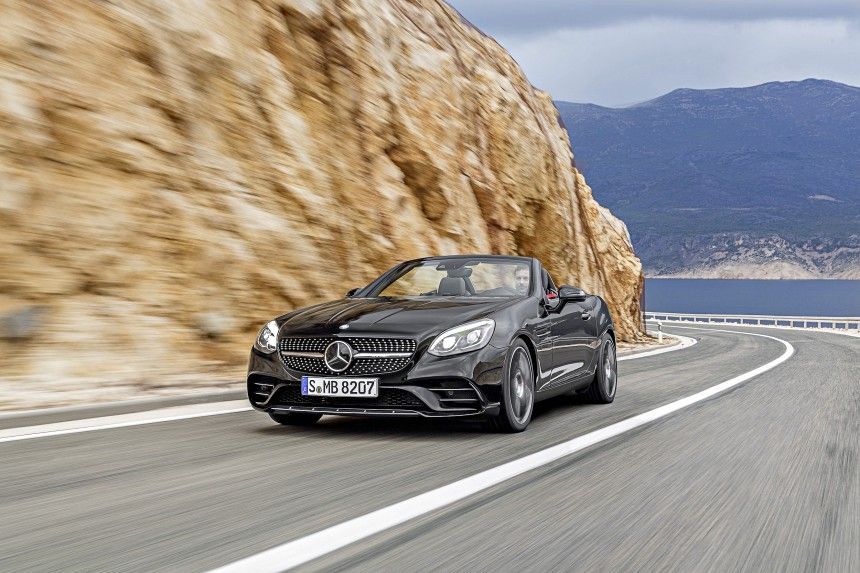 Finally, there's the top dog in the range, which was previously known under the moniker of SLK55 AMG, but henceforth as the Mercedes-AMG SLC43. Gone is the naturally aspirated M152 5.5-litre V8 of old, and in its place is a 3.0-litre V6 bi-turbo producing 367hp and 520Nm of torque, allowing it to accelerate to 100km/h from standstill in 4.7 seconds.
It's a curious development, because even while undergoing an engine downsizing in concurrence with a new model's introduction, other manufacturers are careful to offer power figures from the smaller and more efficient engines that match or exceed their larger and thirstier predecessors - usually with the aid of turbocharging. In the case of the Mercedes-AMG SLC43, however, it offers less torque and fewer horsepowers. By contrast, the older V8 unit produced 419hp and 540Nm, endowing the SLC43's predecessor with a century sprint time of 4.1 seconds.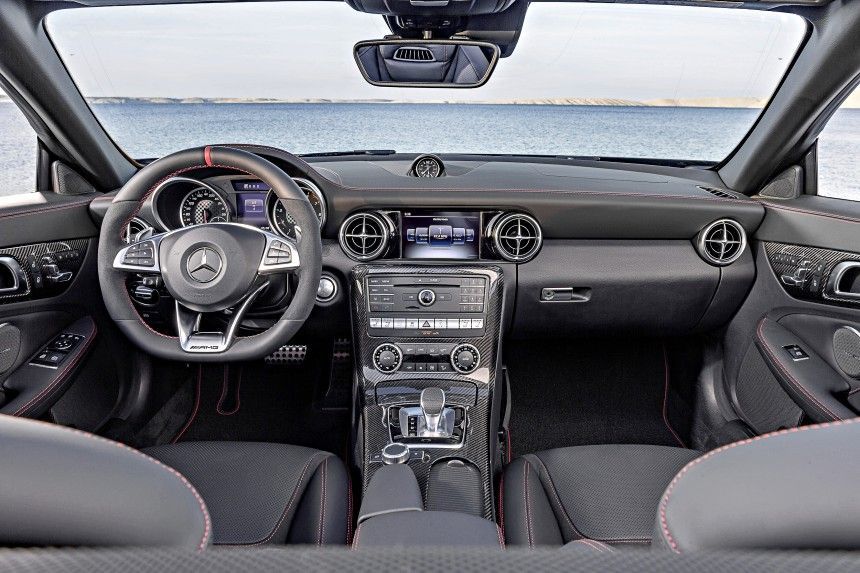 Perhaps this is a deliberate toning down of the slightly mad character that AMG models are attributed with and was a worthwhile trade-off for considerably better fuel economy and emissions figures. Engines aside, the SLC43 comes added kit to enhance the driving experience, including sports suspension and an optional mechanical limited-slip differential and AMG's Ride Control adaptive suspension. Of course, its exterior has also been given a more aggressive treatment and larger wheels.
All variants of the freshly renamed SLC range come with Mecedes-Benz's 9G-TRONIC automatic transmission, although a six-speed manual is available for the SLC180 and SLC200. Also standard is DYNAMIC SELECT which lets drivers choose between Comfort, Sport, Sport+, Eco, and Individual modes.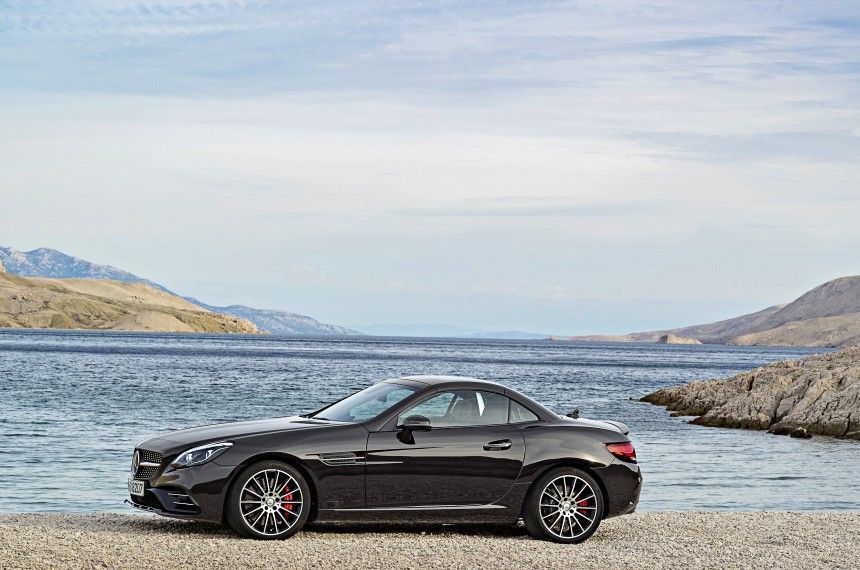 The SLC range comes with some noteworthy upgrades such as standard Active Brake Assist, Dynamic LED headlights are optional on the lower-tier variants while standard on the higher-end, and the new COMMAND interface is displayed through a larger high-resolution 7-inch panel while a new 4.5-inch display is sandwiched between the analogue instrument cluster.
We'll have more on the new Mercedes-Benz roadster as it's unveiled at the 2016 Detroit Motor Show in January.
---
---
---
---
Comments