Review: Mitsubishi Outlander 2.0 4WD – Underrated, Often Forgotten, But Hidden Surprises Abound
Reviews Remember the great 90s and early noughties when Mitsubishi offered rally-bred sedans to the mass market? Or what about the time the company won multiple World Rally Championship (WRC) titles?
Of course, that was many moons ago and the Mitsubishi we've known has changed and adapted to current market demands. Mitsubishi have culled a number of its models over the last couple of years, including the legendary Lancer. No, really. Even iconic names such as the Mirage now exists only as as an eco hatchback.
Thankfully for the Mitsubishi Outlander, this nameplate remained in a respectable SUV, though some markets sell the same model under the Airtrek nameplate.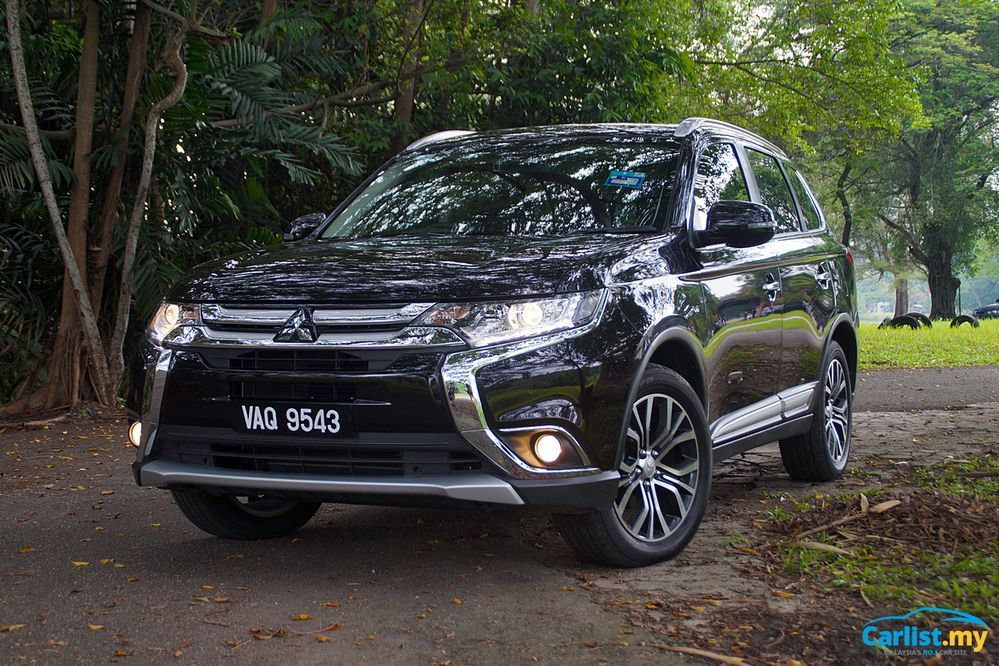 Specifications for Mitsubishi Outlander 2.0 4WD
Engine: 2.0-litre, Inline-four cylinder, transverse, naturally-aspirated
Power: 145 PS @ 6,000 rpm
Torque: 196 Nm @ 4,200 rpm
Transmission: CVT-type automatic, four-wheel drive
Safety: Seven airbags, ABS, Active Stability Control (ASC), Traction Control (TC), Hill-Start Assist (HSA), ABS with EBD, Brake Assist (BA), Rest Reminder, ISOFIX anchor points
Price: RM 137,888 without insurance
Assembly: Locally-assembled in Segambut
Overview
While Mitsubishi Motors Malaysia may have recently introduced the locally-assembled Outlander 2.0 here, the model is not exactly new, as this particular generation has been around since 2012. A massive facelift was introduced in 2015, giving us the Outlander we're used to seeing here.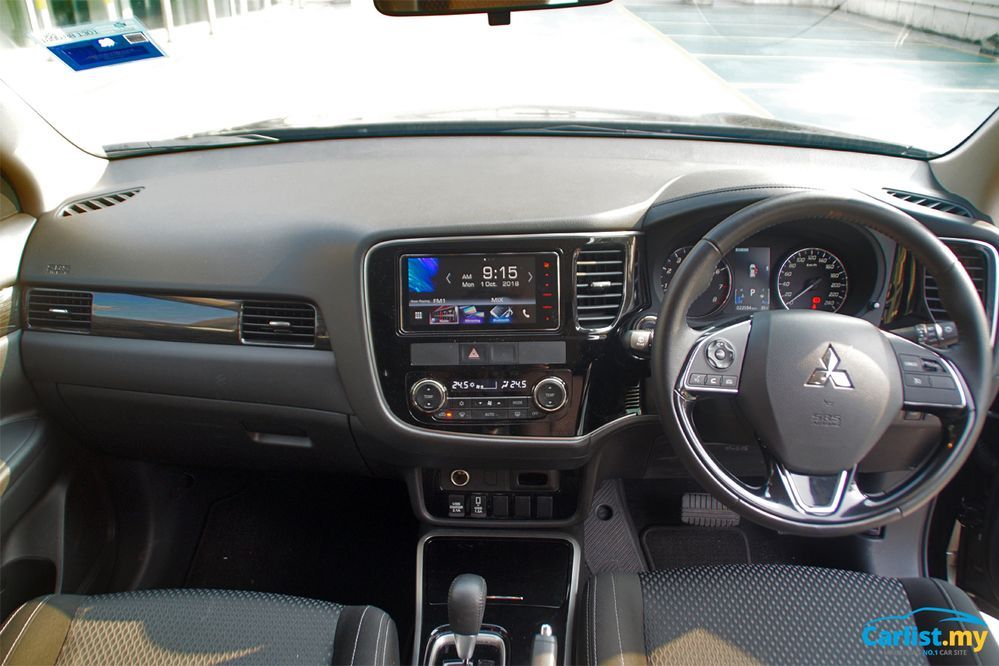 Despite being an entry model, Mitsubishi Motors Malaysia has given the Outlander 2.0 a generous list features, including seven airbags, electronic stability control, 18-inch alloy wheels, automatic halogen projector headlights, automatic wipers, dual-zone automatic air-conditioning, and a Kenwood head unit with Apple CarPlay.
If you wish to have a few more bells and whistles, Mitsubishi Motors Malaysia also offers the more powerful 2.4-litre Outlander. The Outlander 2.4 adds an electric tailgate with anti-pinch, rear spoiler, electric parking brake, paddle shifters, leather upholstery, power adjustable driver seat, sunroof, and an All-Round Monitor.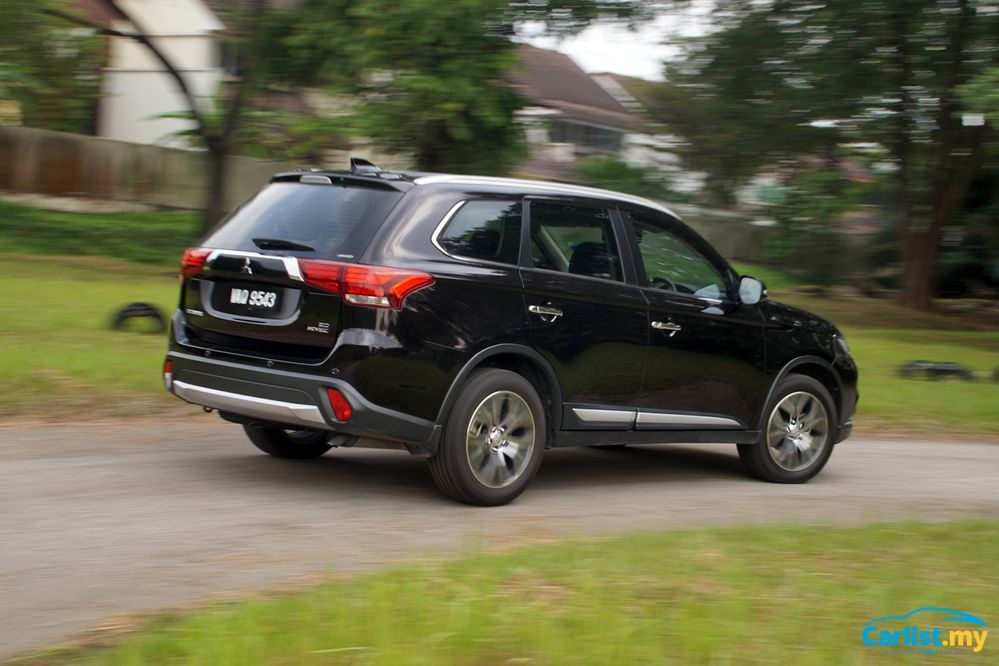 Other popular alternatives in the segment include:
Honda CR-V (From RM138,308)
Mazda CX-5 (From RM132,389.59)
Nissan X-Trail (From RM133,800)
Bear in mind that these rivals are strictly five-seater SUVs, with the exception of the Nissan X-Trail. Additionally, those that need AWD/4WD will have to pay more, but 4WD is available as standard in the Outlander..
Exterior
The Outlander 2.0 you see here is finished in a shade of dark purple called Ruby Black. No, it isn't a true black, and under the right lighting conditions, the Outlander appears purple. This colour is exclusive to the Malaysian market, as this colour can only be had with the plug-in hybrid variant which isn't available here.
Compared to the rest of its core rivals, the Outlander does not look as outlandish, opting instead for a more subdued design that we reckon would age better over time.
Interior
Moving inside, you'll notice that the Outlander's interior was built with simplicity in mind. There are no fancy rotary dials or a large centre arm rest to be found here. Every button and switch is laid out in a logical and easy-to-reach position.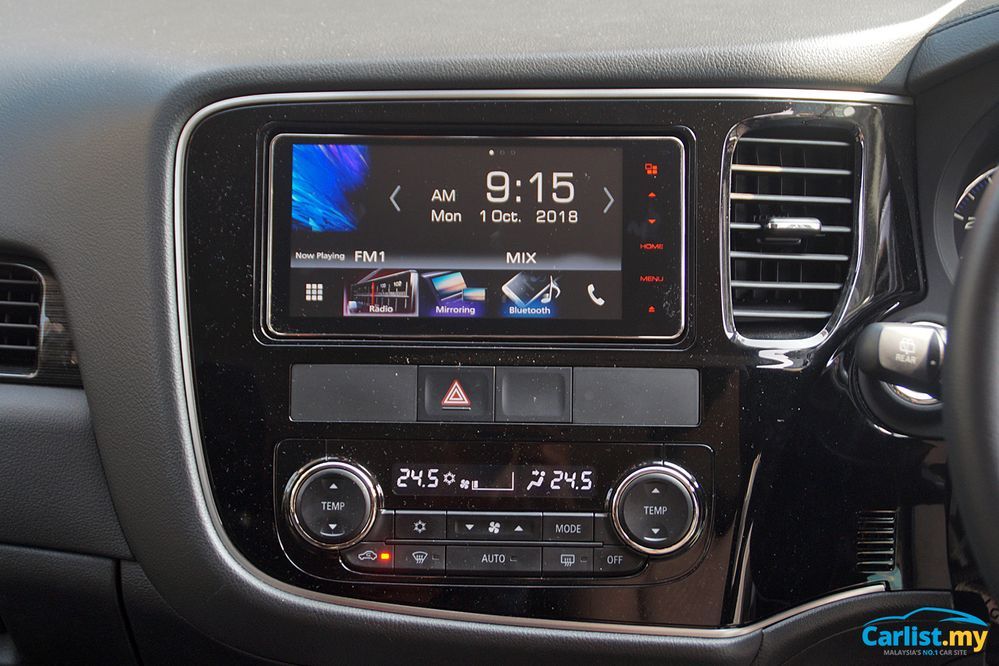 Located right in the centre of the dashboard is a Kenwood head unit with a 7-inch capacitive touch screen with Apple CarPlay support. While the overall design of the head unit is simple, we do notice that it looks like an after-market solution, rather than a factory-installed unit. But for what it's worth, usability was fine and the head unit did not give us any issues.
One downside that we noticed after spending several days with the Outlander was the front air-conditioning vents. In an effort to make the dashboard driver-centric, the centre and driver's side air vents are angled towards the driver, making it unbearably cold on longer drives, while occupants in the rear were left feeling warmer than they should be. Despite our best effort to adjust the air vents to point the extreme sides, it made little difference and this annoyed everyone in the team who spent time driving the Outlander, which was a shame because the car was otherwise very refined - more on that later.
To make matters worse, occupants sitting in the second and third row are likely to demand that the air-conditioning temperature to be lowered and the fan speed cranked up, because there are no vents or blowers in the rear.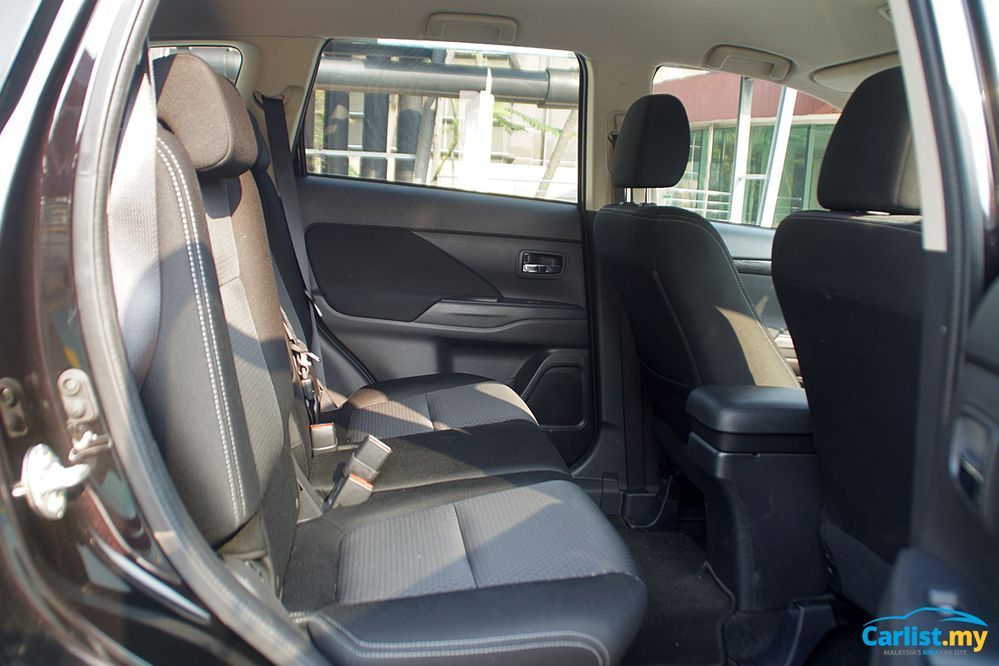 Yes, you've read that right. The Mitsubishi Outlander sits seven but it doesn't have air-conditioning vents in the rear. This itself is not a deal breaker because it is quite possible to divert cold air to the third row if the fan speed is set to set to least level 3 or 4. The problem is with the afore-mentioned positioning of the vents in front facing the driver. A temperature that's just nice for occupants in the rear will be unncessarily uncomfortable for the driver.
The third row seats are decently sized. They are not high enough for you to sit without crouching your knees, but for what it is, it's decently sized for an average built adult. It's definitely a better place to sit in than in the X-Trail.
Driving Experience
The air-conditioing vent placements may disappoint but the ride did not. After 5 days and nearly 700 km later, we were reasonably pleased with the Outlander 2.0.
Granted, the 2.0-litre 4B11 four-cylinder engine may not be earth-shattering in terms of output figures, but it does its job just fine. Acceleration is smooth and brisk, thanks to the seamless shifting CVT-type automatic transmission. Crusing along at highway speeds, we did not notice much droning when cruising on highways, which makes driving long distances in the Outlander a pleasant experience. Punch the throttle to the floorboard however, the CVT's characteristic will become apparent.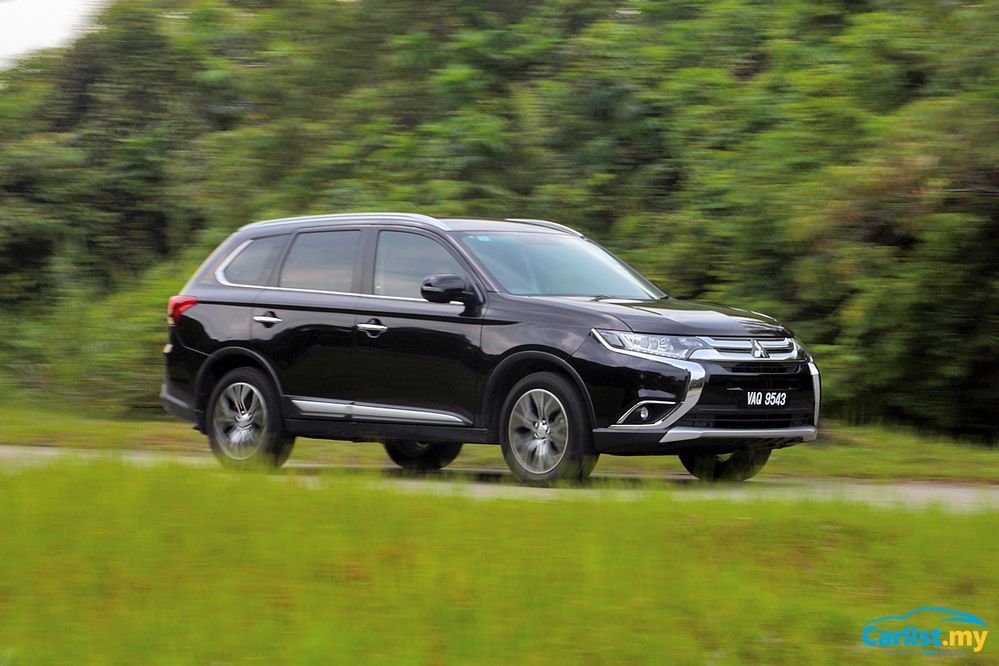 Mitsubishi has also done a great job with the sound insulation on the Outlander, as tyre, wind, and engine noise were not really apparent when driven sedately. Compared to the Honda CR-V, the Outlander's cabin was significantly quieter, which came as a surprise because at a glance, one would think that the CR-V would give a more comfortable ride.
The tri-diamond brand might no longer the actively involved in rallying but their expertise in suspension tuning is still apparent in all its cars, and the Outlander is no different. Ride comfort is exceptionally good, much better than the CR-V, which was again, a surprise to us. The suspension setup did a fine job of soaking up road irregularities.
Where it falls short dynamically is at long sweeping corners, as the Outlander's steering doesn't feel as sharp as either the five-seater CR-V or CX-5, despite being sufficiently weighted. Then again, this is not surprising considering that the Outlander has longer rear section to accomodate the third row-seats - bigger than those offered in the X-Trail or overseas market CR-V.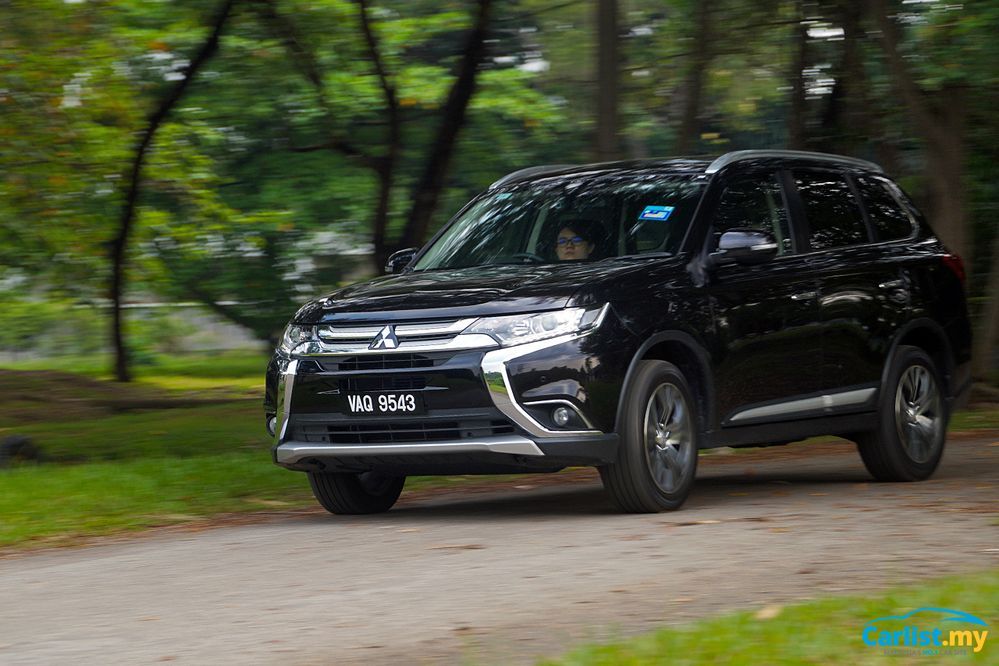 We also noticed that the turning radius of the Outlander was rather tight for an SUV this size, which aids driving in the city. During our time with the Outlander, the tight turning radius made it much easier to navigate up multi-storey car parks.
Fuel Consumption
With a CVT-type automatic, one would think that the Outlander would return decent fuel economy.
On the one hand, it's quite efficient at highway speeds. The lowest we've recorded 8.5-litre/100 km. However, when driving in town, the Outlander can be rather thirsty, averaging around 12-litre/100 km.
Conclusion
The Mitsubishi Outlander is a rather underrated product from Mitsubishi.
We really enjoyed the ride comfort and seven-seat aspect of the Outlander, but the thirsty nature and lack of rear air vents, along with the angled air vents in front, was a turn-off.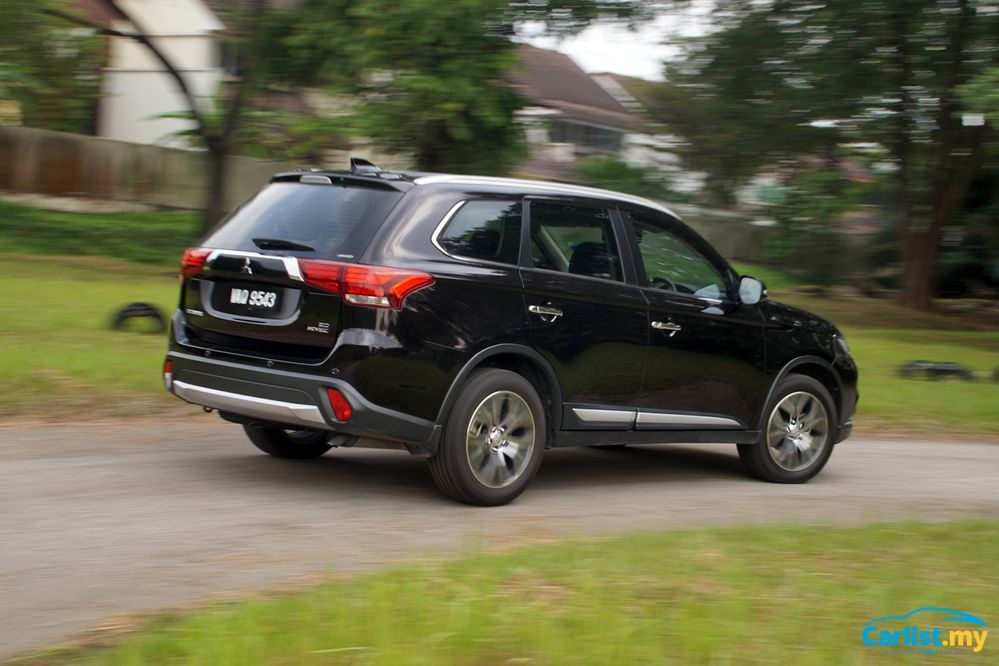 With that said, we still believe that the Outlander is an excellent choice for those who needs to ferry their families safely. The reason is simple - you'll be hard pressed another seven-seater SUV that offers seven airbags at this price point.
Last but certainly not least, Mitsubishi Motors Malaysia was recently awarded the top spot by JD Power in after-sales satisfaction, ahead of rivals Mazda and Honda. The JD Power survey factors in service quality, vehicle pick up, service initiation, service facility, and service advisor.
Overall, even with its shortcomings, the Mitsubishi Outlander 2.0 is still a solid option, offering a well-built interior, ample safety equipment, and great ride comfort - all of wrapped into the excellent Mitsubishi after-sales experience.
---
---
---
---
Comments