Review: Volvo XC40 T5 AWD R-Design – Rethinking Family Cars
Reviews Small and young are not words that are synonymous with Volvo. Indeed, Volvo Car's record breaking streak over the last three years was achieved on the back of big cars like the 90- and 60-series cars, both of which are aimed at demographics that are more senior.
But there's only so much that the larger 90-series and 60-series Volvos can contribute. While well received in the USA, these large Volvos are still too cumbersome to drive in congested Asian city streets. Changing lifestyles also meant that more people are avoiding lengthy commutes from far off suburbs to stay in smaller, but closer to the city high rise condominiums – neighbourhoods that favour compact cars.
It's no longer a question of affordability but practicality. For many people, the decision to not buy a big XC90 or XC60 has less to do with price but size. There are many consumers who want all the features offered in these higher range models, but packaged within a more city street friendly, smaller-sized body.
Every premium brand now has multiple offerings in the small/compact segment. Indeed, growth won't be found in big cars, but smaller ones. In comes the XC40.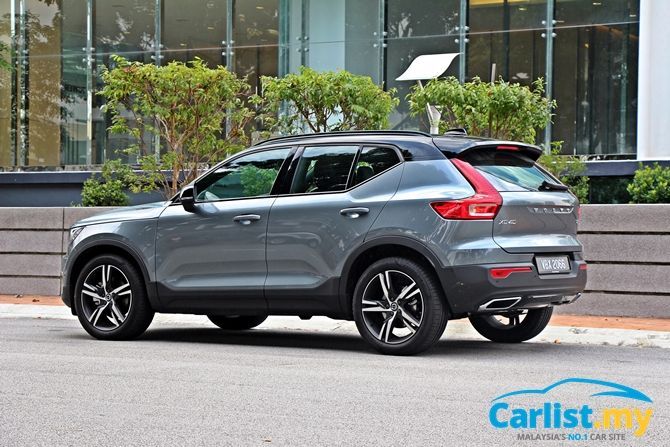 The fact that the XC40 was launched in Japan with a 12-month waiting list is a testament that this is the car that Asian metropolises need. It also bagged the 2018-2019 Japan Car of the Year award, which is usually not very accommodating to non-Japanese brands.
Launched in Malaysia earlier in October, deliveries of the locally-assembled XC40 will only commence in January 2019, with no changes to the RM 255,888 selling price. This particular test drive unit was imported from Ghent, Belgium (Sweden doesn't make the XC40) but the ones put up on sale are assembled at the Volvo Car Manufacturing plant in Shah Alam.
Segment rivals include the BMW X1 and Mercedes-Benz GLA-Class.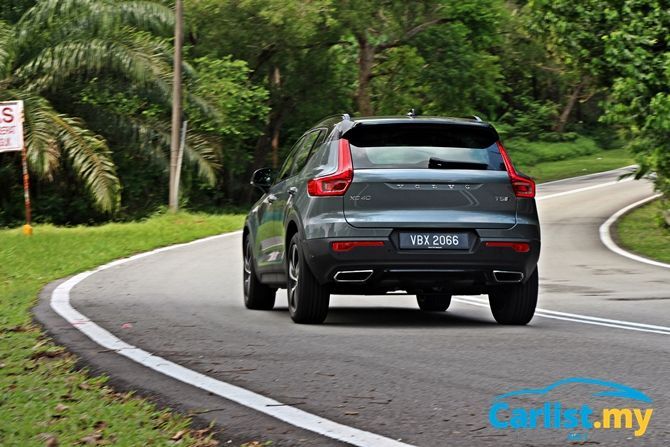 Specifications for Volvo XC40 T5 AWD R-Design
Engine: 2.0-litre four-cylinder, turbocharged
Power: 252 hp at 5,500 rpm
Torque: 350 Nm at 1,800 – 4,800 rpm
Transmission: 8-speed torque converter automatic, all-wheel drive
Safety: Six airbags, electronic stability control (ESC), Hill Start Assist, Hill Descent Control, Pilot Assist semi-autonomous driving, City Safety - Autonomous Collision Mitigation and Avoidance, Run-off Road Protection and Mitigation, Rear Cross Traffic Alert with Auto Brake, Adaptive Cruise Control, Blind Spot Information System (BLIS), Lane Keeping Aid (LKA)
Origin: Locally-assembled in Shah Alam
Price: RM 255,888
Exterior
Although it wears the 40-series designation, the CMA-platform XC40 is unrelated to the Ford EUCD platform-based V40.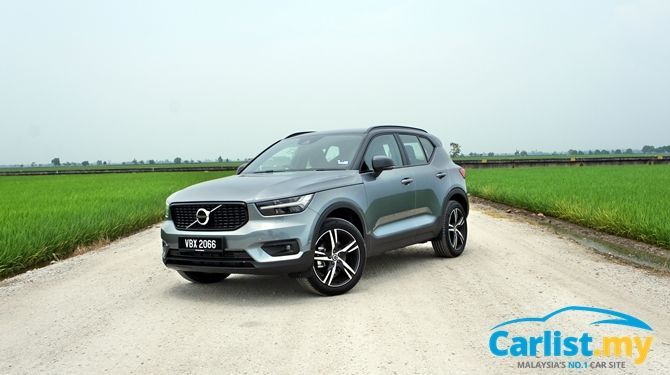 As a compact SUV/crossover, it sits in the same segment as the Mercedes-Benz GLA-Class but since the GLA is so much smaller, the XC40's real rival is the BMW X1. There's also the forthcoming Lexus UX, but the UX will mirror the GLA-Class' size and concept - more hatchback than SUV.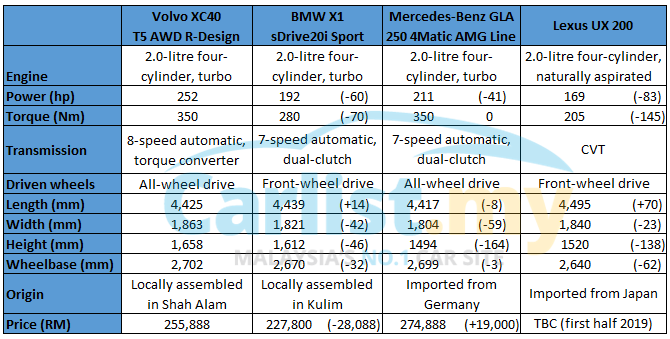 Viewed in person, the XC40 is quite imposing despite wearing the compact class 40-series badge. It's significantly taller and wider than the BMW X1, with comparable length. There's a lot of chunky looking design details, giving it a very legitimate urban SUV look. The thick C-pillars, clam shell hood and angular shapes, when combined with two-tone black and Osmium Grey paint, give it a rather robotic image. It would fit well in a filming set of the next Terminator or Transformers.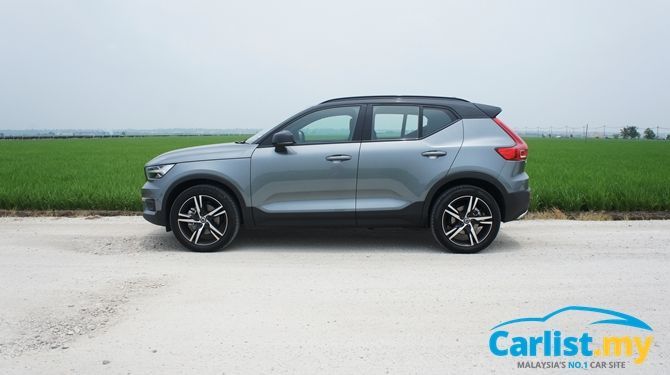 Parked next to a BMW X1, it's clear than the Volvo is the one with a stronger character, while the BMW is ironically, staying a bit too much on the safe middle ground.
Interior
The XC40 is a car whose design grabs your attention, but you will buy it for its interior because nothing else, not even SUVs from two segments above it come close to matching the XC40 cabin's practicality. The brilliantly laid out Honda CR-V's comes to mind but that's not a premium product.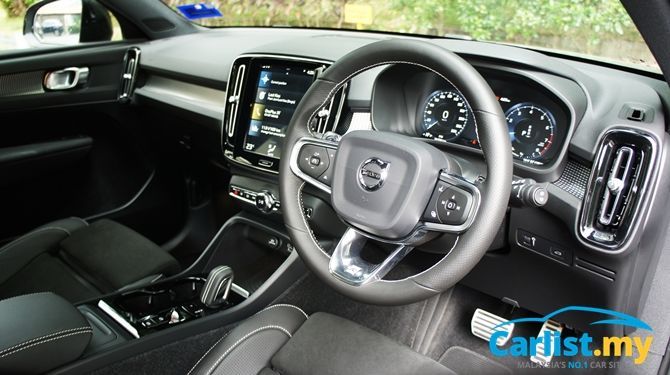 The centre console box can't fit a handbag like the CR-V's but it's still big enough for a full size tissue box and comes with an integrated, removable trash bin. The glove box opens to reveal a flip up hook for handbags, which is a better way to carry a prized handbag rather than squashing it inside the centre console box.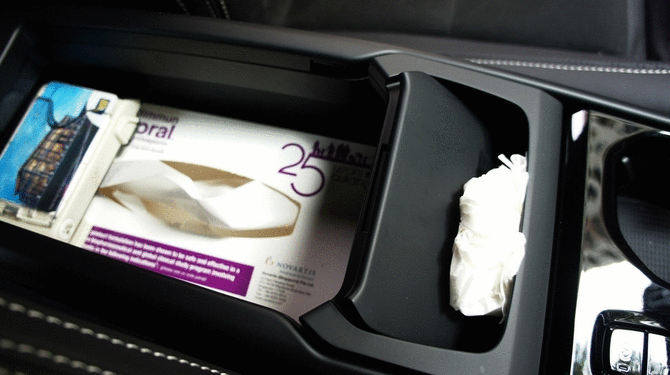 There's also slots under the dashboard for parking tickets or security access cards. Under the front seat is a pull-out tray that fits a small purse. The door pockets are deep enough for large laptops and full size water bottles, placed side by side – something that even larger SUVs from two segments above it struggle with.
The secret? Volvo has repositioned the speakers that would normally reside in the door panels, to behind the dashboard, where a sub-woofer also sits.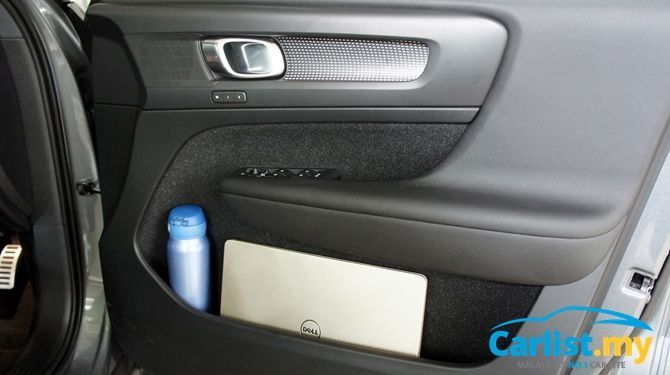 All the controls and switches have the same high quality touch and feel as the larger 60- and 90-series Volvos. We especially love the door handles and the knobs for the infotainment and air-conditioning vents.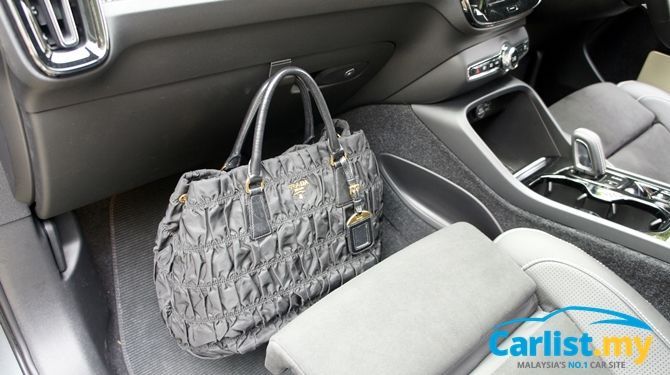 Behind, the power-operated boot opens not just from touch, but also leg gestures. Simply move your leg in the area between the left exhaust tip and the rear number plate holder, and the boot will open automatically. Of course, the key fob has to be with you.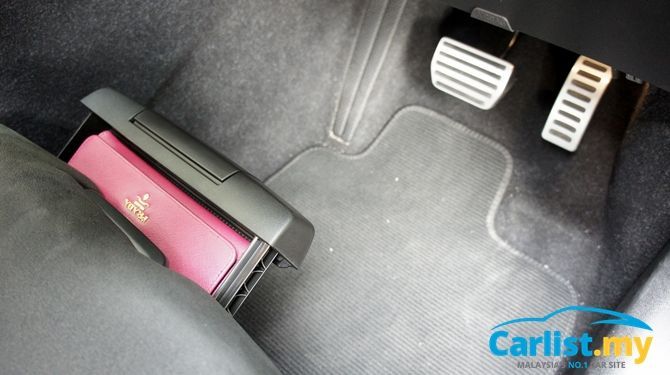 The two-tier boot floor also flips up to reveal three utility hooks – perfect for wet groceries.
So far so good. Any downsides? Just a few:
This being an entry model Volvo, there are no Bowers & Wilkins audio but you still get a very decent 250W 8-speaker system that also understands voice command. It not quite a contextual, natural language system as the ones used by the Mercedes-Benz's A-Class' MBUX or even Proton's X70, but it's very close to one. There's no need to memorize any specific keywords, simply saying "Adjust temperature to 21 degrees" or "Increase volume" or "Change media to Bluetooth" will do.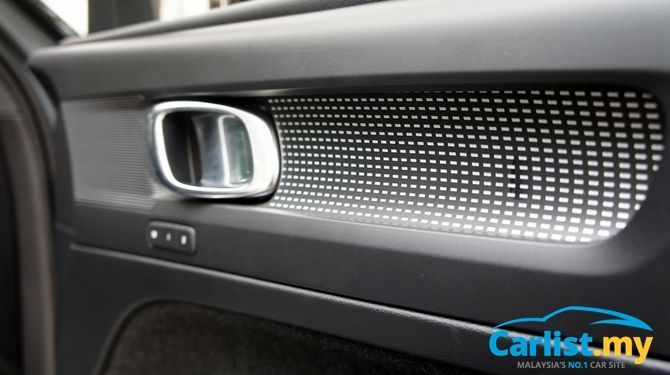 The dashboard and doors also misses out on Volvo's signature Driftwood inlays (available in the more expensive 60- and 90-series Volvos) so the cabin looks rather somber and our local models doesn't have the bright orange door fabric and carpet option.
The Sensus Connect 9-inch infotainment screen is identical the ones used in the XC90 and XC60, which also means that the screen looks disproportionately large inside the smaller XC40. To accommodate the large screen, the air-conditioning vents have to be made slimmer, with less angle of adjustments too.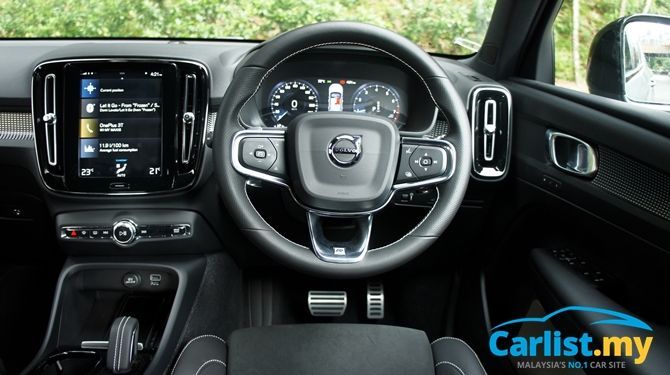 Like all recent Volvos, controlling the air-conditioning via a touch screen takes some time to get used to but the controls are actually very intuitive, and Volvo insists that this clutter-free dashboard layout is better for everyone – we think it's just because Volvo quality knobs and switches are expensive and touch screens are cheaper.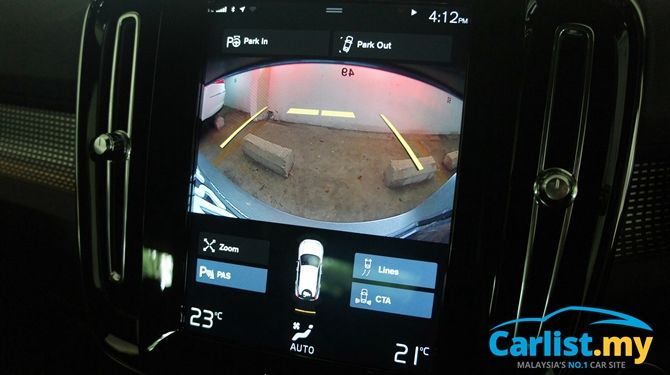 There's also no 360-degree camera, but neither does the BMW X1 (the smaller GLA-Class has it though). Personally, the lack of a 360-degree camera doesn't bother me because the XC40's size is still manageable. It also comes with self-parking feature - works on both perpendicular and parallel parking, if you want to impress your friends with hands-free parking.
Driving experience
On the move, the XC40 is an excellent tool for long distance drives. Quiet at high speeds, surefooted and responsive across a variety of terrain and road conditions, it's everything you expect a Volvo to be, and then more.
Like the XC60, the XC40 exhibits a level of agility that you don't normally expect from a Volvo. Push it hard, you get the sense that the chassis has enough talent to reel in a BMW in the corners, never mind a Mercedes-Benz, but the engineers have intentionally dialed down the intensity to keep it true to its confident but introverted Swedish persona. Volvo doesn't like Nurburgring race track-tuned dynamics, instead they have a philosophy called 'Designed Around You.'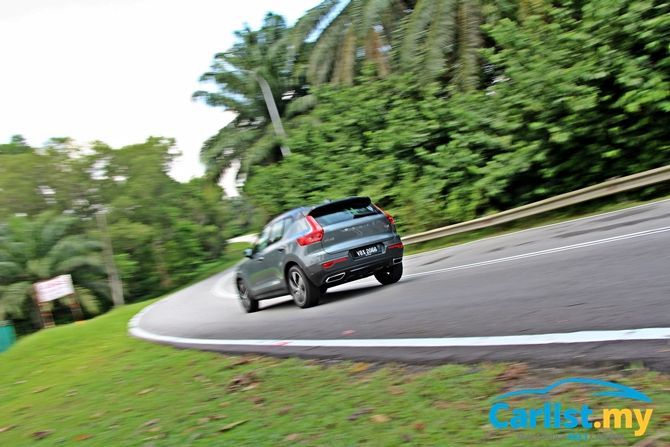 It doesn't encourage you to take corners at high speeds, but if you have to, you will find it to be surprisingly capable. The shorter wheelbase also means that you do feel the car turning around your hips. It's not quite at BMW or Mazda's level of agility and it doesn't pretend to aim to do that.
What it does is that it gives you is a very high level of confidence to simply aim at a corner's apex, point and shoot your way out, in ways that even a Golf GTI will have to give it a nod of approval, not because it's faster but because it's darn impressive for what it is.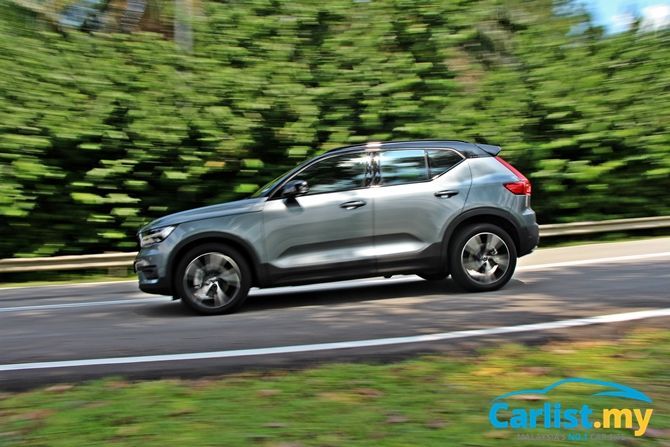 On twisty uphill stretches however, you will uncover a slight but noticeable amount of lag in its power delivery. On flat terrain however, it's uneventfully quick, delivering bursts of power on-demand.
The air-conditioning can sometimes be overwhelmed by our hot climate (probably made worse by the black roof) and a quick access button to disable the engine's auto start-stop function would be appreciated. Right now, you have to swipe the touch screen and go into the Car Functions menu to disable it.
A torque converter-type automatic transmission also means that the XC 40 is a lot smoother than its dual-clutch rivals in stop-go urban traffic.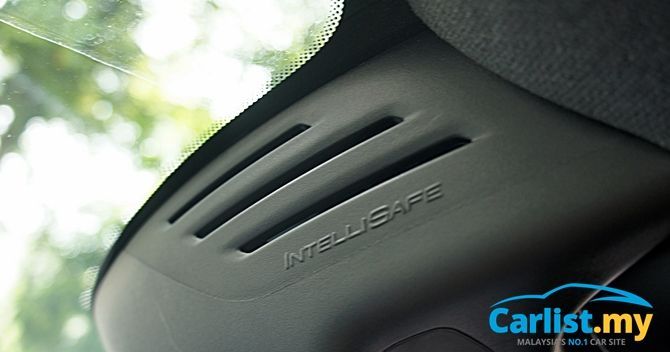 The IntelliSafe suite of advanced driving aids including the semi-autonomous driving Pilot Assist and Adaptive Cruise Control function works surprisingly well in our local traffic conditions, which is not always the case for these European cars. Still, we advise caution against relying on them entirely as these are just driving aids, meant to assist and reduce fatigue, not to replace the driver. Ultimately, the driver is still responsible for operating the car.
Comfort
We will start with the seats. Volvo is known for having the best car seats and the XC40 lives up to that reputation. It may not have full leather upholstery but the half leather, half Nubuck (suede-like) seats feels good to touch and are supportive at all the right pressure points. Personally, this material combination works better in our hot climate than full leather seats.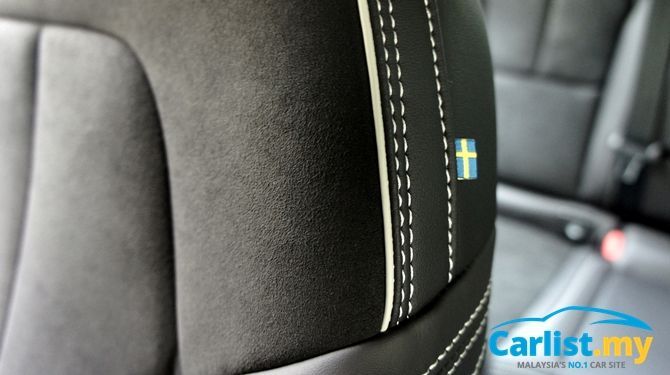 The newer Volvos have made great steps in cabin refinement this is XC 40 is actually quieter than any of its peers. Even at 150 km/h, the cabin stayed hush.
The ride is very comfortable, even with the R-Design's sport chassis suspension, there's still a decent amount of suspension travel to soak up undulations while maintaining a firm level of body control.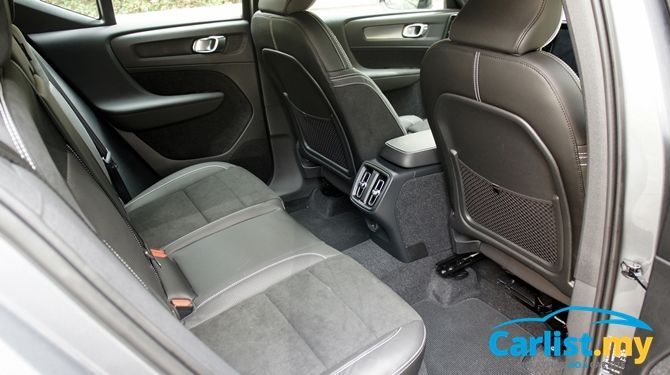 Behind, shoulder room can be tight and the transmission tunnel intrudes quite a fair bit into the cabin so it's best used as a four-seater. If you want an SUV with a flat (or flat-ish) floor that fits five adults, your only choice is still the Honda CR-V – no European alternative has a flat floor.
Fuel Economy
Our test car had less than 1,000 km on the odometer, so it was not surprising that it averaged a fairly thirsty 11.9-litre/100 km across a nearly 400 km distance – with a fair mix of urban, highway and trunk roads.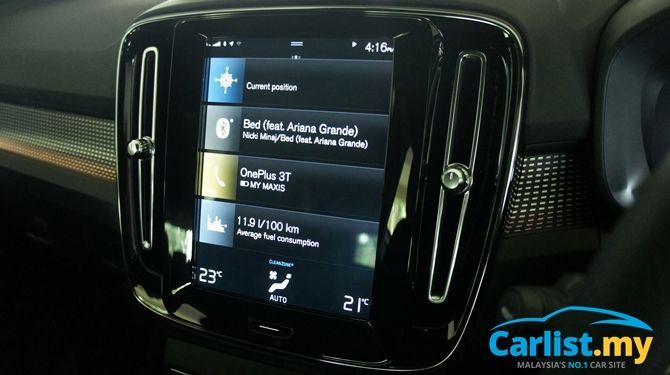 Fuel efficiency should improve as the mileage piles on and the engine internals settle into a more comfortable gap but we don't expect it to drop to less than 11-litre/100 km in normal driving conditions. Realistically, you can't expect an SUV that produces 252 hp/350 Nm to sip fuel like a Honda Jazz.
Conclusion
We love the chunky styling, adored its practicality, and can no longer see another family car in the same way ever again. The XC40 offers the utility of an SUV but retains the agility and composure that's good enough to see off many hot hatches, all while keeping the ride comfortable and the cabin hushed.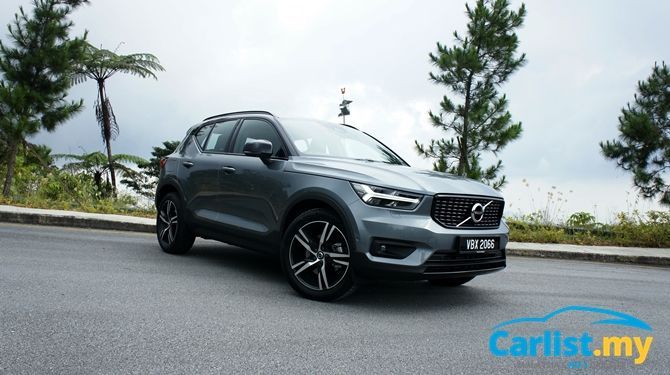 It's almost perfect but there is no such thing as a perfect car. The centre air-conditioning vents needs to improve on its range of angle adjustments and and a quick access button to disable the engine start-stop would be appreciated in our climate, but you can tell that we're nitpicking. Volvo's smaller network of service centres however, is a bigger concern and that affects the after-sales experience but on the upside coverage has been improving.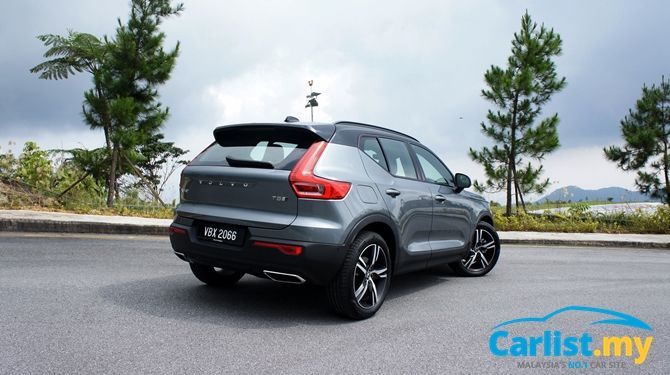 Overall, you'll be hard pressed to find another compact premium SUV that offers a better combination of style, safety, comfort, practicality, and performance than the XC40. It really is as Volvo says, 'Designed Around You.'
---
---
---
---
Comments