SPYSHOTS: Next-Gen 2016 Mercedes-Benz E-Class (W213) Is Almost Naked
Auto News Just before Mercedes-Benz unveiled its latest-generation S-Class (W222) and C-Class (W205), its E-Class, the W212 received its last facelift. Back then, it was amongst the many exciting previews of things/ designs to come from Mercedes-Benz, but today, it's pretty much one of the most quickly aged facelifts in the range. Largely due to the design revolution that came from Stuttgart afterwards.
Now, it's nearing time for a bit of revenge. It's almost the E-Class' turn to show itself in the full light of MB's latest design language, and the company are certainly taking its time in revealing its next-generation 5 Series fighter.
*Check out all 33 spyshots of the W213 below
Codenamed internally as the W213, spy photographers have captured the all-new model undergoing a group test in Scandinavia. You may have seen similar photos recently, but this time, a lot of the heavy camouflage plastics used to cover up the car's looks have been taken off around the front and back.
Also, you get to see the new E-Class with two different front grille designs: one presumably for the bonnet star, another with the three-pointed star integrated to the front grille.
New wheel designs are a sight for sore eyes, including the new and expected headlamp and taillight designs – not dissimilar to what we've seen on the latest S- and C-Class. You can even see an existing W212 E-Class amongst its successors, which gives us a nice indication of how shaken up the designs are between then and now.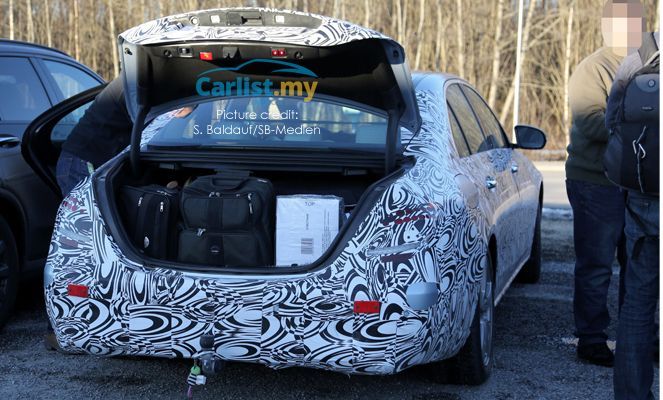 Interestingly, it looks as though the test drivers here were in the middle of testing the all-new E-Class' boot space, which doesn't look like they open up to as much room as before. Our photographers confirm the same by telling us the same.
Mercedes-Benz is still keeping its E-Class's coming under wraps for now, but you'll know all about it the very second we do. Stay tuned!
---
---
---
---
Comments