Takata Airbag Crisis: Frequently Asked Questions, What Should You Do?
Buying Guides With over 100 million cars from 14 car companies affected, the Takata airbag recall is the largest automotive recall in history. Majority of the recalls are in USA (60 million) and Japan (20 million), and it's going to take several years before this recall can be completed.
Over in Malaysia, it is estimated that more than 620,000 cars from 6 different brands are affected.
Honda – 329,059 cars
Toyota – 145,685 cars
Nissan – 110,860 cars
Mitsubishi – 36,010 cars
Mazda – 1003 cars
Subaru - N/A (small number of cars only)
Scroll down to view the list of models involved in the recall.
How Do I Know If My Car Has Been Recalled?
Only Honda, Toyota, Mitsubishi, Nissan, Mazda and Subaru models made between 2003 and 2013 are affected. The full list of models affected can be found at the end of this page.
If your vehicle make is not from any of the makes mentioned above, the recall doesn't affect your car. Only cars fitted with Takata airbags that use ammonium nitrate propellants are affected by the recall. Cars with airbags made by other suppliers are not affected.
To confirm if your vehicle is involved in the recall, enter the VIN (chassis number) or call the respective customer care line.
What's a VIN?
A Vehicle Identification Number (VIN) is like your NRIC – it can't be changed (the number plate can be changed) and this is why manufacturers use the VIN instead of number plate to trace your vehicle's records.
The VIN plate is normally found around the engine bay (typically near the bulkhead or side frames), below the windshield or around the door frames.
Have the VIN with you before you call/e-mail the respective brand's customer care. Considering the heavy volume of calls that are being made to these car companies, we recommend that you make use of the VIN check feature on their respective websites.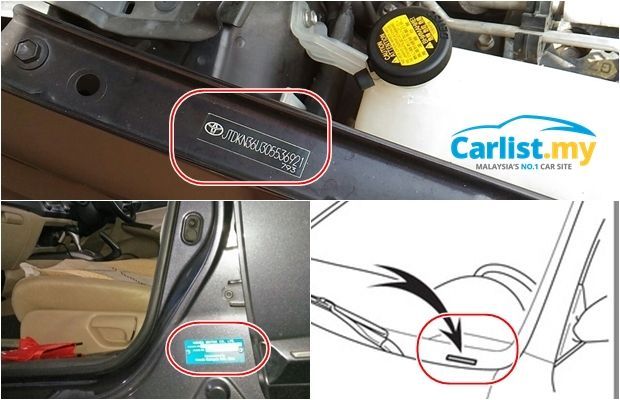 I own a grey-import car, how do I check if my vehicle is affected
There is no easy way to check, but going through Japan's Ministry of Land Transport, Infrastructure and Tourism's Road Transport Bureau website, we know that the Toyota Alphard – Malaysia's most popular grey-import model – the ones made between 2002 and 2008 are affected. So are Mazda RX-8 models made between 2003 to 2008.
At the moment, manufacturers have yet to decide on what to do with grey-import cars, as their priority is to attend to customers who have bought a car from them.
A solution for grey-import cars should be announced at a later stage, as soon as their local offices have sorted out the logistics.
Update: Honda Malaysia will be providing replacement units for affected grey-import Honda cars. Details here. Still no updates on support for grey-import models of other affected brands though.
I have received the recall notice, but the service centre has no stock of replacement parts.
This is a real problem faced by many owners, not just in Malaysia, but all over the world.
With 100 million replacement parts required, there is no easy way to alleviate the acute shortage of replacement inflators. A car company that has been using Takata airbags can't simply call AutoLiv or TRW to place an order for 50 or 100 million more inflators.
Worldwide, there is very little spare capacity in airbag producing plants, and different airbag makers produce different inflator designs. They are not necessarily compatible with the rest of the airbag module used by the vehicle.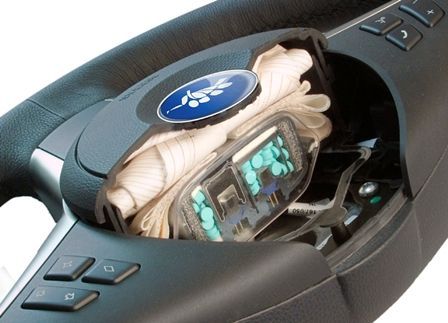 Having said that, AutoLiv, TRW, and Daicel have since stepped in to help solve the crisis.
The situation is so severe that in the US, affected cars are being repaired according to their priority grouping, with older cars and those used in more humid regions given higher priority. Owners of newer cars, and those used in less humid regions, are made to wait longer.
Over here, there is no regulatory body to supervise the recalls to ensure older cars that need it most are given a higher priority.
Parts shortage is most chronic at Honda, which has the highest number of cars affected. For owners of Toyota, Mitsubishi and Nissan models, there is minimal or no waiting period. Customers who have made an appointment should be able to have their vehicle fixed within the same day. Some waiting period is to be expected for Mazda.
Update: Honda Malaysia has opened three temporary Central Hubs to further increase capacity for airbag inflator replacement. These three hubs will operate 7 days a week to provide additional centres for airbag inflator replacement. Customers can book their appointment with any of the Service Central Hubs by calling the Honda Toll Free number 1-800-88-2020. Further details here.
Northern Hub (Next to S.M.J.K. Convent Dato' Keramat School)

Address: No.401, Jalan Dato' Keramat, 10150 Georgetown, Penang.

Central Hub - Soo & Sons Metal Works Sdn. Bhd. (Next to Columbia Asia Hospital, near Jaya One)

Address: Lot 15 Jalan 13/6, Section 13, 46200 Petaling Jaya, Selangor.

Southern Hub - Oriental Assemblers Sdn. Bhd.

Address: 99 & 99A-C, Jalan Tampoi, 81200 Johor Bahru, Johor.
In addition to that, Honda is also setting up 24 Mobile Hubs to service affected Honda customers. Click to enlarge.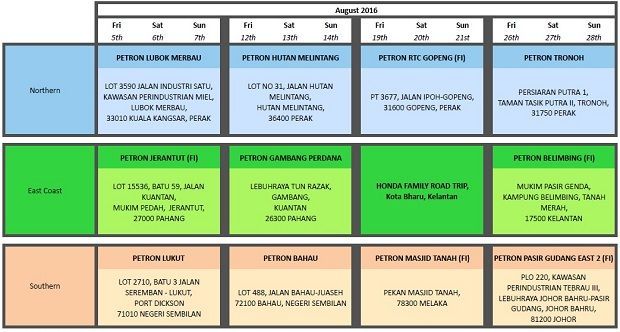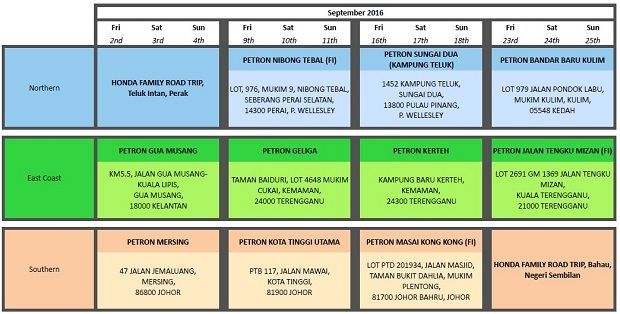 Process flow for customers who have been notified by Honda Malaysia (click to enlarge):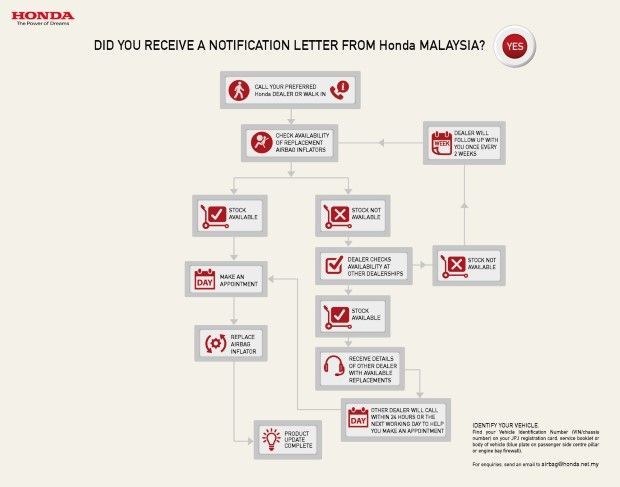 Process flow for customers who have not been notified by Honda Malaysia (click to enlarge):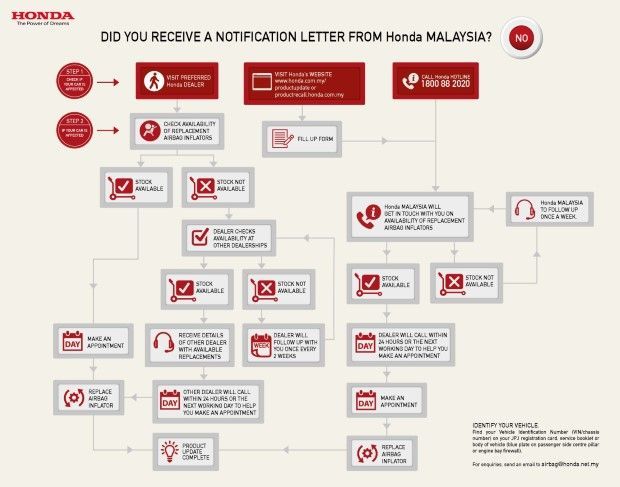 Affected Honda customers who are unable to get their driver's airbag replaced will also be compensated RM50 per day.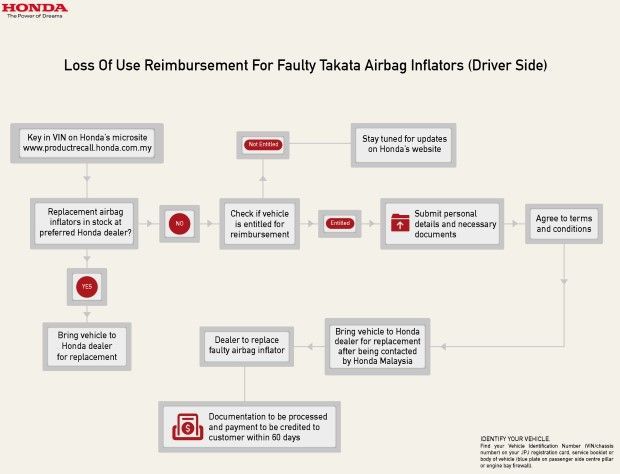 While waiting for replacement parts, should I disable the airbag?
There is no easy way to answer for this. Experts in the US also couldn't agree on which advice is the best. Toyota USA recommends disabling the airbags but Consumer Reports and NHTSA disagrees, as disabling the airbags would mean a 100 percent chance of failure in an accident. Majority of the airbags recalled, especially those fitted on cars aged five years and below, are being recalled as a precautionary measure. It doesn't necessarily mean that it will kill you when deployed, but just that the chances of it happening are higher than acceptable limits.
Plus, the root cause of the problem is the unstable ammonium nitrate propellant used by Takata. There have been reports of airbags exploding even when the vehicle is stationary, or after experiencing a minor impact (similar to City in June's fatal accident with), suggesting that the airbags are being deployed without any electrical signals from the crash sensors (the impact is too minor to set off the crash sensors), so there is no guarantee that disabling the airbags will solve the problem.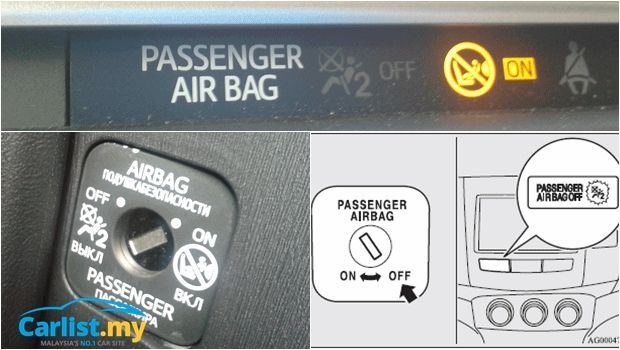 If you feel more comfortable driving with the airbag(s) disabled, many cars now come with the option of disabling the passenger-side's front airbag (for safe installation of child seats at the front). Instructions on how to do this are in the vehicle's owner's manual. The driver's airbag can be disabled by pulling out the right fuse but please consult a trained technician before doing this yourself.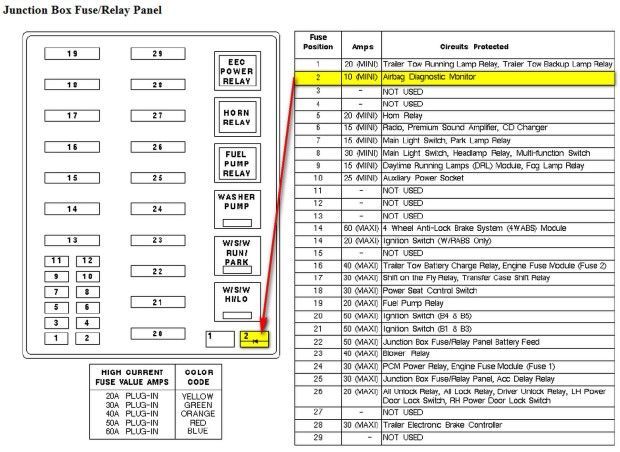 While waiting for replacement parts to arrive, is it safe to continue driving my car?
Not every vehicle recalled has a defective driver's airbag (details in the list at the end of this page). For many models, only the front passenger's airbag is affected. For these vehicles, you can still safely drive them but avoid putting any passenger on the front seat.
If your vehicle has been recalled to replace the driver's airbag, if possible, avoid driving the vehicle anymore. Use services like Uber/Grab or car pool.
I received a recall notice, but I have already sold my car. Can't manufacturers go to JPJ for the latest address?
In an ideal world, manufacturers should be able to walk into JPJ's office in Putrajaya, pass them a thumbdrive that contains an Excel file with VIN (chassis number) of all the affected cars, and JPJ will email them a list of addresses. But unfortunately it doesn't work that way.
Tracing an owner's address based on the VIN (the vehicle registration number can be swapped) is not that straightforward as JPJ's system is just not setup that way.
Plus, JPJ's records aren't necessarily updated either. Many people, myself included, haven't update their new home address with JPJ.
This is not a JPJ-only problem. The same challenge is experienced in the US as well. The US Department of Motor Vehicles is simply not able to provide manufacturers with a reliable list of addresses of the affected owners, and this explains why completion rate of Takata airbag replacements in the US stands at just 33 percent for cars aged nine years and above - not very different from Malaysia.
Without an overriding legal authority (which is why a regulatory body supervising recalls is needed), we are also not sure if this sharing of private details of vehicle owners is against Personal Data Protection Act 2010.
List of models sold in Malaysia affected by Takata's airbag recall: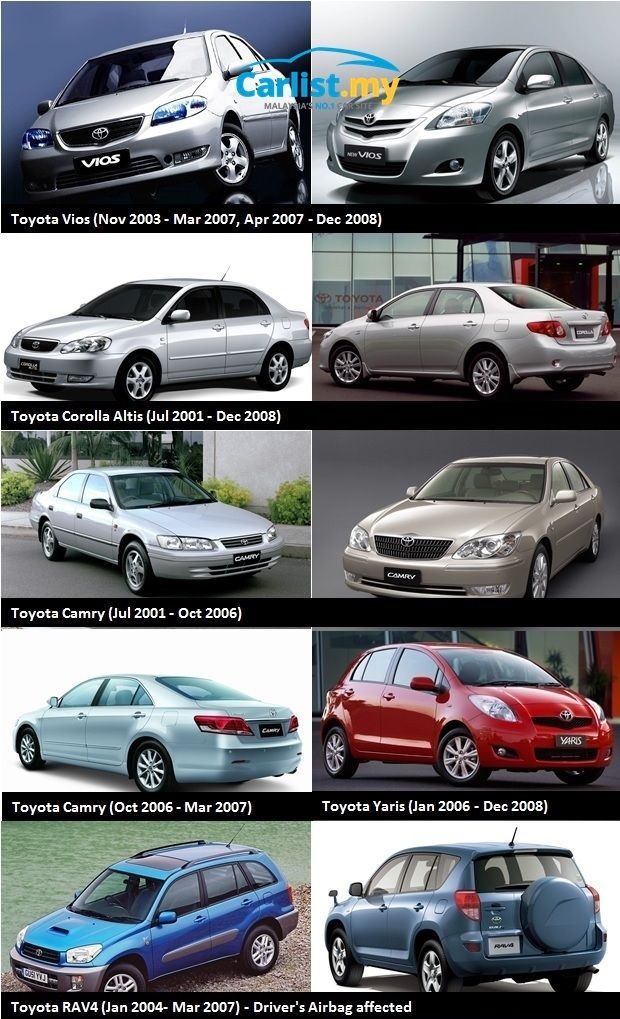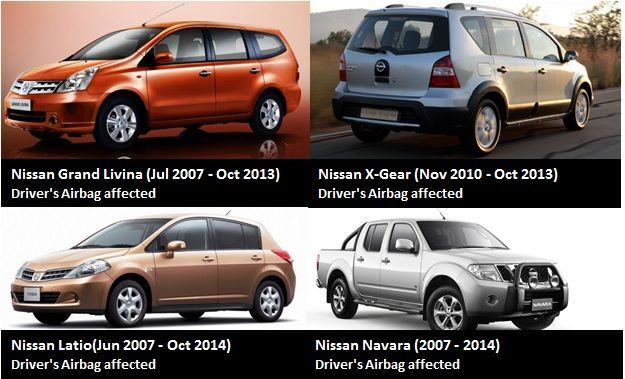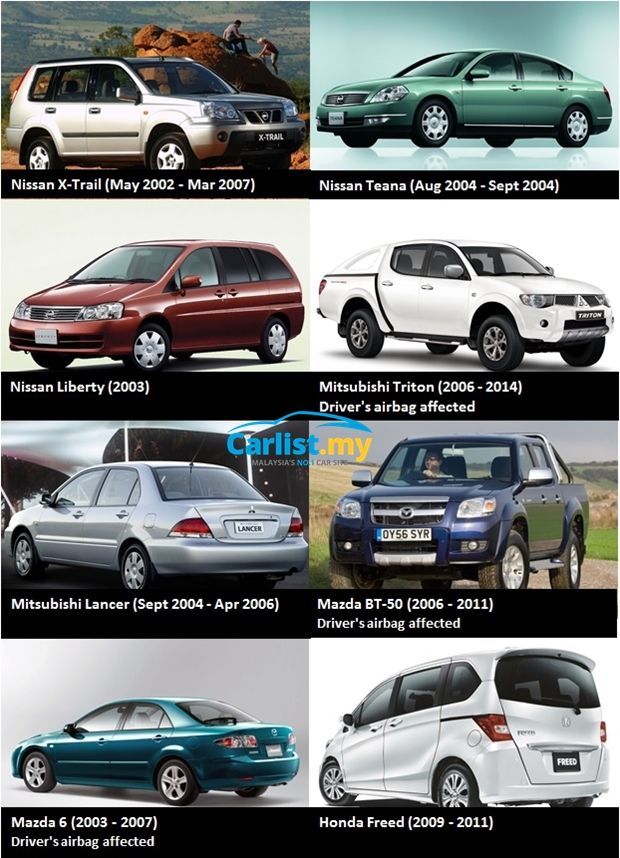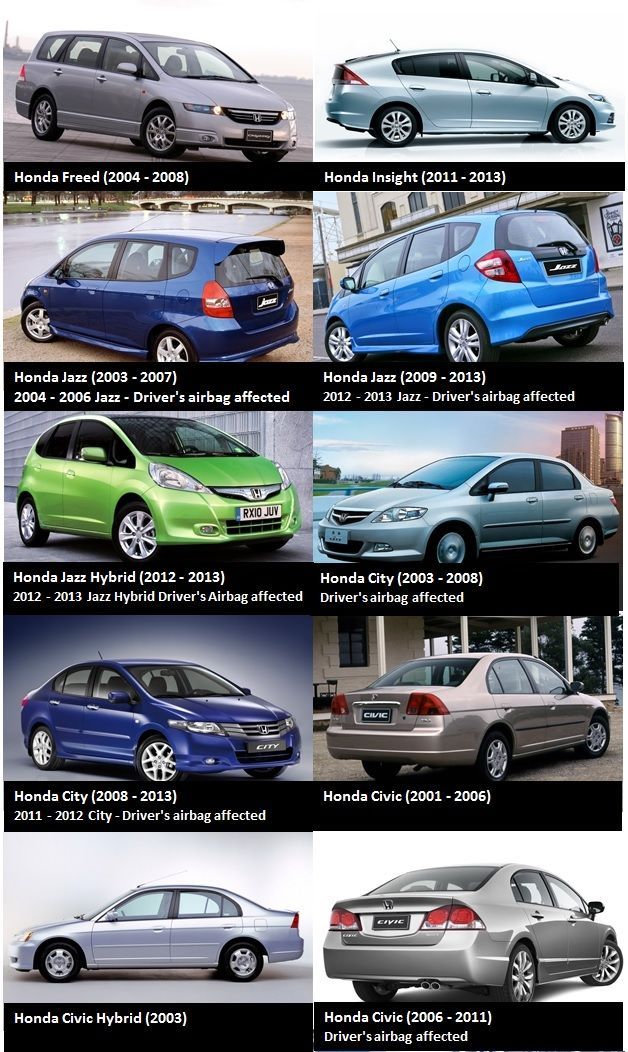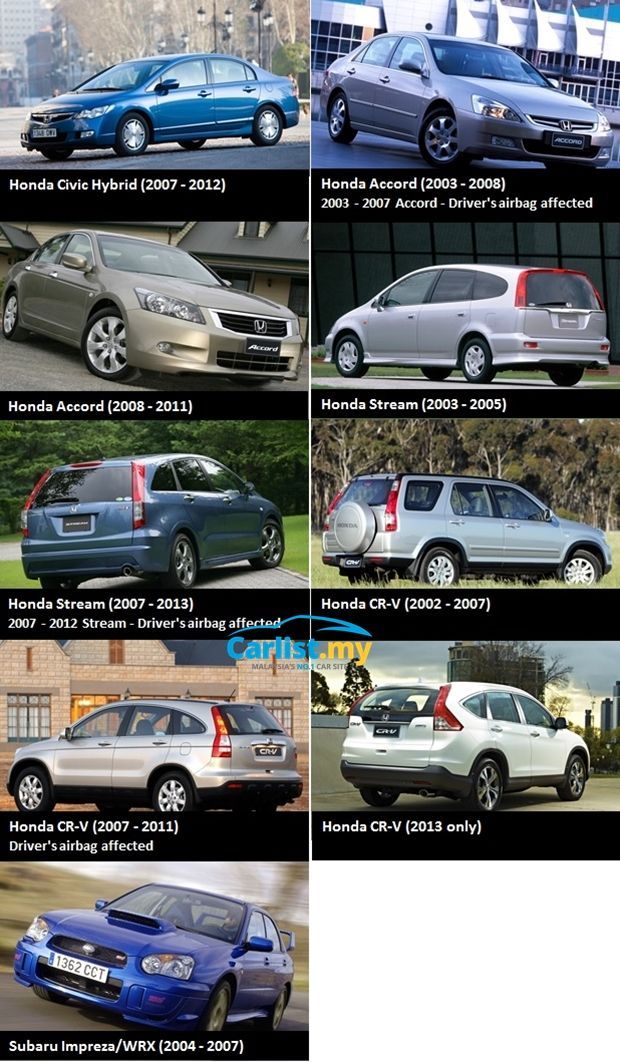 ---
---
---
---
Comments