Takata Airbag Crisis: Over 520,000 Cars In Malaysia At Risk, Is Your Car On The List?
Insights There are over 520,000 cars in Malaysia that are equipped with defective airbags made by Takata. That would mean that for every 100 cars on our road, 4 would have at least one airbag that has literally became a bomb, one that could explode and send shrapnel into the driver's body with fatal consequences.
Over the past few months, the narrative of news reports regarding Takata airbag crisis have centred on Honda, and rightly so, as all three fatal Takata airbag-related incidents in Malaysia involved Honda vehicles, all of them second generation Honda City models made between 2003 to 2006.
However many forget that the Takata crisis involves more than just Honda models, which leads to concerns of owners of non-Honda vehicles not taking initiatives to check if their vehicle is involved in the recall.
Toyota has over 140,000 cars in Malaysia with defective airbags, while Nissan and Mitsubishi has over 12,000 and 36,000 respectively. A smaller number of Mazda and Subaru vehicles are also affected. If you own or know of anyone that owns any of the models pictured below, please take the necessary precautionary steps.
Honda – 329,059 cars
Toyota – 145,685 cars
Nissan – 12,444 cars
Mitsubishi – 36,010 cars
Mazda – 1003 cars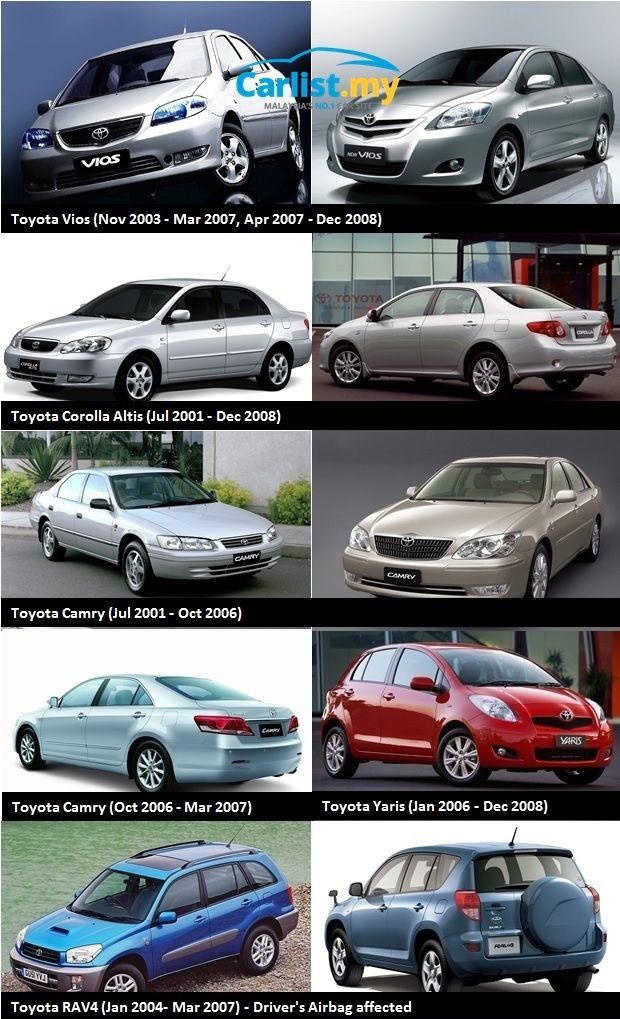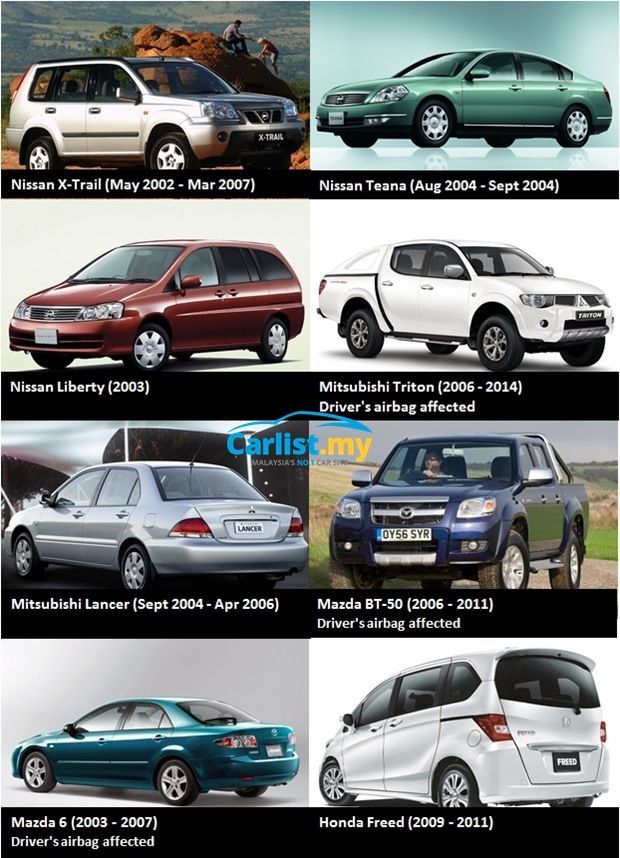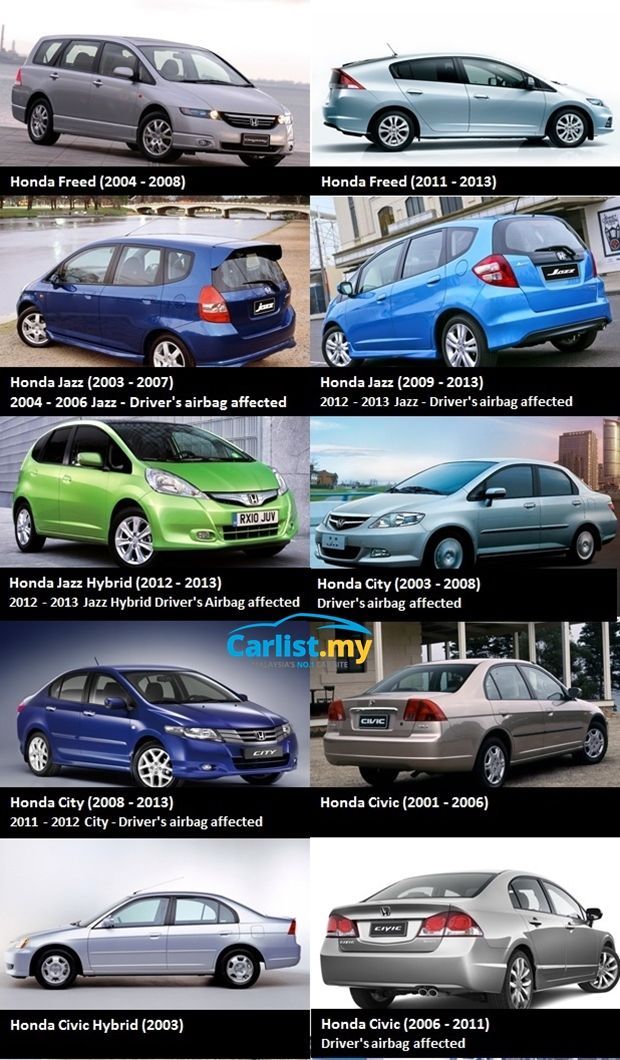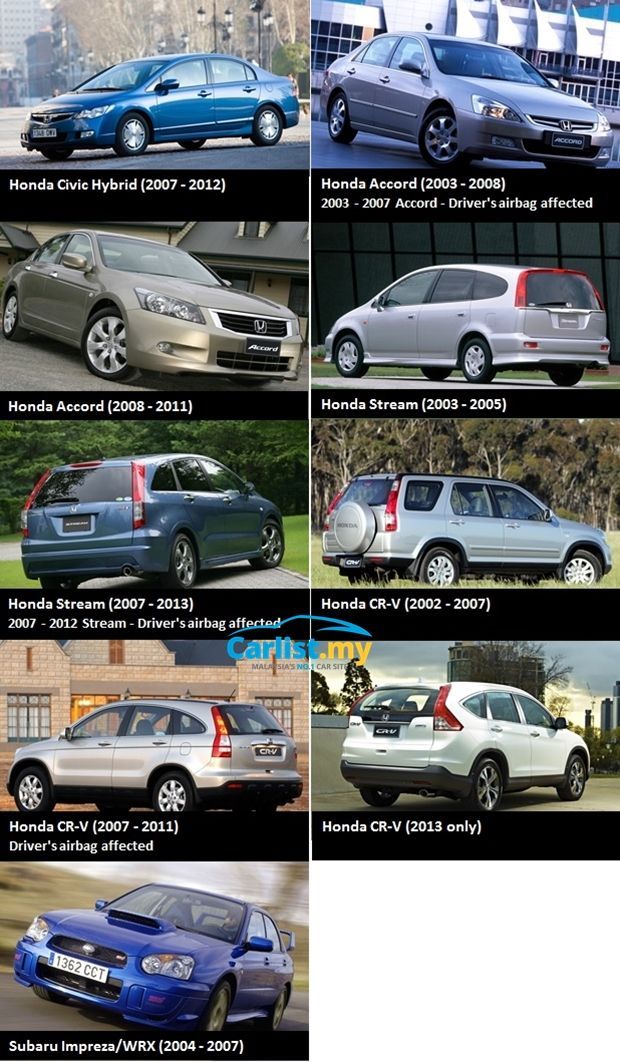 Check if your vehicle is involved in the recall here.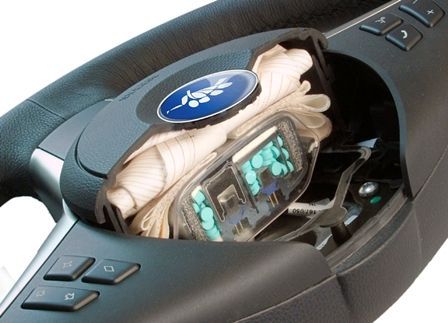 "I've Responded To The Recall Notice, But The Service Centre Says There Is No Stock. What The Hell?!"
This is a real problem faced by owners, and unfortunately there is nothing much that affected car owners can do, and this applies to drivers all over the world.
Consider the numbers. Bloomberg estimates that the total number of airbags to be recalled stands at 100 million. Let me repeat that again. 100 million - the number looks like this - 100,000,000. Majority of the recalls are in USA (60 million) and Japan (20 million). This is the biggest recall in history and it is going to take years before the recall exercise can be completed.
Who is going to produce these extra 100 million of replacement airbag inflators? A car company that has been using Takata airbags can't simply call AutoLiv or TRW to place an order for 50 or 100 million more inflators.
As more countries adopt minimum UN safety regulations, the fitment of airbags have increased significantly. Worldwide, there is very little spare capacity in airbag producing plants.
Complicating the matter is different cars require different airbag inflators, and not all airbag makers produce the same types of inflators. You can't just replace a Takata inflator with another from AutoLiv, although in recent months, AutoLiv, TRW, and Daicel have stepped in to help solve the crisis.
The situation is so severe that in the US, affected cars are being repaired according to their priority grouping, with older cars and those used in more humid regions given higher priority. Owners of newer cars are made to wait longer.
"Should I Disable The Airbag?"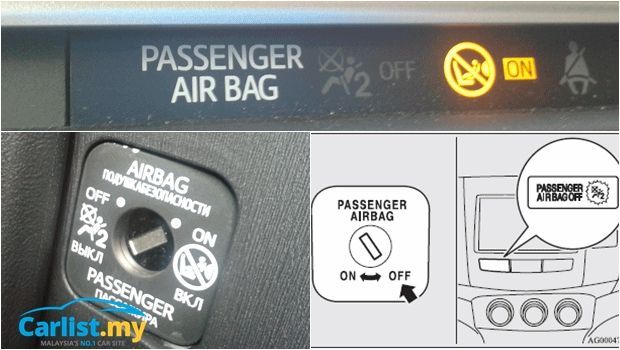 There is no easy way to answer for this. Experts in the US also couldn't agree on which is the best advice. Toyota USA recommends disabling the airbags but Consumer Reports and NHTSA disagrees, as disabling the airbags would mean a 100 percent chance of failure in an accident.
Plus, the root cause of the problem is the unstable ammonium nitrate propellant used by Takata, not the crash sensors (which when subjected to a severe impact, sends an electrical signal to deploy the airbag). There have been reports of airbags exploding even when the vehicle is stationary, or after experiencing a minor impact (similar to City in June's fatal accident with) so there is no guarantee that disabling the airbags will solve the problem.
If you feel more comfortable driving with the airbag disabled, many cars now come with the option of disabling the passenger-side's front airbag (for safe installation of child seats at the front). Instructions on how to do this are in the vehicle's owner's manual. The driver's side can be disabled by pulling out the right fuse but please consult a trained technician before doing this yourself.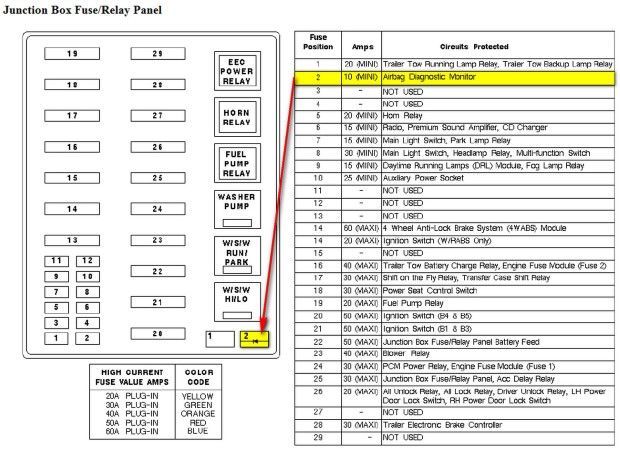 Do note that the NHTSA believes that Takata airbags with high risks of failures are those older than five to seven years, and that for most cars, especially newer ones, keeping the airbags active is still a better option.
We recommend that you minimize your driving (where possible) - use Uber or Grab, car pool, or rent a car. If possible, avoid putting any passengers on the front passenger seat too.
"Why Can't They Go To JPJ To Get The Latest Mailing Address Of The Owners?"
Many of the cars affected in the recall are nearly 10 years old. These cars might have been sold multiple times and manufacturers no longer have the contact details of the new owners. In an ideal world, manufacturers should be able to walk into JPJ's office in Putrajaya, pass them a thumbdrive that contains an Excel file with VIN of all the affected cars, and JPJ will email them a list of addresses.
But unfortunately it doesn't work that way. As it is, car companies already have trouble obtaining monthly vehicle registrations figures from JPJ, which imposes an administrative charge of RM10 per data per vehicle. If there are 600,000 cars sold per year, that's RM 6 million to pay. Shouldn't sales data come from the Malaysian Automotive Association (MAA) you say? Under Malaysia's Competition Act 2010, MAA is only allowed to publish registration details by make, not by model.
Searching for the vehicle owner's address by the VIN is several steps more complicated than churning out how many units of each vehicle model is registered last month.
We are also not sure if it is sharing of private details of vehicle owners is against Personal Data Protection Act 2010, but nevermind about the cost or legal technicalities.
How many of you have your driving license or vehicle registration tied to your home address? Mine isn't (yes I know of the penalties, I will get it done soon). So that's the answer. Going to JPJ is not going to solve the problem entirely, although it might help.
To be fair, this is not a JPJ-only problem. The same challenge is experienced in the US as well. The US Department of Motor Vehicles is simply not able to provide manufacturers with a reliable list of addresses of the affected owners, and this explains why completion rate of Takata airbag replacements in the US stands at just 33 percent for cars aged nine years and above - not very different from Malaysia. In many countries, the road transport department is not run like a tax office, which you can be sure of being able to track you down to collect taxes from you.
Based on the trend of past recalls (not just for Takata airbags) in the US, the rate of completion for cars in the first year of ownership is 80 percent, and it declines with older cars, dropping to just around 30 percent for cars aged nine to ten years old.
Perhaps it is time to start discussions about the need to have regulatory body to supervise product recalls. Right now, most local representative offices of the respective car brands only issue recalls when they are asked to by their global headquarters. Nobody supervises how the recalls are carried out.
In Japan, recalls are supervised by the Road Transport Bureau of the Ministry of Land, Infrastructure, Transport and Tourism (MLIT), while in the US, they have the National Highway Traffic Safety Administration (NHTSA). Germany has the Federal Motor Transport Authority (Kraftfahrt-Bundesamt or KBA).
In these countries, manufacturers are required by law to report any known defects to their respective regulatory bodies, who will make their own independent announcements (manufacturer's own announcements might use words that downplay the severity of the issue). Manufacturers are also required to provide regular updates on the progress of the recall, and the remaining number of vehicles that are yet to be repaired.
Read also: Takata Airbag Crisis: Frequently Asked Questions, What Should You Do?
---
---
---
---
Comments