The Best Car Phone Mounts - Different Strokes For Different Folks
Insights Keep yourself and others safe by focusing on the road whilst your phone is securely nestled in a phone mount.
---
The best thing to happen to automobiles since rubber tyres is a smartphone. It has given many drivers beneficial features that would usually cost an arm and a leg to install in a car. It can be used as a source of music, a device that can help navigate you to your destination, a chronograph, even a diagnostic tool.
As helpful as it is, there are some dangerous aspects of using a smartphone in your car. It becomes dangerous and foolish when you try to operate it whilst driving, as your hands are on it instead of the steering wheel.
The humble car phone mount has helped allay this problem so here are a few options that we use and like.
For those who like to drive fast
A colleague of mine who frequents race tracks uses the Eugizmo Windshield and Dash Magnetic mobile phone mount (MoGropII) as his mount of choice.
He says it has one of the strongest magnets which will help keep your phone safe and secure on to the mount. If it's good enough for the Sepang International Circuit course, it should be good enough for anything he says.
MoGripII is a universal mobile mount that features a cradle-less holder to attach either on a windshield or dashboard. This universal mount pairs with an ultra-thin easy to stick metal plate for your mobile case or direct on the smartphone itself. Once the metal plate is fixed on the case or mobile, you could just snap it on the mount for a secure and stable grip. This simple and easy to fix on-the-go holder comes with strong neodymium magnets for a fast and effortless attach and detach for your mobile device.
At RM35, it's affordable and features a sleek cradle-less design which makes it compatible with all mobile devices and most phone cases. The magnet on the phone side is sleek and slim too which helps keep your phone slim.
For those who have a flat-surfaced dashboard
Some car dashboards are still full of straight angles. Owners of these cars are lucky as they can use PopSockets' PopMount 2 Multi-Surface mount.
These PopSockets multi-surface mounts are famous because it allows you to attach your phone to any vertical surface. The mount can be used on your stationary bike for workout entertainment, the kitchen cabinet for cooking, bathroom mirror for your makeup tutorials as well as when you're driving.
It just allows you to be more flexible with your phone no matter where you are. Viewable from all angles in portrait and landscape mode, the multi-surface mount is the go-to accessory for your PopSockets grip which attaches to your phone. Just be sure to wait 8 hours to use yours after sticking it to the surface.
At RM55 a pop, the original PopSocket mounts are quite affordable if you plan to only use it in your car, but it can add up quickly if you buy many of them for other usages.
For those who do not care about their car's CD player
Does anybody use their car CD player anymore? If you do, this mount is not for you as it utilises your car's CD player. Ugreen CD Slot Gravity Car Phone Mount allows you to adjust your phone for a comfortable angle - that's if your CD player is up high on the dashboard of course.
Many like to use this type of car phone mount because it doesn't require you to stick your mount on anything on the car which can damage the surface as it requires you to use strong glue. It also doesn't need the use of proprietary grips on your phone.
"No need to stick metal plate or 3M glue to your phone or car. No effect on the beauty of your loved phone or car", it says on Ugreen's website.
The phone will be sitting on the Gravity CD's car cradle which has soft silicone pads on its aluminium alloy arm holders. The CD grips ensure firm attachment and reliable grip and prevents scratches on your phone.
At around RM60, it's still quite affordable but whether you are willing to damage your CD player is another thing.
For those who like cheap and cheerful things
Just like smartphones, Shopee is a revelation - you can find anything on there including car phone mounts.
One of our colleagues tried this no branded car phone mount from Shopee and was surprised by how stable it is. He said he likes it because it's adjustable, so that he and his spouse can use it despite having different sized phones.
It is attached to the car via a suction cup and although the picture shows that you can suction cup it to the dashboard, we think attaching it to the front windscreen would make it more secure. At RM23, it's also cheap, so if it ever breaks, you could just buy another one.
---
---
---
Related News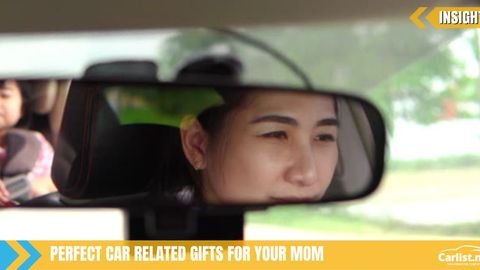 Insights
Perfect mother's day gift ideas for the Moms who love to drive.Not all mothers are into flowers and chocolates, as some are more into practical ...
---
Comments