The Mercedes-AMG A45 S Is Now The Most Powerful Hot Hatch In The World
Auto News A performance level on par with the sports cars of today, and one that rivals supercars from just a decade before. It's the all-new Mercedes-AMG A45, and it shakes up the hot hatch segment in a variety of different ways. For many parts of the world, there's big money to be made in this highly competitive segment, as it's one that appeals to both performance car enthusiasts and those who are seeking a little more practicality than a 2+2 coupe.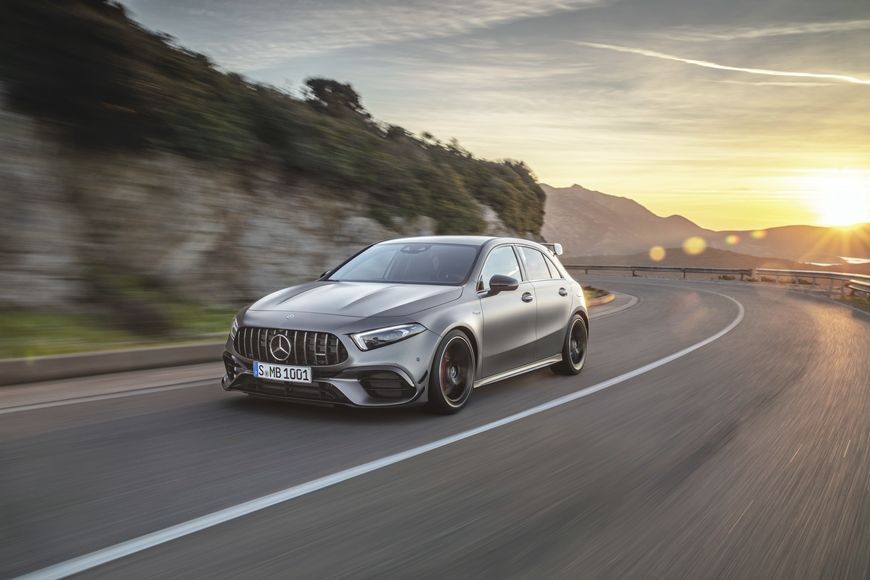 We wrote about the engine in this new A45 a short while back, but let's recap for those who aren't in the know. The engine powering this all-new model is in some ways related to the one in the past, but there have been so many revisions done to it that it would be unfair to even consider it the same engine. The entire engine is now backwards, with the turbocharger sandwiched between the engine and firewall, and the intake facing forward. An uprated valvetrain and variable valve lift, as well as a new turbocharger, all contribute to an output of up to 421 hp and 500 Nm of torque.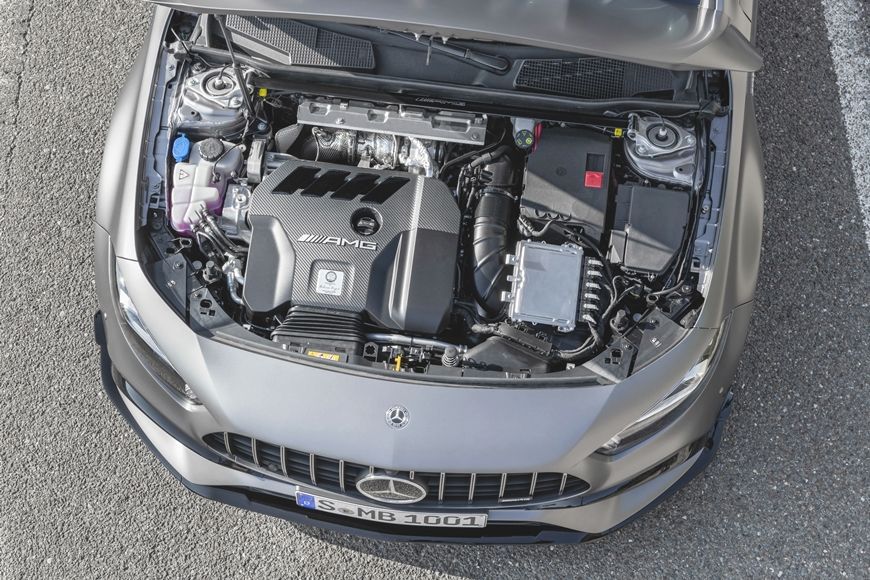 New to this generation is a distinctive new sub-designation - the A45 S, replete with yellow accents and stitching. Perhaps we've been a little misleading - the regular A45 will get a 387 hp, 480 Nm version of the engine, while it is the A45 S that gets the full fat 421 hp tune. The engines are still hand built regardless of which you're buying, and both variants get a new 8-speed AMG Speedshift dual clutch transmission that delivers power to all four wheels. Century sprint times stand at 4.0 and 3.9 seconds for the A45 and A45 S respectively, with a top speed of 250 km/h and 270 km/h respectively.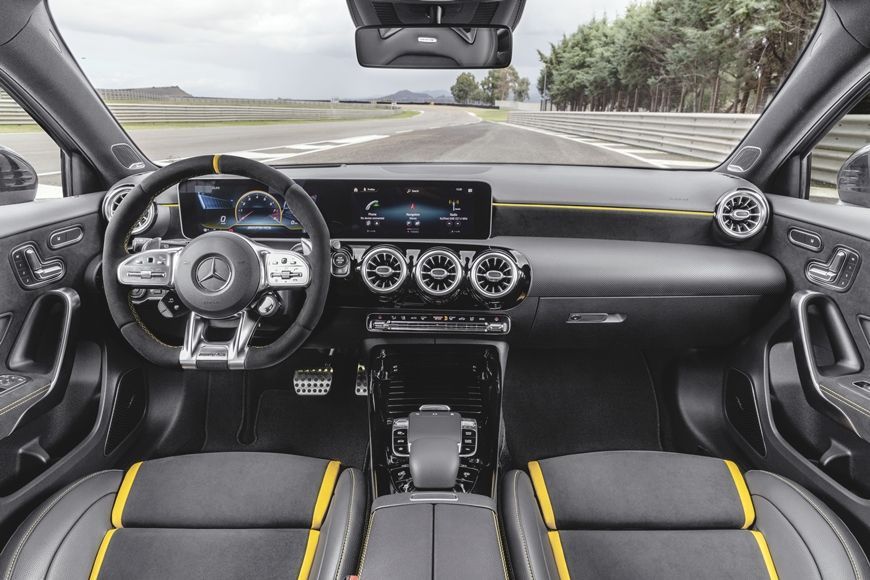 As expected there are a variety of drive modes, from the all-important Eco mode which even allows for transmission decoupling when gliding along, to a regular Comfort mode, and even a RACE-START launch control function when you're in Race mode. The rear end receives an electronically-controlled limited slip differential that can precisely split the torque between each rear wheel to give you the maximum possible traction and higher exit speeds from corners.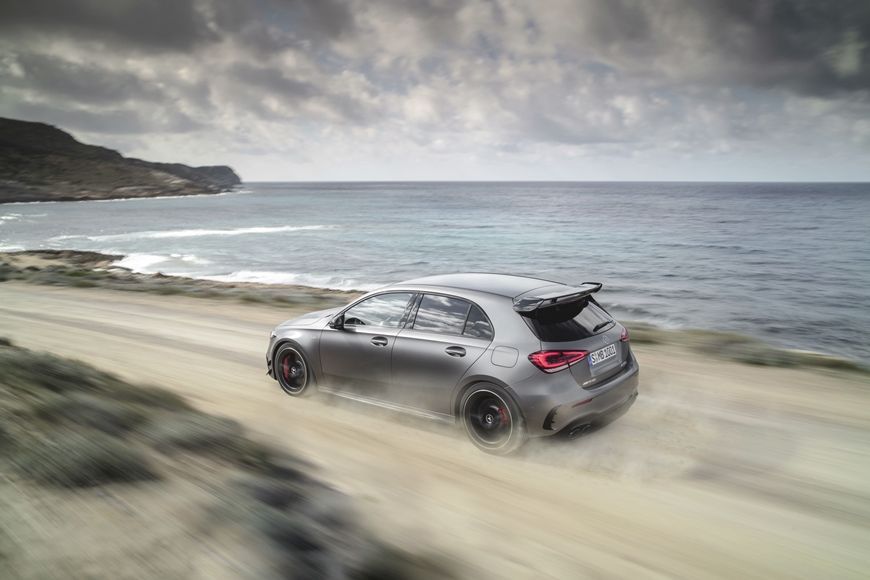 Being an all-wheel drive car requires a centre differential or coupling, and in the case of this all-new A45, it's an electro-mechanical unit. This allows for quicker and more precise delivery of torque to the rear wheels when necessary, giving you the advantages of an aggressive differential setup without compromising the comfort of day to day driving. How the torque is distributed between the axles depends on the drive mode as well, with an AMG Dynamics setting that ranges from Basic to Master, with Master allowing for more oversteer and slip angle.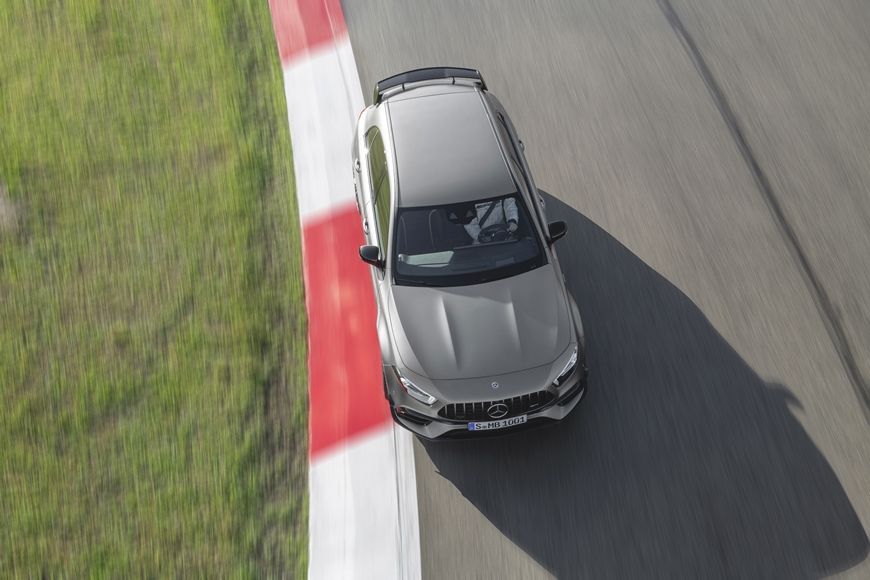 You want a drift mode? You'll get a drift mode. Powersliding is possible to a certain extent with the A45 when you put it in the aforementioned Race mode, deactivate the ESP, and leave the transmission in manual shift mode. Naturally you would expect the A45 to be a little more robust than its other all-wheel drive brethren which are known to slowly divert power back to the front when the rear differential starts to overheat from sustained sliding.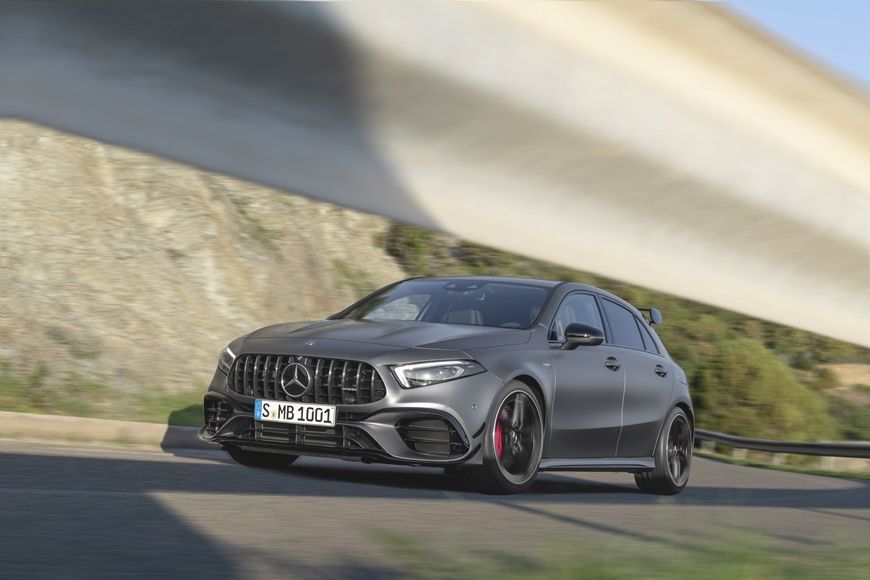 Even beyond the drivetrain bits, this A45 has a lot of advantages over the regular A Class models in order to further hone its driver-focused personality. The front subframe is rigidly mounted, while the standard shock and spring package are both highly tuned to provide progressive handling and weight transfer, with higher overall peak lateral grip. In terms of design, it retains a MacPherson strut front and a four-link independent rear suspension setup. Even the steering rack now packs a variable ratio that has two different response curves depending on which drive mode you select.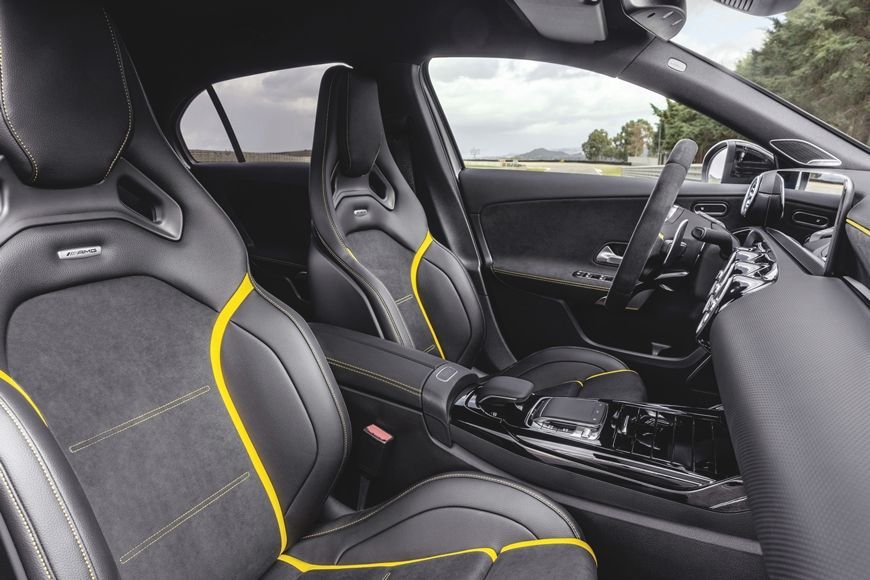 Perhaps one of the coolest features that is only limited to the A45 S model is the AMG Track Pace data logger, for use at race tracks. The logger stores all kinds of values from the car such as speed, acceleration, steering angle, and so on, and compiles all of that data to help you improve on track. There's even an integrated performance delta function that shows differences in speed and time compared to previous laps, and even the MBUX Augmented Reality function that shows the ideal racing line on a number of pre-stored racetracks, functioning as a virtual instructor.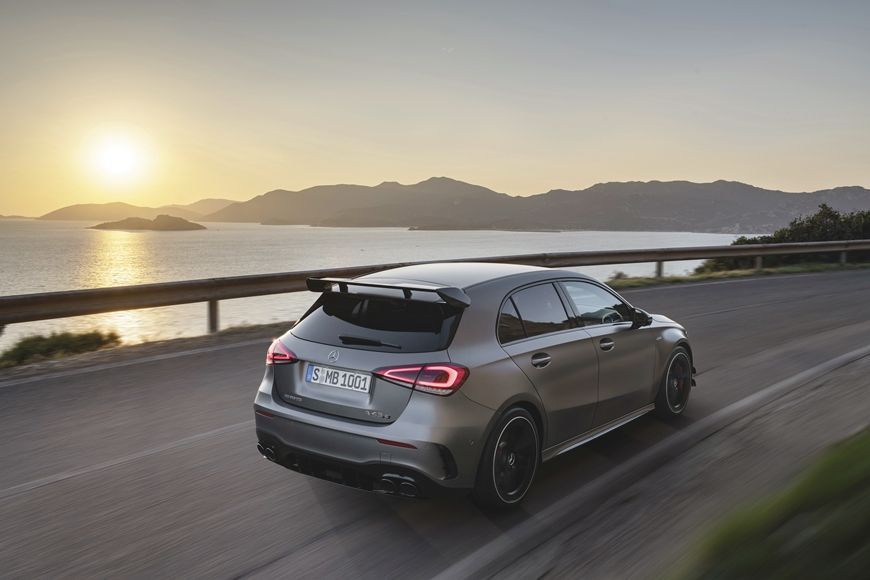 But even with all of this incredible kit, there are still options you can select. Things such as the leather package and upholstery for the performance steering wheel are pretty par for the course, along with three different kinds of AMG performance seats, but perhaps the most important option to select is the AMG Ride Control which is effectively an adaptive suspension system that broadens the range between the most comfortable and the sportiest settings.
As for everything else, the A45 is identical to the regular A Class models - and that's a good thing. The MBUX remains the practical centrepiece with its domineering dual screen setup and a wealth of connectivity options. Mercedes-AMG has proven that to make a great hot hatch, you've got to start with a great hatchback to begin with, and in this day and age a car must be able to fulfil multiple roles.
For the best deals on Mercedes-Benz models, click here.
---
---
---
---
Comments