The Next Step In Volkswagen's Long-term Trust Building Exercise
Auto News Volkswagen Passenger Cars Malaysia (VPCM) ended 2016 with 6,048 cars sold, a far cry from its high of 13,303 cars sold in 2012.
On the surface, it's easy to point to Volkswagen's well publicized after-sales woes as the reason behind the drop in sales.
However this simplistic conclusion doesn't explain why Volkswagen's fellow European rival Peugeot suffered an even bigger drop from 6,114 cars in 2012 to a miserable 1,710 cars in 2016, while Ford's passenger cars (the over-achieving Ranger, a bright spot for Ford, is classified as a commercial vehicle) fell from 4,930 cars to 1,084 cars. In theory, assuming all else being equal, they should be in a position to capitalize from Volkswagen's woes.
In truth, what sealed Volkswagen's fate was not its poor handling of the much maligned DSG dual-clutch transmission crisis, but the resurgence of Honda and Mazda assisted by government incentives for locally-assembled energy efficient vehicles. Within the same four-year period, Honda tripled its market share in passenger cars while Mazda doubled theirs, often at the expense of mainstream European and Korean marques.
With or without failing transmissions, Volkswagen's fortunes would have suffered more or less the same fate like Ford and Peugeot.
When you have a reputable Japanese brand that now offers European-style driving dynamics and good styling at competitive prices (case in point Mazda), it removes much of the motivation to buy German or French, or even Korean, which are also seeing their market share decimated.
Still, that doesn't mean that Volkswagen can resign themselves to the new normal, adjusting to the current status quo.
Ford and Peugeot can regain their footing once they have more competitive products, because the Ford EcoSport and Peugeot 2008 are just too disappointing when compared to the overachieving Honda HR-V, the sort of cars that are trending these days.
However the same cannot be said for Volkswagen. The all-new Volkswagen Passat is good enough to rival a BMW 3 Series, Audi A4 and Mercedes-Benz C-Class. In fact, in some areas like features and interior space, the Passat surpasses all three premium compact sedans. However the Passat is still not gaining traction in the marketplace because of the stigma of questionable reliability and after-sales support that still hangs over every Volkswagen.
Thus, regaining trust rather than setting lofty sales targets is mission objective No.1 for Erik Winter and Florian Steiner, the two co-Managing Directors parachuted from Volkswagen AG's wholly-owned automotive retailer subsidiary Porsche Holdings (despite the name, it's independent from Porsche AG, which makes Porsche cars) to stabilize the Volkswagen business in Malaysia, managing the business as employees of Porsche Holdings, on behalf of VPCM.
Speaking at a round table with the press this evening, both Erik and Florian, each responsible for branding and after-sales respectively, firmly declined to layout any business targets for 2017, stressing that the main task ahead for VPCM is to regain the trust of consumers.
Rather announcing their sales targets for 2017, as one would normally expect to hear at this time of the year, the two managing directors took the opportunity to highlight the customer satisfaction initiatives done for 2016, and a follow-up to those plans in 2017.
Since taking the Volkswagen distributorship in September 2016, one of the earliest announcements made by VPCM was putting a stop to fire sale discounting.
On the question of sustainable business practices, Erik re-emphasized Florian's statement made during the launch of the all-new Passat, that there will be no more ridiculous discounts.
"We keep the prices. Of course there will still be seasonal promotions, because that's what everybody does, but we keep the prices." said Erik, who also added that Volkswagen will not be increasing the prices of its cars despite the weakening Ringgit and moves by other brands to raise their prices.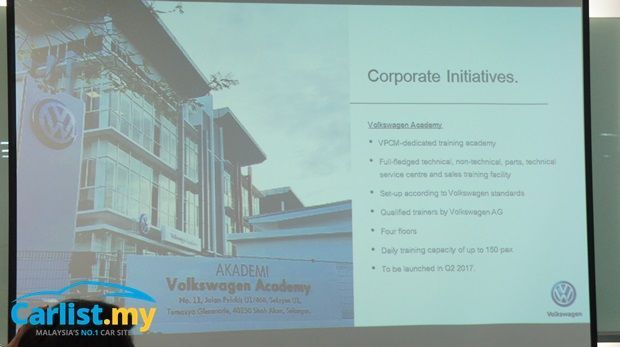 In the second quarter of this year, Volkswagen will open a dedicated sales and after-sales training Volkswagen Academy in Glenmarie industrial park in Shah Alam, Selangor. The four-storey facility will be staffed by trainers from Volkswagen AG, and has a capacity to train up to 150 staff daily.
In the longer term, the Volkswagen Academy will see to it that dealers will be adequately staffed with skilled technicians familiar with Volkswagen products.
With the implementation of an urgent parts order channel, Volkswagen dealers who place an order for a part before 11am on a working day can now receive their order on the next day. This is done at no additional charge to the customer. By 2018, a new regional parts centre will be operational in Johor, replacing the company's current parts centre in Singapore.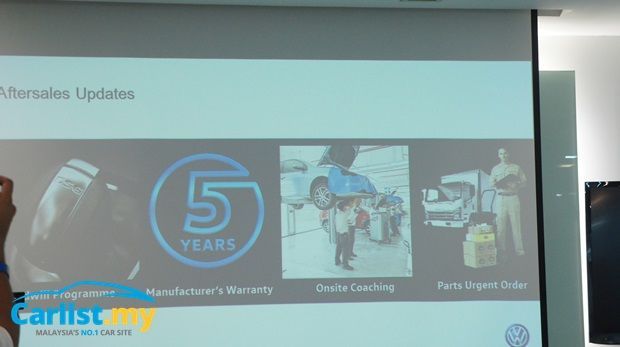 On top of that, VPCM also revealed that its engagement with Volkswagen Club Malaysia have prompted the company to push for an additional 2-year goodwill warranty, for qualified vehicles who have already passed their standard 5-year warranty – a testament of its willingness to listen to their customers and fans of the brand.
In addition to that, all Volkswagen vehicles serviced and repaired at authorized Volkswagen dealerships are automatically entitled to a 2-year warranty on the replacement part(s). This parts warranty is independent of the 5-year manufacturer warranty on the vehicle.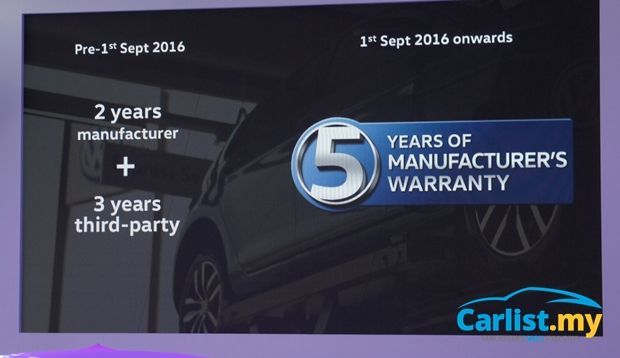 VPCM also repeated the message that all its cars now come with 5-year manufacturer's warranty, and that the previous problematic insurer-backed 3+2 years extended warranty have since been dropped.
As for the practice of providing courtesy cars, VPCM said that the service is still available but the company is paying more attention to how the courtesy cars are given out because the previous arrangement has led to many abuses. There were cases of owners of Polo or any lower range Volkswagen model not returning the Passat or other higher range model courtesy cars given to them, which resulted in a shortage of courtesy cars and unnecessary secondary problems for the company.
Going further back into the company's back-end processes, Florian revealed that VPCM has improved the warranty claims process, not just for the customer, but also for the dealer.
In the past, there were dealers who prioritized paid maintenance and repair jobs over warranty claim jobs but with the improved processes in place, the interests of the dealers are now well taken care of and according to Florian, there is no reason for any dealer to decline a warranty claim job.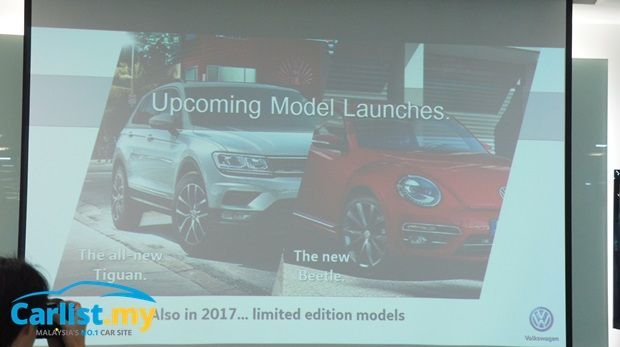 Moving forward, VPCM confirms that there will be at least two model launches this year, the all-new locally-assembled Tiguan which we have already reported here before, and the new facelifted Volkswagen Beetle.
On top of that, there will also be several more limited edition models, presumably for the Vento, Polo or Jetta.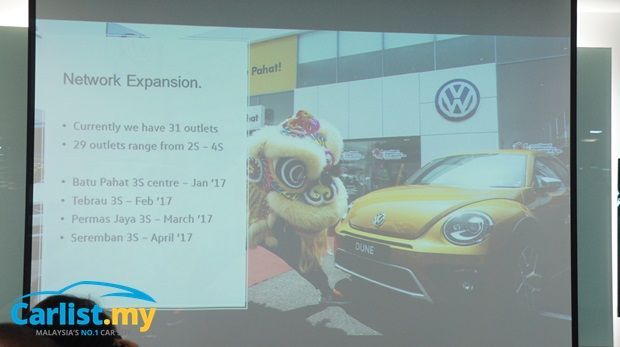 To further strengthen its network, VPCM will be adding three more 3S centres this year, one each in Tebrau, Permas Jaya and Seremban, bringing its total service centres count to 33.
---
---
---
Comments