This Ice-Cooled, 736 PS Mercedes-Benz W125 Hit 432.7 km/h, Back In 1938!
Insights Slightly less than a week ago was the 80th anniversary of racing driver Rudolf Caracciola's record setting drive on the German autobahn, where he was clocked at 432.7 km/h in a 5.6-litre V12 736 PS Mercedes-Benz W125 world speed record car.
To put the numbers in perspective, a Mercedes-Benz W154 Grand Prix car of the same year could only do 330 km/h, powered by a 3.0-litre V12 that pushed out 474 PS.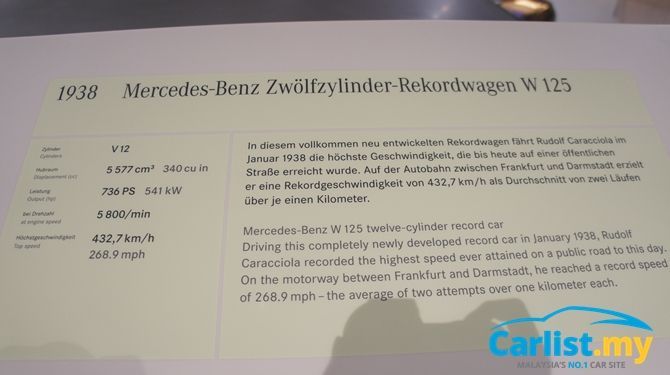 This was also the period when Auto Union, the predecessor of the present day Audi, and Daimler-Benz were engaged in a rapidly escalating one-upmanship contest to claim the title for building the fastest car. Both companies were fierce rivals on Grand Prix circuits and on derestricted public roads, both were vying to set a speed record.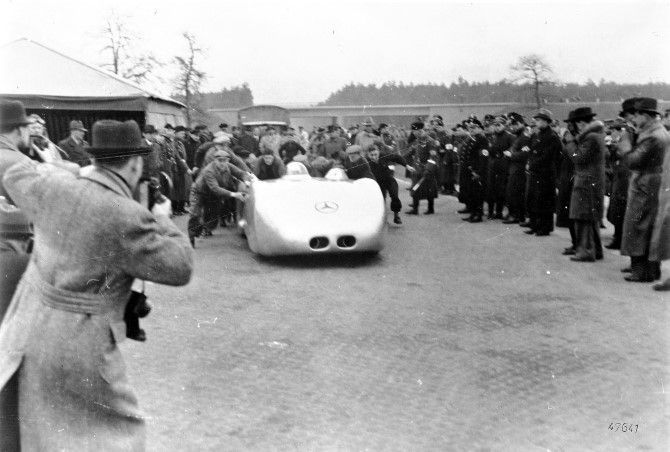 The rivalry was also promoted by the Third Reich, who saw excellence in automotive engineering and the dominance of German cars as valuable propaganda.
At such high speeds, front-end lift was the biggest problem, and a potentially fatal one too. As speed increases, the differences in air pressure will begin to lift the front axle off the ground.
Without the benefit of electronically controlled active aerodynamics or wind tunnel simulations, Rudolf Uhlenhaut, technical manager of the racing department, a Ross Brawn of sorts of his era, enlisted the help of aeroplane designers Ernst Heinkel and Willy Messerschmitt, who recommended the W125's front-end to be made shorter and tapered more sharply, while extending the rear section's length and height.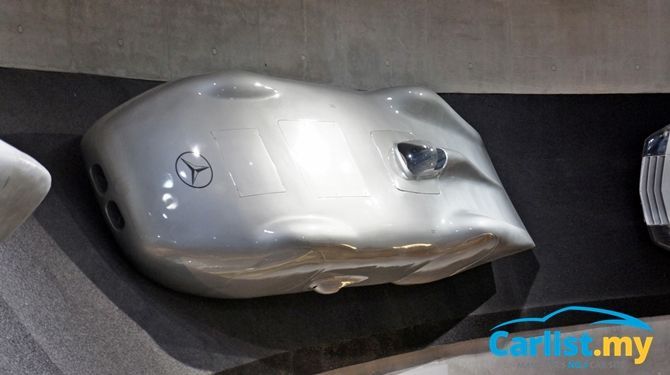 The vehicle's cross section was also heavily rounded off to reduce its susceptibility to crosswinds but the tear drop shaped cockpit glasshouse created a secondary problem as it distorted visibility. It took a while for the engineers to find the correct balance between maintaining the glasshouse's curvature without distorting the driver's visibility.
For the engineers of that time to build such a vehicle without a digital calculator was a testament of their ingenuity.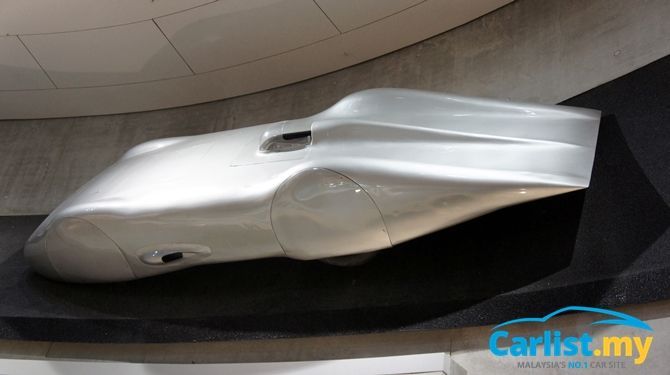 The streamlined body shape was necessary to cut through wind resistance but it also meant that there wasn't enough air intake ducts to cool the V12 engine. The solution was a radiator that packed 48 litres of water and 5 kg of ice. If necessary, it can accommodate dry ice.
The W125 was later measured at a modern day wind tunnel and was found to have an aerodynamic drag co-efficient of just 0.170, a remarkable achievement by a group of people who had to work mostly by using guess work.
In the morning of 28 January 1938, just after 8 a.m., Rudolf Caracciola achieved the highest speed ever recorded on a public road on the autobahn between Frankfurt am Main and Darmstadt.
He clocked a speed of 432.7 km/h over the flying kilometre, and also broke the record for the flying mile with a speed of 432.4 km/h. In each case the speeds were calculated as the mean between runs in both directions.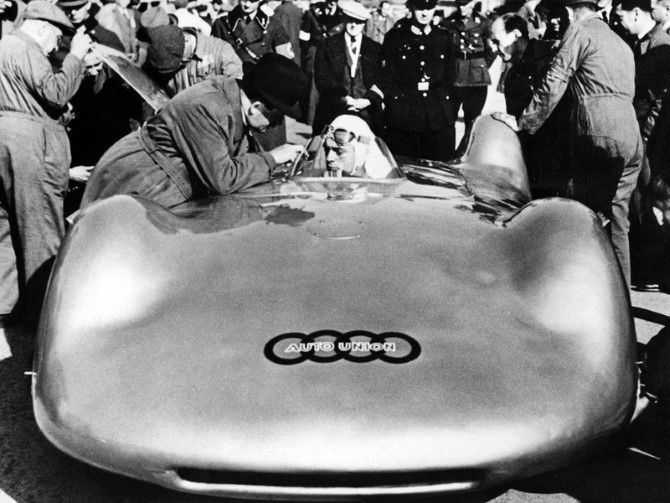 Auto Union Type C Streamliner
Aware of its rival Mercedes-Benz's record breaking attempt. Auto Union was busy setting its own speed record on the same day too. However a gust of wind sent their 6.33-litre V16 engine Auto Union Type C Streamliner flying off the road, killing its driver Bernd Rosemeyer. The Auto Union had a theoretical top speed of 456 km/h. Right at the moment before the Auto Union veered off the road, it was travelling at 440 km/h.
A year earlier, Rosemeyer set a speed record of 400 km/h with Auto Union. The tragic accident didn't put an end to the ridiculous rivalry.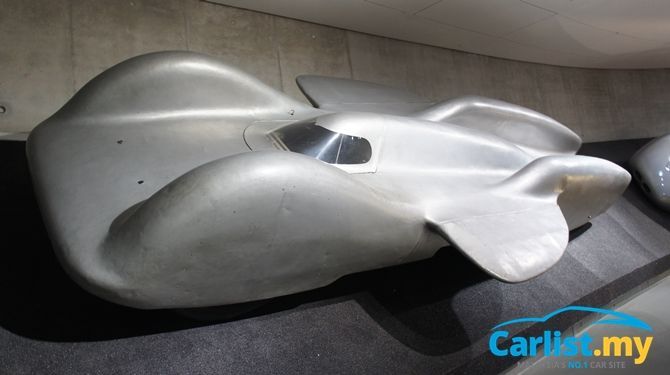 Mercedes-Benz T 80 Weltrekordwagen
A year later in 1939, Mercedes-Benz had already built an even faster T 80 Weltrekordwagen (World Record Car), designed by Ferdinand Porsche and boasts of performance numbers that are insane even by today's standards – 44.5-litre V12 (yes that's not a typo, it's 44.5-litre), 3000 PS of power, with a theoretical top speed of 600 km/h.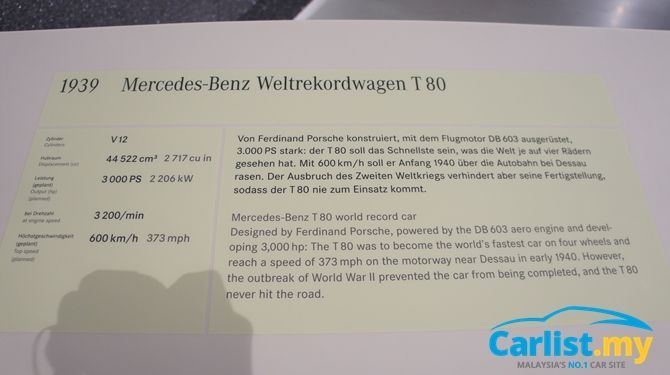 Thankfully, the attempt was never made as World War 2 raged across Europe. The actual car now sits at the Mercedes-Benz Museum in Stuttgart, accompanied by Daimler's other record breaking cars. The W125's outlandish 44.5-litre V12 never ran to its full potential.
The car is now fastened to a ceiling-wall installation at the museum's exit, parked too far away for anyone to reach for a closer look. If you walk too fast past the museum's exit gantry and onto the escalator heading down, you will miss it and there's no way for you to turn back to get another look, unless you buy another ticket to re-enter the museum.
I guess its final resting place is symbolic of the T 80's fate – that it was so close to achieving something great but all it ever managed to do was to be a museum exhibit. A flash that went by too fast, easily missed by all but the keenest observers.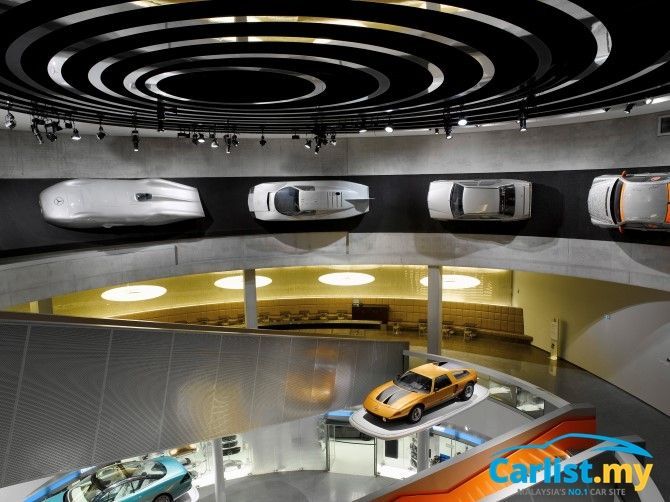 Seventy nine years would pass before Rudolf Caracciola's 432.7 km/h speed record was broken. Not even the Bugatti Veyron, which set a new record for production cars (431.07 km/h) in 2010, could surpass the 1938 Mercedes-Benz one-off record attempt car.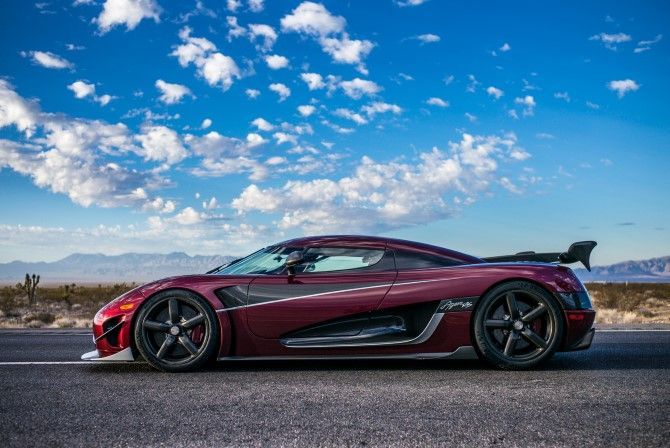 Mercedes-Benz's public road speed record was finally broken a Koenigsegg Agera RS, driven by the Swedish hypercar maker's factory driver Niklas Lilja, on 4-November 2017 at a closed-off section of Highway 160 in Nevada, USA. It clocked a flying kilometer speed of 445.63 km/h, calculated after running in two directions. As a production car, the Koenigsegg also broke the Bugatti's record.
---
---
---
---
Comments