Tokyo 2015: Lexus LF-FC, The Next LS Thinly Veiled As A Hydrogen Fuel Cell Luxury Saloon
Auto News Lexus has taken the wraps off its LF-FC, a luxury saloon that has with it a futuristic all-wheel drive hydrogen fuel cell powertrain. But while it is presented to us in a different name, this is a rather clear look at Lexus's next-generation flagship, the LS. Albeit, minus the advanced powertrain – at least for the near future.
The concept's exterior is one of very smooth flowing lines that run the length of the car. It looks very low in pictures, with the wheel arches being almost as tall as the hood line – something rarely seen in a road-going sedan. The front is dominated by the Lexus grille and is followed by a flowing roofline.
At the 2015 Tokyo Motor Show, Lexus president Tokuo Fukuichi said while introducing the LF-FC: "Lexus wants to surprise and evoke emotion with its distinctive design and forward-thinking technology. For us, it is more than just a car, and we should exceed conventional imagination. The LF-FC expresses our progressive luxury and high-tech vision of a not so distant future."
The LF-FC uses its electric motor to drive the rear wheel predominantly, itself powered by the stored hydrogen to produce said electricity. However, there are also two additional motors at the front to round off that all-weather grip. Lexus say the drive system allows for precise distribution of torque to all four wheels which all culminates in "exceptional dynamic handling and superior road stability."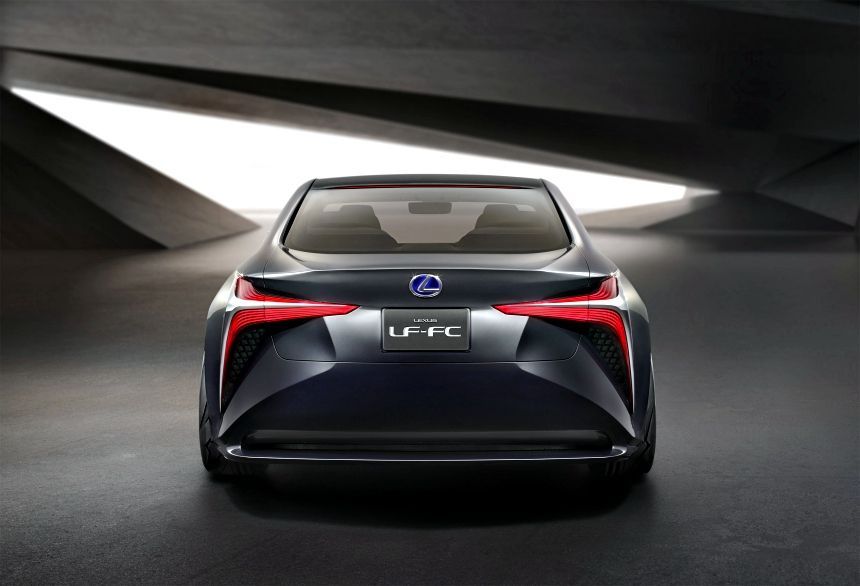 Toyota Mirai-inspired tail lights?
The powertarain operates in two modes that are dynamically switched according to given driving conditions and demands of the driver. 'Cruising' mode means the fuel cell stacks drain the hydrogen tank to create electricity to drive the motors as well as to recharge the batteries. In 'Acceleration' mode, the fuel cell stacks and stored battery power are used to power the LF-FC's main electric motor and its in-wheel motors for maximum grunt and grip. Lexus, and its parent Toyota, appear to be hitching their wagon onto the 'hydrogen fuel cell' star, saying: "The reason we are showing this car is because we are getting ready for a hydrogen-powered society."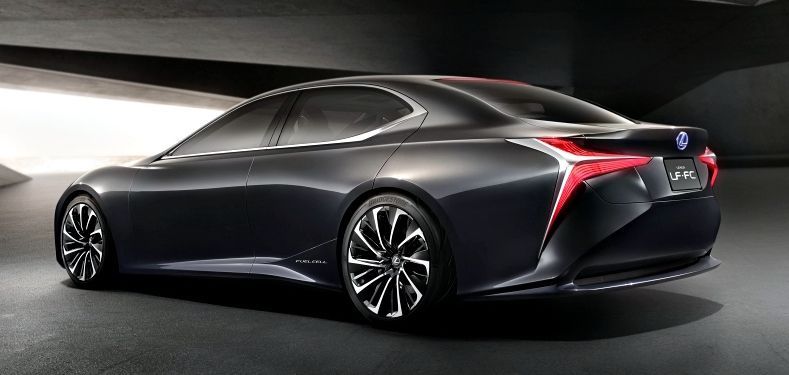 The car also has a number of autonomous driving features, and while Lexus did not provide much by way of elaboration on the matter, it did disclose that it provides a "safe and efficient driving experience for its occupants and supports the vision of a world without traffic accidents."
Inside, the futuristic cues continue with holographic interfaces, gesture controls for infotainment and climate control and a bevy of instruments being replaced by digital displays. Even passengers in the rear are treated to their own touchscreen interface.
---
---
---
---
Comments