 The Mercedes-Benz W123 was launched in January 1976 as the replacement for its W115 range of the early 70s. The target objective behind the W123's development was simple: to outperform its well established predecessor in every aspect.
Post launch of the all-new W213 Mercedes-Benz E-Class - we celebrate the tradition of the venerable E-Class with all the shagadelic goodness of a promotional video from the era; replete with sharp commentary, grainy footage and synthesizer background tracks.
The painstaking process of design and developement is detailed extensively, including subjecting test mules to driving conditions never thought possible for a car of that period. If you figured the W123 to be and executive sedan that handled like a boat, think again...
We have covered the W123 extensively in a previous article, but here's some need to know information…
The W123 debuted in 1976 in four-doored and Coupe guises and for the first time a station wagon or estate as it is otherwise referred to joined the ranks later in 1977. Variant designations, as per usual for the time, denoted engine size, type and body style.
A 200 TE badge, for instance, would denote a 2.0-litre (200) station wagon (T) with fuel injection (E). All in all, adding up to a pretty rare find. Other suffixes such as 'C' denoted the Coupe body style, and if a 'D' came right at the end – that was a diesel. 'Lang' referred to long-wheelbase or limousine versions, mostly reserved for the European market.
To the best of our knowledge, finding a model pre-dating the 1980-production year is nigh-on impossible. Perhaps, given the time and relatively small economy Malaysia represented at the time, securing an example amidst the worldwide demand for the W123 and shipping it over to our shores would have been quite a challenge.
A dead giveaway of the pre-facelift generation are the quad-unequalled circular headlamps combinations. Only the flagship 280 and 280E featured the large rectangular numbers like the ones commonly found locally; post facelift, the entire range adopted the fresher looking rectangular units.
Propulsion came in the form a host of petrol and diesel units, however preceding a time when even Daimler AG had a presence in Malaysia, much of the specifications regarding trim level and engine variant mostly depended on the authorised local distributor Cycle and Carriage. With diesel engines fuelling not much more than lorries and busses at the time, most of the cars that made it here were gasoline powered.
The more commonly found engines in Malaysia are:
Petrol
M115, Inline-four, carburetted, 93bhp at 4800rpm, 158Nm at 3000rpm (MY 1976-1981, Mercedes-Benz 200)
M102 Inline-four, carburetted, 108bhp at 5200rpm, 170Nm at 3000rpm (MY 1979-1985, Mercedes-Benz 200)
M102 Inline-four, fuel-injected, 134bhp at 5100rpm, 201Nm at 3500rpm (MY 1979-1985, Mercedes-Benz 200E)
Diesel
OM615 Inline-four, indirect-injected, 59bhp at 4400rpm, 113Nm at 2400rpm (MY 1979-1985, Mercedes-Benz 200D)
There's quite possibly a number of diesel engine cars still running to this day, but for the vast majority of petrol engines, they're commonly classified by Mercedes-Benz enthusiasts as the silver engine and the black engine (M102) that was introduced with the facelift.
The 2.0-litre 'black' engine utilised an 89mm bore and 80.25mm stroke architecture and the 2.3-litre brought about a larger bore diameter of 95.5mm thereby taking the displacement to 2299cc and crucially a Bosch K-Jetronic fuel-injection system. These engines can be easily identified by the centrally mounted air cleaner housing (atop the cylinder head) whereas the older M115 engines had air-cleaner boxes seating on the left side of the bonnet when viewed from the front.
Common at the time were three-speed automatic or four-speed manual gearboxes which managed and distributed power to the rear axles. Higher powered models such as the 2.5-litre M123 and 2.8-litre M110 inline-six were later mated to four-speed 4G-Tronic autos or five-speed manuals.
All in all, nearly 2.7-million units of the W123 rolled out plants in Sindelfingen, Stuttgart, and Bremen – alongside plants in China, South Africa and the U.K. This then, makes for a perfect starter classic for the more classically inclined of petrol heads.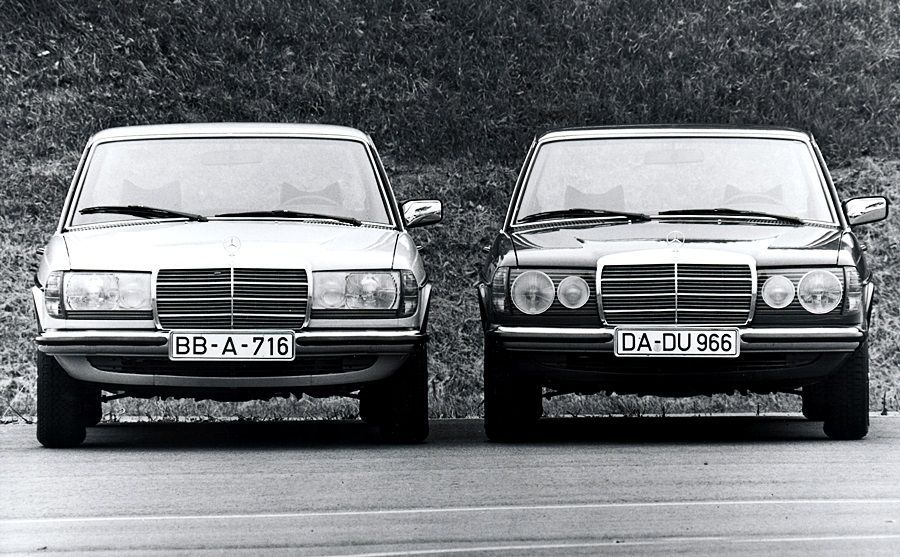 If you're actively looking or thinking of purchasing a W123 of your own, here's some tips to arm yourself with:
Engine
The most common power plant native to Malaysia are the M102 2.3-litres four-bangers. There's a peppering of M110 2.8-litre cars out there but these engines are quite a bit thirstier compared to the M110s and the performance gains do not warrant the extra upkeep costs.
Go with the 2.3-litre, parts are rather easy to find, the engine layout is easy to work on even for the DIY-type enthusiasts, and when kept well - will last a lifetime. Do not fear high mileage examples, and most often, if they're maintained well, run smoother and better than one's that have been garaged their entire lives, and be more 'compliant' when being pushed.
Look out for white/blue smoke once the engine is warm, blue smoke is typically better than white smoke but either way it's going to cost a bit. Check engine oil and coolant colour, and if they have mixed at all – in which case, you'll most likely be looking at fluid that resembles a cross between teh-tarik and dark chocolate mousse.
The mechanical injection on a M102 engine sounds much like 'tappet noise' for someone unfamiliar with the engine, but this is fine. Listen for a grinding or clanging type noise near the front of the engine, this could mean the timing chain tensioner cog is loose and needs adjustment or replacement, but this could serve as a very good bargaining chip.
Or perhaps go with an oil burner, 200- or 240D, they're slow… really slow, but are known to run on 100% vegetable oil without any side effects. A well-kept 230E will have no problems keeping up with modern day traffic.
Bodywork
W123s are built well, but are also quite talented at concealing rot. Wear jeans and protective gloves, because you will have to get under the car and run your fingers along the inner seam of the wheel arches and along the side sills. Pay close attention to jacking points, because improper jacking would have left small dents or flex points which are exposed after and rust over time.
Look under the battery tray and spare tyre enclosure, water drainage channels and don't miss the firewall either – rust spots here are not easy or cheap to fix, and pertinently with the saloon models, which aren't that rare or pricey to begin with – could make or break the entire project. Surface rust on the doors, bootlid and bonnet are acceptable given the car's age, easily mended too if you know a competent panel beater.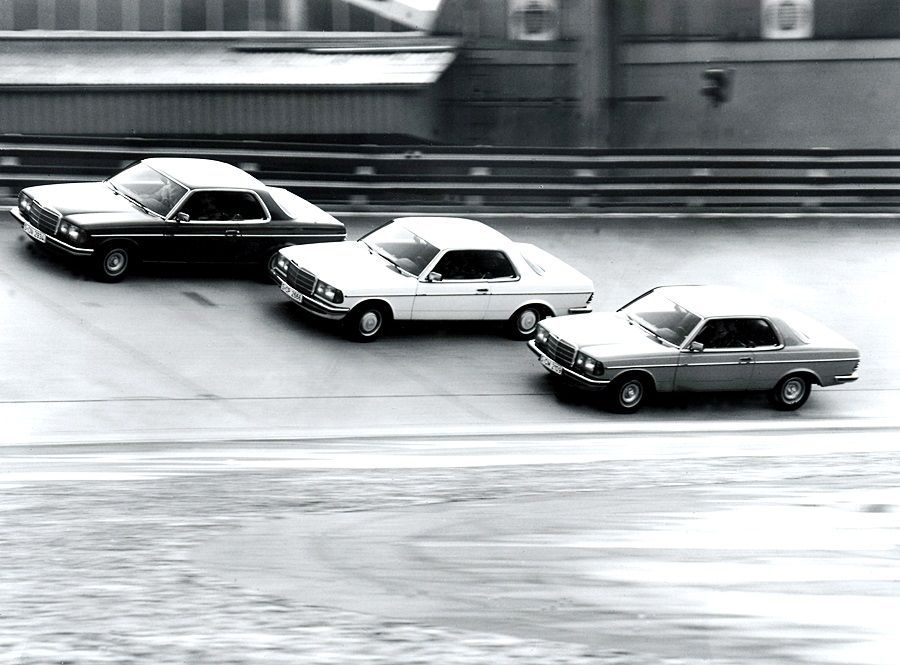 Chassis and suspension
This car isn't for the spirited driver/enthusiast – the W123 is all about cruising in sublime comfort and poise. That being said, push down hard at the suspension corners and watch how quick the car stops moving and gets back into position. If it keeps flopping about more than twice (as in up-down the up again) the absorbers need a replacement, but they aren't the biggest problem.
That's the play of the steering rack, older cars were engineered with a bit of slack – meaning you can rotate the steering a wheel a few degrees before the front wheels actually start arching in the corresponding direction.
Over time, the recirculating-ball steering box wears loose lending to some downright comical and dangerous steering responses, meaning the front end can stray off course quite a bit even with the steering in a dead centre position.
It's best to check with a specialist if the problem is curable, because overhauling or sourcing a second-hand steering box can cost an arm and a leg in this economy. Otherwise, ball joints and tie-rod ends are easily and cheaply remedied and can do a whole lot to enhance the car's handling performance.
Interior and Trim
Again, one of those things that can make or break the entire project. For the most part, W123 interiors are as good as they come, elegant and sturdy. However, little trinkets like chrome trim, switch enclosures, door rubbers and even inner door panels are extravagantly priced new, and rather tough to find used.
To quote a fellow enthusiast's experience, the costs of replacing four-door rubbers and a chunk of the chrome trim brand new, ended up being as expensive as the car itself! An alternative solution to this issue and potentially many others, is to hunt down a donor car, it need not be roadworthy, but one will be surprised at how much parts can still be extracted and reused from a car fit for the scrapyard. Look for cars that best compliment the parts you need for your own car. Donor cars can be worth twice or more in collective parts when bought as loose items.
Final thoughts…
Manage your expectations when building or buying your very own W123. A W123 can either be a dependable workhorse or a show winning concourse star. Starting with a good base is paramount, because as the saying goes – there's nothing more expensive than a cheap Mercedes…
---
---
---
Comments