VIDEO: CCTV Recordings Of Sogo Crash Incident Show It All
Insights First of all, no, no, no, the traffic hold up this morning was not caused by a collapsed flyover or bridge or anything like that.
Bystanders have since confirmed to Carlist.my that the incident was in fact caused by a brutal accident, and now, we've come across some CCTV footage of the incident that explains it all.
UPDATE: MyRapid Release Stern Reminder To Those Who Spread Unverified News
It's a tight hairpin-like corner on Jalan Kuching near Sogo where the accident took place, and seen here is a black vehicle headed upwards of the video that seemingly doesn't manage to bring their car around enough, and runs across on to the opposing lane, hitting another vehicle violently. The black vehicle has been identified as a Honda Civic, the other a van.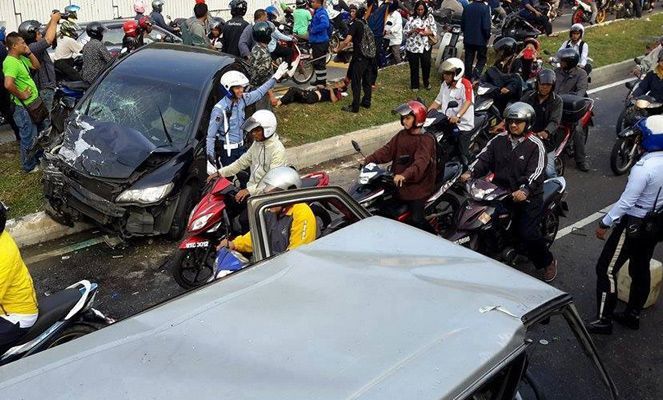 The sights afterwards are rather gruesome, but members of the public in the area have been uploading several images on social media.
So far, we haven't heard of the states of health for all those involved in the accident, but we sure hope they're alright. The van driver was believed to have been stuck (while concious) inside his van, while passerbys joined together to help him out. Stay safe on the roads, everyone.
JAMBATAN RUNTUH DI SEBELAH SOGO?

Video rakaman CCTV Kemalangan teruk di Jalan Kuching bersebelahan Sogo. Tiada kejadian jambatan runtuh. Sebarkan..Lagi Video Like -- Friends Of PDRM

Posted by Friends Of PDRM on Wednesday, 2 September 2015
---
---
---
---
Comments