VIDEO: TMJ's Drool-Worthy Entourage Of Cars Seen As They Exit KL Hotel
Insights A stirring scene arose yesterday outside the Shangri-La Hotel in Kuala Lumpur where a string of exotic cars (at least six) pulled out of the lobby entrance with police escorts in between most of them. The license plates just read TMJ.
For the uninitiated, the curious acronym 'TMJ' stands for Tengku Mahkota Johor, a chap named Tunku Ismail Sultan Ibrahim, who is a prince of the southernmost state in Peninsular Malaysia.
Evidently, he and his requisite vehicular entourage of expensive, beautiful and ostentatious metal were in Kuala Lumpur to witness the Malaysia Super League football finals between between Johor Darul Ta'zim FC and Felda United.
With the match over – Johor won, by the way, the cars must've been a good luck charm – the TMJ crew packed it up and left, having police close a stretch of Jalan Sultan Ismail just outside the hotel so that the cars could leave.
Let's go through the video in order: first we see the Dodge Challenger Hellcat, this supercharged V8 brute dishes out 707hp from its 6.2-litre HEMI engine and seen here in this striking Sublime green. Listen closely and you can clearly hear the supercharger whine.
Following that we have the smoky grey Mercedes-Benz SLR McLaren 722 Edition, which was named for Sterling Moss's victory at the 1955 Mille Miglia open-road endurance race. This car is one rare beast, and one also known for its supercharged V8, 5.4-litres in this case, which produces 640hp that can propel it to a top speed of 327km/h.
Next up, a white Lamborghini Huracan LP-610-4. This car we're a bit more familiar with. While not as rare as the preceding cars (the Challenger is pretty darn rare here, though). But its fighting bull heritage still makes it a true supercar, and its 5.2-litre V10 developing the denotive 610hp is nothing to sneeze at.
We saw quite a few of Huracans, albeit in race-spec, tearing through that very same road not long ago during the KL City Grand Prix.
Then we're back onto the Germans with this striking yellow Mercedes-Benz SLS Black. This car was inspired by the SLS AMG GT3 race car, but reined in to work on the road and delivers 622hp from its naturally-aspirated 6.2-litre V8. It also has a thunderous exhaust note which, unfortunately, doesn't reveal itself in the short clip above.
Following closely behind that is the Bentley Continental GT3-R. Despite the lightweight treatment, it's a British bruiser with a 6.0-litre W12 powerplant that pushes out 570hp. It's got some racing stripes, extra scoops and intakes and blackened wheels, all very important for the racy look. Yes.
Then, lastly, we have the tank. The Mercedes-Benz G63 AMG 6x6. Four wheel drive not doing it for you out there? Then try six wheels, with grunt supplied from a 5.5-litre bi-turbo V8 with 536hp sent to tyres just over three feet tall. You own the road with one of these, no argument.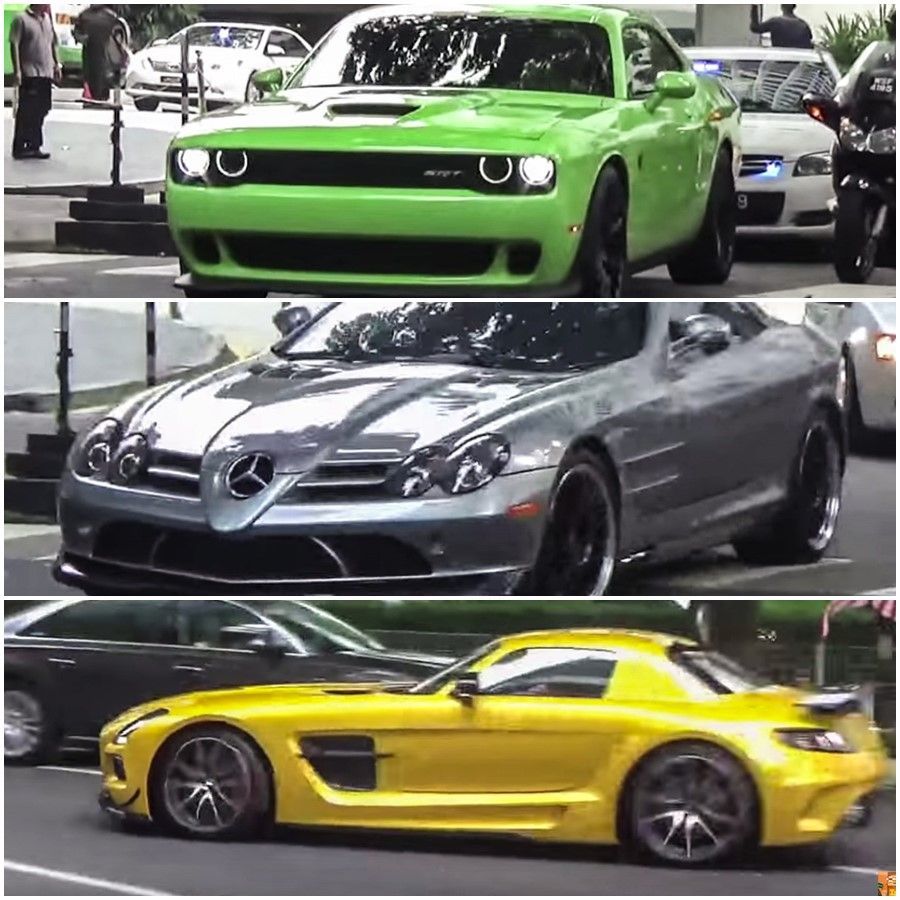 ---
---
---
---
Comments