Volkswagen Grew 8.1 Percent In 2017, Scores Big Improvement After-Sales Experience
Auto News In only its first year of operation after the restructuring of Volkswagen Passenger Cars Malaysia (VPCM) in 2016, sales of Volkswagen vehicles in Malaysia grew by 8.1 percent, outpacing Volkswagen's global operation's 4.2 percent.
Last year saw VPCM successfully pulling itself out from a rut to deliver 6,536 vehicles (versus 6,048 in 2016), 95 percent of which were locally-assembled models. VPCM was keen to point that the numbers, while not very high in absolute terms, represent a sustainable growth as in 2017, as the company had only one major product launch – the Tiguan.
VPCM did not reveal a breakdown of its sales by model, but confirmed that the contribution was quite equal from all its locally-assembled models, which consists of the Vento, Polo, Jetta, Passat and Tiguan.
"It is a reflection that our brand is equally accepted across all the segments that we are present in," said Mr. Erik Winter, Managing Director (Brand and Human Resources) of VPCM, at a media roundtable this morning.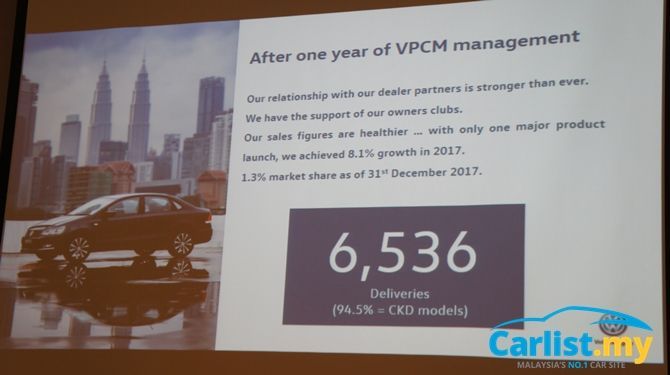 Although the current Chinese New Year promotion campaign by VPCM includes additional cash rebates for 2017 models, Winter revealed that nearly all their 2017 stocks have already been sold out, again as a testament to the company's efforts in pursuing sustainable growth.
In addition to that, all Volkswagen models purchased after 1-Jan 2018 are now covered with a 3-year/45,000 km (whichever comes first) free maintenance. It should also be noted that unlike a typical Japanese car's 6-month/10,000 km service interval, Volkswagen cars follow a longer 12-month/15,000 km service interval.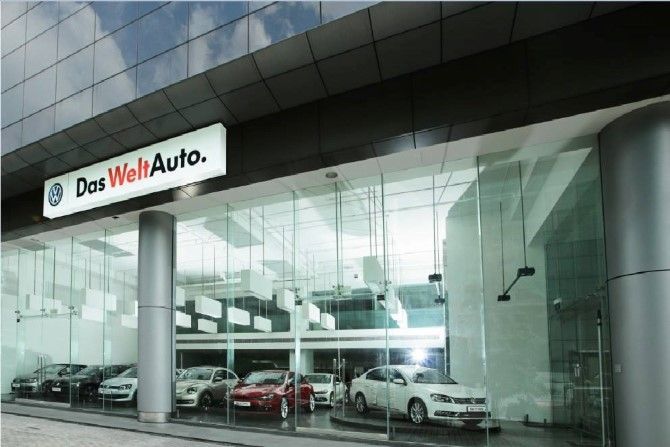 Also in the plans is the establishment of Das WeltAuto in Malaysia. Already a common sight in Europe, Das WeltAuto is the Volkswagen Group's certified pre-owned car retail outlet. The move will eventually see Volkswagen dealers offering high quality used Volkswagens at attractive prices, with a longer term benefit of stabilizing resale value of Volkswagen models.
Buoyed by the unexpectedly strong response for its first-ever online car sales partnership with Lazada, VPCM is mulling the establishment of Volkswagen Marketplace, an online store where customers can place an order for a Volkswagen and enjoy specific online purchase-only promotions. While customers may place a booking online, the actual delivery and arrangements for auto financing etc, will still be done by a Volkswagen dealer.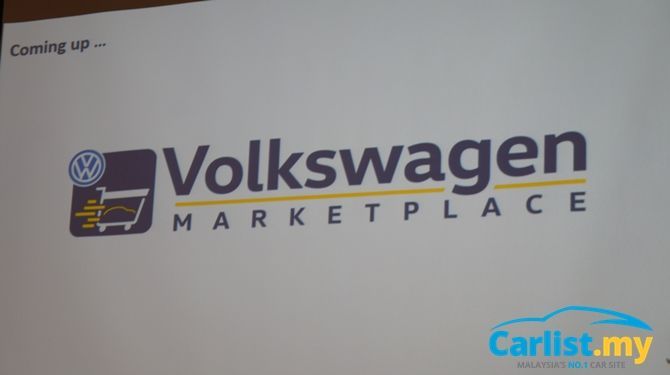 Last year, VPCM put out 12 special edition Volkswagen Beetles on sale in Lazada, and all 12 units were snapped up in just 20 minutes!
On the after-sales front, Mr. Florian Steiner, Managing Director (After-Sales, IT and Finance) of VPCM was pleased to announce that results from its internal Customer Experience Management survey has shown a sharp 21 percent improvement, increase from 3.45 points in 2016 to 4.17 points last year, out of a maximum of 5.00 points. In fact, Volkswagen was ranked fifth in last year's J.D. Customer Satisfaction Index, behind first-placed Toyota but well ahead of tenth-placed Honda.
Repairs/warranty claims that plagued earlier DSG-equipped Volkswagen models have been reduced to almost none, with minimal outstanding mechatronic-related issues for some older models.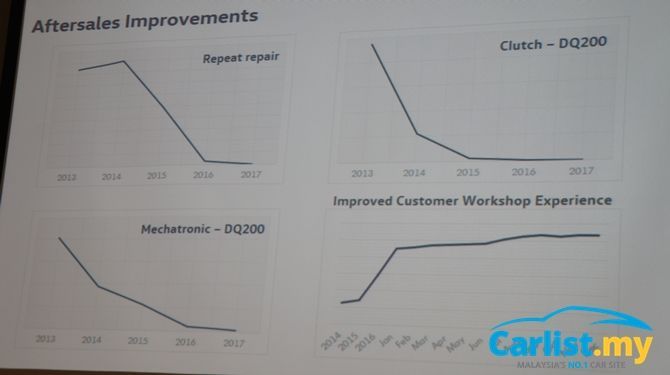 Separately, VPCM has also initiated its own 'mystery shopping' programme, where customer cars are selected at random and are intentionally planted with minor faults like a burnt light bulb, loose windshield washer hose, before it is sent to the service centre. Through this, VPCM is constantly monitoring the thoroughness of Volkswagen service centres.
Later this year, Volkswagen will be relocating its regional parts centre from its current location in Singapore to Tanjung Pelepas to Johor. With the relocation, customers can expect even faster delivery of parts. At the moment, Volkswagen service centres are placing orders for parts once daily, with urgent safety-related parts delivered within the next working day. The new facility will soon be able to accept orders twice daily.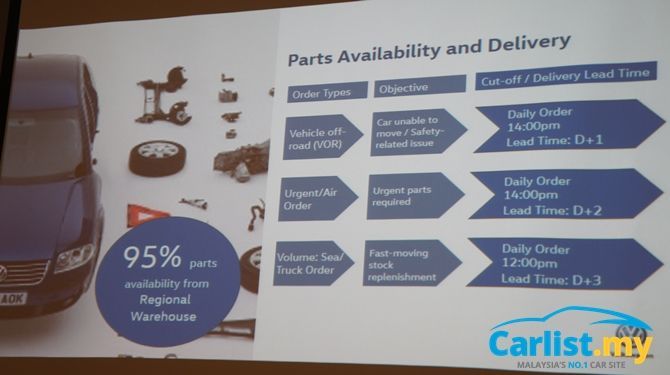 The warehouse will be operated by an independent Volkswagen organization, Volkswagen Regional After-Sales (VRAS).
The recently opened Volkswagen Automotive Academy will also be operating at close to its full capacity this year, with technical training sessions planned for 250 out of the 260-plus working days this year. The Academy is collaborating with local technical colleges like TOC and Akademi Saga to provide VW-specific certification to trainee technicians, as well as soft-skill training to other Volkswagen staffs.
Related: New 2018 Volkswagen Golf Mk 7.5 To Be Launched In Malaysia By H1 2018
---
---
---
---
Comments