Volkswagen Has Created A Powerbank For EV Cars
Auto News In what could be one of the most important developments to contribute the EV car ecosystem, and perhaps the future of electrified mobility itself, Volkswagen has just given us the first glimpse of its proprietary mobile charging station for EV cars.
Essentially a powerbank for electric cars – the mobile quick charging station, created by Volkswagen Group Components, offers a flexible and cost-effective option to expand the charging infrastructure wherever it is needed – for example, in public parking lots in the city, on company premises, or as a temporary charging point at large-scale events.
Fully juiced up, the charging capacity of up to 360 kWh enables recharging of up to 15 EV cars, and thanks to quick charging technology the charging process only takes 17 minutes on average.
If the energy content of the charging station is less than 20 percent, the depleted unit is simply exchanged for a charged one. If, however, it is permanently attached to the power grid with up to 30 kW via alternating current, the battery pack perpetually recharges itself.
In case the charging process is powered by renewable energy – such as solar or wind energy – the charging station allows the temporary storage of generated power, thereby achieving CO2-neutral mobility.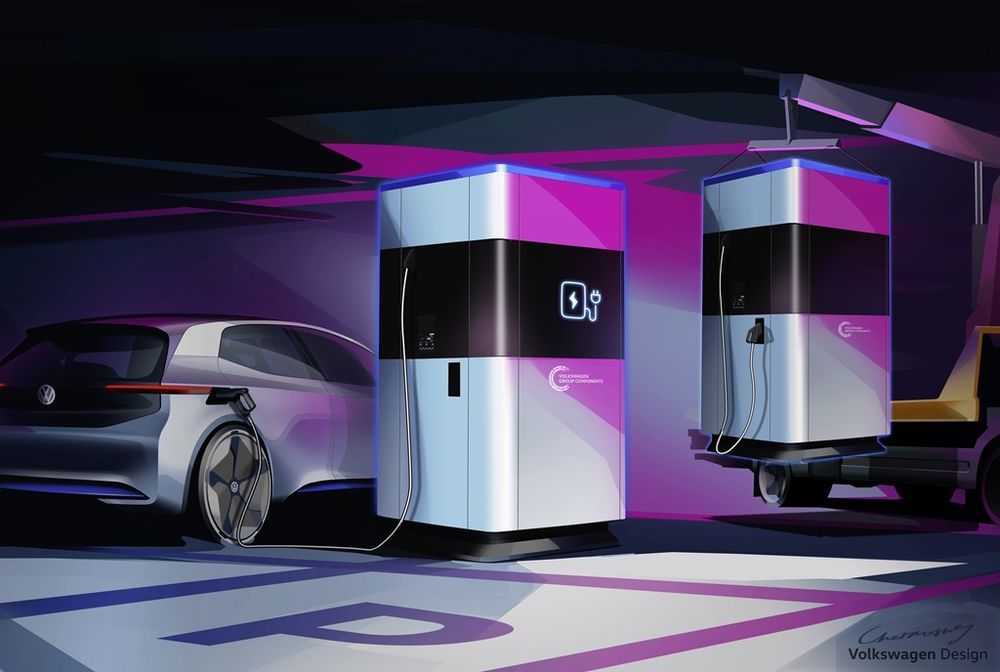 Charging stations can be set up at strategic points around a city without any structural changes or major financial outlay, and be accessed by EV users via the internet or mobile apps. Each charging station enables DC quick charging of up to 100 kW. In addition to electric cars, e-bikes can also be charged. Up to four vehicles can be charged simultaneously: two with DC and two with AC connections.
If the charging station is connected to the power grid, the charging station can be programmed for time-independent charging, thereby only drawing power from the grid at non-peak hours to reduce the strain on the power grid.
The mobile charging column is based on the battery pack of the Volkswagen Group's Modular Electric Toolkit (MEB). The MEB like the VW's MQB, is a scalable platform for future EV vehicles, such as the I.D. Vizzion prototype.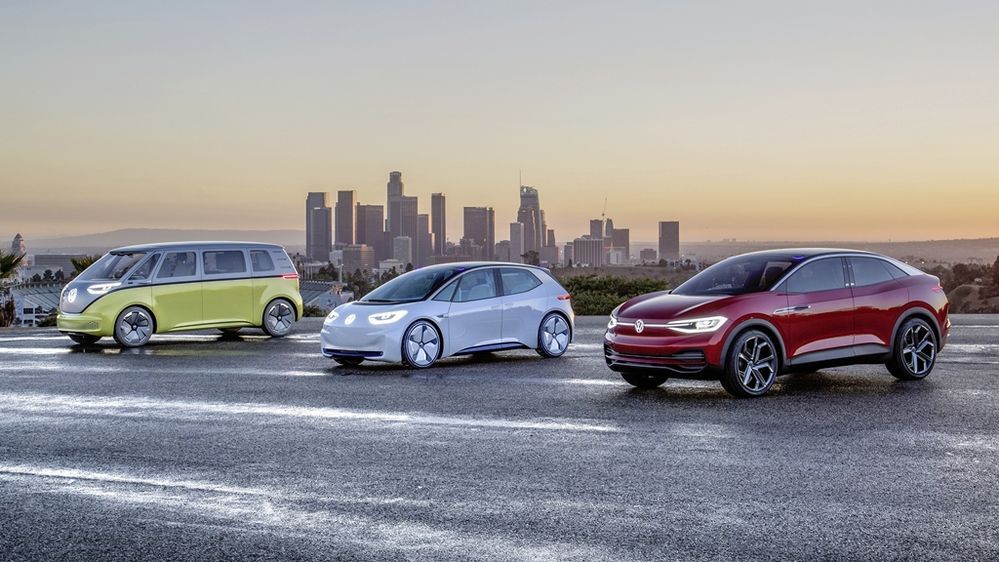 Because of the modular nature of the MEB battery packs, once a used EV battery is removed from the vehicle, it can subsequently be passed a thorough an analysis process, and then be reused in the mobile charging station.
The first mobile quick charging stations will be set up as early as the first half of 2019 in Volkswagen's hometown, Wolfsburg, as part of a pilot project, and will support the expansion of charging infrastructure in the urban area. Production of the mobile charging stations is slated to start in 2020.
---
---
---
---
Comments