Wolf Vaupel Is Right About Perodua
Insights As you already know, Perodua wasn't too happy with a recent blog post by German engineer, Mr. Wolf Vaupel, alleging that his wife's Perodua Myvi's self-illuminating instrument panel is 'deadly' and that it 'doesn't meet international safety standards.'
Well, Vaupel is right after all.
To recap, Vaupel is unhappy with Perodua's self-illuminating instrument panel, which lights up irrespective of whether the headlamps are switched on or not. He claims that this is a 'deadly' feature as it could easily lead the driver into driving in the dark without realising that the vehicle's headlights are turned off.
He went on to say that this design is not in accordance to international safety standards.
Vaupel claims that he has written to Perodua since 20th August 2014, but said he did not receive any reply (which Perodua denied, but did not reveal the content of their reply).
Perodua however, did issue a statement on 16-March 2015, after Vaupel's damning blog post went viral.
Perodua's statement reads: "We wish to clarify, that based on inquiries made to both the authorities and insurance companies showed that there is no such linkage concerning self-illuminating instrument cluster and road collisions at night.
"In addition, the self-illuminating instrument cluster is featured on other international brands and we are perplexed on why Mr Vaupel's attacks are only directed to Perodua.
"He further claims that the self-illuminating feature is against international regulations but fails to provide any evidence to his statements.
"We also wish to clarify, contrary to Mr Vaupel's claim, that we have replied to his earlier inquiry about the matter."
The company also adds that its products strictly adhere to domestic safety standards, adding "In fact, even the first generation Myvi (circa 2005-2011) is Euro-4 certified as Perodua exported to the United Kingdom previously. We have since improved on those safety features for our customers."
We are not sure why that last point was included as Euro-4 is merely an exhaust emission standard and has nothing to do with safety.
Anyway, back to Vaupel's claims. While Vaupel certainly did not do himself any favours with his exaggerated rants and disorganised presentation of his argument points, we believe there are still some validity to his arguments.
The core issue remains that in many (early) Perodua vehicles equipped with Optitron self-illuminating instrument panels, it is difficult to tell whether the headlights are on or not. Yes there is a difference in the instrument's illumination when the headlights are switched on, but put yourself in the shoes off an elderly driver, whose failing vision means that their eyes will be less sensitive to notice the difference. On a brightly lit road at night, it may not be apparent to the driver that the headlamps are off.
So Vaupel's concern is real, and is shared by my elderly father who also drives a Perodua Myvi. I am sure there are many Perodua drivers who can agree on this shortcoming with the Myvi. But I won't go as far as calling it 'deadly.' For my father, it is more of an issue with user friendliness.
Still, we believe Perodua's answer to Vaupel could have been better as it did not address the core of his concern at all - that in an Optitron equipped Perodua, it is difficult to tell if the headlamps are switched on or not.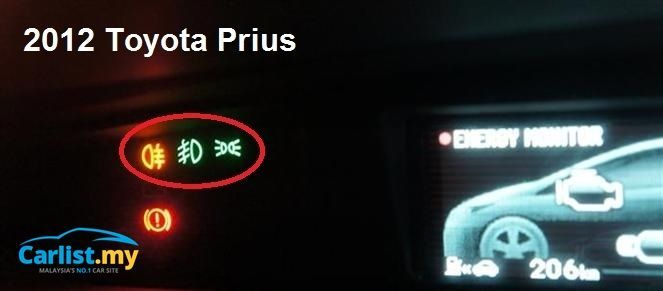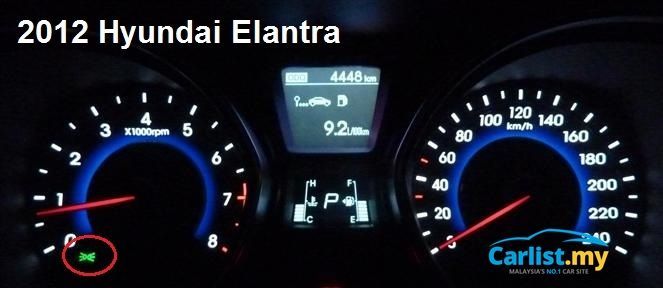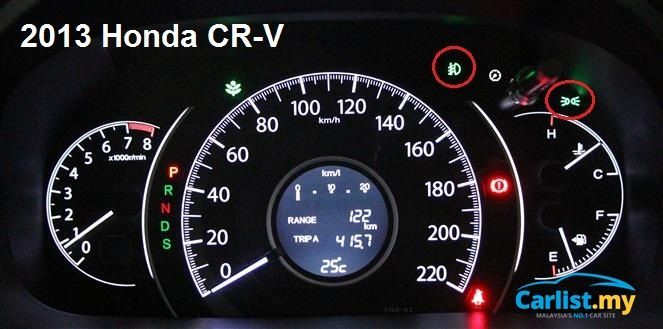 The images above are examples of how self-illuminating instrument panels should be designed - with indicators showing the status of the headlights, front fog lamps and rear fog lamps (if equipped). None of these indicators are present in the said Myvi.
According to regulations set by the United Nations Economic Commission for Europe's (UNECE) Regulations No.121 "Uniform provisions concerning the approval of vehicles with regard to the location and identification of hand controls, tell-tales and indicators," an indicator showing the headlights/tail lights status is required unless the instrument panel lights up upon activation of the master light switch.
So yes, Vaupel is right is right in his claims regarding the Myvi not meeting international standards. However, we need to point out that this regulation was only adopted in Malaysia on 1-January 2015. The Perodua Myvi that Vaupel described is the pre-2015, pre-facelift model so nobody can say that Perodua did anything illegal here.
Now that UNECE Regulation No.121 has been enforced in Malaysia, Perodua has since deleted the 'Optitron' self-illuminating instrument panel feature from its newly launched models. Both the Axia and facelifted Myvi now uses cheaper, conventional instrument panels that only light up when the headlamps are switched on. Such system does not require an additional indicator for the headlights.
Having said that, we also want to stress that drivers should not just rely on headlamp indicator, as it merely shows whether your side lights, license plate lights and tail lights are switched on. It doesn't show whether the main driving beams are on or not. Drivers should be alert enough to notice that if there is no reflection of their vehicle's headlamps on the vehicle in front of them, they need to switch on their headlamps.
---
---
---
Comments