10th Generation 2016 Honda Civic FC Launched In Malaysia – From RM113,800
Auto News With a starting price of RM113,800 , and a generous list of standard features that includes six airbags, electronic stability control (or as Honda calls it - Vehicle Stability Assist or VSA), ISOFIX and Hill Start Assist – available on all variants, the all-new Honda Civic is certainly moving the goal post for all other C-segment models.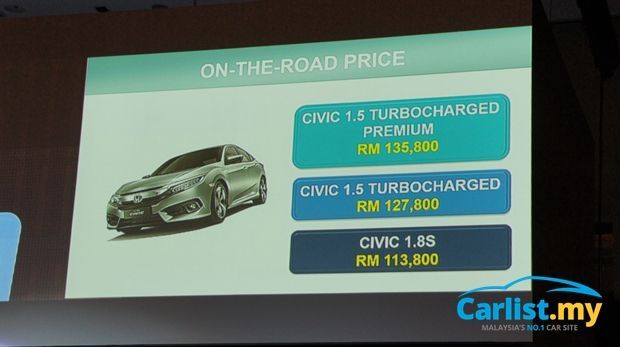 Overview
At a glance, the all-new Civic's silhouette might give an impression that it's a fastback/hatchback, but it's actually a sedan, with a conventional opening boot, and competes within a very traditional C-segment with the likes of a Toyota Corolla Altis, Volkswagen Jetta, Ford Focus, and Mazda 3 Sedan.
The first impression of the all-new Civic is that it's huge. It's much bigger than what you would expect a C-segment model to be. Compared to the previous FB-generation Civic, this all-new FC-generation Civic is significantly lower, wider and longer than before.
Compared to its archival the Toyota Corolla Altis, it's 10 mm longer, 45 mm lower, and 4 mm wider.
As before, the Civic is locally-assembled at Honda's plant in Pegoh, Melaka.
Honda says the all-new Civic qualifies for reduction in excise duties and other unspecified benefits outlined under Malaysia's 'customized' incentives for Energy Efficient Vehicles, thus explains the competitive prices.
Engine and Transmission
As you would've already know by now, the all-new Civic comes with two engine options – a 1.5-litre VTEC Turbo unit and a 1.8-litre i-VTEC naturally aspirated unit that's carried over from the previous generation Civic.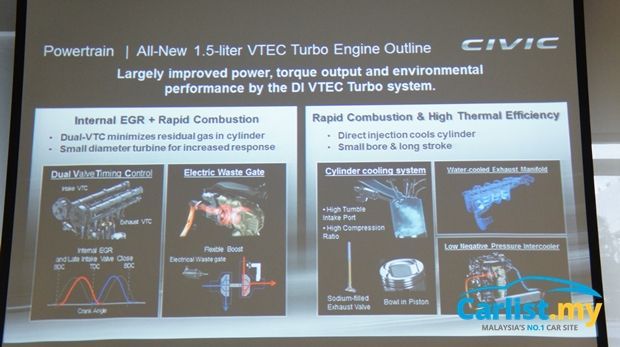 The direct injection VTEC Turbo engine produces 173 PS at 5,500 rpm and 220 Nm from 1,700 – 5,500 rpm. It features variable valve timing on both intake and exhaust sides. Boost pressure within the combustion chamber is controlled by an electrically-actuated waste gate. Honda claims a class-leading fuel consumption of 5.8-litre/100 km.
Buyers however, should temper their expectations and not get overly excited over the combination of the two words 'VTEC' and 'Turbo.' This is not the kind of performance-biased turbo setup that your tuner at Sunway will install on your ride. Instead, the adoption of a turbocharger here is primarily aimed at reducing CO2 emissions (crucial in lowering taxes in Thailand and many other countries), with attaining high power output figures being a secondary objective.
Claimed acceleration from 0-100 km/h is 8.2 seconds, quick enough on paper, but our short test drive in Thailand suggests that it's not going to feel that rapid in the real world, partly due to the characteristic of the CVT that's transferring power to the front wheels.
The familiar 1.8-litre naturally aspirated i-VTEC remains unchanged, producing 141 PS at 6,500 rpm and 174 Nm at 4,300 rpm, accelerating the entry variant Civic from 0-100 km/h in 10.4 seconds.
Both engines are paired to a Continuously Variable Transmission (CVT) type automatic transmission with torque converter.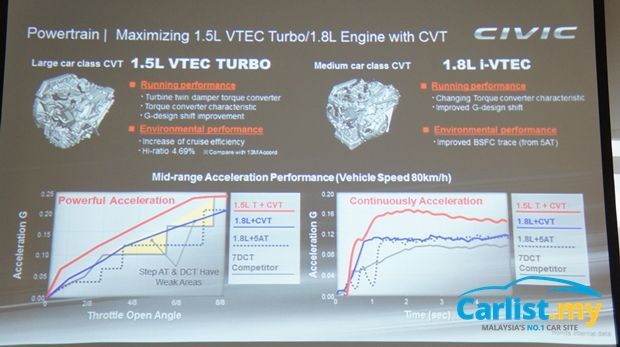 Although both engines use CVTs, the one used in the 1.5-litre VTEC Turbo model is a different unit from the 1.8-litre naturally aspirated model, with the former having a higher torque limit rating. The CVT that's used in the 1.8 model is similar to the unit used in the Honda HR-V, but with a different torque converter installed.
Both transmissions lack an automatic transmission fluid cooler but according to Assistant Large Project Leader Mr. Osamu Takezawa, there is no risk of the CVTs overheating in all but the most extreme race-like conditions, as the CVTs are of an improved, new design that's more durable and does not need an additional cooler like earlier generation CVTs.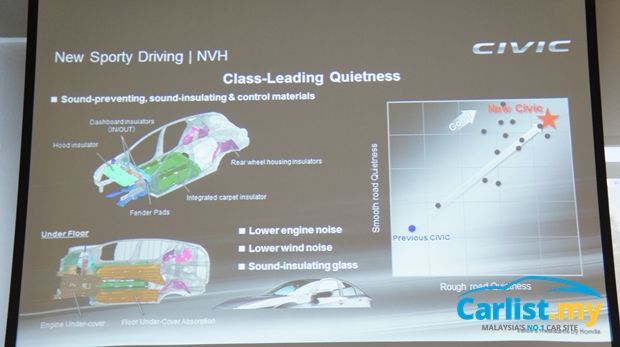 Honda also claims that all-new Civic has the quietest cabin in its class, a claim which our short drive in Thailand found little reason to doubt. We expect to complete a more comprehensive review for the all-new Civic in the coming months.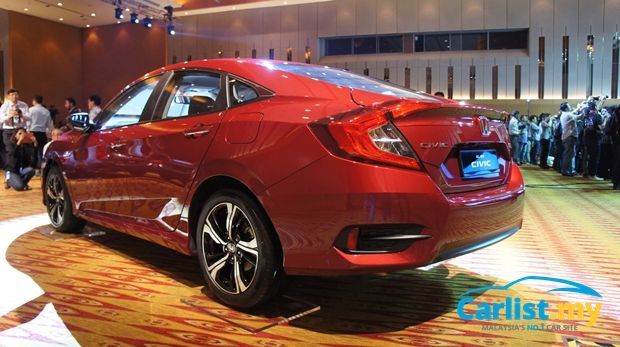 Safety
Apart from the VTEC Turbo engine, safety is another key highlight for the all-new Civic. While many of its peers tend to limit the full suite of active and passive safety features only for higher range variants, this all-new Civic offers the same level of safety features across the range.
Six airbags, Vehicle Stability Assist (VSA), ISOFIX, Hill Start Assist, Emergency Stop Signal are all available even from the entry 1.8S model.
As such, the expected maximum 5-Star ASEAN NCAP rating (official announcement to be made by ASEAN NCAP later) is applicable to all variants of the Civic. This is not always the case as Vehicle Stability Assist (generically known as electronic stability control or ESC) is a pre-requisite for any vehicle to be awarded the fifth star, so very often, the maximum 5-star rating is only applicable to certain variants.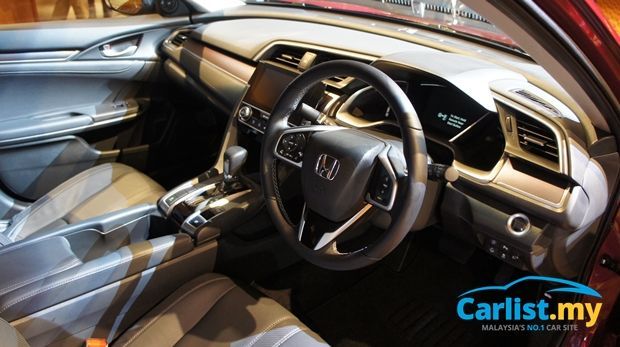 Key differences between variants:
There are three variants on offer. Here are the main differences between the trio:
Standard features for the Civic 1.8S
1.8-litre i-VTEC naturally aspirated engine
16-inch alloy wheels
Automatic projector halogen headlights
LED Daytime Running Lights
Halogen front fog lamps
Fabric seats
Walk-away auto lock
Smart Entry with Push Start
Remote engine start
Single zone automatic air-conditioning
Touch panel A/C conntrols
8-Way powered adjustable driver seat
7" display infotaiment with 8 speakers, Bluetooth hand-free connectivity with voice recognition, USB, HDMI, MP3 and iPod support
Reverse camera
Rear air-conditioning
Six airbags
Vehicle Stability Assist (VSA)
ABS with EBD
Auto Brake Hold (ABH)
Hill-start assist (HSA)
ISOFIX
Emergency stop signal (ESS)
Civic 1.5 TC adds the following features
1.5-litre turbocharged VTEC engine
Paddle-shifters
17-inch alloy wheels
Leather seats
Civic 1.5 TC-P adds the following features
LED headlamps
LED front fog lamps
Dual-auto zone automatic air-conditioning
GPS navigation
---
---
---
Comments