2015 Peugeot 308 THP Quick Review: All-New, But All-Conquering?
Reviews Just prior to the official Malaysian debut of the all-new 2015 Peugeot 308 THP, Nasim Sdn Bhd gave us a quick shot at their all-new hotshot hatchback.
(Find out more about the 2015 Peugeot 308 launch here)
Primed to face competition from the all-conquering Volkswagen Golf in the local C-segment, the 308 hatchback, like the Golf Mk7, sits on a brand new architecture (EMP2), features a new six-speed automatic transmission, and if you simply look at it, it's a very, very handsome departure from the previous 308's looks.
A little over a week before the launch of the new 308, Nasim Sdn Bhd, the official distributors of Peugeot vehicles in Malaysia, had several media out for a brief drive of the car all the way to Dungun and back to Kuala Lumpur. A relatively brief and packed schedule to keep up with over a day, here are our findings.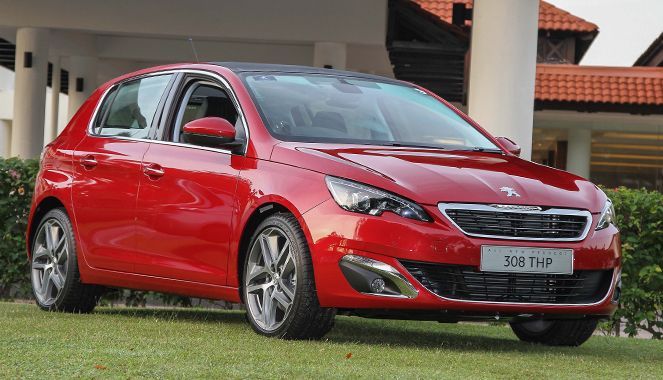 Buyer's Guide:
Only one variant of the 308 is being made available in Malaysia, and that's the THP 150 version we've been driving. Yes, the numbers show that this is the lesser of two 1.6-litre twin-scroll turbo four pots, but pushing 150hp and 240Nm of torque, there's enough here to give the 140PS Golf 1.4 TSI a run for its money.
Where specifications are concerned, the C-segment Pug is a knockout, destroying the competition with an immense amount of premium exterior and interior features. Value for money? You're almost guaranteed for it. Here's the full scoop:
KEY SPECS: 2015 Peugeot 308 THP
Price: RM132,888
Engine: 1.6-litre Twin Scroll THP (Turbo High Pressure)
Transmission: EAT6 Six-speed torque converter automatic (Aisin)
Power: 152PS @ 5,000rpm
Torque: 240Nm from 1,450rpm
Consumption: 6.5-litres/100km (claimed), 800km range from one tank (claimed)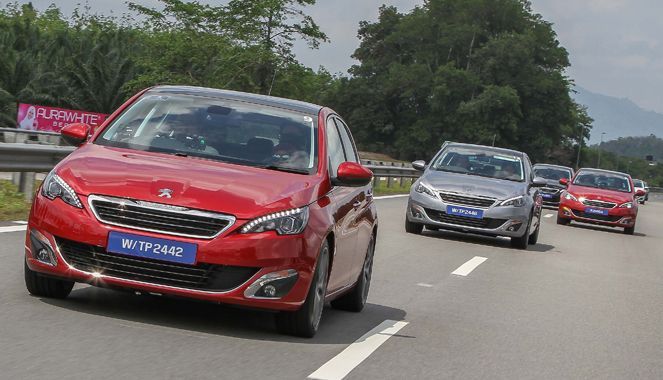 Driving a 2015 Peugeot 308 THP:
PERFORMANCE: At the heart of all-new 308 is an engine that's no stranger to the brand, continuing to rely on the Prince 1.6-litre THP twin-scroll turbo four-cylinder engine which develops 152PS and 240Nm of torque @ 1,450rpm. The unit is lively from a very early point in the rev range.
New to the 308 is an Aisin-sourced Efficient AT6 with Quickshift Technology, or commonly understood as a conventional six-speed torque converter automatic. You can get the shifts sharpened via a sports mode button too, which was quite an effective feature to us on our brisk drive. Strangely, the shift gate pattern felt a little unusual to navigate from P to R, N and D, and it wasn't as smooth running through either – this could of course all be because the cars we drove were literally out of the factory, with only like 50km on them.
Exploring the throttle doesn't spring any surprises, and the 308 gets up to speed as you'd expect a 150hp and 240Nm machine to. You'd also be kind to forgive us for not flooring it all the way, given how 'green' these engines were at the point of our test.
RIDE & HANDLING: What we could thoroughly explore and enjoy was how good a chassis there was underneath us. Weighing 140kg less than before because of the clever techniques behind the EMP2 platform's development, the result isn't quite yet Golf-beating for handling, comfort and refinement, but it does get very close.
There's a very communicative feeling from all four seats in the house, but not so much in a way that upsets comfort. The suspension geometry very nicely dampens any harshness uneven roads can throw at you, and it is pure joy to drive the all-new 308 on long highways.
Crossing way over the speed limit is so easy to do, given how well this car cruises at speed – if you drive it with some talent and practised anticipation, just 'flowing' your way through curvy roads like the Karak Highway becomes a breeze. Do brace yourself for a bit more body roll than you'd expect from a sporty European hatch.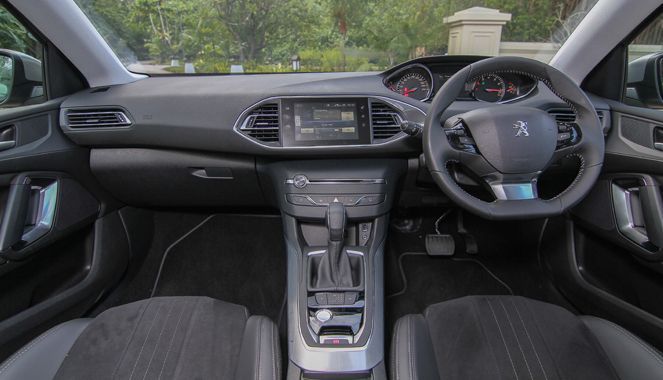 DRIVING POSITION: It's no surprise that Peugeot's highly-acclaimed i-Cockpit has made its way into the all-new 308, having been successfully deployed in the 208, and 2008 before it. Now, it's not that we don't appreciate the design, but the fact of the matter is that for taller blokes like my six-foot self, the formula of a high instrument panel paired with low, compact steering wheel just doesn't work. It's acceptable in the 208, where it is a B-segment hatchback, but in a larger C-segment family hatch?
Fortunately, Peugeot say they've reworked it, slightly repositioning some of the elements like the instrument panel to accommodate taller passengers, and the attempt bears a noticeable difference. And if you were under six-feet tall, we imagine this would be brilliant. Just not for me, is all.
VISIBILITY: If you haven't noticed it yet, there's a massive panoramic moon roof up top, which together with the wide windows, allow a lot of light into the cabin of the 308, giving it a very spacious feel. Visibility is fantastic, apart from the rear windscreen which isn't just small, but is flanked by D-pillars which appear to wrap around the rear corners of the car, limiting view out the back. For close quarters, you can safely rely on the car's reverse camera, though.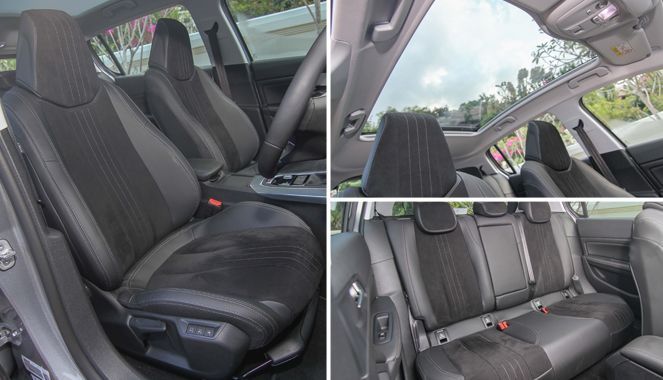 Living with a 2015 Peugeot 308 THP:
Now, if we haven't had the chance to say this yet, the all-new 308 is a beauty on the road. The reduced height and increased width of the car speaks volumes for how cool and 'hunkered-down' the 308 looks on the road – which made having the 15-or-so units on the road with us on a convoy all the better.
EXTERIOR: The 31-LED headlamps flank a stylish new front grille, where around the back, the fun boomerang-type rear lights of the 208 has been matured into what you see on the 308 – which sets the theme for the car, doesn't it? There's bits and pieces of what we've already seen on other all-new Pugs, but they've been matured so well to fit on the 308.
Generously, Nasim Sdn Bhd specifies some gorgeous 18-inch Sapphire lightweight alloy wheels, too.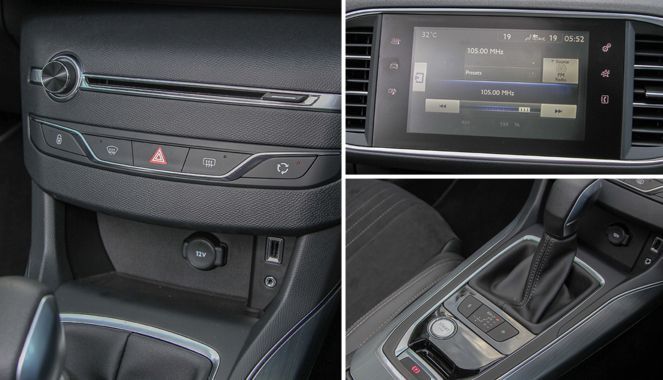 INTERIOR: Having already elaborated on the sophistication of the award-winning i-Cockpit above and formed of our opinions of that for you, here's a look at what else we could get our hands on.
First thing to notice as you settle yourself into the sporty Alcantara upholstery seats is the level of refinement here. Softer materials are used where you will and won't rest your arms and legs, and there isn't a boring piece in the car: everything has been sculpted and curved very impressively.
The minimalist approach is well-appreciated by this writer: there's literally no clutter of buttons or dials. The massive 9.7-inch touchscreen has all its controls within, leaving only seven remaining controls on the dashboard: the door looks, window demister (front, rear), hazard lights, AC recirculation, music volume and CD eject button. And it's all so sleekly done.
The instrument panel is illuminated very nicely, and the multi-info display screen presents lots of useful vehicle and driving info, clearly.
SPACIOUSNESS: Having a go at all four seats in the cabin revealed that for a six-footer like myself, the most spacious and comfortable seat in the house was the front passenger seat. The driver's seat is plagued by the difficulty of the i-Cockpit, while rear headroom is hair-grazing, and legroom being just enough. As much as we like the ergonomic design and cleverness of the Pug, it just isn't the most comfortable place to be for anyone six-feet tall, or over.
FEATURES: The 9.7-inch touchscreen is a major highlight of the cabin, given how responsive it is to the touch and how good it looks. The menus aren't the most intuitive to navigate, but can be gotten used to. A six-speaker Arkamys stereo is specified, and we've had no qualms over it in any of the previous models to benefit from the system. In short, there's loads of tech in the 308 to keep you connected and entertained throughout.
Believe it or not, there is also a massage function for the two front seats! We couldn't quite understand how the seat's internal motions were actually massaging us, but we'll admit to leaving it turned for most of our drive.
DYNAMIC CRUISE CONTROL: Nasim tells us that the 308's DCC system makes it's a first for the segment, and they may be right – this is something typically reserved for far more premium segments. Also new are the Emergency Collision Alert and Emergency Collision Braking, which we daren't test on the public roads we were on.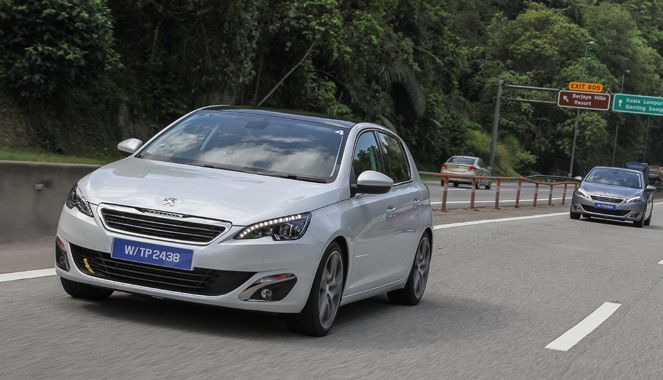 Verdict: Here's what we think…
The all-new 2015 Peugeot 308 makes a fantastic first impression. It's a really handsome car, and has been generously specified with loads of equipment to make it good value for your money. Where ride quality, driving dynamics and cabin spaciousness matter, the refined and mature Volkswagen Golf Mk7 is still ahead of the game – and that's not just against the 308; it's a clear and outright benchmark for the segment.
Still, the Peugeot 308 has loads to impress us with, and with the Volkswagen brand suffering the kind of reputation it has at the moment, the French carmaker may have swooped in at the perfect time and price point to make a very, very solid case for itself.
The real question is this, though: At some RM15k more, would you be willing to set your heart on this, over the recently launched 2015 Mazda 3 CKD hatch/sedan? All of Europe's C-segmenters will have that too contend with, very soon.
---
---
---
Comments