2015 Peugeot 508 Quick Review: Sampling New Fine French Wine
Reviews A quick look for a new, European family sedan priced between RM170k to RM200k reveals a small ring of on-going, local competition between the Volkswagen Passat, Ford Mondeo and this – the 2015 Peugeot 508.
With SDAC unleashing its all-conquering Mondeo already, and Volkswagen priming to do the same with its all-new Passat before the end of the year, Nasim Sdn Bhd (official distributors of Peugeot vehicles here) have been spot on to let loose its new 508 facelift in Malaysia now.
*LAUNCH REPORT: Nasim Reveals The New 2015 Peugeot 508 in Malaysia
Let's be honest, the pre-facelift just doesn't look the part next to its new competition, and but for the irresistible deals Nasim have thrown at it, you probably wouldn't take a second look at either. Not that it was bad, but it's easily drowned out by what the new competition has to offer.
Harsh words? Yes, but duly warranted, we feel. The all-new and very handsome Mondeo is a beast of a machine, despite the RM204k it demands, and the Passat's German engineering was always going to permit a nod of approval in its favour for more than one reason – even more so when the all-new B8 Passat gets here.
The Peugeot's appeal then, has been its generous list of features, but as comprehensive and feature-packed as they come, the pre-facelif 508 never stood a visual chance, parked next to the 2015 Mondeo or the coming 2015 Passat.
Fortunately, it's been on the receiving end of a makeover: one that we first saw nearly a year ago when it was globally revealed. And it's a nice one too, worthy of its rightful place alongside Ford and Volkswagen's best efforts.
Recently launched in Malaysia by the brand's official distributors here, Nasim Sdn Bhd allowed us a bit of a chance to take its new 2015 Peugeot 508 1.6 THP out for a spin to see what's what.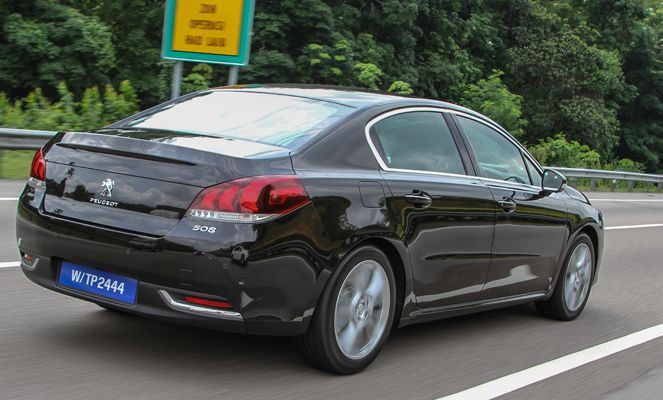 KEY SPECS: 2015 Peugeot 508 1.6THP
Engine: 1.6-litre Twin Scroll Turbo High-Pressure
Transmission: six-speed torque converter automatic
Power: 165PS @ 5,000rpm
Torque: 240Nm @ 1,450 to 4,250rpm
Consumption: 7.1-litres/100km (claimed)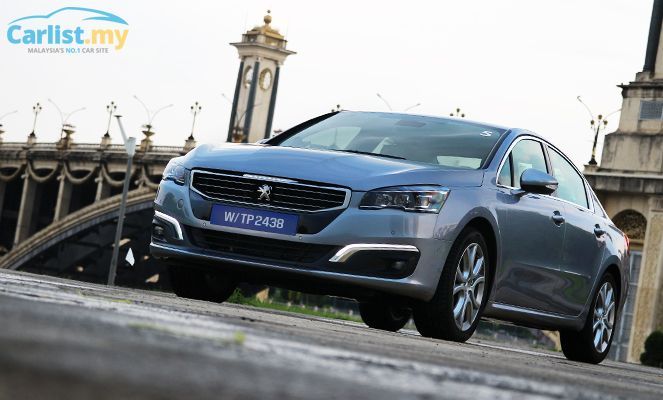 First Impressions:
EXTERIOR: From the outside, the front-end is where you'll spot the majority of the 508's makeover. The bolder front grille and full LED headlamps are pretty and all, but it's the swanky LED daytime running lights that flank the front bumper that has us hooked.
Needless to say, we've been pulled on the design of the new 508. From our showroom visits to its public viewings, we've seen it in a range of environments already, constantly muttering praise in favour of this major makeover. And we're sure you'll like it too.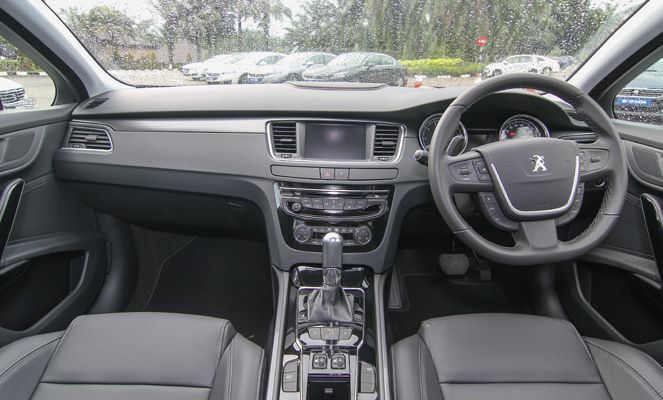 INTERIOR: Inside, it's all plush and deliberately chic but not at all unfamiliar, because Peugeot haven't really fiddled with the 508's cabin too much. And again, despite us only having the one 1.6 THP to drive this time around, it's pretty much all the same any variant you look – but for a panoramic sunroof in the SW, and Nappa GT leather seats on the GT variant.
Only a few minor things were noticeably new inside the 508, one item in particular being the lack of a rotary dial control on the centre console, which makes way for a little storage compartment that slides open and shut. Brilliant attempt, but the afterthought effort is clear, because you couldn't fit more than the car's key fob or a tiny mobile phone in there – this writer's 5.6-inch Samsung phone and wallet had to be stored in the door's storage pockets instead, where they're easily left behind upon leaving the car.
Where does the rotary dial go to, then? Well, there's no need for one anymore. The control which used to command the seven-inch HD multifunction screen is of no use here, because this head unit has been touch-enabled: all the controls you'll need for it are located within the displays, or on the steering wheel.
Apart from lacking sufficient storage compartments on the centre console, there really is very little to fuss about in the 508. Fit and finish is top quality stuff fresh out of the factory, and the materials are all premium, soft to the touch where it matters, and smartly designed.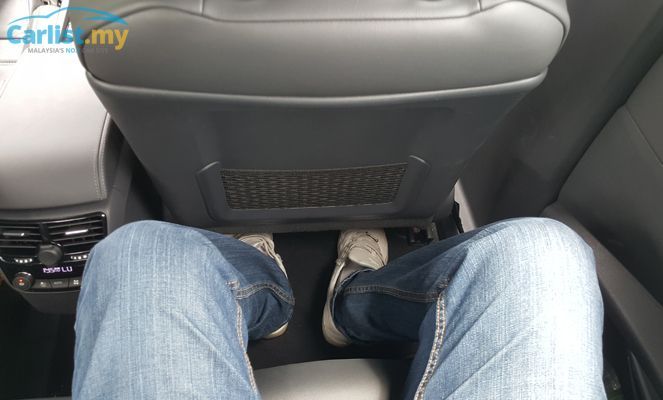 REAR SPACE: Climbing around to the rear of the vehicle unearthed lots of comfort items for all my 182cm self, starting with the amount of legroom – as pictured above, yes, those are my legs. Genitals spaced out well enough for comfort over any long distance drive, the quad-zone air-conditioning system even lets rear passengers on either side choose their own fan speeds and temperatures. A good party trick to showboat, but the console itself is positioned way too forward, and won't be very much appreciated by a third passenger in the back, seated in the middle, whose legs will find little room for comfort.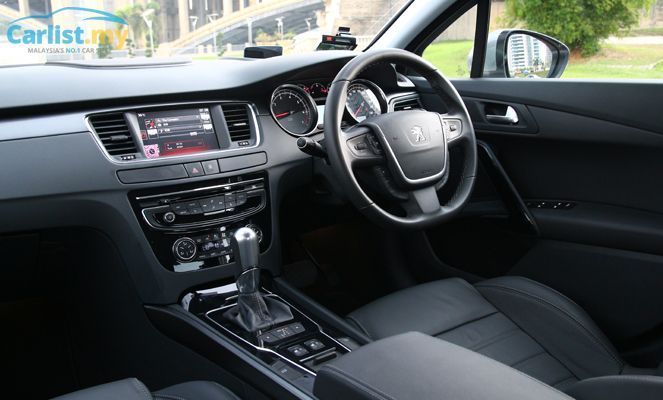 NO i-COCKPIT: Hoorah! The biggest thing that fell my personal appreciations of the smaller 208, 2008 and 308 hatches hasn't snuck into the made-over 508. Don't get me wrong, though. I'm sure there's some serious science about how it all works better for the average person, but being 182cm tall hasn't helped me find a sweet spot with the lowered, smaller-diameter steering and heightened instrument panel.
That does mean however that the 508 has to stick with its dated steering wheel design, which is a bit aged, and isn't as nicely sculpted or modern as what you'd get on the all-new 308.
AUDIO: Now, I'm personally no audio specialist, but I have made my way around to driving more than few cars that claim super massive audio systems. With the 508, I'm quite certain that the 10-speaker JBL Premium Audio system is by far one of the better ones I've set my ears to. It's got a 500W subwoofer around the back, and there are ample equaliser/ tone settings for you to conjure up your fancies, or just blast a bombing Tamil beat around your neighbourhood.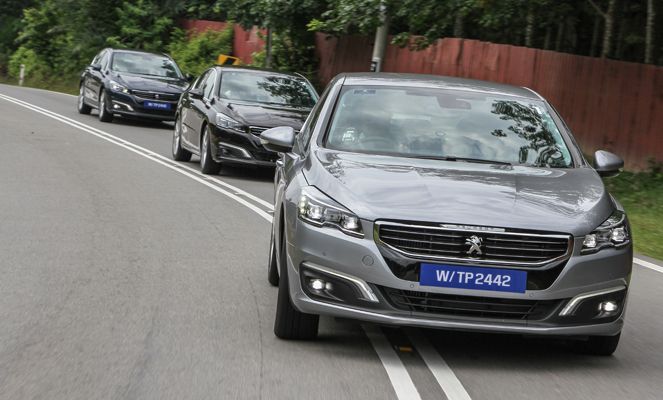 Driving a 2015 Peugeot 508:
PERFORMANCE: Now here's where having just the one variant may become a bit of a problem: we can't tell you what the top-spec's 206PS, 450Nm turbo-diesel power is like. No matter, because Nasim tells us that it's the base 1.6-litre THP 508 variant that most of you want anyways (previously known as the 508 Premium), and they've obliged as such to provide us with the kind.
Off we went then, on a 300km day trip to lunch to back in the 1.6 THP and its 165PS and 240Nm of torque. Those figures sure do sound impressive – at least enough to fend off the 160PS and 250Nm effort made by the 1.8-litre TSI in the current Volkswagen Passat we have here (B7).
On the road however, you may find yourself wanting a little more "ummph", unfortunately. The 508 drives really well, and has a chassis fit for exercising your charismatic driving needs, but we suspect the EAT6 six-speed torque converter automatic doesn't share the same fire in its belly. For that reason, the flattering output figures may not feel like it's living up to the claim – unlike the Passat's seven-speed dual-clutch DSG does. Drive it like a normal human being should and you'll have no complaints, of course.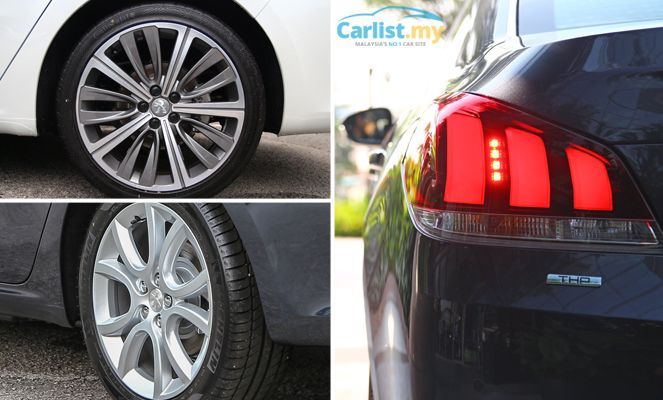 CABIN NOISES: On the road, the 508's cabin is extremely quiet despite whatever the surrounding traffic conditions are. At 110km/h, not even the wind noises from the wing mirrors are barely audible.
Having a cabin that quiet throughout however, revealed a lingering engine hum at every instance of being over 2,000rpm. You can even hear the exhaust crackle every time you lift off the throttle to coast.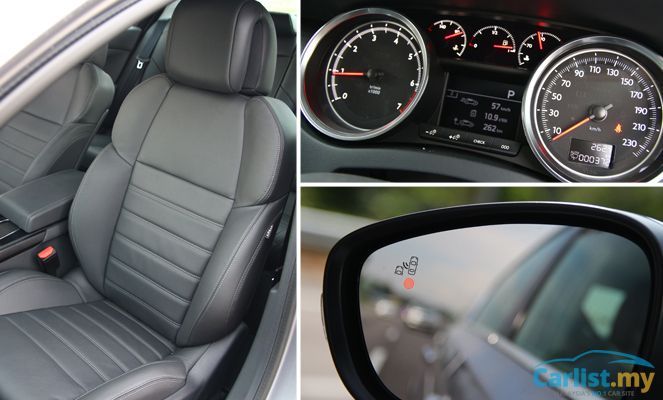 BLISS: A new feature to the 508 is its Blind Spot Sensor System (a.k.a. BLISS), and is available across the model's range. Working similarly to any blind-spot monitoring system, the car uses rear and side sensors to detect objects in your blind spots, and prompts a lit icon on your wing mirrors.
A neat feature to have, no doubt, but this writer feels that the lit section of the icon is a little bit too small for notice on your wing mirrors, where lots of other visual activity of your surroundings is apparent. At darker times of the day, it's easily mistakable for a motorcycle's headlamp. During the day, the challenge is even greater, just trying to notice it at all.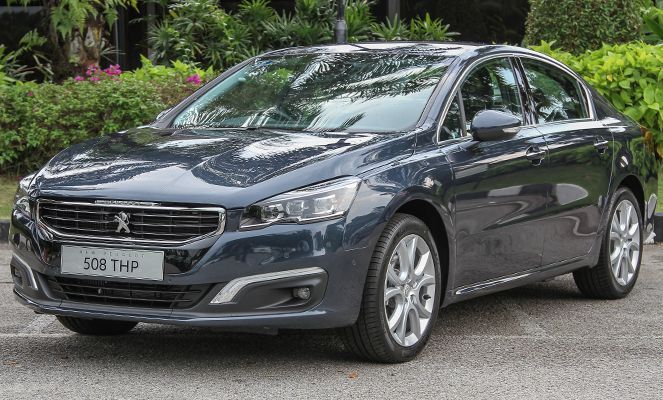 Verdict: Here's what we think…
There's no doubting that the new 2015 Peugeot 508 is a strong and worthy contender in its segment, facing two giants of the game in the form of the Ford Mondeo, and the Volkswagen Passat.
The Mondeo is a RM204k beast that's better off compared with the top-spec 508 GT, leaving the Passat 1.8 TSI as a more accurate and direct competitor. Between the two, both are fair shots at being good European family sedans.
The bigger concern for the Peugeot 508 then, becomes the next-gen Volkswagen Passat B8, which is due to arrive here later this year, but is expected to be more expensive than its current RM177k price of the CKD unit.
The slightly more affordable price, and the feature-packed nature of the 508 make it a very appealing choice against the German-engineered Passat, but committing to the asking RM175k (estimated) for a 508 1.6 THP is a big ask, when you consider what Japanese and Korean car makers have to offer these days: Mazda 6, Hyundai Sonata, Honda Accord… they're all valid reasons to look away from Europe's finest - but that's just our humble opinion.
To finish, we'll leave it at the 2015 Peugeot 508 being a good European family sedan that's loaded with premium features, looks as handsome as they come, and has a very tempting aftersales package in the form of its five-years, unlimited mileage warranty and premium Peugeot services. Definitely worth a look, this.
Your move.
---
---
---
Comments