New 2015 Peugeot 508 Facelift Officially Launched In Malaysia
Buying Guides At long last, after several teasers, roadshow appearances, and previews, Nasim Sdn Bhd, the official distributors of Peugeot vehicles in Malaysia, has officially launched its new, 2015, 508 sedan range. Buuuttttt...... we're unfortunately still without prices!
We were all set to bring you the news today, having been invited to the brand's new Peugeot Glenmarie outlet for an event, but sadly, we've been told that we'll have to wait a little longer for Nasim to firm things up with its prices - we understand that they'll have some news of this come next week. However, we can fully show you what will officially be coming to you, from our local-spec Peugeot 508.
In total, there will only be three variants of facelifted 508, since Nasim decided against re-introducing the 508 SW GT (station wagon, turbo-diesel) to the local market. The variants that are available, however, are estimated to be priced as such:
Peugeot 508 1.6 THP: RM175k (estimated, formerly RM169,888 a.k.a. 508 Premium)
Peugeot 508 SW 1.6 THP: RM185k (estimated, formerly RM179,888)
Peugeot 508 GT: RM205k (estimated, formerly RM199,888)
KEY SPECS: 2015 Peugeot 508 1.6THP/ 2.2 HDi
Engine: 1.6-litre Twin Scroll Turbo High-Pressure/ 2.2-litre HDi FAP turbo-diesel
Transmission: six-speed torque converter automatic
Power: 165PS @ 5,000rpm/ 206PS @ 3,500rpm
Torque: 240Nm @ 1,450rpm/ 450Nm @ 2,000 to 2,750rpm
Consumption: 7.1-litres/100km / 5.7-litres/100km (claimed)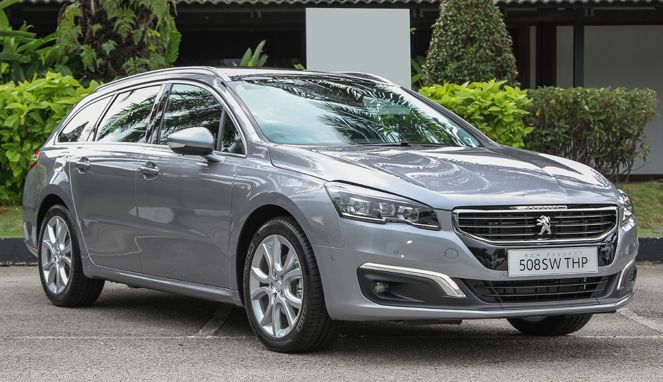 Buyer's Guide:
News looks, new engines, new interior, is the sum of the 508 line-up's updates as introduced here. The sedan and its wagon variant largely shows off a new face, while under the bonnet, a slightly more powerful engine is available for the 1.6 THP version. There have been other improvements beyond the design aspects of the car, and we'll go through them one by one here. Starting with…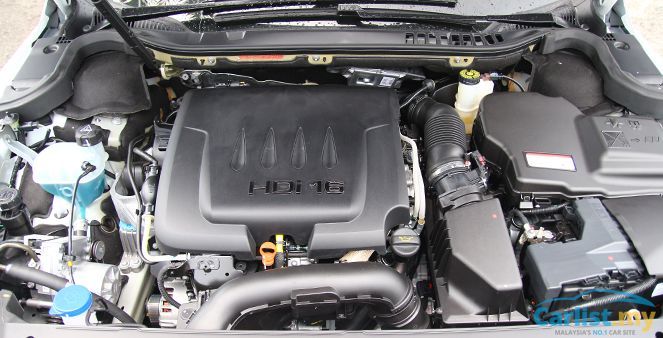 So What's New?
PERFORMANCE: As mentioned, there are a choice of two engines available for the 508: a 1.6-litre THP and a 2.2-litre HDi, the former a petrol, and the latter a diesel option.
The 1.6 THP, believed to be the market favourite of the 508 range, features improved engine performance, delivering 9hp more than before from the 1.6-litre Turbo High Pressure four-pot engine. The same engine variant is used in the Station Wagon.
For the 508 GT (only in sedan form), Nasim is continuing to offer the brand's 2.2-litre HDi FAP turbo-diesel engine. The engine has been updated with a new ECCS (Extreme Conventional Combustion System) which further optimises the compression ratio of 16.0 to deliver similar power outputs, but reduced emissions.
Transmission wise, the six-speed torque converter source from Aisin has been updated as well, itself also contributing to smoother gear changes.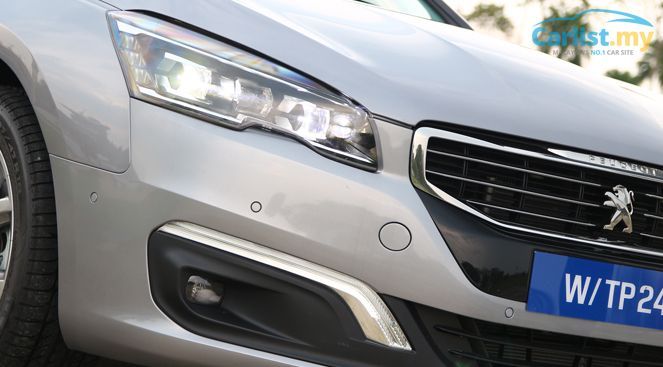 EXTERIOR STYLING: The biggest change to the 508's facelift is seen on the front-end on the vehicle, which is now clearly identifiable from the pre-facelift model via its new front grille design and repositioned daytime running lights.
The radiator grille is much wider and more upright than before, while the front bumper too has been slightly reworked to feature stylish, full LED daytime running lights. Speaking of the light emitting diodes, just the front-end of the vehicle alone is said to feature no less than 44 LEDs, courtesy of the new, slimmer, full LED headlamps with Smart Beam function.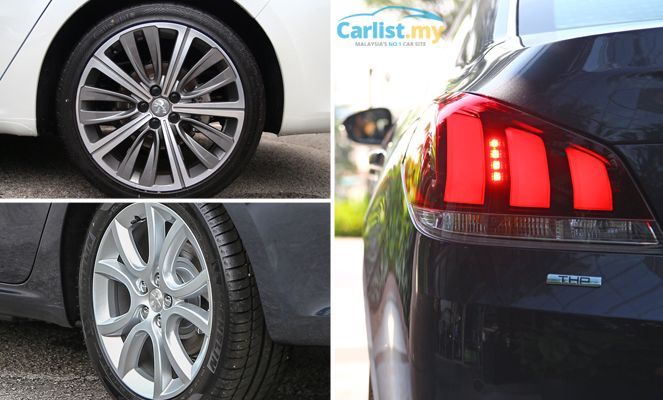 Around the rear, the taillights are new designs as well, each featuring 36 LEDs themselves, alight in Peugeot's signature three-claw design.
The two 1.6 THP-powered variants will ride on 18-inch alloy wheels, while the top-spec GT gets 19-inch alloys. Apart from this, a dual exhaust tip for the GT and its rightful exterior badging, there's nearly no telling each variant apart visually.
Against the pre-facelift model, the new 508 sedan has increased its overall length by 38mm: 16mm has been added to the front overhang, while the remaining additional 22mm is located behind the rear wheels.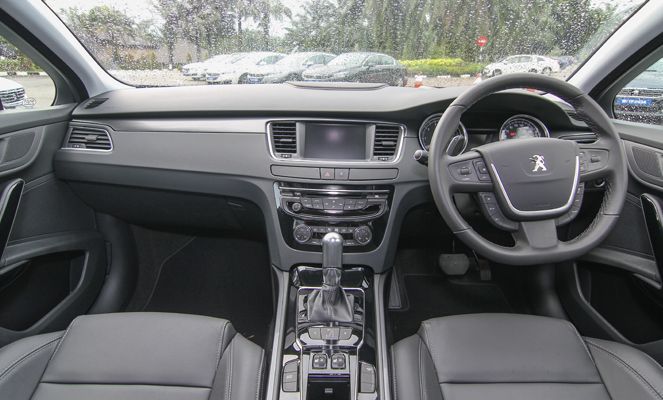 INTERIOR DESIGN: Inside, new and old 508s are pretty much identical to each other, apart from two key items that have been reworked.
For one, the center console no longer features a rotary control dial for the infotainment – in its place, a small storage pocket fit for your key fob or other items of similar size. Why no more control dial, you ask? That's because the infotainment screen, a seven-inch HD one, is now a touchscreen unit.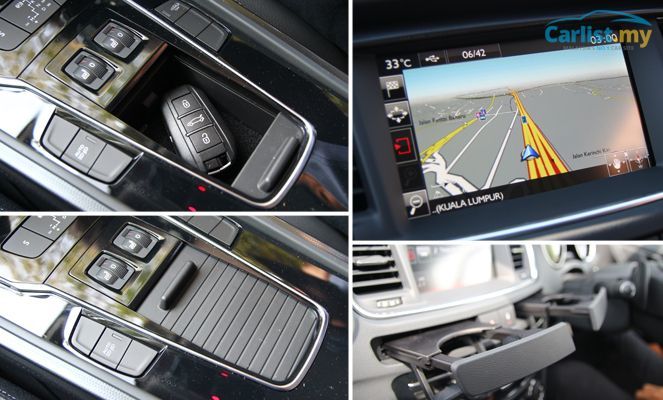 There's also a 'Jukebox' feature for the entertainment system, which is essentially Peugeot's way of saying there's an 8GB HDD built in to store your audio files.
Else, it's business as usual for the 508s, retaining key feature highlights such as:
Full leather seats (Nappa GT upholstery for GT variant)
Head-Up Display
Intelligent Keyless Entry with Push Start
Power adjustable front seats with seat cooling for driver
Quad-zone air-conditioning system
Premium JBL HiFi 10-speaker system with 500W subwoofer
Panoramic glass roof (only for SW variant)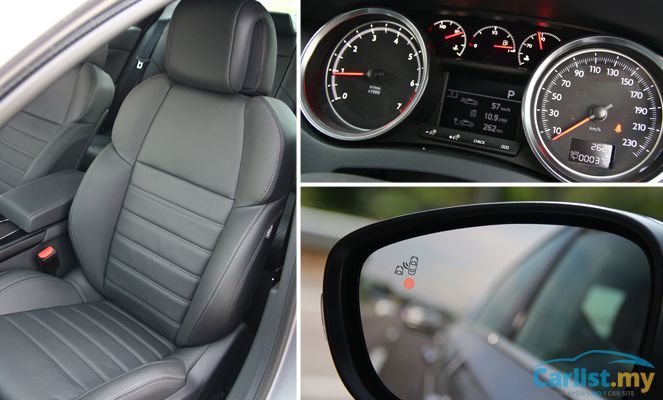 SAFETY: Not one to slouch on safety, Nasim Sdn Bhd is continuing to offers it 508 range with six airbags, ABS, EBD, Electronic Stability Program, Emergency Braking Assistance, ASR (traction control) and Dynamic Stability Control – all as standard, and as before.
New to the facelifted 508 is a Blind Spot Sensor System (BLISS). Using various sensors alongside the vehicle, BLISS will detect oncoming vehicles in a driver's blindspot, and relay that information to a light positioned within the wing mirror.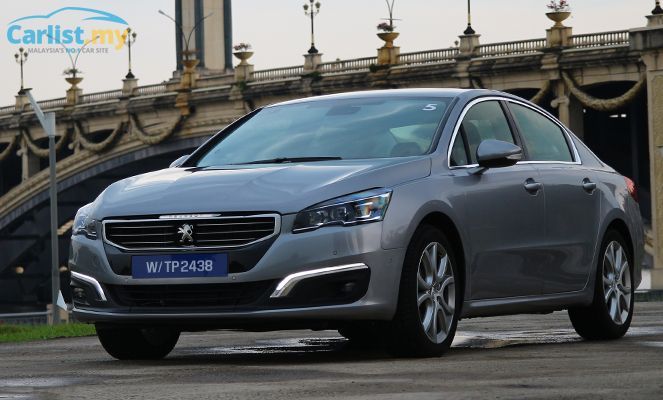 Other information:
Included in the prices of the 508 range is Nasim's five-year, unlimited mileage warranty, along with the Peugeot 24-hour roadside assistance service, and access to Peugeot Privilege, and the Peugeot Lounge.
Five colour options are available for the 508: Pearl White (all), Bourrasque Blue (THP), Pine Brown (THP, SW), Artense Grey (THP, SW), Haria Grey (THP, GT).
Stay tuned to Carlist.my for when prices of the new, 2015 Peugeot 508 range are finally revealed, sometime next week. Hopefully!
In the meantime, here's a quick video with a close up of the 2015 Peugeot 508 Facelift:
---
---
---
Comments