2016 McLaren 570S Coupé And Sports Series Officially Previewed In Malaysia
Auto News McLaren Malaysia today has previewed its first car in its Sports Series tier, the 570S, to further expand its line-up into more competitive niches within the rarified world of supercars. The car is expected to begin production for the Asian market in early 2016.
McLaren is on rather a hot streak with their production cars these days – granted, not so much with their F1 team, as of the 2015 season. Starting with the MP4-12C that was unveiled in 2011 which soon spawned from that base their current line-up of road cars.
From their most powerful, fastest, and most advanced P1 hypercar, down notch to their 675LT and 650S, and now this: the 570S. McLaren has chosen to label their cars with a different series: Ultimate, Super, and Sport. It will be joined by its less-powerful sibling, the 540C.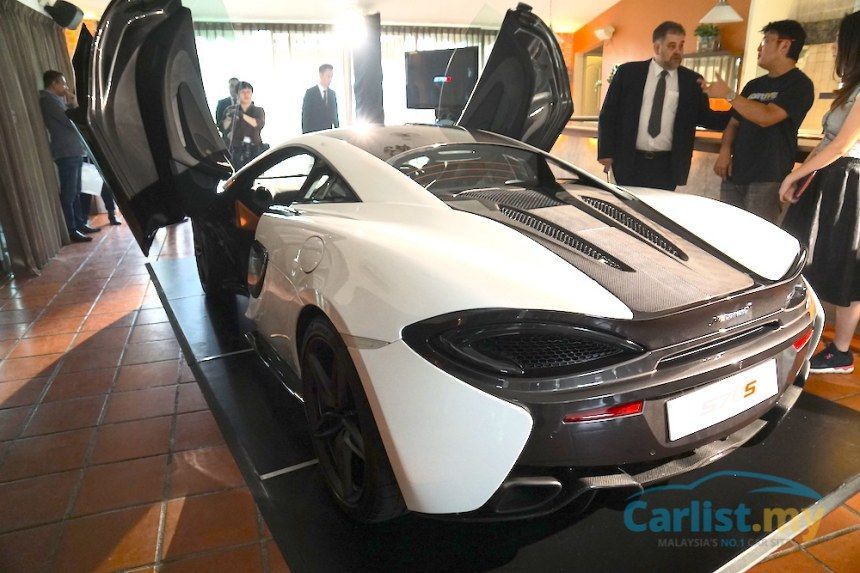 Despite being the base-level tier, the 570S kicks off McLaren's newly christened Sports Series and is a perfect illustration of how insanely far automobile performance has come in the last two decades or so. As an example, this 'baby' McLaren model very nearly matches the 0-160km time of their world-beating F1 supercar from the mid 1990s, at 6.3 seconds.
It's an important car for McLaren, to be sure, because this 570S Coupé is the car that they are aiming for high(er) volume sales. This will go up against the Audi R8 V10, Lamborghini Huracan, various Porsche 911 permutations, and Mercedes-Benz-AMG GT-S' of the world for effectively the same customers.
So let's go through what we've got here. The 570S is built around McLaren's carbon-fibre MonoCell chassis that's the central structure for all their current crop of cars. Mounted amidships is a revised version of their 3.8-litre twin-turbocharged V8 engine that incorporates 30 percent new components. It chucks out 562hp and 600Nm of torque and is mated to a dual-clutch seven-speed seamless shift gearbox (SSG) made by Graziano Trasmissioni.
Combined with its dry weight of 1,344kg, McLaren is claiming the 570S has a pack-leading power to weight ratio of 428hp per tonne. It also enables a 0-100km/h sprint time of just 3.2 seconds and a top speed of 328km/h.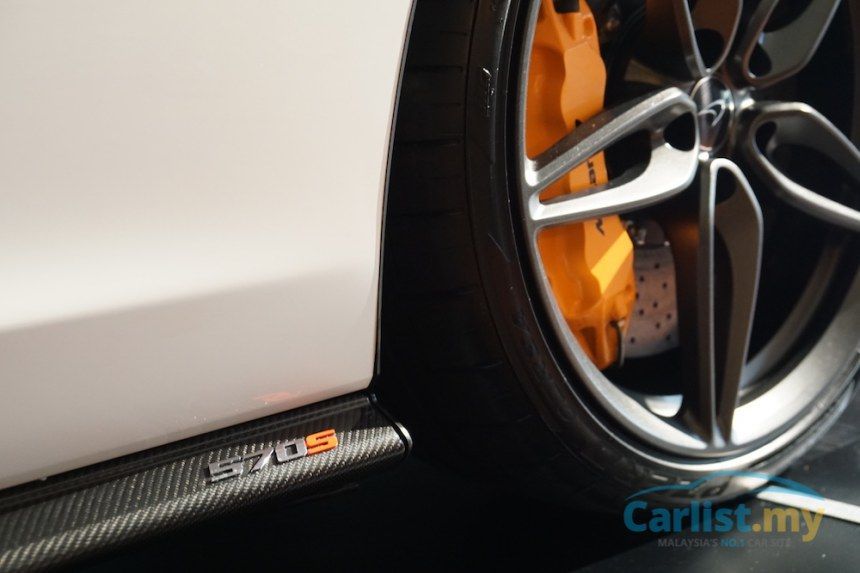 The car's suspension technology is quite a wonder, with independent adaptive dampers, paired with front and front and rear anti-roll bars, and an F1-style dual wishbone setup – doing away with the hydraulic roll control circuit seen in previously the 12C and 650S, for example. With twin damper valves per corner, McLaren says it has toiled over the 570S' calibration tuning to provide a refined yet engaging ride depending on whether 'Normal', 'Sport', or 'Track' modes are selected.
Moving to the exterior, the 570S's predominantly aluminium body is noticeably more compact than McLaren's previous cars. It certainly is very well proportioned and manages to dial in a lot of cues that lend a resemblance to its siblings in the automaker's stable. It's an altogether rounder, curvier car, and also very pretty.
Making a return are the dihedral doors, which they say they have worked hard on to optimize passenger leg swing and general ease in entering and exiting the car, despite it being smaller. There are 19-inch wheels at front front, and 20-inch wheels at the rear – fitted as standard with fourteen-spoke lightweight forged wheels.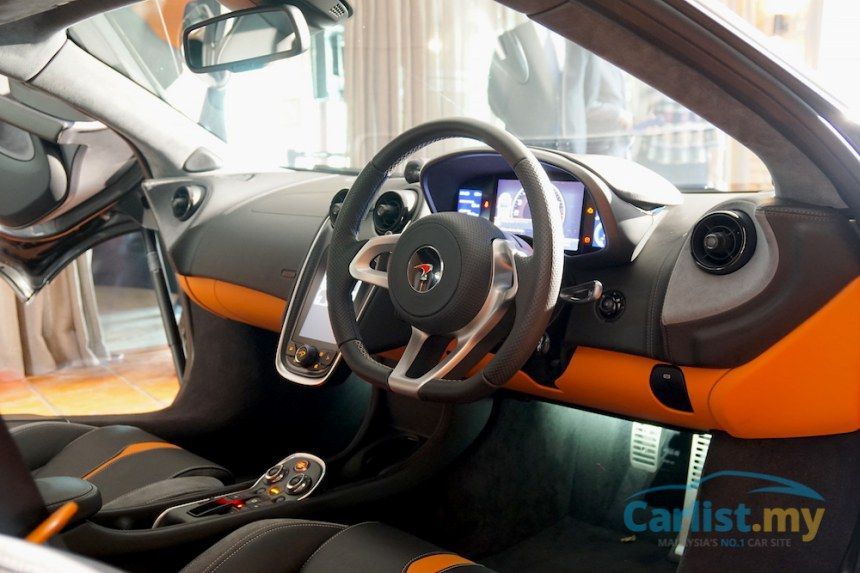 Inside, the 570S Coupe carries over the exterior's curved aesthetic. McLaren wanted to reduce interior clutter by combining as many cabin elements as it could in order to make it airy and accessible to the occupants. Switchgear and control surfaces remains as ergonomic as ever, and even the central IRIS system screen makes for a much larger (and easier) touch target. The interior can be upholstered in a range of leather and Alcantara combinations.
All told, the 570S is what McLaren is banking on to open the brand up a whole new world of potential owners. It will be going up against some stiff competition, chief of which being the newly-turbocharged offering from Ferrari, the 488 GTB. However, McLaren are confident the 570S will prove to be quite a strong contender, and seeing it now, we're inclined to believe them.
Indicative pricing was revealed to be pegged at a tentative RM1.68 million. However, McLaren reiterated that final pricing and specification will be confirmed at a later date.
---
---
---
---
Comments