2020 Honda Civic vs 2020 Toyota Corolla vs 2020 Hyundai Elantra vs 2020 Mazda 3
Buying Guides The new 2020 Hyundai Elantra will enter the tough C-segment sedan market full of stalwart Japanese models - but does it cut the mustard set by these Japanese Goliaths?
---
The imminent arrival of the Hyundai Elantra is heating up the competition in the C-Segment sedan market, for it is a looker like no other.
With strong contenders like the Mazda 3 and Toyota Corolla all fighting hard to dethrone the Honda Civic which is the number one car in the segment, can the stylish little Korean be significant enough to break the H dominance or at the very least stir the water in what seems like a total domination of cars from the Land of the Rising Sun.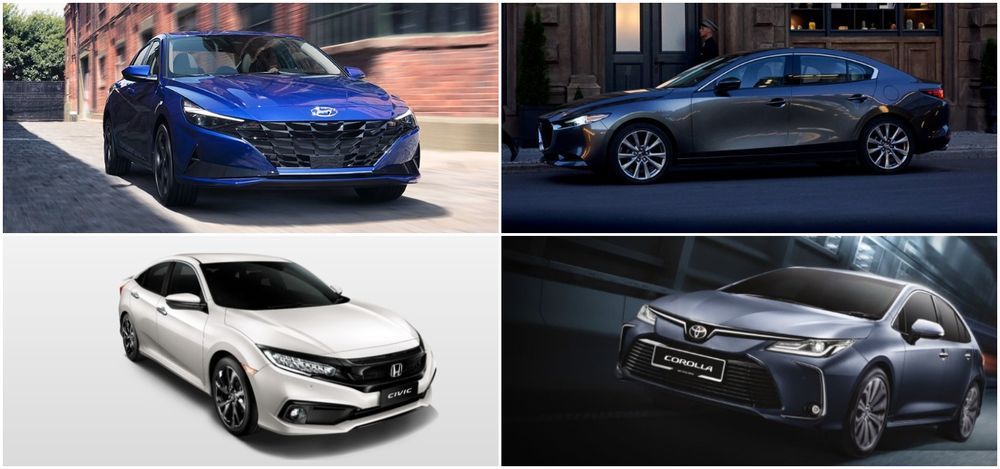 Exterior Design
The outlandish styling and futuristic look of the Hyundai Elantra has raised some eyebrows when it comes to the C-Segment sedan exterior styling department. Its angular lines really do bring a good impression of what futuristic cars might look like.
Whether the exterior design will be a novelty rather than a timeless piece of car exterior design is something that only time can tell, but at this present moment, it's definitely the Elantra that has the most striking design! While the Honda Civic, Toyota Corolla are no ugly ducklings, only the refreshingly good looking Mazda 3 can put up a fight in terms of exterior styling.
Round One goes to the Elantra.

Interior
While we are used to seeing impressively sharp exterior designs coming out of Hyundai, it's actually the interior that has surprised us the most. With improved materials and a better choice of colours, the Elantra does mimic an interior more European than Korean. The cocooning "cockpit-like" feel for the driver is what we are most smitten with.
The Japanese cars have all gone for more of a practical type interior design, which to some is a much better proposition. Honda are the masters of packaging, which is one of the reasons why they are at the top spot in the segment. They just know how to maximise space in tight little cabins - and we feel this trumps all.
Round Two goes to Honda.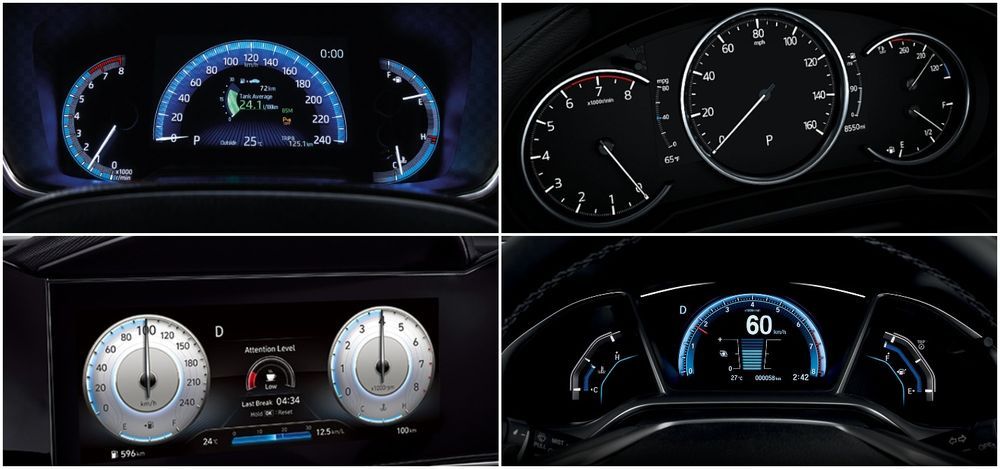 Clockwise from top left: Toyota Corolla, Mazda 3, Honda Civic, Hyundai Elantra
Performance
When it comes to performance on paper, the Hyundai Elantra disappoints no matter how you look at it. The Elantra is powered by the 'Smartstream G' 1.6-litre, naturally-aspirated four-cylinder engine which has an output of 123PS and 154Nm of torque at 4,500rpm - which makes it one of the least powerful cars in the pack.
Hyundai did say that the engine is geared towards fuel savings rather than outright performance. There is, however, the first of its kind Intelligent Variable Transmission (IVT) with 8-speed virtual ratios from the Elantra to think about, but since we have not tried it out we can't say what it is like. The Mazda 3's 1.5-litre SKYACTIV-G engine makes around the same amount of torque at 4,000rpm, while the Toyota Corolla's 2ZR-FE 1.8-litre engine produces 172Nm at 4,000rpm.
There's just no way around it, Honda's 1.5-litre DOHC VTEC TURBO powerplant is the most impressive of the lot. Economical, powerful and refined, it's just hard to beat.
Come on guys; you've got to give Honda a bit more competition in this department.
Round Three also goes to Honda.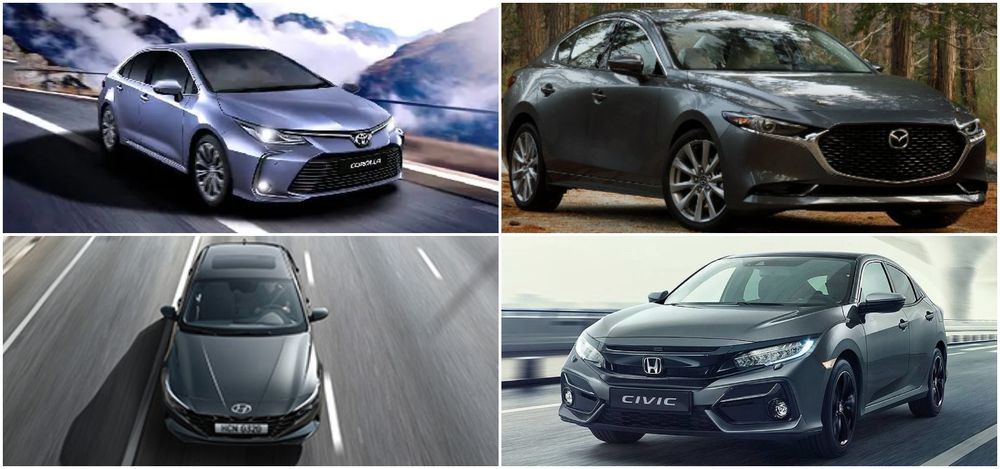 Driving dynamics
Since we haven't had a chance to drive the Elantra we can't say much of how it handles, but it's got to be good if it wants to beat the Toyota Corolla. Where the Civic is a more practical feeling car, we can't run away from the fact that Toyota has managed to excel in the departments of ride and handling. That's not to say that the Civic is a slouch, but rather that Toyota's TNGA platform which underpins many of their models is just that much more refined.
It's rare that a mass-market car can handle both tight and twisty sections of road as well as being completely comfortable on a daily commute, but that is one of the strengths of the Corolla. The Mazda 3 feels pretty good in the twisties, but it just can't balance good handling and comfort like the Toyota.
Round 4 sees the Toyota Corolla win in a department where it is usually lacking.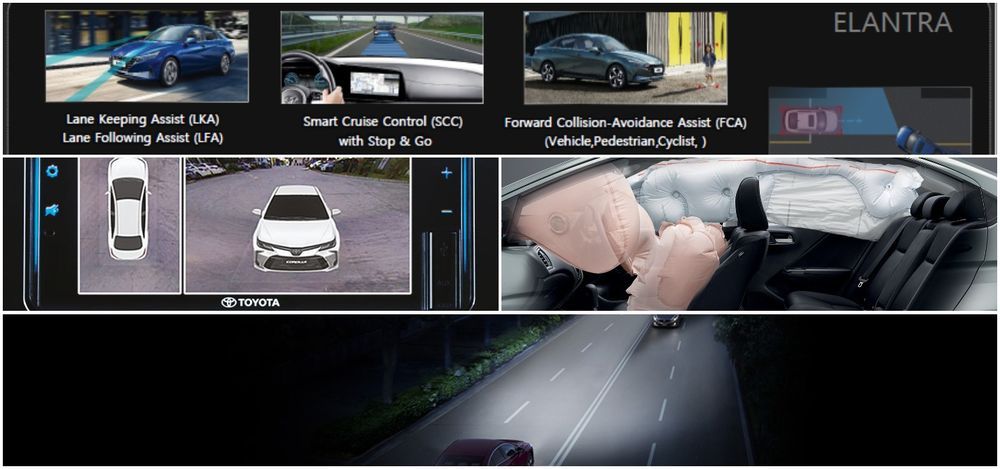 Safety
The Elantra features the complete suite of Advanced Driver Assistance Systems (ADAS), which puts it on par with its rivals from Honda (Sensing), and Toyota (Safe-T). The Mazda 3 does come with Mazda's advance safety feature called i-ACTIVSENSE, but it's not as well equipped as the rest.
Round 5 sees a tie between the Elantra, Civic and Corolla.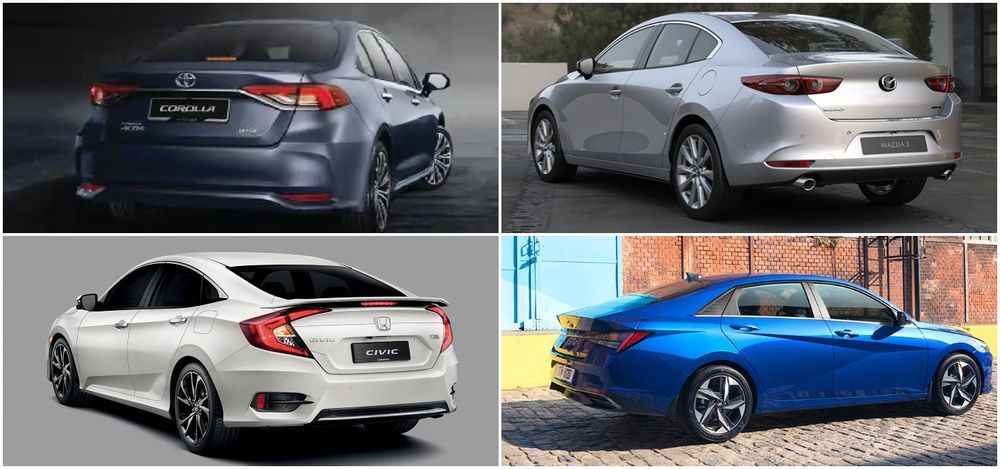 Which is for you?
From what you can see, there's something to like about all of the cars above. It's pretty hard to say which one will be the right one for you because that is subjective. However, it is clear that the Honda Civic is better in a couple of departments which is why it is the current C-segment sedan king.
But if you ever want to stick out in a crowd, the Mazda 3 and Hyundai Elantra will do the trick and for those who love a balanced drive of comfort and tight handling, the Toyota Corolla should be in your options.
For this writer, if he had to choose, he would stick with the tried and tested Honda Civic, it's just got too much going for it and for a car that's supposed to function as a start and drive, it is quite unbeatable. Predictable perhaps, but I like my cars like my favorite roti canai. It tastes the same each time and that's just fine.
For more latest car news, reviews, car buying guides and videos visit us at Carlist.my Auto News.
Check out all the best new & used car deals in Malaysia at Carlist.my.
Sell your car fast with the best offer? Visit us at CarlistBid.my.
---
---
---
Related News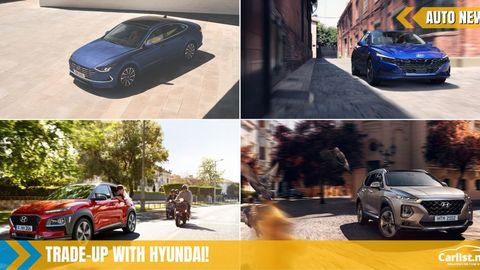 Auto News
It's the year-end and the season of giving so if you're thinking of giving yourself or a loved one a very special present, then Hyundai has some ...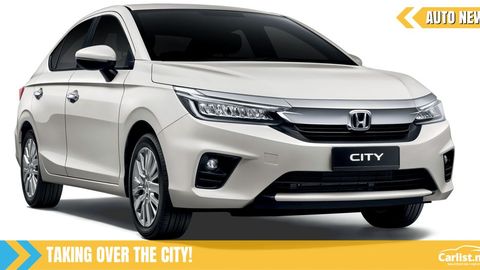 Auto News
If there was an award for undisputed No. 1 Non-National Segment sales award for six consecutive years, that award would go to Honda Malaysia. First, ...
---
Comments