2021 Perodua Ativa Bodykit: GearUp vs Modellista vs TRD vs Albermo
Buying Guides Apabila berbicara tentang ubah suai kenderaan, ianya tidak akan pernah habis. Maklumlah, pelbagai aksesori tambahan boleh ditambah pada kereta anda untuk menjadikannya jauh lebih baik. Segalanya bergantung kepada citarasa dan ketebalan poket anda sendiri.
---
Bila kita cakap tentang Perodua, ramai yang sudah sedia tahu bahawa Perodua menawarkan pakej GearUp dengan menambah aksesori tambahan pada kereta. Untuk pengetahuan anda, wajah Perodua Ativa bersama aksesori GearUp telah pun tersebar di media sosial sebelum ini. Antara GearUp dan body kit yang boleh dicari di pasaran aftermarket, mana satu yang lebih mengancam?
1. GearUp Blaze Body Kit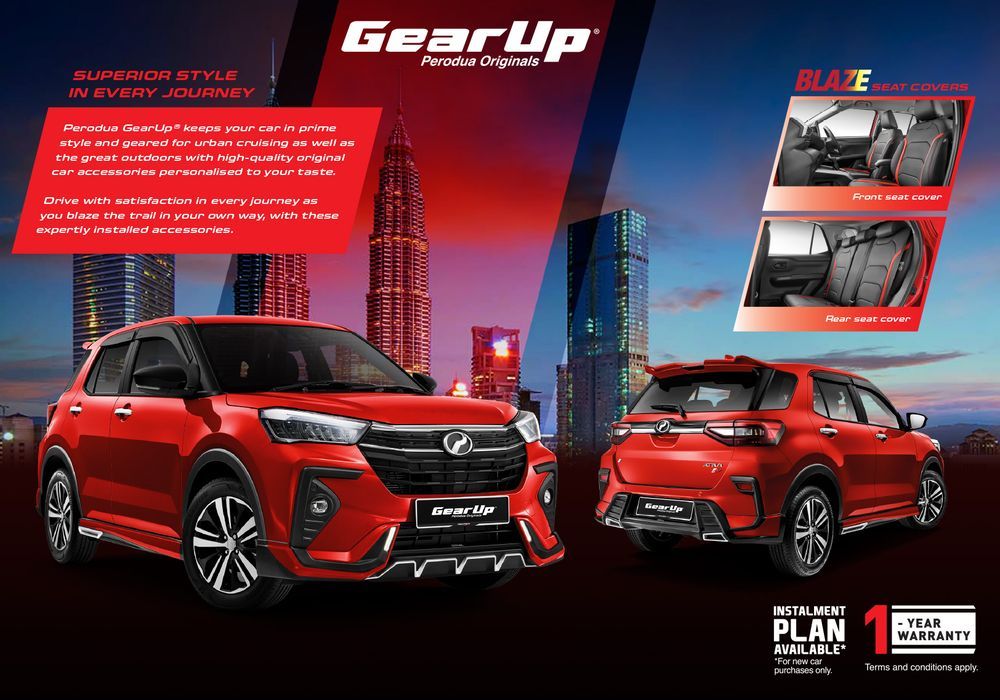 Melalui gambar rasmi GearUp pada Perodua Ativa di lama web Perodua, kit badan yang dikenali sebagai Blaze Body Kit itu kelihatan tegap dan sedikit garang dengan rekaan skid plate bergigi dibahagian bawah bumper hadapannya.
Di bahagian tepi, kit badan Blaze ini turut menerima penambahan seperti kemasan krom di bahagian belakang skirt sisi kereta. Bukan itu sahaja, terdapat juga penambahan di bahagian belakang kereta seperti kemasan pada bahagian nombor pendaftaran bersama tip ekzos dalam kemasan krom.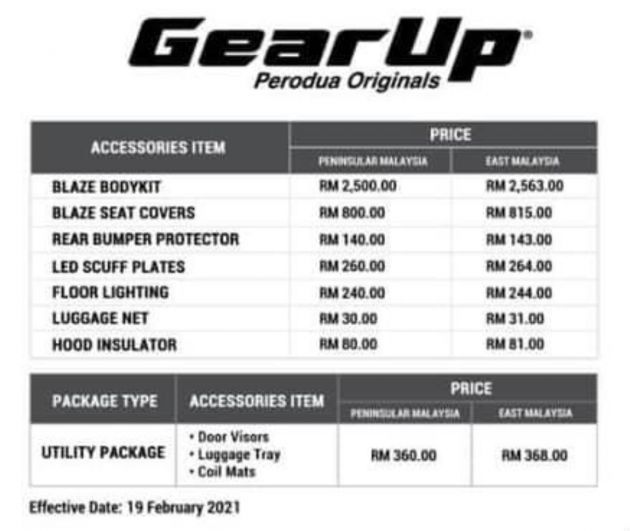 Menerusi risalah yang tular di media sosial serta portal automotif tempatan, kit badan Blaze ini boleh didapati dengan harga RM2,500. Namun seperti anda tahu, aksesori GearUp oleh Perodua ini merangkumi bahagian dalaman dan luaran. Selain menukar kit badan Ativa, dengan harga bermula RM30 hingga RM800, anda juga boleh memilih untuk mendapatkan tempat duduk bertemakan Blaze, pelindung bumper belakang, scuff plate LED, lampu kabin pada bahagian lantai kaki, jaring barangan, penebat penutup hud, dan juga pakej Ultility (visor pintu, tray barangan dan karpet coil).
2. Modellista Body Kit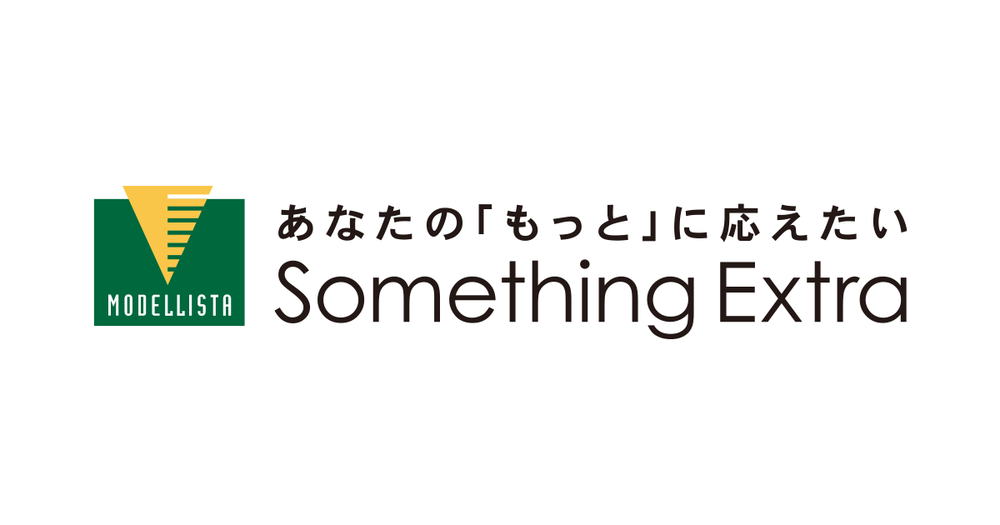 Seperti yang anda tahu, Perodua Ativa dibina berdasarkan model Daihatsu Rocky serta Toyota Raize. Untuk makluman anda, Modellista ada menyediakan kit badan yang lebih sporty dan garang kepada Raize serta Rocky di Pasaran Jepun. Kalau pada Toyota Raize dan Daihatsu Rocky boleh masuk, tak mustahil boleh masuk pada Ativa juga kan? Apa yang tak bolehnya, kita yang buat dia. Terdapat dua jenis kit badan yang ditawarkan oleh Modellista iaitu Advance Style Body Kit dan Elegant Ice Style Body Kit.
a) Advance Blast Style Body Kit
Daihatsu Rocky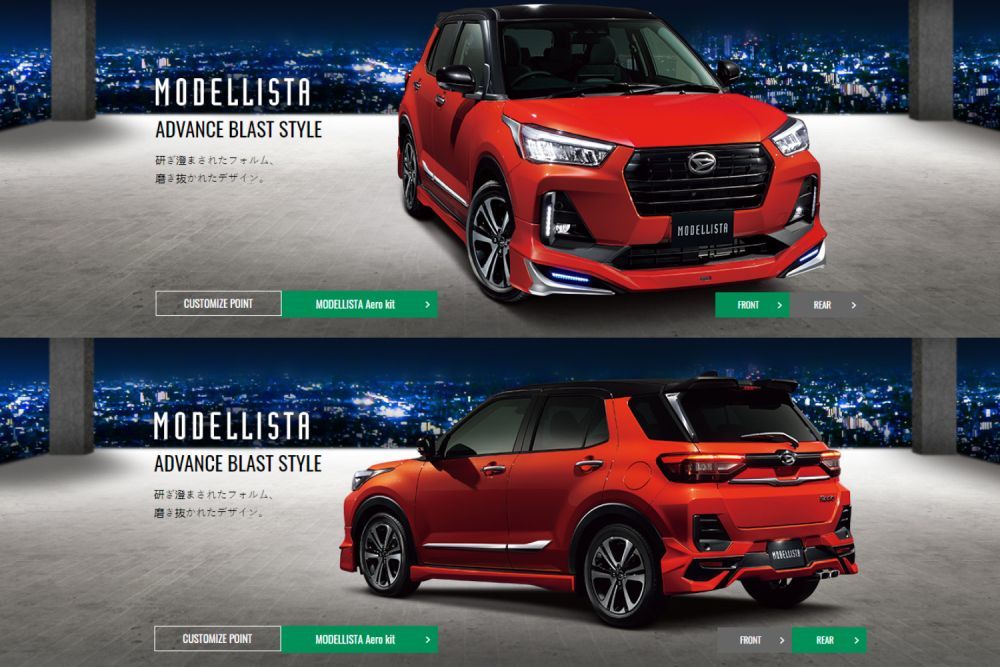 Modellista telah menyediakan kit badan Advance Blast Style body untuk Daihatsu Rocky dan Toyota Raize. Bagi Daihatsu Rocky, kit badan Advance Blast Style hadir dengan spoiler hadapan bersama kemasan krom dan LED, skirt sisi dengan kemasan krom serta kemasan tambahan pada bahagian bumper belakang kereta.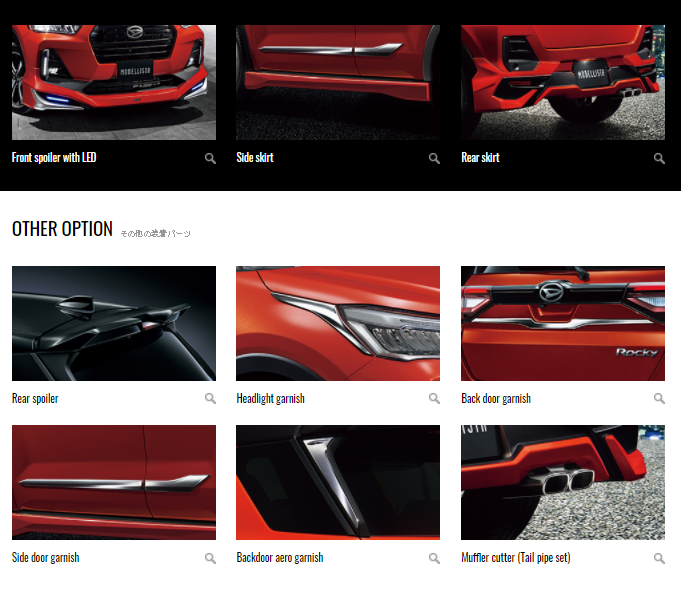 Selain itu, Modellista turut menawarkan aksesori tambahan lain secara berasingan seperti spoiler belakang yang seakan akan berbentuk tanduk, muffler cutter serta kemasan krom tambahan lampu hadapan serta bahagian belakang kereta.
Toyota Raize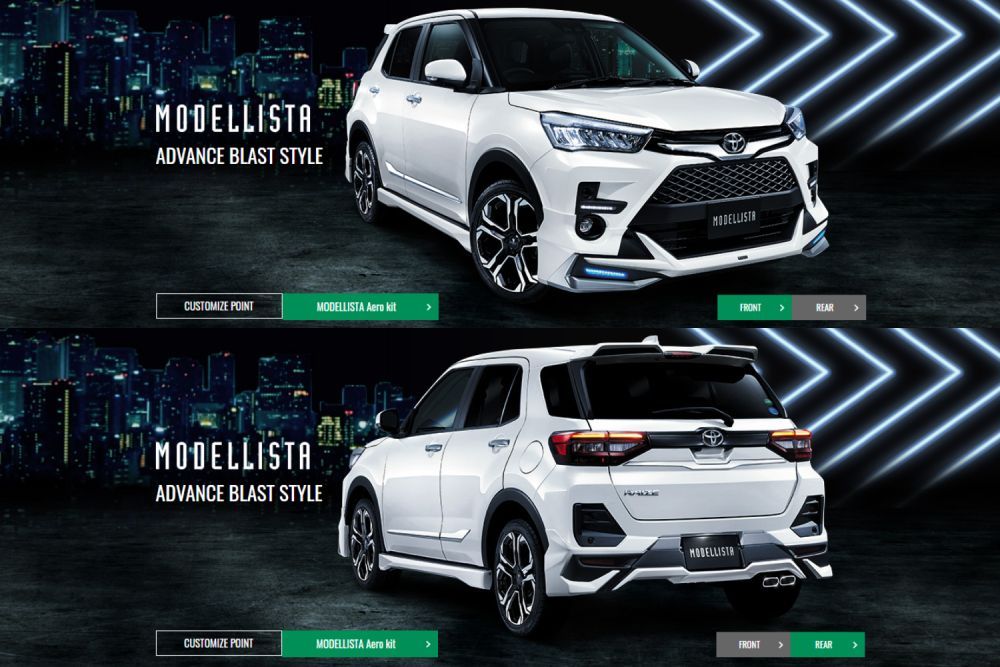 Sementara itu, Toyota Raize yang menggayakan Advance Blast Style Body Kit kelihatan sedikit berbeza daripada kit yang digunakan oleh Rocky. Paling ketara ialah reka bentuk gril serta rekaan bumper hadapannya. Terus terang saya katakan, gril hadapan Toyota Raize kelihatan lebih menarik daripada Daihatsu Rocky. Dengan penambahan kit badan yang lebih sporty, lagi mengancam la rupa Toyota Raize ini. Kit ini hadir bersama spoiler hadapan pada bumper, side skirt serta kemasan tambahan pada skirt belakang kereta.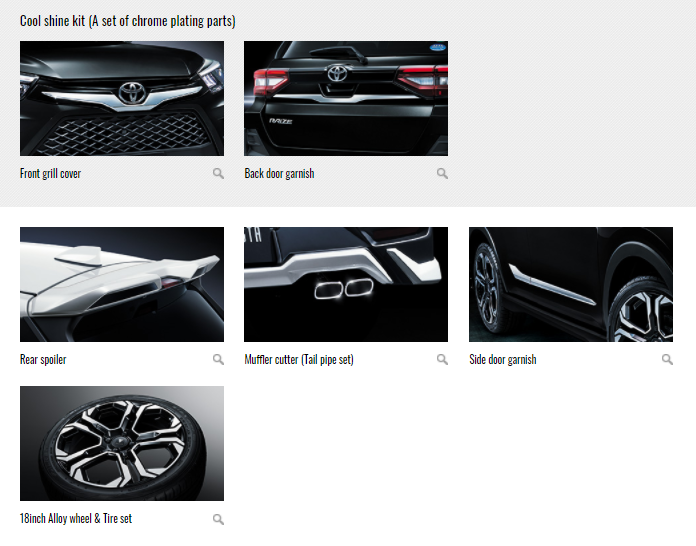 Sementara itu, terdapat juga tawaran penambahan lain secara berasingan untuk kit badan Modellista Advance Blast Style seperti kemasan krom pada beberapa tempat seperti di gril hadapan, sisi pintu serta bahagian belakang kereta. Terdapat juga pilihan tayar 18-inci dwi-tona dengan lima jejari dikenali X-Claw II, yang hadir dengan tayar Falken Ziex ZR914F.
b) Modellista Elegant Ice Style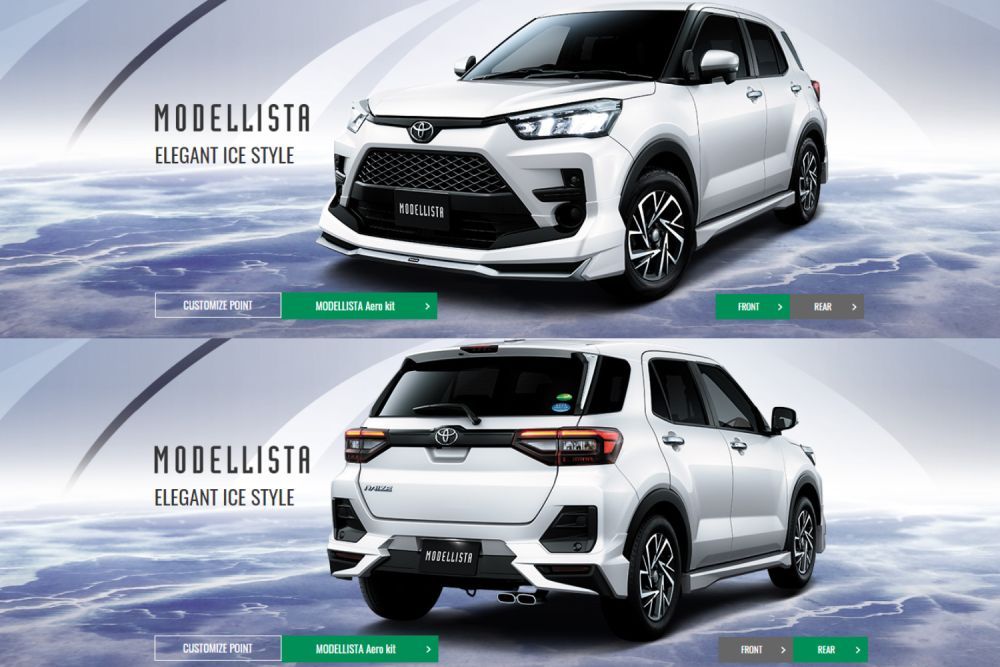 Sekiranya kit badan Modellista Advance Blast Style menonjolkan ciri-ciri dinamik Toyota Raize, kit badan Elegant Ice Style ini pula agak sedikit berlainan daripada kit tersebut. Meskipun penambahan aksesori pada kereta melibatkan bahagian yang sama, namun kit badan Elegant Ice Style ini kelihatan bersahaja, tidak keterlaluan dan ketara seperti kit badan Advance Blast Style. Nama pun ice, mestilah kena cool!

Antara kelainan pada kit ini berbanding kit Advance Blast Style ialah spoiler hadapan tanpa LED, skirt sisi tanpa kemasan krom serta kemasan bumper belakang yang lebih ringkas. Selain itu, Modellista turut menawarkan penambahan lain secara berasingan seperti set 16-inci tayar aloi, muffler cutter dan kemasan krom di bahagian belakang.
3. TRD Body Kit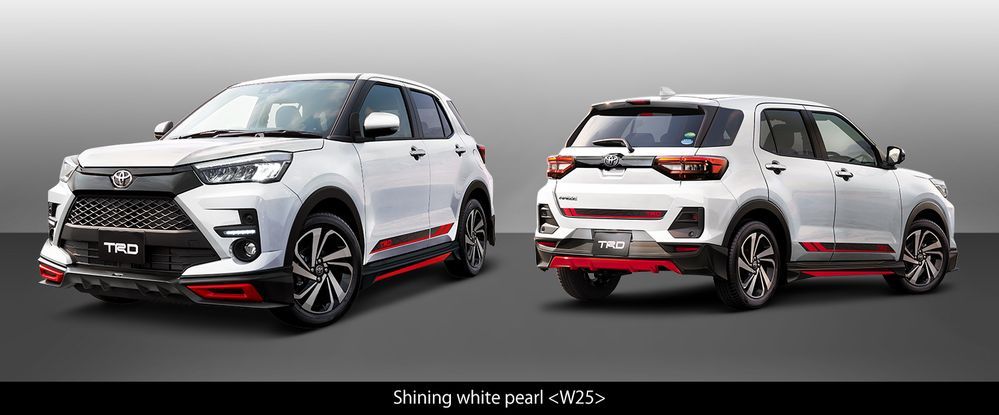 Toyota telah pun memperkenalkan aksesori TRD untuk menaikkan lagi wajah sporty pada Toyota Raize keluaran mereka. Pada bahagian bumper hadapan, kemasan berwarna hitam itu diperbuat daripada PPE resin. Di bahagian sisi, skirt Raize bersambung terus ke bawah sehingga 61mm berbanding Standard.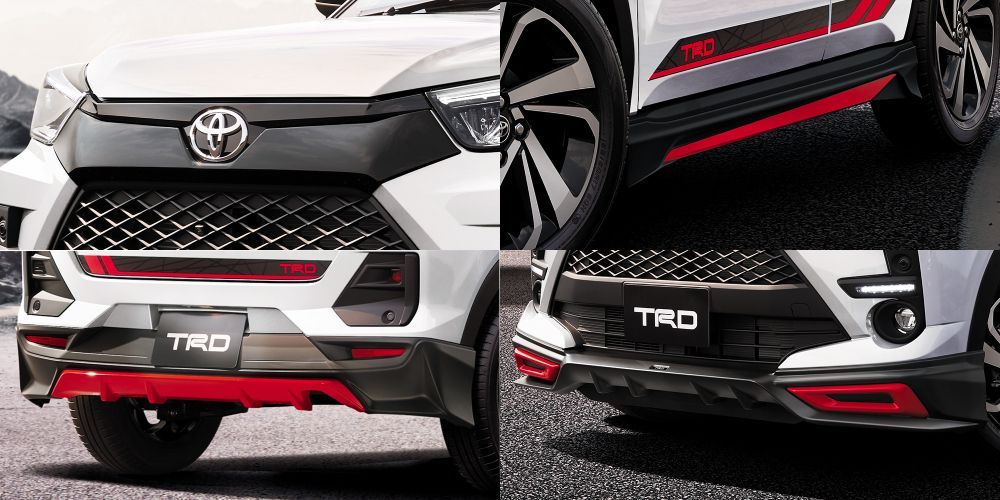 Terdapat juga pelekat TRD yang diperbuat daripada polyvinyl chloride resin pada sisi pintu dan di bahagian bawah lampu belakang kereta. Bukan itu sahaja, pemegang pintu turut diletakkan pelindung yang menyerupai gentian karbon turut disertakan. Pendek kata, memang power kit TRD ni. Gabungan warna merah serta hitam pada kit badan menaikkan keseksian SUV kompak Toyota Raize ini.
4. Albermo XCR11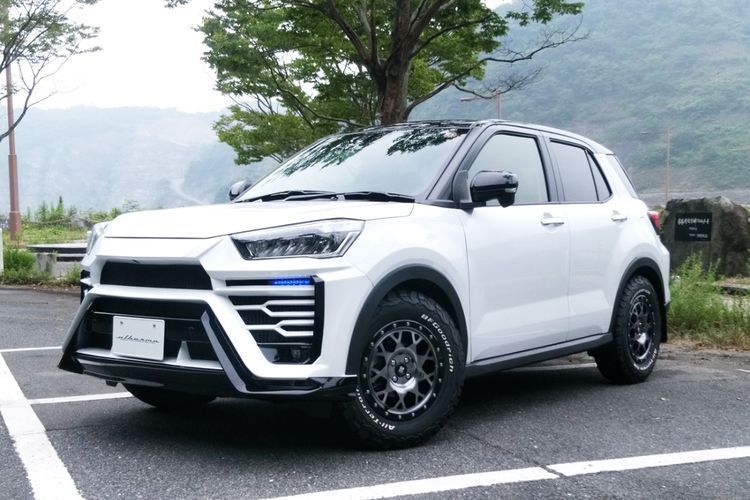 Nampak sama, tapi bukan dia! Baru-baru ini, pengeluar kit badan kustom terkenal di Jepun telah memperkenalkan kit badan untuk Daihatsu Rocky yang kelihatan seakan-akan serupa seperti Lamborghini Urus yang lebih mampu milik. Alang-alang nak upgrade luaran, tukar terus jadi Lambo la!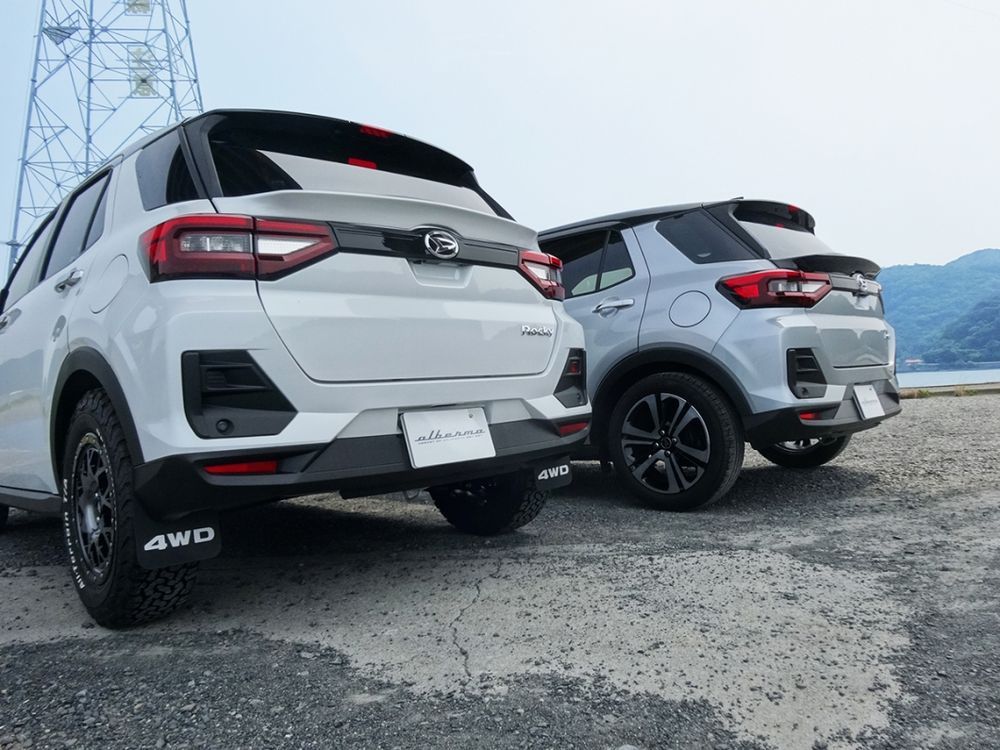 Kit badan ini terdiri daripada bumper hadapan yang menyerupai Lamborghini Urus, gril hadapan, serta pemasangan spoiler belakang. Walau bagaimanapun, pakej yang ditawarkan oleh Albermo ini tidak termasuk semburan cat. Mereka juga menyatakan bahawa tiada jaminan pemasangan produk tersebut boleh memberikan kesan negatif kepada pemasangan sensor serta sistem pintar lain yang terpasang pada model asal.
Antara kit badan GearUp Blaze, Modellista, TRD mahupun Albermo, kit badan mana yang paling menarik bagi anda? Kongsikan dengan kami!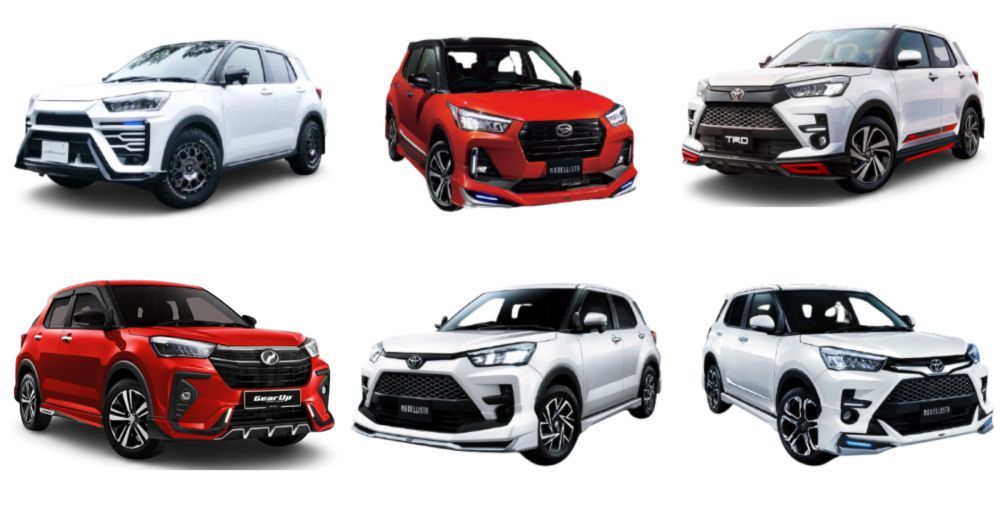 For more latest car news, reviews, car buying guides and videos visit us at Carlist.my Auto News.
Check out all the best new & used car deals in Malaysia at Carlist.my.
Sell your car fast with the best offer? Visit us at CarlistBid.my.
Get the latest new car promotions at New Car website now.
---
---
---
---
Comments