30 Years Since Volvo's 240 Turbo 'Flying Brick' Reigned In Europe
Insights Who could forget the iconic Volvo 240 of the 1970s? Renowned for its straightforward angular shape and construction that was tougher than brickwork, it was certainly well deserving of its popular nickname here, the 'Swedish Tank'. Not quite the type of car one would expect to forge a career in motorsports, but race the 240 the Swedes did, and a trackside legend it did become.
Now, before you think that racing a Volvo 240 was some sort of joke that became successful half way through, you couldn't be further from the truth. By the time the Volvo 240 came to market in the 1970s, there was already a strong following for Volvo cars amongst the rallying community. Volvo cars were respected amongst participants for their robustness and reliability.
The seeds for the 240's entry into track competition was sown in 1981 when Volvo launched the 240 Turbo, a family car equipped with a robust 2.1-litre turbocharged engine that generated 155hp, and was capable of delivering a 0 to 100km/h time of 9 seconds with a top speed of 195km/h. Impressive figures for a family car of its time, and its estate-bodied counterpart was even recognised as the world's fastest estate.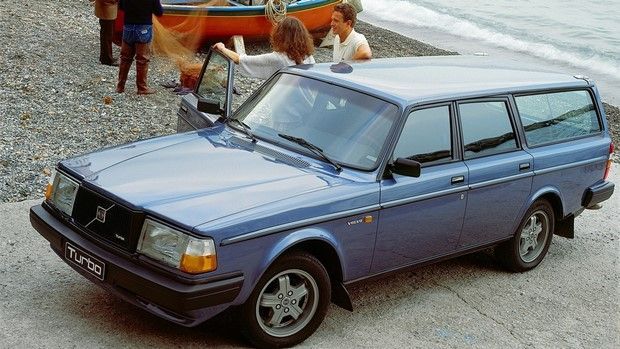 A year later the International Group A racing regulations was introduced. The regulations allowed cars for competition to be taken directly from the assembly line, with only a limited number of modifications, and at least 5,000 examples of the model in question were being built each year. On top of those requirements, the model had to have at least four seats with the minimum weight related to engine capacity. These regulations suited the 240 Turbo perfectly.
From Family Car to Race Car
To be comply with the racing regulations, Volvo had to fulfil the homologation requirement of 500 examples of the race car for customers. As such Volvo is said to have built 500 two-door Volvo 240 Turbo Evolution models, though the actual number became a source of controversy and was a hotly debated subject amongst enthusiasts. Nevertheless those special road-going 240 Turbo Evolution models came with a bigger turbocharger with an intercooler, and a rear spoiler. Power output was said to be at 157hp, though the race cars were definitely pushing out way more power than their road-going counterparts.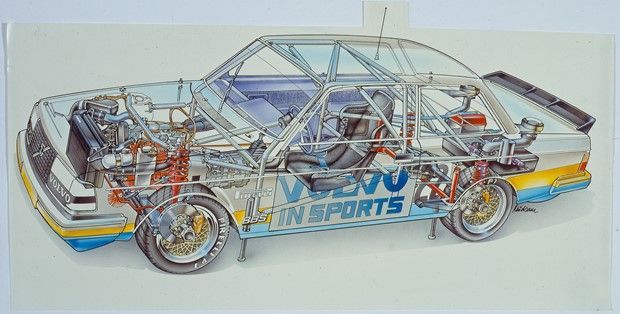 Though the 240 Turbo was no slouch on the road, the racing version had aluminium cylinder heads and forged pistons, connecting rods and crankshafts. Its fuel injection system used a custom-built K-jetronic system and the Garrett turbocharger was cranked up to 1.5bar. Power from the 2.1-litre engine now stood at around 300hp with top speed raised to 260km/h.
Its new found performance gave these 'Flying Bricks' as they were popularly known, the speed and pace to bring the fight to the likes of the Rover 3500 V8 and BMW 635CSi, cars with boasted big displacement engines.
With power taken care of, Volvo's engineers got around to reducing weight with lighter doors and bonnet that were made using thinner gauge metal than what was being used in the production cars, whereas the rear axle was made to be 6kg lighter. Braking power was taken care of by ventilated disc brakes with four-piston callipers, and thanks to a rapid refuelling system, pit crews were able to refuel the car with 120-litres of high octane race fuel in just 20 seconds.
Volvo Takes on Europe on the Track
Volvo's official foray into Group A racing began in 1984. While racing was handled by privateer teams, Volvo themselves were responsible for the racing car's construction and ensuring that the required components were uniform.
In its first year of racing, the participating teams manage to bag two wins, a European Touring Car Championship (ETC) race win in Zolder, Belgium, and another win at the first season of the German DTM at the Norisring track.
The following year, Volvo expanded their racing effort to two teams, both of whom were contracted to operate as a factory team. This decision was intended not only to beat the competition, but also to compete against each other.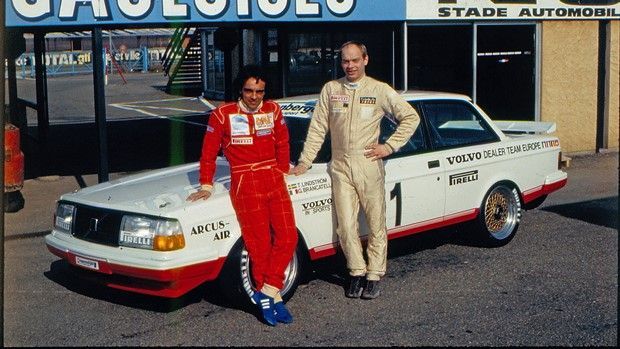 The Swiss Eggenberger Motorsports team, which won at Zolder the year before, returned to the ETC under the name of Volvo Dealer Team Europe, and competed with Volvo's second team in the championship, Sweden's Magnum Racing. In addition to the ETC campaign, the team of IPS Motorsports competed in the DTM.
The 240 Turbo Group A racers were a formidable force, and by the close of the 1985 season of the ETC, Volvo had already racked up six victories out of the season's 14 races, with drivers Thomas Lindström and Gianfranco Brancatelli taking the championship. There was also reason to celebrate on the DTM front with Per Stureson of IPS Motorsport to take the championship after one race victory and five podium finishes. Besides ETC and DTM, Volvo also took touring car championship glory in Finland, Portugal, and New Zealand, while a 240 Turbo won the Scottish rally championship.
The story of the 240 Turbo doesn't end after their stellar season. The 240 Turbo would continue on a stellar racing career, with significant racing success in Europe and Australia. Even though Volvo would officially pull out of racing in 1986, privateer teams continued to race the 240 Turbo right up until 1990. A stellar carrer for a car that nobody would have guess, would be capable of racing, much less winning them.
---
---
---
---
Comments