All-New Infiniti QX30 Concept Teased Ahead Of Geneva Motor Show
Auto News Infiniti has revealed a little teaser of its all-new QX30 concept, a model that we understand will be unveiled in its near-production-ready metal at the 2015 Geneva Motor Show in March. The new premium compact crossover is slated to begin production this year and will compete against rivals such as the, Mercedes-Benz GLA-Class, BMW X1 and Audi Q3.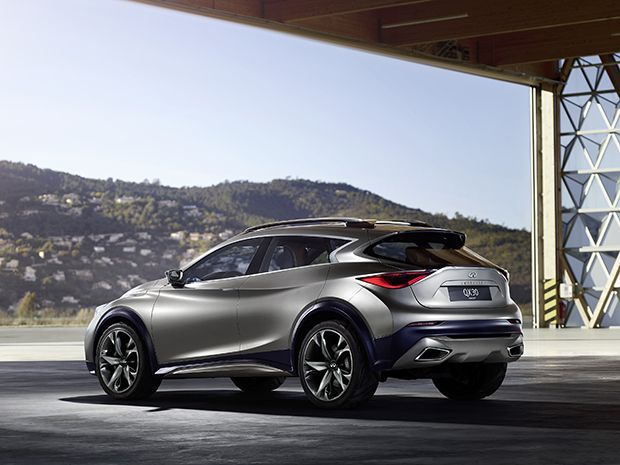 [UPDATE] Infiniti have released a new image that show the QX30 more clearly albeit from the rear. Here, we get to see the vehicle's bold styling that features deep upward cuts and intersecting contours to create Infiniti's "dual wave" effect.
They've also added that the aluminium-trimmed bumper at the front and skid plate at the rear to highlight the toughened exterior. Along with that are 21-inch wheels and unique aluminium-milled wheels.
Few specifics have been revealed as yet, but it does looks very similar to another concept previewed by Infiniti way back in 2013, when it revealed the Q30 Concept (pictured below in the pinkish metallic colour). The QX30 concept however, does look like it's been toughened a little bit: going off this one picture shared by Infiniti for the moment, the fitted rear bumper does look to provide a tougher and more off-road ready stance.
It does make us wonder if this is Infiniti's hint at a possible Volvo Cross Country, Audi Allroad version of its Q30, or if it could be something along the lines of what Mercedes-Benz has done turning its A-Class into the GLA-Class by giving it all-new body panels, higher ride-height, etc.
What we also know is that this QX30 and Q30 production models are expected to share a similar chassis and powertrain to the Mercedes-Benz A-Class family, something that's part of Nissan's (parent company of Infiniti) recent alliance with Daimler AG. From recent developments, you can count on the Benz 2.0-litre or 1.6-litre four-pot turbos powering the Infiniti, along with Stuttgart's seven-speed DCT transmission.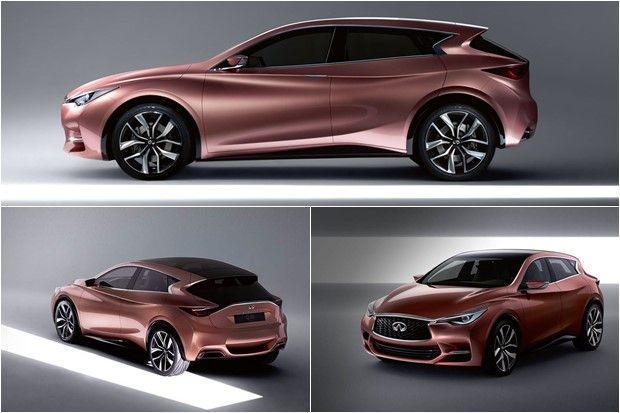 (Infiniti Q30 concept)
For now, Infiniti has said that its QX30 will be suited for people with the "urban week and get-away weekend" lifestyle. They've also gone on to mention that the QX30 will combine the sleek lines of a coupe with the rugged looks and commanding seating position of a crossover. More hints of a Cross Country/ Allroad idea.
More interestingly, is whether Infiniti decide to take up a similar plan of attack to what Mercedes-Benz has done with its A-Class platform, by spawning the very successful CLA- and GLA-Class.
More details about the Infiniti QX30 concept will be revealed at the 2015 Geneva Motor Show. But given that production is due to begin this year, these concepts can't be very far off from what we'd expect to see in the production-ready versions of it.
---
---
---
Comments