Audi Electromechanical Damper System - Generating Electricity From Potholes
Insights Audi's is currently developing a prototype suspension system, called 'eROT', based on which electromechanical rotary dampers which replace conventional hydraulic dampers. Audi claims its revolutionary system is more comfortable than a conventional setup and can even recuperate energy otherwise lost.
A lever arm connected to the wheel assembly is attached via a series of gears that drives a horizontally arranged electric motor in place of the vertical absorber. Alternators located on either side generate power which is sent to a 48-volt electrical system.
Audi claim, besides being able to recuperate energy, the eROT system responds quickly and with minimal inertia. Being an actively controlled suspension, it adapts ideally to irregularities in the road surface and the driver's driving style. It also presents a host of new possibilities for suspension adjustment, virtually freely augmented via software programming.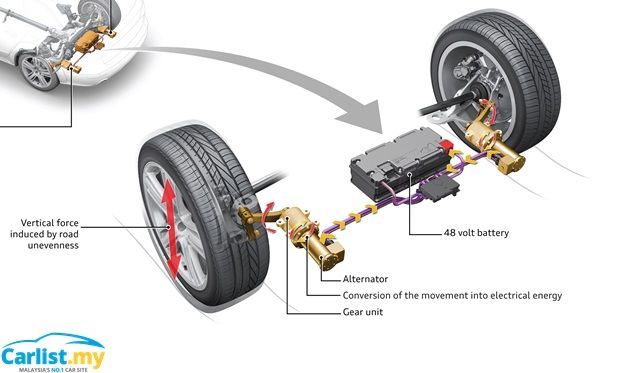 Kinetic energy harnessed during compression and rebound, generates between 100 to 150 watts on average during testing on German roads – from 3 watts on a freshly paved freeway to 613 watts on a rough B-road. Audi claim average usage will return a CO2 savings of up to three grams per kilometre (3g/km).
The eROT technology is based on a high-output 48-volt electrical system. At its centre, a lithium-ion battery which offers an energy capacity of 0.5 kilowatt hours and peak output of 13 kilowatts. A DC converter connects the 48-volt electrical subsystem to the 12-volt primary electrical system, which includes a high-efficiency output generator.
Initial tests of the eROT system shows good promise. The pre-requisite 48-volt electrical system; part of Audi's Electrifications strategy will serve as the primary electrical system driving the eROT and other complimentary systems to offer even wider means for energy conservation and usage.
---
---
---
---
Comments