Bentley Bentayga Makes ASEAN Debut in Singapore
Auto News Bentley's much-anticipated ultra-luxurious flagship SUV makes landfall in Southeast Asia – the Bentley Bentayga had its regional premiere in front of more than 180 guests at a showcase event held at The Fullerton Bay Hotel in Singapore last week.
"With a top speed of 301 km/h, the Bentayga is the most powerful, the most luxurious, the most exclusive, and the fastest SUV in the world," said David Jackson, Regional Manager Asia Pacific of Bentley Motors whilst introducing the Bentayga at last week's launch event.
Now the fourth model line in Bentley's portfolio, the Bentayga is engineered and handbuilt by Bentley Motor's exceptionally talented craftspeople in its historic Crewe plant. From 2014 to 2016, Bentley is plonking in £840 million worth of upgrades into the plant for the Bentayga project. To ensure best quality and craftsmanship, each Bentayga requires a build time of 130 hours.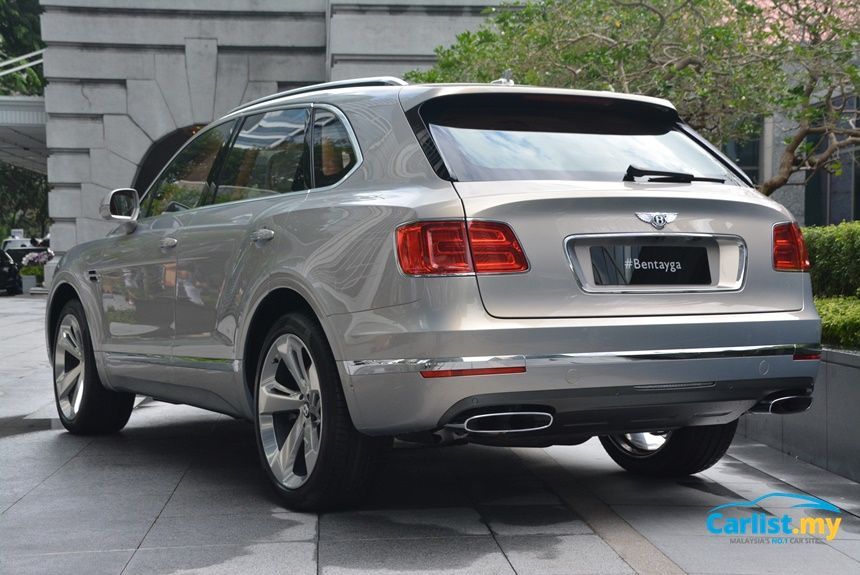 First previewed in 2012 as the Bentley EXP 9F concept at the Geneva Motor Show, the Bentayga's styling appears more imposing in pictures, but less intimidating and more pleasant-looking in the flesh. Viewed with a naked eye, the Bentayga disguises its considerable dimensions (5,140mm long, 1,998mm wide) surprisingly well and its styling is pleasantly free from clutter. A photogenic vehicle it certainly is not.
Bentley's first 6.0-litre twin turbo W12 in use since 2002 has been ditched, making way for an all-new Volkswagen co-developed powerplant of the same configuration and capacity to power the Bentayga. Combining the benefits of direct and port injection into one, the new W12 TSI engine packs 600hp and 900Nm in its reserves.
This highly innovative engine incorporates a multitude of other technologies. For improved emissions and economy, it is equipped with auto start/stop and cylinder de-activation. In low load conditions below 3,000rpm and from third gear upwards, the engine effectively functions as a 3.0-litre V6, but still with up to 300Nm of torque at its disposal.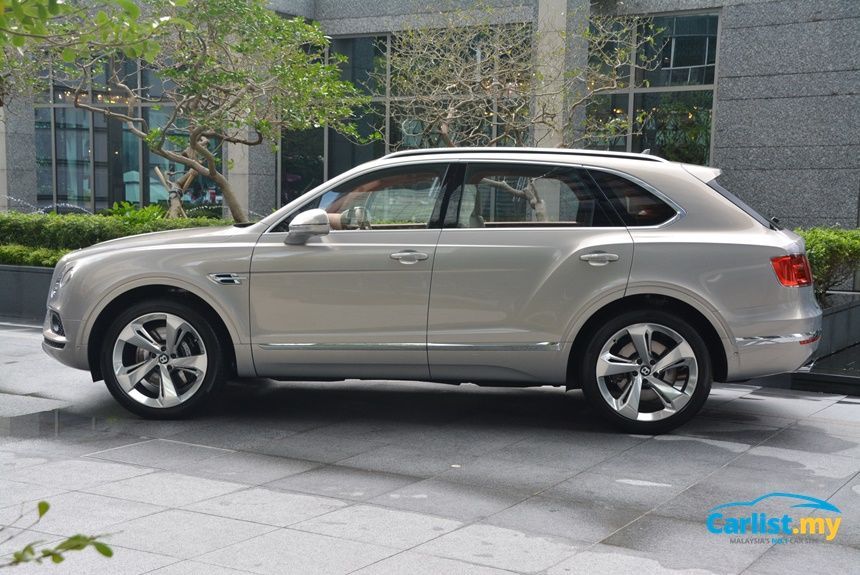 Engine is paired to ZF's AL952 8-speed automatic transmission, a new derivative of the 8HP family, to send power to all four wheels. At the business end, this setup is able to propel this three-tonne plus (gross weight) SUV from rest to triple digits in just 4.1 seconds. It is also relatively efficient for its class, rated COz emissions of 296 g/km qualifies it as a low emissions vehicle according to US ULEV 125 (LEV3) standards and also compliant to the second phase of Euro 6 standards.
Although the typical Bentayga is likely expected to serve only limo duties, Bentley has engineered its chassis to offer the widest possible spread between dynamic on-road and rugged off-road abilities. Of note is a world-first usage of a dedicated 48V electric architecture to continuously adjust the stiffness of its anti-roll bars.
Any doubts of its ability to be roughened up should be assuaged by a suspension setup catered to allow up to 225mm of travel, and ground clearance of 245mm if the highest ride height setting is used. Need to cross a river? The Bentayga gives you a wading depth of 500mm. Anticipating the worst, Bentley engineers also provided robust and extensive underside protection – engine bay, flanks, and fuel tank are all physically shielded.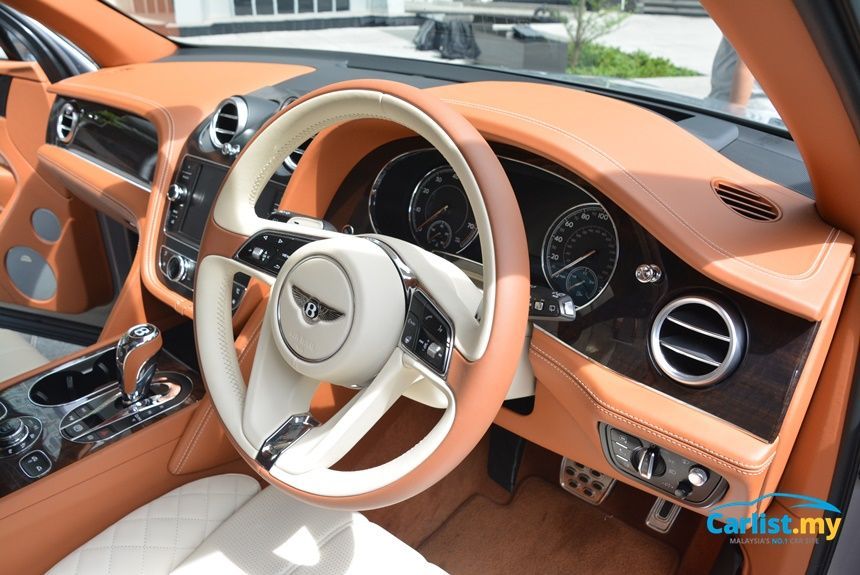 As standard, the Bentayga comes with a four-mode electronically adjustable chassis setup catered primarily for on-road usage. Buyers who order the Bentayga with Off-Road Specification, get a further four off-road driving modes to tackle slippery and loose surfaces, gradients and obstacles, as well as deep sand.
As with any cars at this price range, the Bentayga is offered with a wide range of personalization options. The portfolio starts with a range 17 standard paint colours and can be extended to a full range 90 hues that include satin and pearlescent finishes. If you can't find what you're looking for in that catalogue, tell Bentley what you want, and they'll make it happen.
Inside, buyers can choose from a total of 15 interior hide colours available in mono- and duo-tone configurations. These can then be matched with seven veneer colours. In practice, custom-made colours can be offered as well, and owners have the right to keep a particular non-standard colour exclusive to him or herself.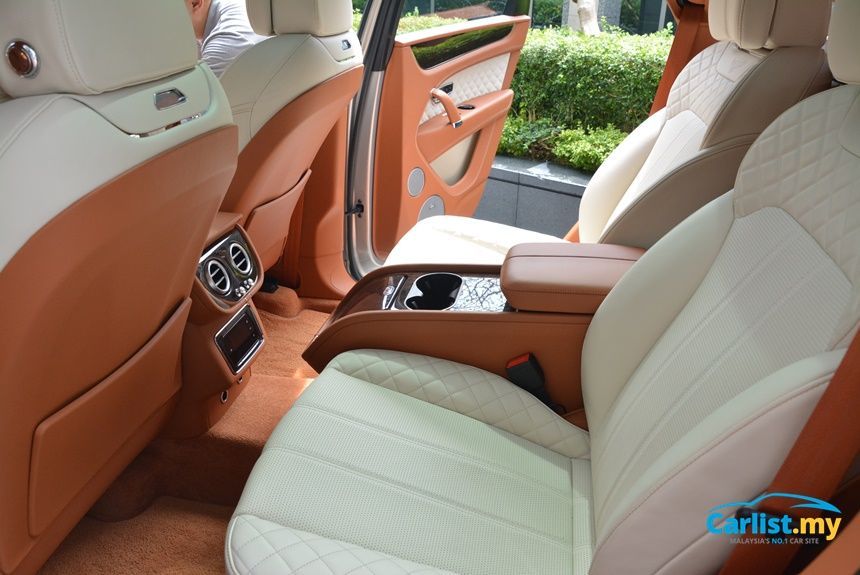 For the most bespoke configurations, Bentley's Mulliner division offers a range of features as well as practically unlimited customization options for the ultra-rich and famous to indulge their tastes in.
As the cliché goes with cars like the Bentayga, if you have to ask how much it costs, you're not going to be able to afford it. In Singapore, one of these things will set you back SGD 900,000, and that's before the island republic's famed COE, or any fancy option for that matter, comes into the picture.
---
---
---
Comments