BMW and MINI Malaysia 2020 Updated Pricelist With SST Exemption
Auto News The updated price list pretty much includes all of the cars from BMW and MINI Malaysia's line up.
---
BMW and MINI Malaysia have released an updated price list for their cars, including the ones that were recently launched like the M135i XDrive, M2 Competition as well as the much-coveted MINI John Cooper Works GP.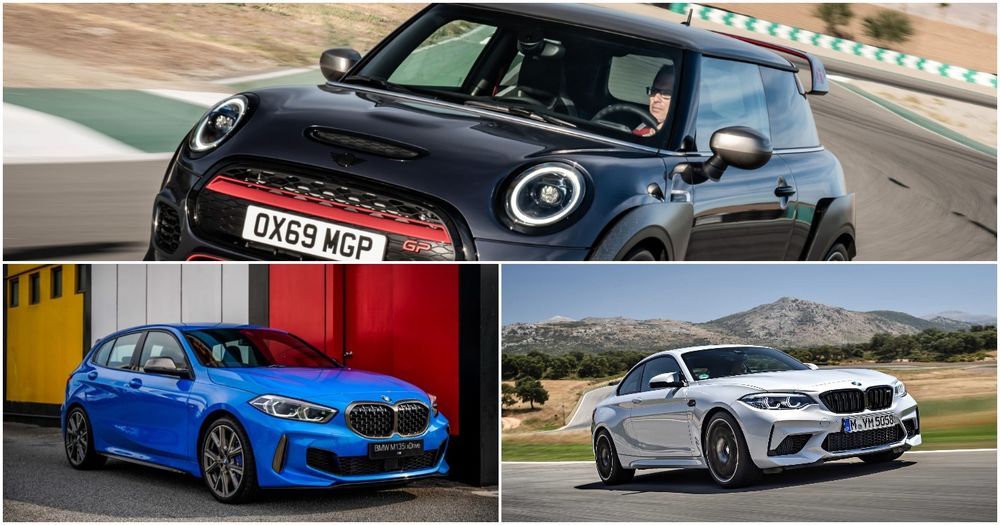 Effective up until 31st December 2020, the updated price list reflects the Sales and Services Tax (SST) reduction that was set by the government back in June as well as the ongoing RM33,000.00 cash rebate campaign for the BMW 630i GT, along with the MINI 'Add Independence' campaign that features a range of cash rebates and installment support for selected MINI models.
For those who are looking to purchase a BMW or a MINI, this list down below could be of some help to you for a better indication of their current prices.
BMW Pricelist

| Model | Pricing With SST | Price With SST Exemption | Difference |
| --- | --- | --- | --- |
| M135i xDrive | RM368,800 | RM355,646.25 | -RM13,153.75 |
| M2 Competition | RM631,800 | RM608,866.69 | -RM22,933.31 |
| 320i Sport | RM248,800 | RM241,794.40 | -RM7,005.60 |
| 330i M Sport | RM293,800 | RM286,187.48 | -RM7,612.52 |
| M4 Coupe | RM772,800 | N/A | N/A |
| 520i Luxury | RM328,800 | RM318,468.78 | -RM10,331.22 |
| 530e M Sport | RM338,800 | RM333,692.91 | -RM5,107.09 |
| 530i M Sport | RM372,800 | RM363,756.37 | -RM9,043.63 |
| M5 | RM1,010,800.00 | N/A | N/A |
| 630i GT M Sport | RM430,800 | RM418,131.09 | -RM12,668.91 |
| 740Le xDrive | RM598,800 | RM569,052.87 | -RM29,747.13 |
| M850i xDrive Coupe | RM598,800 | N/A | N/A |
| M8 Coupe | RM1,496,800 | RM1,452,960.88 | -RM43,839.12 |
| 840i Gran Coupe M Sport | RM968,8000 | RM937,411.23 | -RM31,388.77 |
| M8 Gran Coupe | RM1,496,800 | RM1,455,145.25 | -RM41,654.75 |
| X1 sDrive18i | RM215,800 | RM208,368.48 | -RM7,431.52 |
| X1 sDrive20i M Sport | RM238,800 | RM230,410.37 | -RM8,389.63 |
| X2 sDrive20i M Sport | RM328,800 | N/A | N/A |
| X2 M35i | RM398,800 | N/A | N/A |
| X3 xDrive30i Luxury | RM313,800 | RM304,234.72 | -RM9,565.28 |
| X3 xDrive30i M Sport | RM333,800 | RM324,163.87 | -RM9,636.13 |
| X3 M Competition | RM916,800 | RM886,551.58 | -RM30,248.42 |
| X4 xDrive30i M Sport | RM375,800 | RM364,062.14 | -RM11,737.86 |
| X4 M Competition | RM934,800 | RM904,276.60 | -RM30,523.40 |
| X5 xDrive45e M Sport | RM448,800 | RM440,745 | -RM8,055.00 |
| X6 xDrive40i M Sport | RM729,800 | RM703,947.39 | -RM25,852.61 |
| X7 xDrive40i Pure Excellence | RM888,800 | RM861,846.72 | -RM26,953.28 |
| Z4 sDrive30i M Sport | RM484,800 | RM469,510.09 | -RM15,289.91 |
| i3s | RM278,800 | RM268,823.96 | -RM9,976.04 |
| i8 Coupe | RM1,408,800 | N/A | N/A |
| i8 Roadster | RM1,508,800 | N/A | N/A |
MINI Pricelist

| Model | Pricing With SST | Price With SST Exemption | Difference |
| --- | --- | --- | --- |
| MINI Cooper S 3 Door | RM249,888 | RM240,777.56 | -RM9,110.44 |
| MINI John Cooper Works Hatch | RM313,888 | RM302,831.50 | -RM11,056.50 |
| MINI John Cooper Works GP | RM388,888 | RM377,470.90 | -RM11,417.10 |
| MINI Cooper SE 3 Door | RM225,888 | RM218,380.78 | -RM7,507.22 |
| MINI Cooper S Clubman | RM298,888 | RM287,725.61 | -RM11,162.39 |
| MINI JCW Clubman 306HP | RM358,888 | RM345,497.82 | -RM13,390.18 |
| MINI Countryman Pure 2019 | RM228,888 | RM221,079.82 | -RM7,808.18 |
| MINI Countryman Pure 2020 | RM228,888 | RM220,741.14 | -RM8,146.86 |
| MINI Countryman Sports 2019 | RM248,888 | RM239,811.15 | -RM9,076.85 |
| MINI Countryman Sports 2020 | RM248,888 | RM239,280.38 | -RM9,607.62 |
| MINI Countryman Blackheath | RM253,888 | RM244,280.38 | -RM9,607.62 |
| MINI Countryman PHEV Wired 2019 | RM268,888 | RM258,870.53 | -RM10,017.47 |
| MINI JCW Countryman 306HP | RM378,888 | RM364,890.83 | -RM13,997.17 |
---
---
---
---
Comments