BR Jaya Autohaus Upgraded To Serve Mercedes-Benz Customers Down South
Auto News Mercedes-Benz Malaysia Sdn Bhd (MBM) and authorised dealer, BR Jaya Sdn Bhd, recently unveiled the newly enhanced Mercedes-Benz BR Jaya Batu Pahat Autohaus (Mercedes-Benz BR Jaya Autohaus) in Johor.
This is the latest addition to MBM's enhanced dealer network, coming shortly after the launch of the revamped Asbenz Motors Autohaus, as MBM carries out its commitment to reinvigorate its benchmark of service quality at retail touchpoints nationwide.
The 22,373 sq-ft Mercedes-Benz BR Jaya Autohaus is the first of its kind in Johor, and is able to house 10 showroom vehicles at a time. A full-fledged 3S facility, it is capable of servicing up to 160 vehicles a month.
The Autohaus also provides customers outside of Batu Pahat with a 'Door to Door Zero Mileage Car Carrier Service'. This personalised approach offers added convenience to customers whose vehicles are collected from their homes and brought to the Mercedes-Benz BR Jaya Service Centre at Batu Pahat via a flatbed truck for servicing or repairs. Upon completion, the vehicles are then delivered personally to the customers' doorstep once again.
The BR Jaya Batu Pahat Autohaus is fully compliant with the Mercedes-Benz Presentation System II (MPS II), the global Autohaus benchmark of customer experience. The facility is also complete with the new Mercedes-Benz Corporate Identity (CI).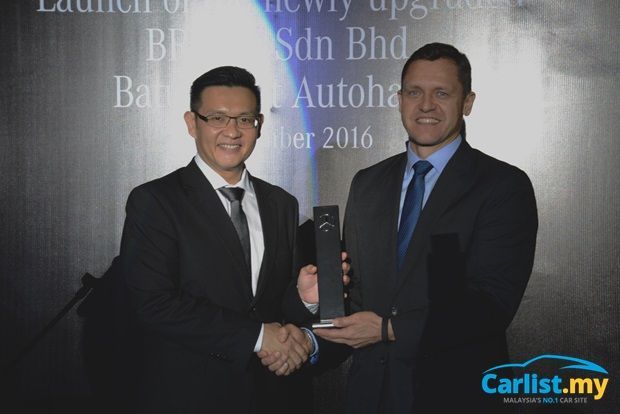 Mercedes-Benz Malaysia President and CEO, Dr Claus Weidner adds, "By nature, we are a brand driven by premium excellence in both our products and after-sales care. This is why we are focused on our mission, with the help of our dealer partners, to take service quality to the next level at our Autohauses nationwide. The dedication and support from our dealer network has greatly contributed to the long-term strength of the Mercedes-Benz brand in Malaysia".
The project comes as part of a total investment of RM11 million in the southern region, the Mercedes- Benz BR Jaya Autohaus is one of five authorised dealer networks in the southern region. The Mercedes-Benz BR Jaya Batu Pahat Autohaus is located at No 35, 3rd Mile, Jalan Kluang, 83000 Batu Pahat, Johor.
The southern region has been a key contributor to MBM's overall success, enjoying a steady 20 per cent growth in sales for Mercedes-Benz vehicles in 2016.
---
---
---
---
Comments