Caltex Techron Enhanced with New Clean & Glide Additives Package
Auto News Chevron, local marketers of the Caltex brand recently launched its reformulated brand of fuel. The company's signature Techron additive package has been blended with the new Clean & Glide technology which contains active ingredients specially formulated to clean and protect metal surfaces within the engine.
By helping to reduce friction and thus wear and tear between key engine components, Clean & Glide technology is claimed to deliver enhanced engine protection, improved fuel economy and maximised power with continued use over time.
Besides stringent laboratory tests, Chevron engineers also accumulated up to 600,000km of real world fleet tests to ensure the fuel's final formula provides optimum results for the everyday motorist.
High-Frequency Reciprocating Rig (HFRR) laboratory tests were conducted to test the new formula's ability to protect metal surfaces. The industry standard diesel lubricity test was modified to safely assess the lubricating properties of petrol.
From these tests, Chevron claims that the newly enhanced Caltex Techron fuel was found to reduce metal wear and friction by an average of 38 percent and 41 percent respectively when compared to its predecessor in a controlled environment.
By extension, this is claimed to enable the new Caltex Techron fuel to instantly reduce friction in the upper cylinder area of your engine and with continued use, it is further claimed that Clean & Glide technology will begin to build–up in your car's crankcase lubricant to replenish friction modifiers that are consumed during normal operation.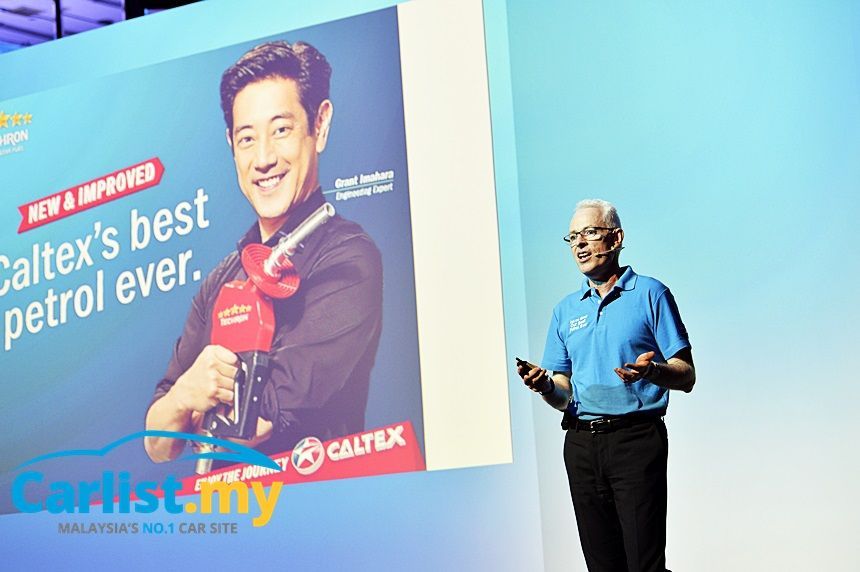 Separate laboratory tests simulating this build-up of Techron additives in the lubricant demonstrated the effectiveness of Clean & Glide technology to improve fuel efficiency by up to 3 percent when compared to the previous formulation.
From the 5th till the 29th May 2016, the "Caltex Fun Truck" contest (also known as "Techron Lab on Wheels Truck") invites members of the public to join in a fun contest. Simply snap a selfie with the truck and upload it on Caltex Malaysia Facebook wall or on personal Instagram with hashtags #CaltexMYNewTechron and #SpotCaltexFunTruck.
Over a period of four weeks, 5 weekly winners will walk away with StarCash cards worth RM200 and be featured in Caltex's promotional materials. The Caltex Fun Truck will feature at roadshows at selected Caltex service stations where the Caltex team will demonstrate benefits of the Techron fuel.
The roadshow schedule dates are as follows:
Roadshow Dates

Location

Central

6 May, Friday

Caltex Station SH Lee, Bandar Kinrara, Puchong (9:00am-12:00pm)
Caltex Station Pump My Day, Bandar Sunway (2:00pm-5:00pm)

7 May, Saturday

Caltex Station South Lake, Shah Alam Expressway (9:00am-12:00pm)
Caltex Station Azalin Resources, Taman Kinrara, Puchong (2:00pm-5:00pm)

8 May, Sunday

Caltex Station Denai Petroleum, Shah Alam (2:00pm-5:00pm)
Caltex Station Wibawa Kukuh Sdn Bhd, Bandar Seri Coalfields (9:00am-12:00pm)

North

13 May, Friday

Caltex Station Haisma Enterprise, Seberang Perai (9:00am-12:00pm)
Caltex Station ANJ Point Enterprise, Kulim, Kedah (2:00pm-5:00pm)

14 May, Saturday

Caltex Station Udini Petrol Station, Bandar Jelutong, Penang (9:00am-12:00pm)
Caltex Station Aanys Service Station, Seberang Perai, Penang (2:00pm-5:00pm)

15 May, Sunday

Caltex Station Shoda Niaga Sdn Bhd, Kota Setar, Kedah (9:00am-12:00pm)
Caltex Station Kota Setar Land Sdn Bhd, Daerah Kota Star, Kedah (2:00pm-5:00pm)

South

18 May, Wednesday

Caltex Station Wajar Cerah, Johor Bahru, Johor (9:00am-12:00pm)
Caltex Station RB Pelangi, Johor Bahru, Johor (2:00pm-5:00pm)

19 May, Thursday

Caltex Station Innovat, Skudai, Johor (9:00am-12:00pm)
Caltex Station Azza Petro, Kulai, Johor (2:00pm-5:00pm)

Terengganu and Kelantan

28 May, Saturday

Caltex Station Dina Ceria Enterprise, Marang, Terengganu (9:00am-12:00pm)
Caltex Station HAA Unggul Enterprise, Marang, Terengganu (2:00pm-5:00pm)

29 May, Sunday

Caltex Station Othomats (M) Holdings, Kota Bharu, Kelantan (9:00am-12:00pm)
Caltex Station Barokah Maju Jaya, Wakaf Bharu, Kelantan (2:00pm-5:00pm)
---
---
---
Comments