EQC 4×4²: Mercedes Benz Unveils Its Version Of A Rugged Electric Off-Road Vehicle
Insights The EQC 4×4² is Mercedes' attempt of an all-adventure rugged electric vehicle. It certainly looks the part but does it also perform?
---
In 2016 Mercedes Benz created its new product and technology brand for electromobility: EQ. The name stands for "Electric Intelligence" and is derived from the brand values of "Emotion and Intelligence". The goal has been clearly defined: Within a short time, EQ is to become one of the most desirable electro-technology brands in the automobile sector.
In 2019, Mercedes Benz presented its first car under the EQ sub-brand, called the EQC. The Mercedes-Benz EQC, which is a crossover vehicle, is not just a vehicle with an electric drive, it combines the hallmark attributes of the brand such as quality, safety and comfort. Its progressive design, unique driving comfort and an operating range suitable for day-to-day needs make the EQC stand out in Mercedes' stable of vehicles.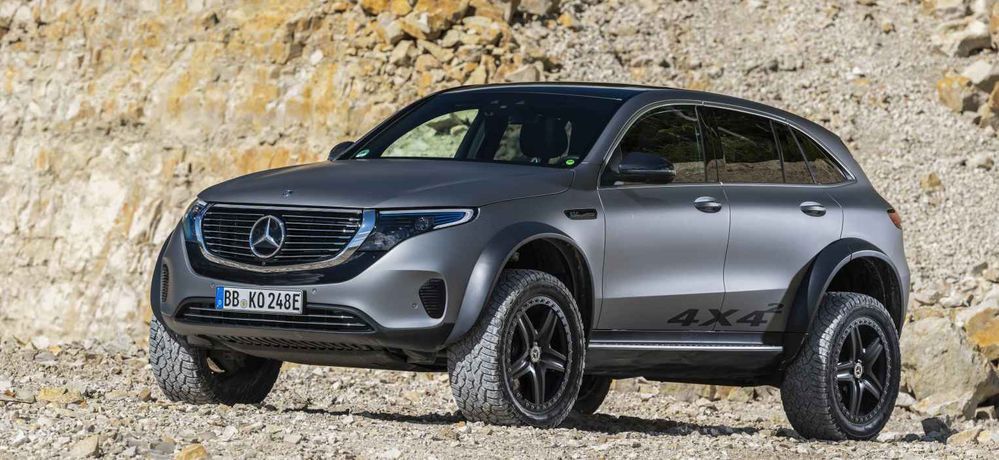 Fast-forward to the present, it seems that Mercedes has thought of another use for the EQC as it unveils a rugged version of it called the EQC 4×4².
Touted to be sure-footed on rough terrain with future-oriented technology: the EQC 4x4² shows that electrification at Mercedes-Benz can go further than the road only will take you. A small team of dedicated developers from Mercedes Benz has created this drivable technology platform based on an EQC 400 4MATIC (combined power consumption: 21.3-20.2 kWh/100 km; combined CO2 emissions: 0 g/km).
The headlining highlights include the multi-link portal axles as well as the production of a powerful sound in the interior and exterior. The headlamps turn into "lampspeakers" because they also function as a loudspeaker at the same time - how cool!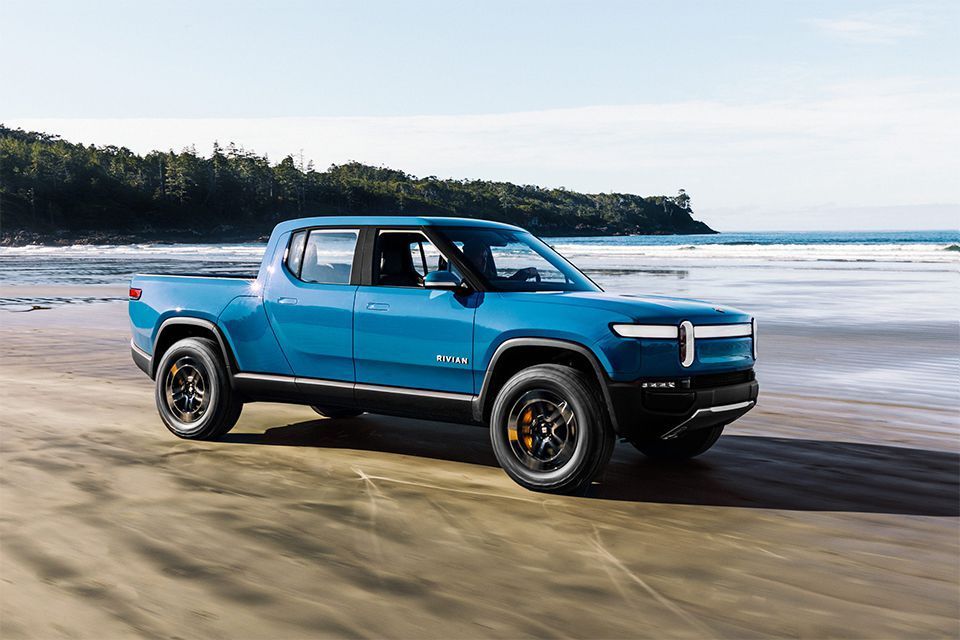 This is Mercedes attempt to show that adventures can be accomplished through an electric vehicle, something like what the guys at Rivian thought of with the Rivian R1T electric pickup - after all, why not, because Ewan Mcgregor and Charley Boorman just proved that you could pretty much go the long way up on electric vehicles in their cool documentary, where they used two electric Harley Davidson motorbikes (Harley Livewire) to travel 13,000km across South America.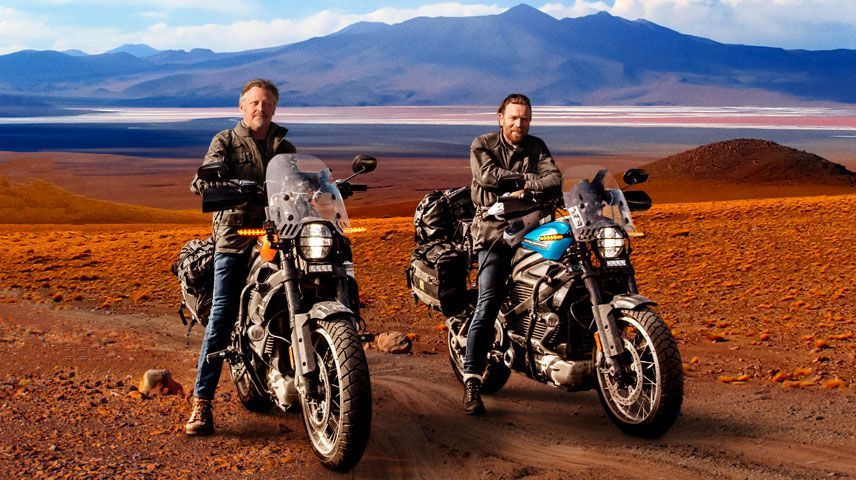 It seems that the potential of EVs are limitless and Mercedes wants in on some of that action.
A cross-departmental team developed the one-off EQC 4×4² under development engineer Jürgen Eberle which has already put the E 400 All-Terrain 4x4² on its studded wheels. Its capabilities include driving through sand in desert regions and on beaches, on rocky terrain and through mountain streams.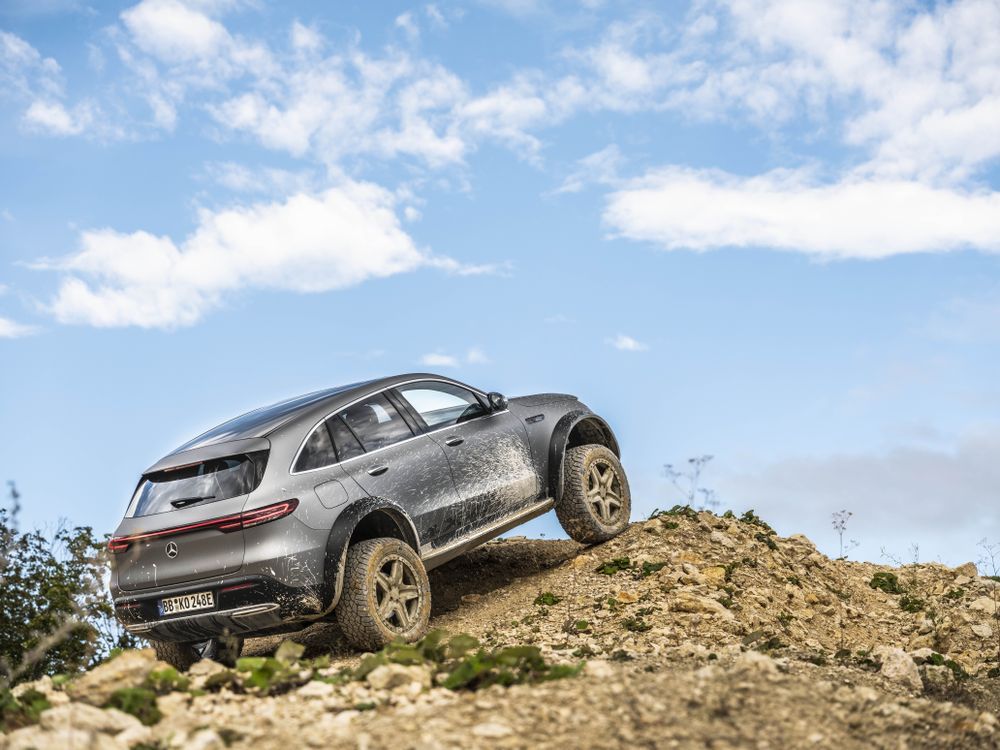 At 293 millimetres, the EQC 4x4² rides more than twice as high as a production EQC (140 millimetres). Even a G-Class rides 58 millimetres lower. The fording depth is increased by 15 centimetres, to 40 centimetres. To put that into perspective, a stock new Land Rover defender can wade up to 50 centimetres, so not too shabby from Mercedes.
The excellent ground clearance is made possible by the conversion to portal axles - some proper off-roading configuration. Unlike conventional axles, the wheels are not at the height of the axle centre but are instead situated much lower down on the axle hubs owing to the portal gears.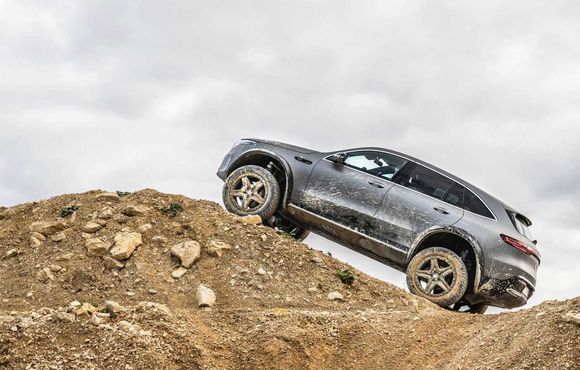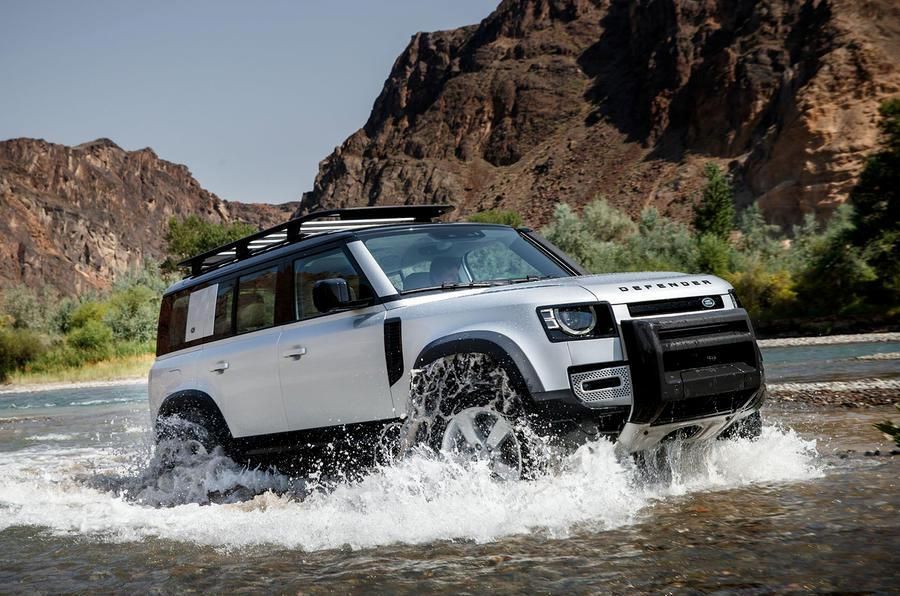 Just as impressive are the approach and departure angles – 31.8 degrees at the front and 33 degrees at the rear. By way of comparison, a factory stock G-Class has an approach and departure angle of 28 degrees. Using the Land Rover Defender as a benchmark once again, the supposedly rugged vehicle from Land Rover has 38 and 40-degree approach and departure angles, so the EQC 4x4²'s off-roading prowess is not bad at all when compared. The EQC 4x4²'s tyre size of 285/50 R 20 is a bit suspect for proper adventuring, but hey, it has to be good on the road too.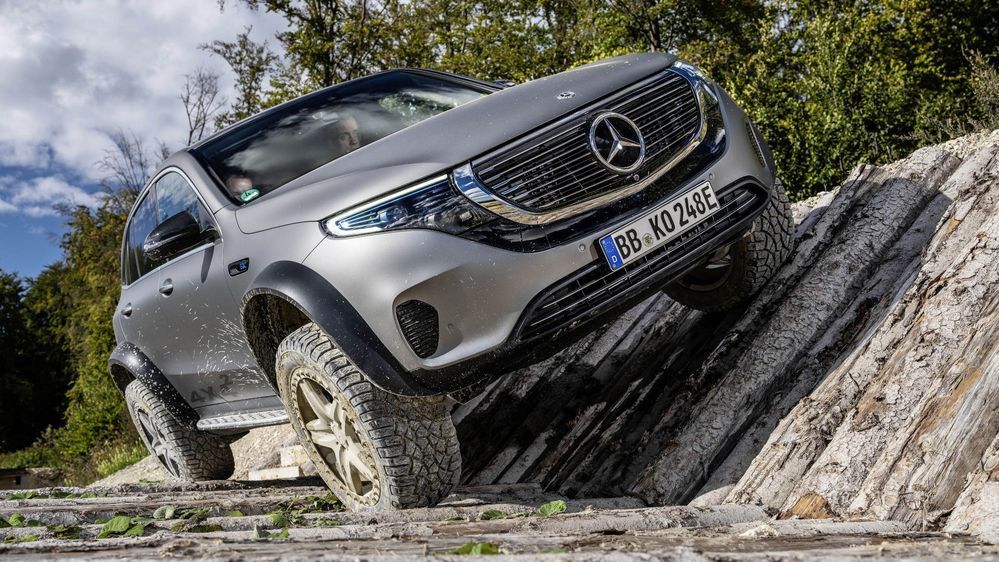 It also has an off-road drive program that takes advantage of the high-performance logic of the current GLC models. For example, using targeted brake interventions, this enables an improved torque curve when starting on loose ground. No mention of power outputs was given, but the original EQC had an output of 300 kW and a maximum torque of 760 Nm, which is more than enough for power to get you out of difficult obstacles.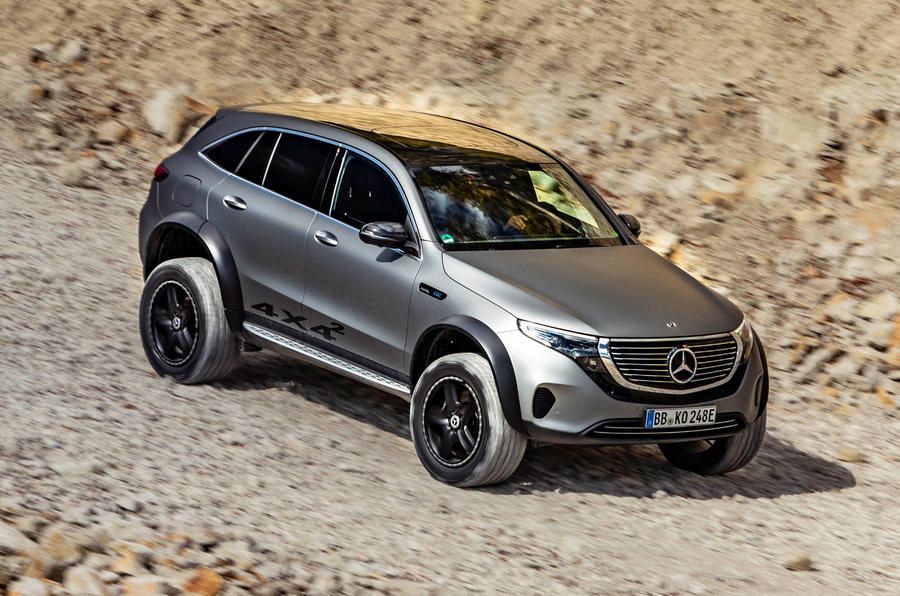 The question really is, could the EQC 4x4² be a proper adventure vehicle? How will it survive on a proper week-long off-roading/ camping trip? The answer is we don't know yet, because as much as we believe that it will need a generator to help charge up the battery when it's drained, EV tech is advancing so rapidly that perhaps all we will need is to harness the sun's power for a week out in the wilderness.
The future is all-electric, this then is really not a bad start to consider the possibilities of electric off-roading vehicles. There are so many other things to overcome like waterproofing electrical componentry as well as the electric motor's ability to withstand the harshest of conditions which will include overheating.
But, hey, at least someone is thinking about it, and this is definitely a cool concept from Mercedes Benz's EQ department.
---
---
---
---
Comments