Extending Peace Of Mind – Getting Your Used/Reconditioned Vehicle An After-market Car Warranty
Buying Guides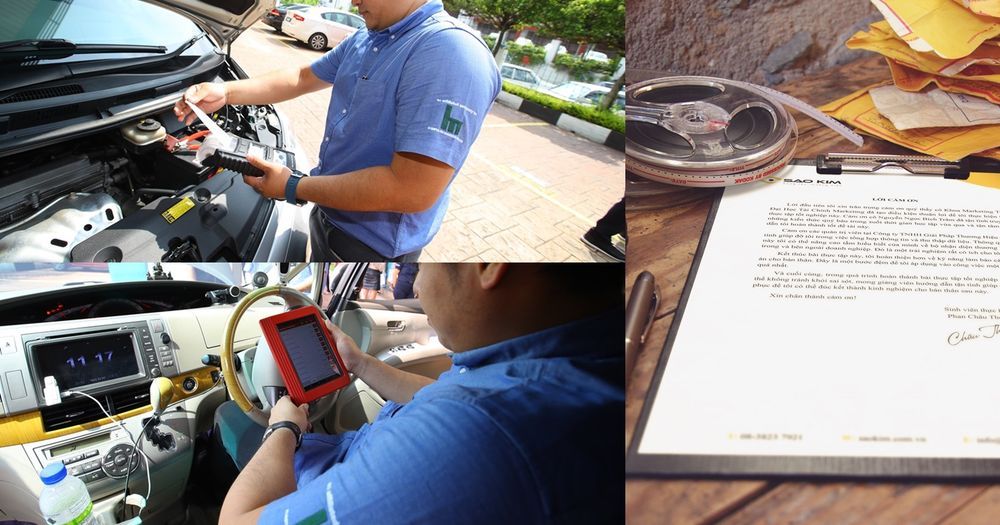 Possibly the biggest appeal of buying a brand new car is the peace of mind of a manufacturer backed warranty coverage. Most passenger cars now come with 5-year unlimited mileage warranties. But what if you have purchased a used or a reconditioned car?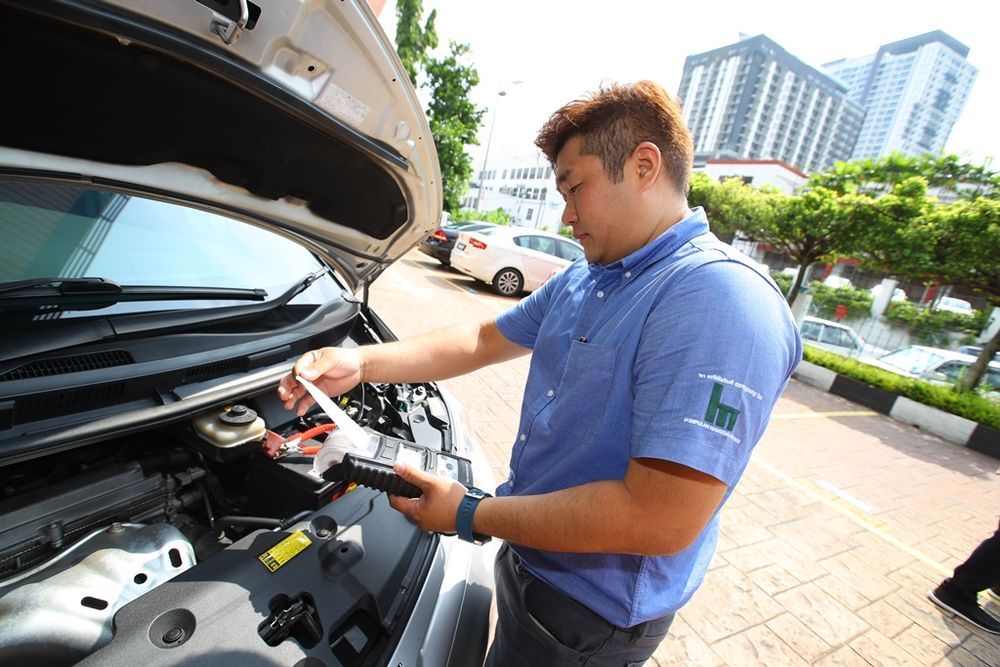 This is where after-market warranty providers come in. For this discussion, we will be focussing on the warranty options offered by MyOpal Services (MyOpal), whose coverage is underwritten by AmGeneral Insurance. MyOpal manages a portfolio of over 2,000 vehicles and is the premier aftermarket warranty provider in Malaysia.
With extensive partnerships with key automotive vendors and a panel of over 180 specialists workshops nationwide – MyOpal is able to offer a comprehensive solution for all its customers across a wide range of vehicles.
MyOpal offers three packages under their Prime Warranty program, which are transparent and competitive in terms of pricing, coverage, and exclusion terms, and exhaustive in detail, down to the individual components and systems. This further allows customers to make prudent decisions regarding the exact coverage needed for their vehicle.
Three main packages are offered under MyOpal Prime Warranty: Select, XTend, and Base.X and here's what you need to know.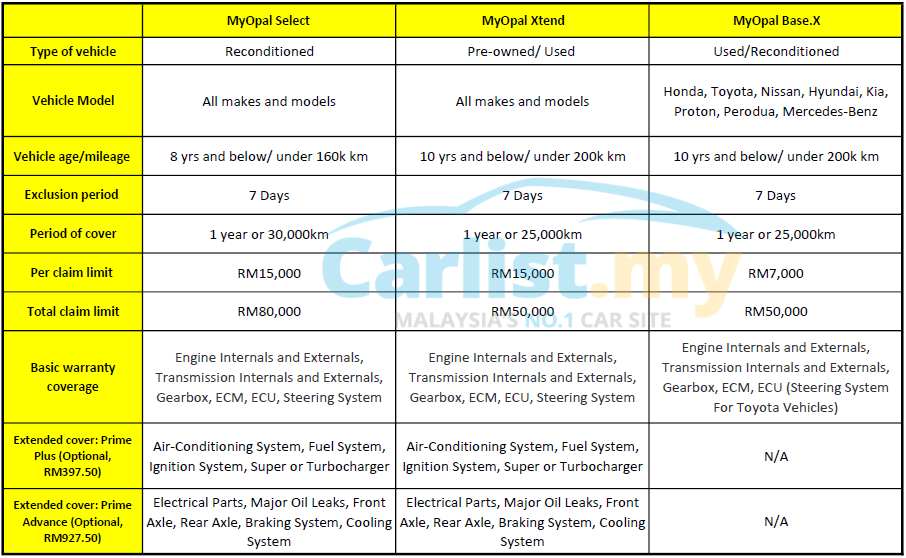 An extended warranty not only safeguards owners against unexpected breakdowns or system failures, but it also protects buyers against common problems that may afflict certain vehicle models, especially if these problems affect the engine, gearbox, and steering systems.
These are just some examples of popular used or reconditioned vehicles, along with the problems commonly faced by owners – and the potential savings that can be enjoyed with a MyOpal Prime warranty:
Toyota Alphard/Vellfire Steering Rack Issue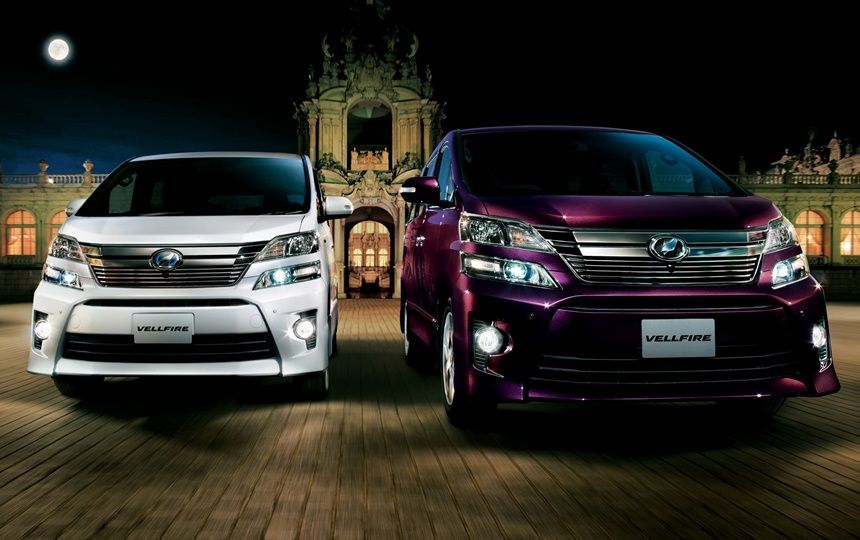 Despite its superb ride quality and reputation for steadfast reliability, a substantial number of Alphard/Vellfire MPV models – in particular, the second-generation (AH20) models – suffer from steering system issues. Usual symptoms include steering freeplay, poor self-centering, and knocking noises when turning. Faults have been attributed to leaking hydraulic hoses, steering column issues, steering pump issues, and faulty steering racks – repairs can costs anywhere between RM800 and RM5,000 depending on the severity of the fault.
It's good to know that all basic warranty packages for Toyota vehicles now come with steering system coverage at no additional cost. The price for total peace of mind is as follows:
MyOpal Select for reconditioned cars: RM 1,177.66

Add-on packages: RM 397.50 (Prime Plus) + RM 927.50 (Prime Advance)

MyOpal Xtend for used cars: RM 1,131.02

Add-on packages: RM 397.50 (Prime Plus) + RM 927.50 (Prime Advance)
Mercedes-Benz (W212) E-Class SBC Pump Failure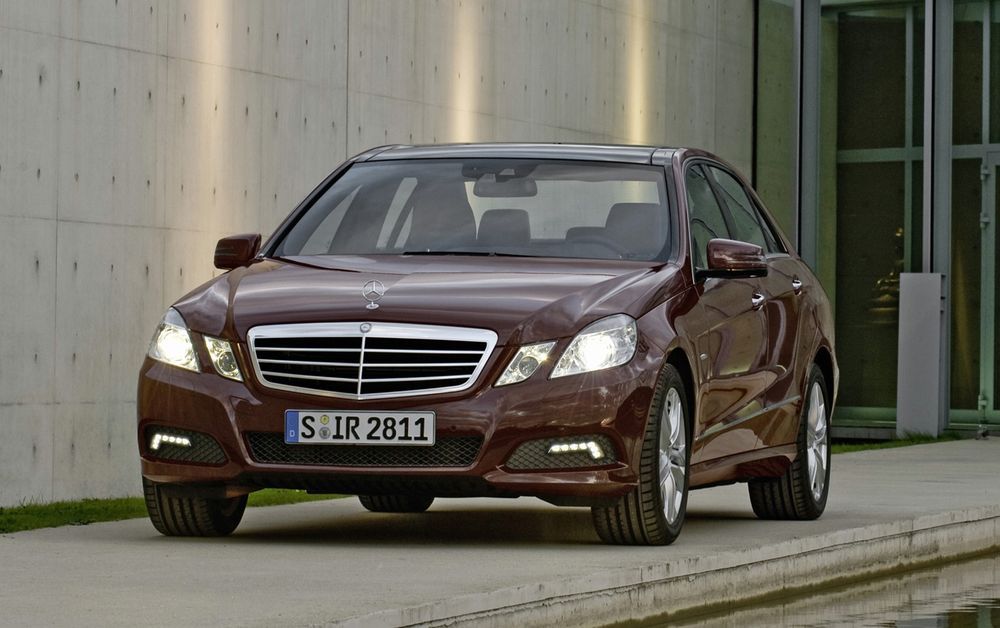 The (W212) E-Class was in many ways a resurgence of style, quality, and driving performance for the E-Class range. They are widely known to be superbly engineered and many owners have clocked six-figure mileages needing not much more than periodical maintenance. However, the Achilles heel of the W212 E-Class is its Servotronic Brake Control (SBC) pump which in numerous cases have failed prematurely. In most cases, if the SBC pump malfunctions, cars have to be towed as braking performance will be adversely affected.
Replacement of the SBC pump along with relevant repair costs has been known to cost in the region of RM5k - 8k depending on the vehicle variant. Check out how the potential savings and peace of mind with a MyOpal 'Select' and 'XTend' warranty package:
MyOpal Select for reconditioned cars: RM 1,649.36

Add-on packages: RM 397.50 (Prime Plus) + RM 927.50 (Prime Advance)

MyOpal Xtend for used cars: RM 1,696.00 (XTend Package)

Add-on packages: RM 397.50 (Prime Plus) + RM 927.50 (Prime Advance)
Another additional benefit of opting for MyOpal's packages is that the cars must first conform to MyOpal's strict guidelines for eligibility of coverage. Hence, whichever vehicle you buy must first be rid of any faults or issues, borne by the dealer/seller before the car can be covered. Thus, MyOpal serves as an impartial third-party evaluator to ensure that the buyer receives a vehicle that is in great working condition. And if it doesn't conform, at least the buyer may still walk away from a potentially problematic vehicle.
Buyers should also note that they can and should request for their vehicle to be evaluated by an independent third party prior to purchase. In cases like this, buyers can explore MyOpal's Prime Inspection service (on-site inspection; available nationwide) or visit one of two Carlistbid.my's inspection hubs (located in Damansara and Glenmarie).
At the very least, a warranty for your chosen vehicle – even for the first year of ownership – will help avoid any unpleasant surprises, especially when buyers have already spent a substantial amount of money to purchase the vehicle, i.e: downpayment, insurance, vehicle registration, and road tax.
This post is sponsored by MyOpal. For more information, visit the MyOpal.com.my
---
---
---
---
Comments