 Firefly, not to be confused with the local airline company, is the world's first electric car specifically developed for 5- to 10-year olds, fully designed and built in the U.K. by Young Driver Motor Cars Limited.
Young Driver Motor Cars Limited is a division of Young Driver, the U.K.'s largest provider of driving lessons for children aged 10-17. The idea for the Firefly car came about when Young Driver felt there was a need for a proper training vehicle for under-10-year-olds that wasn't simply a toy.
But wait, an electric car for children aged five to ten… this is nothing new one might say. Here's a list of what sets the Firefly apart from a 'toy car' one could buy at Toys"R"Us:
Independent suspension
Adjustable driver's seat
Fixed passenger seat
Hydraulic disc brakes, accelerator and forward/reverse control
Indicators and side repeaters
LED headlights and tail lights
Twin electric motors with up to 9-hour continual operation capability
Twin 12v batteries with 240v charger
Tablet based instruments including speedometer, clock and power reserve indicator
Unique and patented safety system that brings the car to a halt before collision (in reverse or forward drive) whilst in Junior mode
The ability to stop the car by remote control from 120 metres
GRP or carbon fibre body
The Firefly is the brainchild from a team of UK automotive experts, led by veteran car designer Chris Johnson - previously with Jaguar, Ford and Volvo. A pre-production prototype was first unveiled in April of this year at Gadget Show Live, since then, continual tuning and development efforts aim to make the Firefly handle and drive like a full-sized car.
The Firefly's electric drivetrain featured two drive modes, 'Junior', which limits top speed to 8km/h, and 'Experienced', which allows a top speed of 16km/h. The car is offered with an optional safety system that uses a network of sensors to halt the car when it detects obstacles – in forward or reverse directions.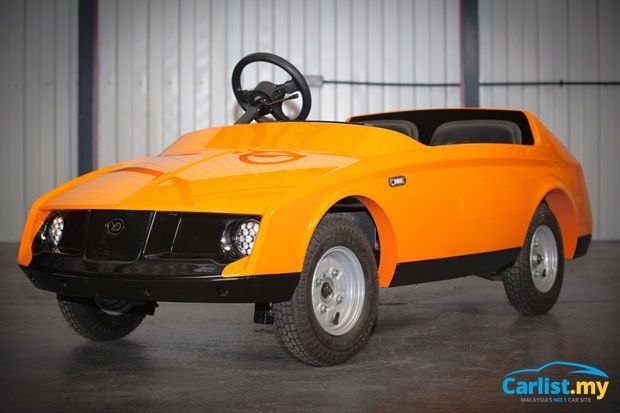 The Firefly is also offered with a range of customisation options which include bespoke paint colours and combinations, individual badging and instruments, upholstered leather seats and steering wheel, wireless tyre pressure indicators and in-car audio.
The first Firefly cars are expected to go on sale (worldwide) in 2017 at an expected price of GBP5,750, or if you're in the U.K., GBP19.95 buys a 20-minute session for your 5- to 10-year old.
GBP5,750, when converted, also gives you a wide range of choices on Carlist.my.
---
---
---
---
Comments