First Impressions: Mazda CX-5 Diesel – The Smooth Burner
Reviews As the availability of Euro 5 diesel spreads increasingly far and wide across the country, it is only natural that the pool of diesel-powered passenger cars in our market grow accordingly wide. Mazda is one manufacturer that is betting big on the black stuff in our market; its local distributors Bermaz Motor having confirmed that no less than four diesel-powered Mazda models are set to hit Malaysian shores soon.
Comprising of the Mazda2, Mazda6, CX-3, and CX-5, Mazda's new range of diesel-powered models will, however, be officially be sold only in Peninsular Malaysia until Euro 5 diesel becomes available in Sabah and Sarawak. Like their petrol siblings, the engines powering these models feature Mazda's latest-generation SkyActiv Technology that is claimed to offer exceptional real world fuel efficiency and usability.
Ahead of its impending launch in our market, we had the chance to sample a diesel-powered CX-5 covering over 700km of Thai roads from Bangkok eastward to the town of Nakhon Pranom near the Thailand-Laos border.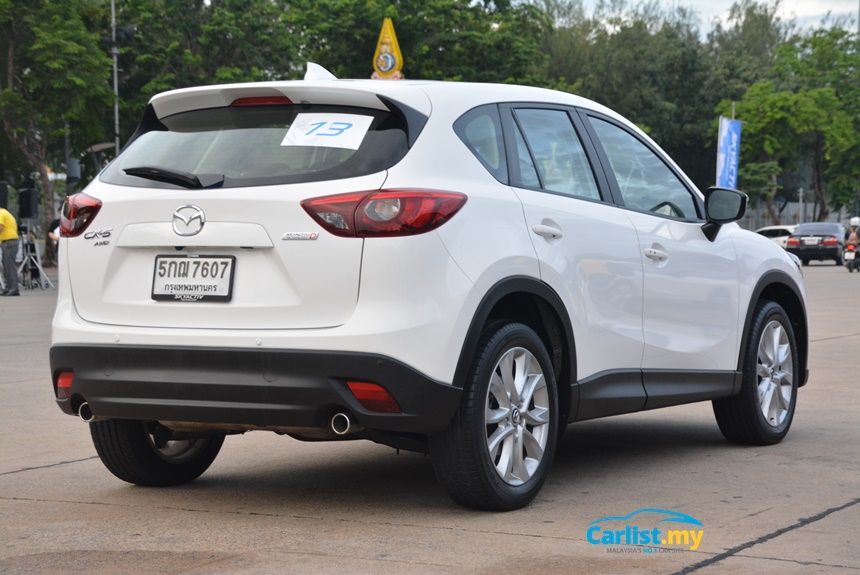 Specifications
Engine: 2.2-litre, transverse inline-4, turbodiesel
Power: 175PS @ 4,500rpm
Torque: 420Nm @ 2,000rpm
Transmission: 6-speed torque converter auto, AWD
Safety: 6 airbags, ABS, EBD, electronic stability control, i-ActivSense, reverse camera
Origin: Assembled in Kulim, Malaysia.
Overview
Being the eldest member of Mazda's SkyActiv model family, the CX-5 holds little secrets from us. A recent facelift introduced a mildly updated appearance that includes niceties such as LED daytime running lights, LED taillights, and even an electronic parking brake to replace the pre-facelift model's mechanical contraption.
When it comes to our market, the CX-5 Diesel is expected to sport identical equipment to the range-topping 2.5-litre variants that we are currently familiar with. Our test vehicle in Thailand came fitted with 19-inch alloys and Mazda's i-ActivSense autonomous safety systems package as well; we understand that neither of these features will be offered in our market.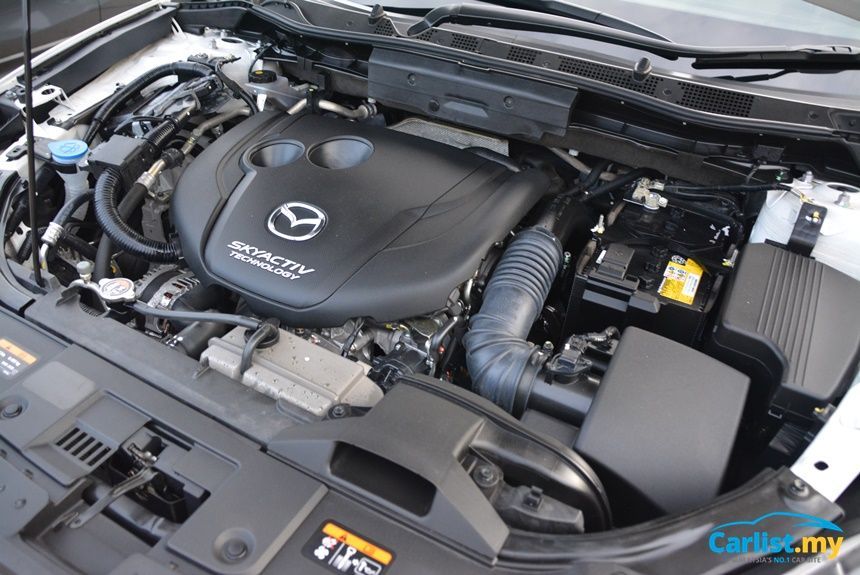 Key Talking Points
19- vs 17-inch rims: The CX-5 came specced with 19-inch rims when it was originally launched in Malaysia back in 2011. Responding to feedback that the oversized rims blunted performance, affected ride quality, and not to mention escalated tyre replacement costs, local distributors Bermaz Motor sensibly ordered subsequent consignments with smaller 17-inch wheels. The slightly busy ride quality of our Thai-spec test car running on 19-inch wheels suggests that the 17-inch rollers which Bermaz will persist for the Malaysian market continue to be the more agreeable option.
i-ActivSense: For our market, Mazda currently offers i-ActivSense only in top variants of the Mazda3 and Mazda6. Thai customers not only get the autonomous driver assist systems package in the CX-5 as well, but they also get an enhanced version that additionally features active lane keeping assist. From our experience, Mazda's calibration of the software feels smooth and sophisticated, pulling steering back only very gently when it detects an unwarranted approach to the lane markings. The system operates with such subtlety that you only feel it working when you're deliberately testing it as we were. Similar systems we've experienced from many competitors feel ham-fisted in comparison.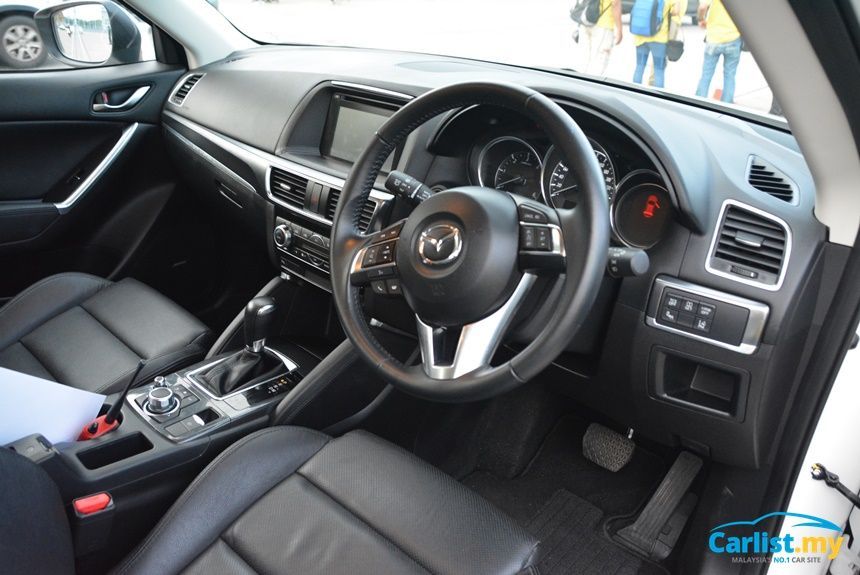 How Does it Drive?
Mazda has been running demo units of its SkyActiv-D passenger cars for some time now, and this writer has already personally driven diesel-powered versions of the Mazda2 and Mazda6 previously.
The common theme with both cars was that the Mazda oil burners were impressively smooth in their power delivery, with revving with creaminess that is almost petrol-like. Yet, both these cars also exhibited a greater hint of nose-heaviness when pushed around corners compared to their nimbler and more agile petrol siblings. Not something to fault Mazda for, however; it is a typical trait of most diesel-powered passenger cars when compared to their petrol counterparts.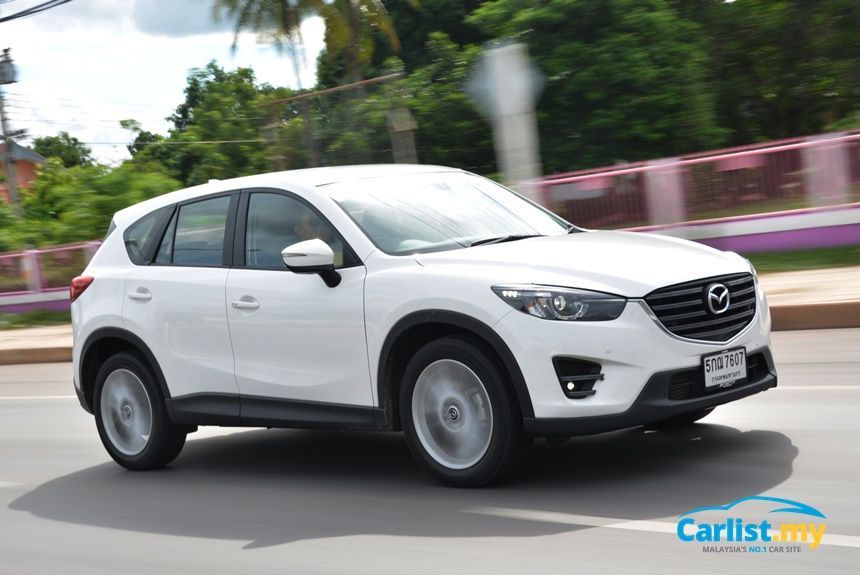 The above description is largely valid for the CX-5 as well; but in this case, the comparatively reduced agility against its petrol sibling becomes a complete non-issue. A typical CX-5 buyer, we suspect, is likely to have far greater appreciation for the exceptional fuel economy and refined muscular power delivery that this engine musters. In the real world, it translates to effortless long-distance cruising – the national speed limit of 110 km/h is sustained with 2,000rpm ticking on the odometer – and less frequent visits to the pumps.
Over 730km of road that mixed the congestion of Bangkok with mostly monotonous highways plus a bit of twisting mountain roads, we averaged a measured fuel consumption of 6.3 litres/100km on the trip computer.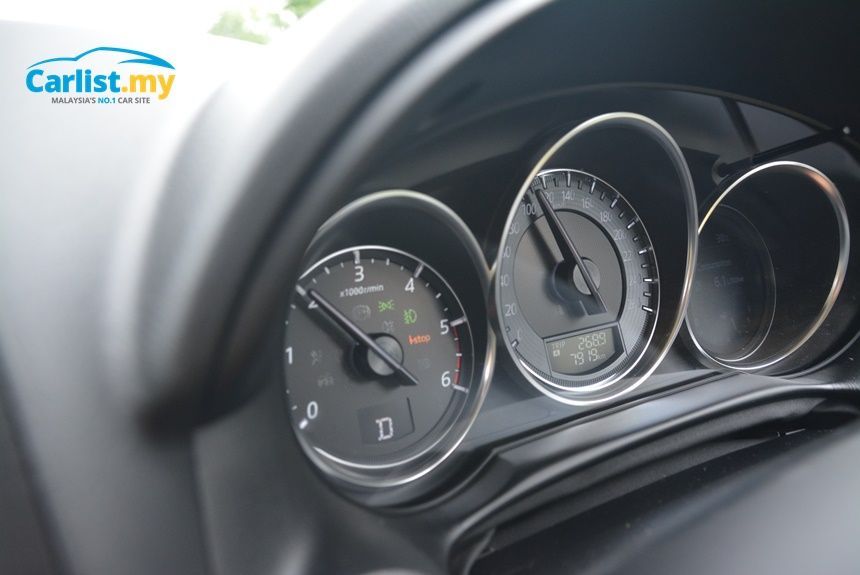 Conclusion
The Mazda SkyActiv-D diesel engine is, make no mistake about it, an excellent powertrain. Its real world fuel economy is almost as good as advertised and its refinement is exceptional, particularly when compared with other diesel engines of similar capacity and power. That its behaviour very closely approximates that of a petrol engine shows the kind of attention to detail Mazda pays when engineering its vehicles.
As it was, the CX-5 is already a highly commendable product; the diesel engine's performance traits only serve to enhance its overall appeal. In our market, it will be the first diesel-powered model among SUVs of similar size. By planting its flag in the segment early with a product of such well-drilled fundamentals; Mazda leads the way with a high bar for its competitors to follow.
---
---
---
Comments