Ford SUV Experience: There is Something for Everyone
Reviews With the demand for SUVs on a constant rise all over the globe, experts have predicted that almost half the vehicles on the road to be of this category by the end of the decade.
Hence, it is no surprise that most brands have started preparing themselves by increasing the number of SUVs in their product portfolio. Even a few 'high and almighty' brands like Bentley, Maserati, and Lamborghini took the world by surprise when they expressed serious interest in coming up with SUVs.
Say whatever you want to say guys, but it is still a business at the end of the day and in order to survive and succeed, you have no choice but to give in to what customers want.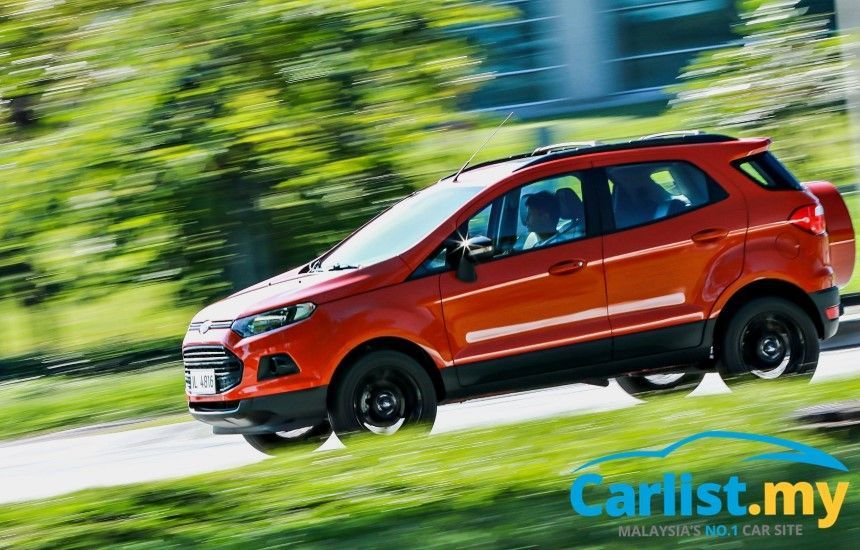 That said, Ford; a brand which has been making SUVs for about half-a-century recently invited us over to Philippines to not only show us their range of SUVs sold in this part of the world, but also to show-off what these vehicles are capable of.
Another key message which Ford wanted to send out to the world was that there is something for everyone who wants an SUV. Regardless of whether you want something small for your daughter, something mid-sized and urban, or something massive that is capable of climbing rocks and doing all those crazy 4x4 stuff, Ford feels that it might just have something for you.
So, after a flight and a four-hour long torturous bus ride, we arrived at the city of Clark to be greeted by the friendly folks of Ford, who gave us a quick briefing on what was going to happen over the following couple of days and told us to go get as much as rest as we could.
Our agenda over the next two days basically comprised driving four different Ford SUV models – the Kuga, EcoSport, Everest, as well as the Explorer.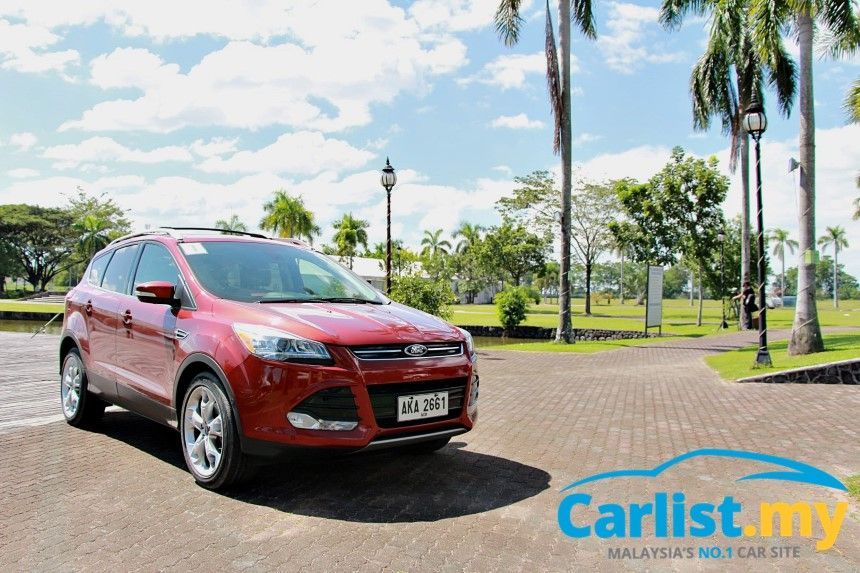 Since each model was designed to serve different purposes and appeal to different people, there were four different courses for each model to show what it's all about.
So, since the Kuga is a mid-sized urban SUV that is all about convenience and practicality and some occasional escapism, our course comprised both city roads and some nice B-roads leading us to a resort where we had the opportunity to indulge in some fishing, kayaking, camping and what not.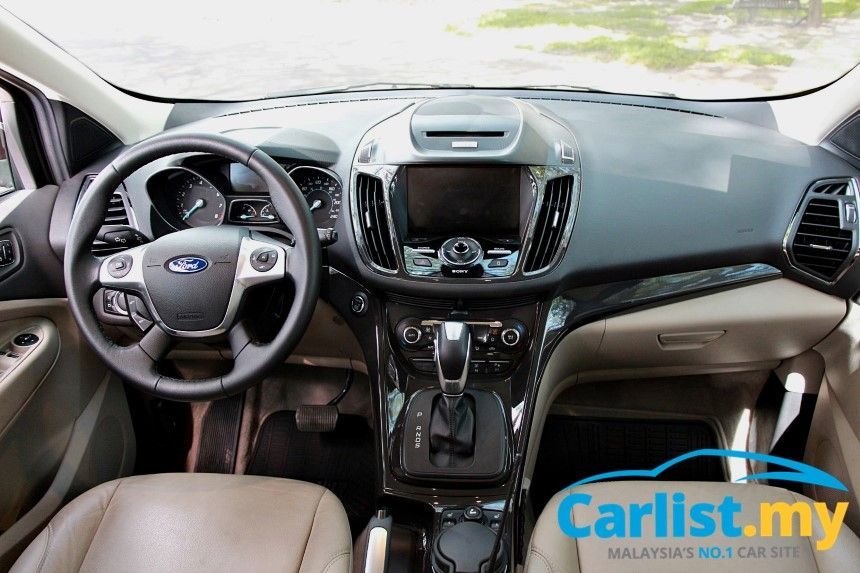 Powered by the ever-capable 2.0-litre EcoBoost engine, the Kuga was an absolute delight to drive in the city and also along the highway as there was constant power being delivered seamlessly via Ford's six-speed automatic Powershift gearbox. The cabin wasn't all-that spacious but the build quality, refinement and features offered were top notch, making it an ideal vehicle for many of us city-dwellers who love to get away once in a while.
After driving the Kuga, it was time for us to get our hands on the Ford Explorer, a model that is available in markets like America and the Philippines but not Malaysia. Powered by a massive 3.5-litre V6 engine, we drove the large SUV along the mountainous roads of Clark's outskirts and through a short mild off-road terrain.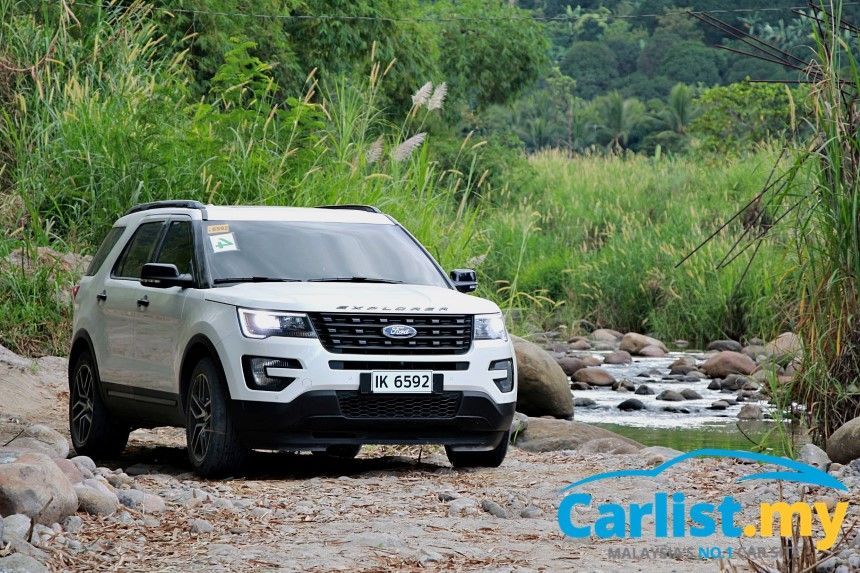 With more power on the tap than we could ask for and technologies like the Terrain Management System letting us shift into multiple off-road modes on the go, the Explorer was not only a beast on tarmac, but off the beaten track as well. However, as handsome and capable as it is, Ford Malaysia has no intentions to bring this model into our market.
And then came day two, which was the highlight of the entire trip for us. With the Ford Everest as the weapon, we were given the task of conquering the unforgiving volcanic ash (also known as Lahar) terrain at the foot of Mount Pinatubo, the volcano which went off in 1991, claiming 847 lives and spewing out ten cubic kilometres of ash.
The eruption was so massive that the Lahar bed stretches across a few kilometres around Mount Pinatubo, with a river flowing through it. Unlike sand which sinks slowly, Lahar dissolves super fast. So, whenever it rains, the surface of the terrain changes shape real quick.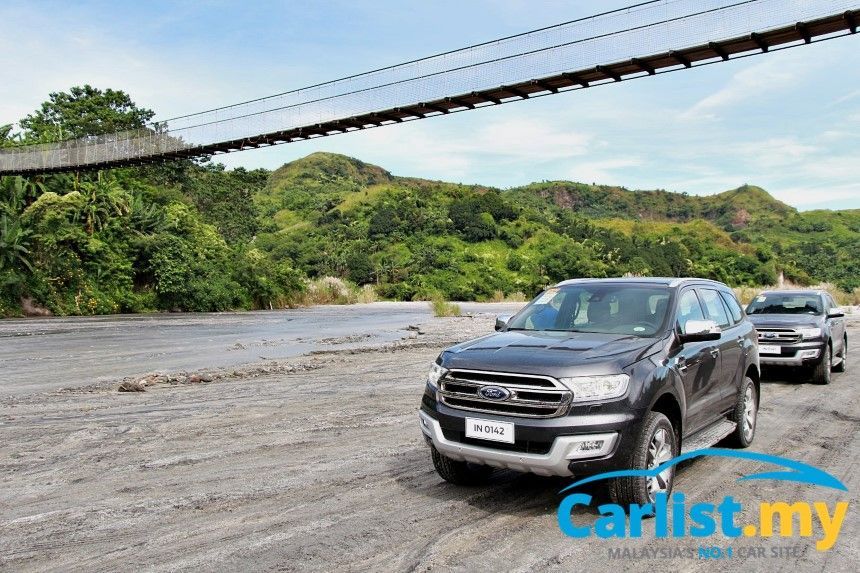 That said, it is impossible to conquer this trail if the vehicle you're in doesn't have proper off-road capabilities. Do keep in mind that most of us there knew nuts about serious off-roading. So, it was mostly up to the SUV to accomplish the mission.
After shifting into 4L, and setting the Terrain Management System in 'Sand & Rock' mode, off we went down the lahar-covered terrain. It was mind-blowing how easily the Everest conquered the path, making it look so easy, and as if we were experts who knew what we were doing.
Despite having to drive over some rocky surface, the Everest's undercarriage didn't scrape anything even once. Although we could feel the surface sinking every now and then, the SUV just bulldozed its way through while we were awestruck with how comfortable it was inside the cabin.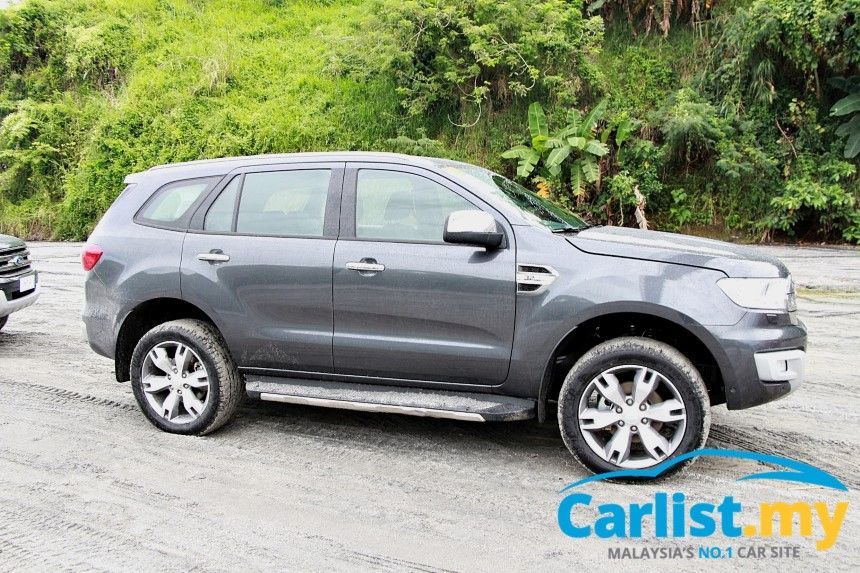 Yes, the Everest is based on the Ranger but it was significantly more comfortable and less bumpy than the pickup truck throughout our stint near Mount Pinatubo, thanks to the tweaked suspensions. The best part of it was that the SUVs we were in still had road tyres on.
After conquering the Lahar-clad path, it was time for lunch, followed by the final driving exercise in the more humble Ford EcoSport. In an effort to demonstrate its agility, manoeuvrability, and practicality, we were required to drive it in the busy streets of Clark city and San Fernando, grab a box of coconuts from the market along with some souvenirs before we headed back to our hotel.
Now, even though all four Ford models we drove were SUVs, they are very different from one another. While some are typical city-dwellers, some models mean serious business. So, depending on what your needs are, Ford might just have the right SUV for you.
---
---
---
---
Comments