Frankfurt 2015: Mazda Koeru Concept Live Gallery Shows Interior Developments
Auto News We showed you the official images of the all-new beautiful Koeru Concept revealed by Mazda recently, but these live images do reveal a lot more about the car.
Literally translated to mean "exceed" or "go beyond" in Japanese, Mazda is giving viewers at the on-going 2015 Frankfurt Motor Show a chance to get up close with their latest crossover concept – a chance that reveals a lot about the company's future plans.
We know the Koeru concept is a preview of a future Mazda model: some say it could be a new crossover 'CX-4-type' model slated to fill the gap between the CX-3 and CX-5, but having the chance to see the Koeru in person for ourselves, we speculate that it could also be a CX-7 replacement, based on the sheer size of the car, and the fact that the model is long overdue for an update.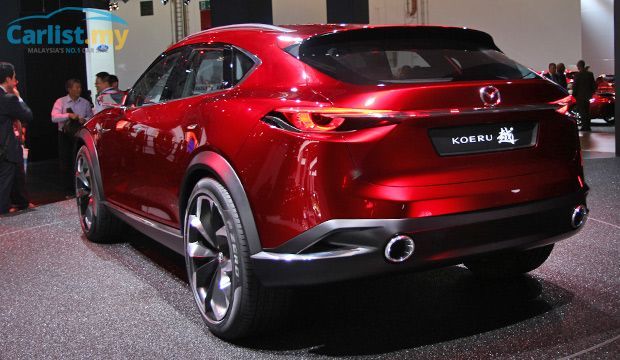 One thing's for sure, is that Mazda's production models don't stray too far from the concepts that precede them – what you see here will very likely be what the market can look forward too.
And while we've been able to take you through the exterior already via official images shared by Mazda themselves, there's little point in going over that again now.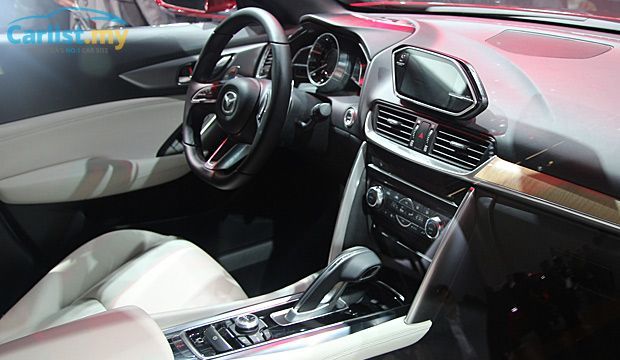 However, having the chance to get close to the car today at the Frankfurt Motor Show gave us an insightful look at possible directions for the company's future interior design ideas.
For one, the steering wheel is still a three-spoke affair, featuring various control buttons on the wheel itself. So too does the instrument panel largely resemble what you get from current production Mazda models, in the form of a single centred binnacle flanked by two trapezoidal information displays.
Where the biggest change can be seen is with the free-standing display screen on the dash, which is shaped unlike anything we've seen before. The screen itself is traditionally square, but the surrounds feature selector switches on it.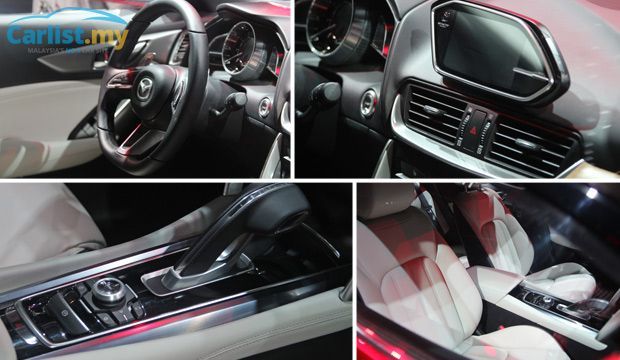 On the centre console, there's also a new gear lever designed like an aircraft's toggle of sorts. Behind this are the familiar rotary dial and buttons which controls the MZD Connect infotainment system, ahead of the electronic parking brake toggle.
There's also a very classy wood-grain inlay on the dashboard, unlike anything we've seen in a production model yet.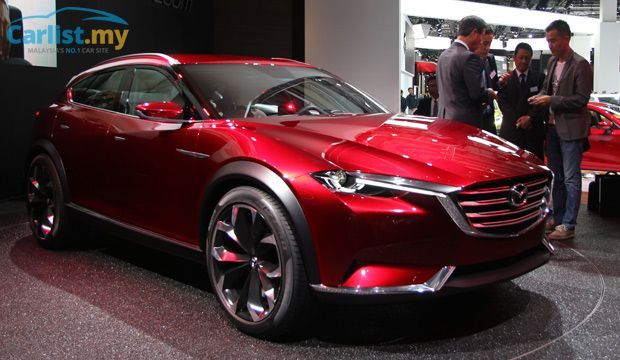 Overall, these are certainly clues as to what Mazda is busy cooking up for future customers of its coming cars, including the production model that'll come of the Koeru Concept you see here.
Yes, while a lot of the radical exterior you see here may well be toned down slightly when the production-ready model comes along, but having had a close look of this car, it's clear to see that the Koeru Concept isn't very far away from forming a full-on mass produced model.
---
---
---
---
Comments