Oldie But Goodie: Cars You Can Buy For Around RM15,000
Insights We know, we know.....now is not the time to be looking at purchasing a car.....but one can always prepare for life post-COVID-19.
With Raya and freedom coming up soon we hope, some of us will definitely be looking for a chariot to ride in and if you are the type who likes to buy a car with cash rather than bank loans, here are some to consider for around the RM15,000 budget.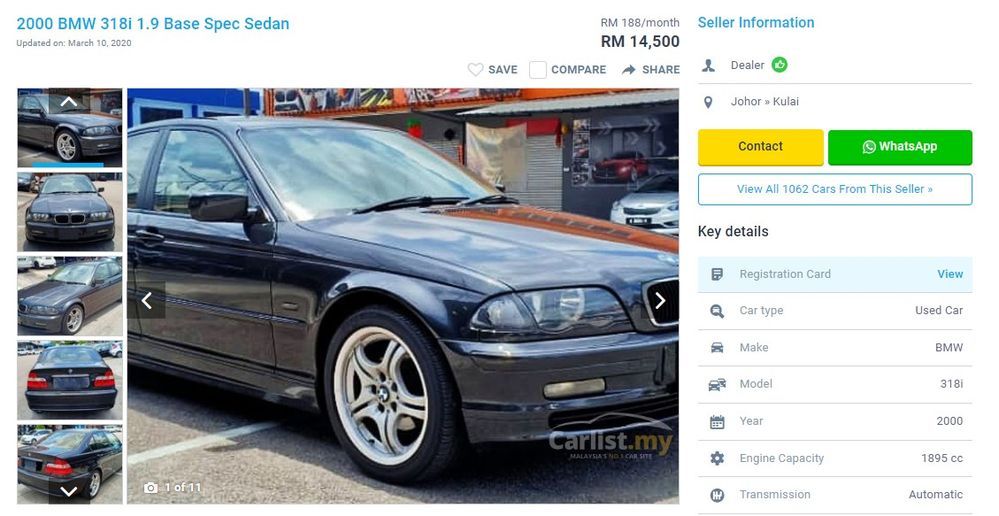 BMW E46 318i (RM14,500)
A BMW under RM15,000? Sure or not? Yes, this is possible and since this one comes with the tried and proven M series engine, it can be reliable. The ones with the N series engine (2001 models and up) are the ones to avoid. Many think that BMW maintenance costs a bomb, but the actual fact is, it is comparable to some Japanese brands. Although the 1.9-litre engine is not the most powerful, the car is still a smooth highway cruiser and can really move around the B-roads if worked. Plus, we think the looks haven't aged that bad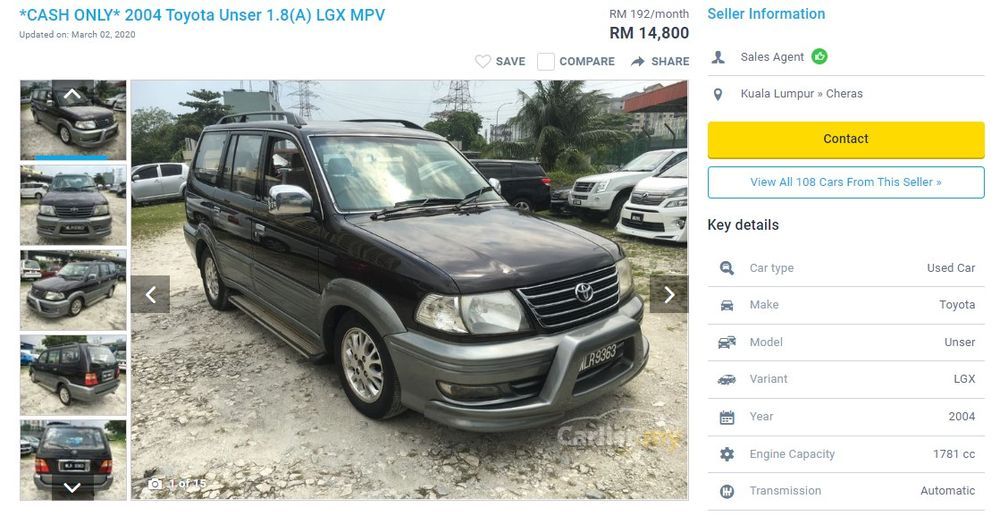 Toyota Unser (RM14,800)
The hard bit to get past with the Unser is its looks, but with the bodykit that this vehicle is equipped with, the car doesn't look half that bad. It even kind of looks like its bigger brother the Prado. Nevertheless, if you're looking for a reliable big family mover, this is the vehicle for you. With the famous Toyota reliability powering this MPV, this is a no brainer for those looking for a car that can ferry people and things around.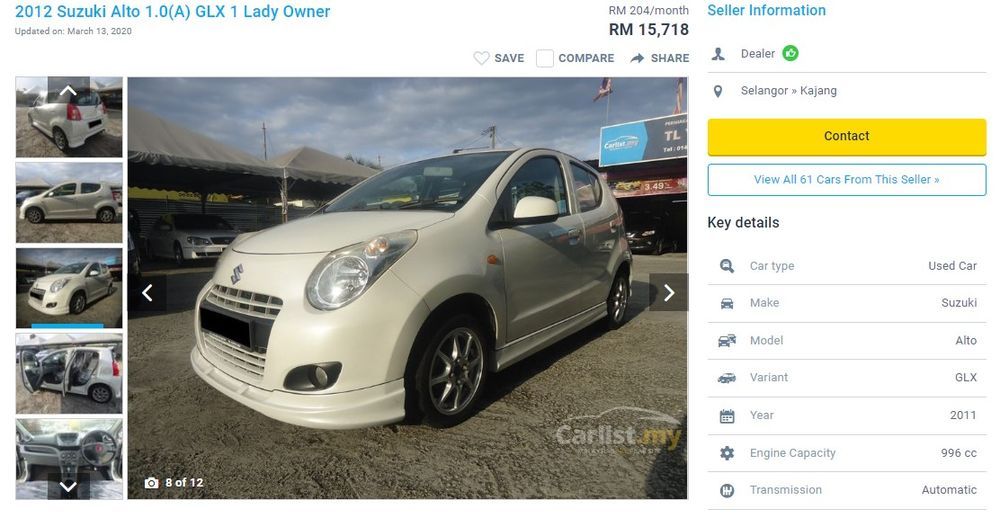 Suzuki Alto (RM15,718)
If you want to be different, go for the Suzuki Alto. Yes, a Perodua Axia will be cheaper to maintain and own, but there is always a price for being a hipster. Saying that however, the Alto is not a bad car. It has Suzuki's good reliability underpinnings and Suzuki's funky design as a shell. This one, in particular, has the sporty-looking body kit going for it so it doesn't look too wimpy. This particular example on Carlist also looks pristine so a win all around.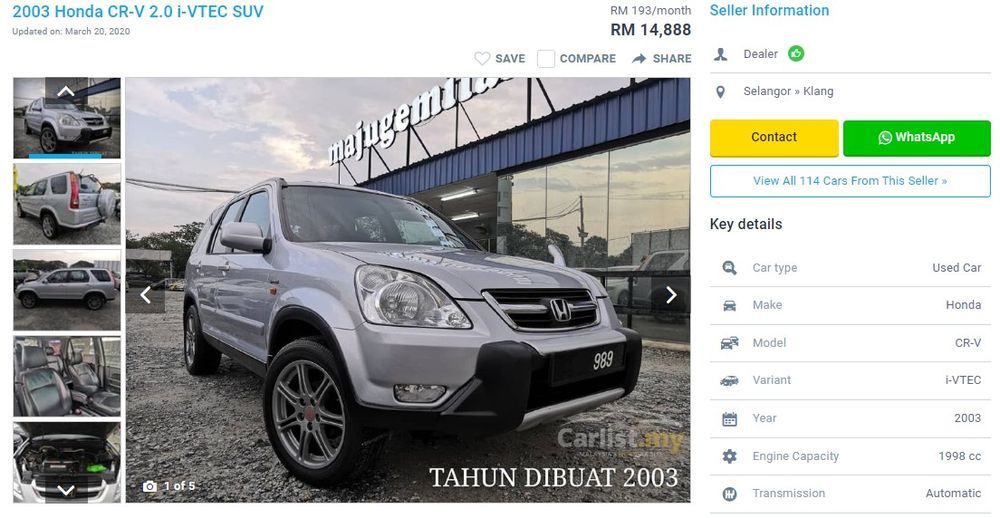 Honda CR-V 2nd Gen (RM14,888)
Oh the Honda CR-V, the compact SUV that most people owned when they first decided they wanted a reliable, stylish and utilitarian SUV. At under RM15k you can now experience the CR-V magic without needing a bank loan. Although you can get the 1st gen for nearly 10k, we recommend going for the 2nd gen as it received a new chassis with increased torsional and bending rigidity and double wishbone rear suspenison. What this means is that it is a better handling car compared to the 1st gen, so touring around Malaysia will be sweet and pleasant. Due to the intelligent i-VTEC, it has excellent fuel economy and with nearly 200Nm of torque, it can pretty much propel you fast anywhere. The 2nd Gen CRV was also named Car and Driver's best SUV for 2002 and 2003.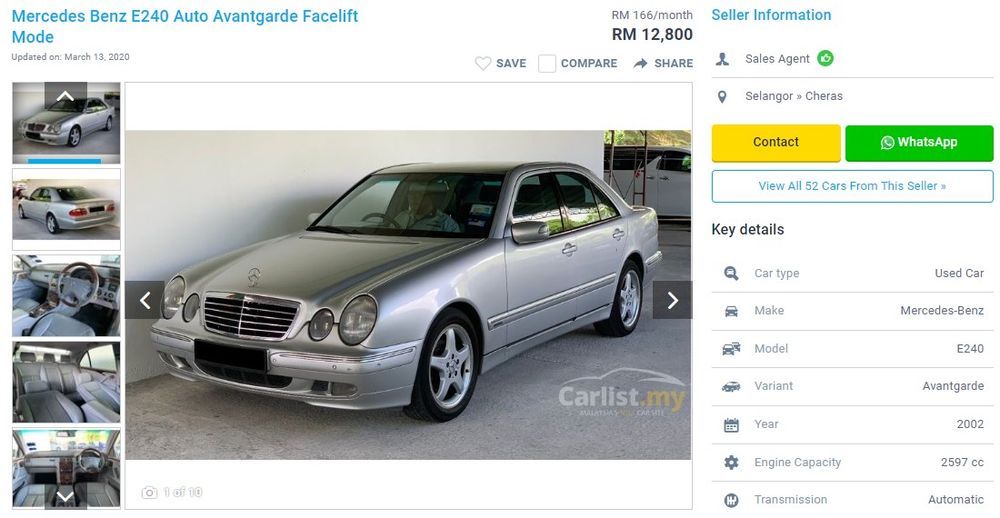 Mercedes Benz E240 W210 (RM12,800)
For those who are feeling a little brave, there's always the creme de la creme. Although the looks of the W210 is a bit marmite, we still think the car looks the boss on the road. According to forumers, the main problems for the E240 W210 model are; Electronic Ignition Switch (where your keys are inserted to start the car), Console Cluster Pixels (pixelated gear display), Cloudy headlights (can polish one), Brake Light Switch (cheap to replace), Brake lights (half cut got what), Faulty Duo valve (since we dont use the heater, it might not be a problem, fingers crossed). All the problems are not that bad really, especially when you consider you can travel in luxury and comfort for such a small price.
---
---
---
---
Comments