Honda City vs Proton X50 vs Perodua Ativa vs Toyota Vios
Insights Malaysians are really spoilt for choice these days when it comes to purchasing a value-for-money vehicle. Prices, quality, and technology are all starting to be equivalent between national and non-national vehicles under the RM85,000 bracket.
---
The rise, refinement, and affordability of local SUVs have also given buyers another avenue when looking for good quality and affordable vehicles, so much so that even traditional non-national sedan fans are cross-shopping and peeking into the specs of these locally produced SUVs and considering them as a viable option.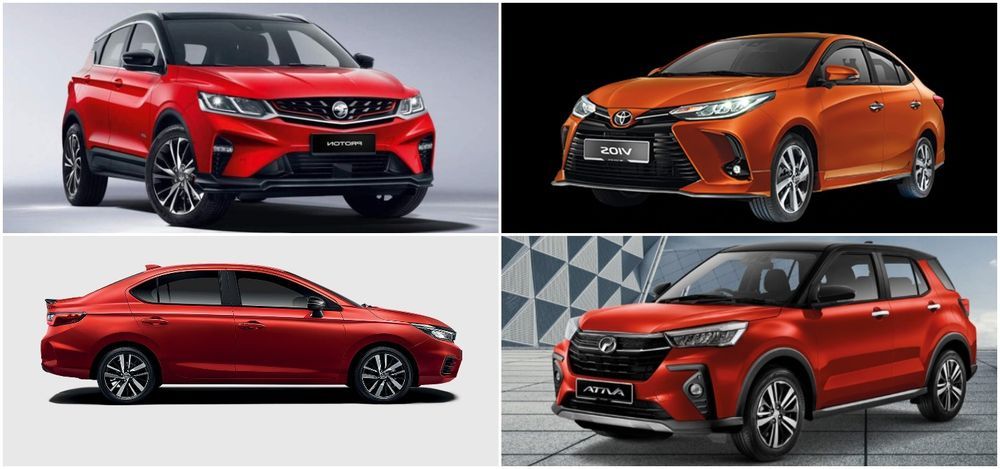 From our observations on social media, car buyers are starting to shortlist the Perodua Ativa, Proton X50, Honda City, and Toyota Vios as perennial choices for a new car. What was once deemed an unconventional bunch is now becoming a prevalent group as buyers are looking for the most value in vehicles around the RM85k mark. At this price point, buyers will not have to pick the base spec for any of the cars but stating the obvious, the Perodua Ativa will surely save you the most money as the top of the range 2021 Perodua Ativa is only priced at RM72k.
To help with this conundrum, we thought we would list down some of the key specifications of these cars in the hope that it'll make it easier for buyers to cross-shop:


Performance
| | |
| --- | --- |
| Model | Hp/Nm |
| Proton X50 1.5T Executive | 148/226 |
| Perodua Ativa AV | 97/150 |
| Honda City 1.5 LE | 119/145 |
| Toyota Vios 1.5 E (AT) | 106/140 |
There's just no two ways about it, the Proton X50 is the most powerful out of the bunch. Considering that the Perodua Ativa only has a 1.0-litre turbocharged engine, it has quite an impressive performance figure from such a small engine. Around town, the Perodua will probably feel more sprightly than the Honda City and the Toyota Vios due to the nature of its low-down torque availability.
But as an all-rounder, the higher horse-powered 2020 Honda City will be better for city and highway use compared to the Ativa.


Fuel Economy
| Model | Claimed Fuel Consumption (km/l) |
| --- | --- |
| Proton X50 1.5T Executive | 15.6 km/l |
| Perodua Ativa AV | 18.9 km/l |
| Honda City 1.5 LE | 18.5 km/l |
| Toyota Vios 1.5 E (AT) | N/A |
We should all take claimed fuel consumption figures with a pinch of salt because fuel economy depends on the way you drive the vehicle. But saying that, a claimed fuel consumption figure is a good indicator of what is achievable and according to our findings it does seem that the Perodua Ativa is the best at this game. It's no surprise really because it has a small engine, but what is surprising is how close the Honda City's figures are to the Ativa's.
We've searched high and low for the Vios' claimed fuel consumption figure, but so far we can't find any, but according to tests carried out by the media, they generally sit somewhere near the 16-17km/l mark.


Dimensions
| Model | Dimensions (Length/Width in mm) | Boot space (litres) |
| --- | --- | --- |
| Proton X50 1.5 T Executive | 4,330/1,800 | 330 |
| Perodua Ativa AV | 4,065/1,710 | 369 |
| Honda City 1.5 LE | 4,553/1,748 | 519 |
| Toyota Vios 1.5 E (AT) | 4,425/1,730 | 506 |
Dimension wise, the Perodua Ativa is definitely the smallest out of the lot, whereas the rest of the pack have comparable dimensions. Due to Honda's track record of being able to make a lot of space from a small cabin, the Honda City will feel like the most spacious car out of the bunch.
What's shocking is the small boot space of the Proton X50 especially when a smaller car like the Ativa can provide more. Since the Honda City is the longest out of the four, it's also no surprise that they have the biggest boot space.


Safety
| | | | |
| --- | --- | --- | --- |
| Model | Airbag | Active safety | ASEAN NCAP RATING |
| Proton X50 1.5 T Executive | 4 | ABS, ESC | 5 STAR |
| Perodua Ativa AV | 6 | ABS, ESC | 5 STAR |
| Honda City 1.5 LE | 4 | ABS, ESC | 5 STAR |
| Toyota Vios 1.5 E (AT) | 7 | ABS, ESC | 5 STAR |
As far as active safety goes, all of the cars have at least Anti Lock Braking System and Electronic Stability Control. Just as we thought that the Ativa's airbag count is impressive coming in with six airbags, the 2021 Toyota Vios trumps it by having seven.
However, there's just no way to take the limelight out of the Ativa AV as it comes with a host of advanced safety tech (ASA 3.0) including pre-collision warning (PCW), pre-collision braking (AEB), front departure alert (FDA), and pedal misoperation control (PMC). To add to its already impressive list of safety features, the Ativa AV also has Level 2 autonomous features.
To get these in the Proton X50 and Honda City you would need to buy the highest spec models (2020 Proton X50 1.5 TGDi Flagship & 2021 Honda City 1.5L RS e:HEV) but the Toyota Vios E variant does come with some impressive safety features including pre-collision warnings systems, lane departure alert, and blind-spot monitoring.


Price and value
| | |
| --- | --- |
| Model | Price |
| Proton X50 1.5T Executive | RM84,800 |
| Perodua Ativa AV | RM72,000 |
| Honda City 1.5 L E | RM81,664 |
| Toyota Vios 1.5 E (AT) | RM82,593 |
At the end of the day, all four cars are fine machines. They all have a certain level of refinement and comfort that everybody can appreciate. To say one is better than the other would be an injustice because it all depends on what your needs are in a car.
If you love power, go for the Proton, if you need space, go for the Honda, If you want better than average safety features go for the Toyota and if budget trumps size then go for the Ativa. All four vehicles can potentially make a buyer happy but if value is of the highest priority and space is of no concern, then there's no denying that the cheaper Perodua Ativa is the best.
Personally, my heart says go for the Proton as I'm not a small-sized sedan fan and I'm a horsepower freak, but my head tells me that the Ativa is probably the best value for money choice that will keep my home accountant happy. Even then, I would go for the mid-spec Ativa (Ativa H) as I can't really see myself using the ASA 3.0 advanced features.
What about you?
For more latest car news, reviews, car buying guides and videos visit us at Carlist.my Auto News.
Check out all the best new & used car deals in Malaysia at Carlist.my.
Sell your car fast with the best offer? Visit us at CarlistBid.my.
---
---
---
---
Comments