Honda Malaysia Will Be Having 32-Point Car Inspections in KK and Kuching
Auto News From the 26th of May to the 28th of May, Honda Malaysia will be setting up 32-point inspection events in Kota Kinabalu and Kuching in conjunction with Hari Gawai and Pesta Kaamatan. The event is open to any car from any brand in order for drivers to get their cars checked and ensured that they are safe for travelling long distance. The process will take 10 to 15 minutes and is completely free.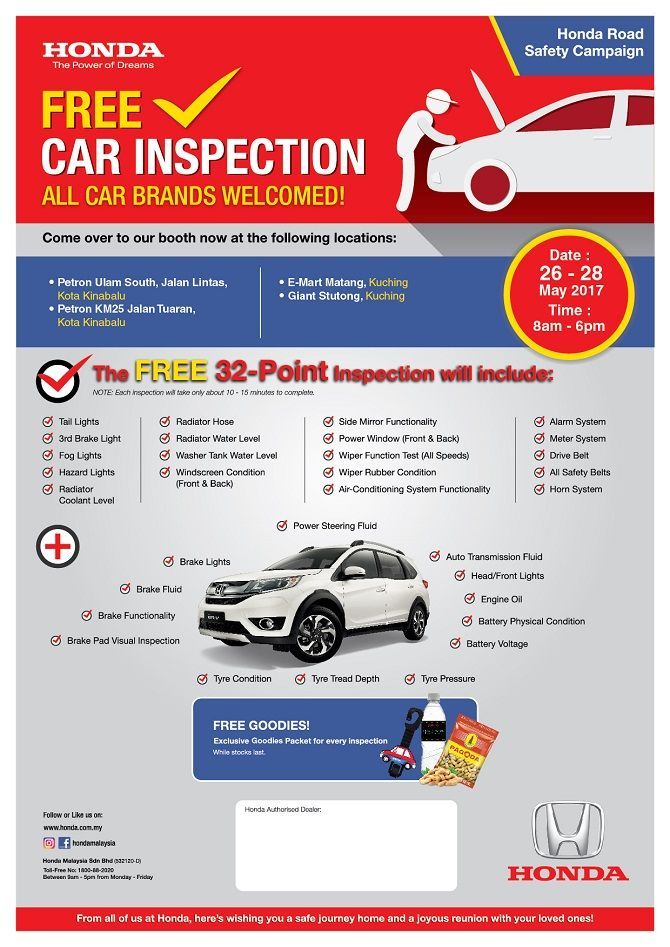 In just 10-15 minutes, the trained technicians from Honda give each car a thorough once over – scrutinising the following components of your car:
Tyre condition, pressure and tread depth
Engine oil level
Transmission oil level
Brake oil level
Power steering oil level
Brake function inspection
Battery condition and voltage
Front and rear lighting systems
Radiator hoses, water and coolant levels
Windscreen and wipers
Air-conditioning system function
Drive and accessory belt health check
The locations and schedules Honda's free 32-point inspection service are as follows:
26th-28th May 2017
Petron Ulam South, Jalan Lintas, Kota Kinabalu
Petron KM25 Jalan Tuaran, Kota Kinabalu
E-Mart Matang, Kuching
Giant Stutong, Kuching
All Honda 32-point free inspection booths are opened from 8 am to 6 pm.
---
---
---
Comments