Honda Sport Hybrid, Is It Expensive To Maintain?
Insights "Hybrid, you sure you want to buy a hybrid? Maintenance very high lah."
Yeah, that is the mindset that Honda Malaysia wants to eradicate with the introduction of its new hybrid lineup.
Easier said than done, however, stigma remains ingrained in the minds of many. The perceived complexity of hybrid systems have put many off potentially purchasing a hybrid, espcially when it comes to the hybrid battery.
With the introduction of the new Honda City and Jazz Hybrid, Honda Malaysia is making a corceted effort to educate the public that owning a hybrid is no different from owning a regular petrol model.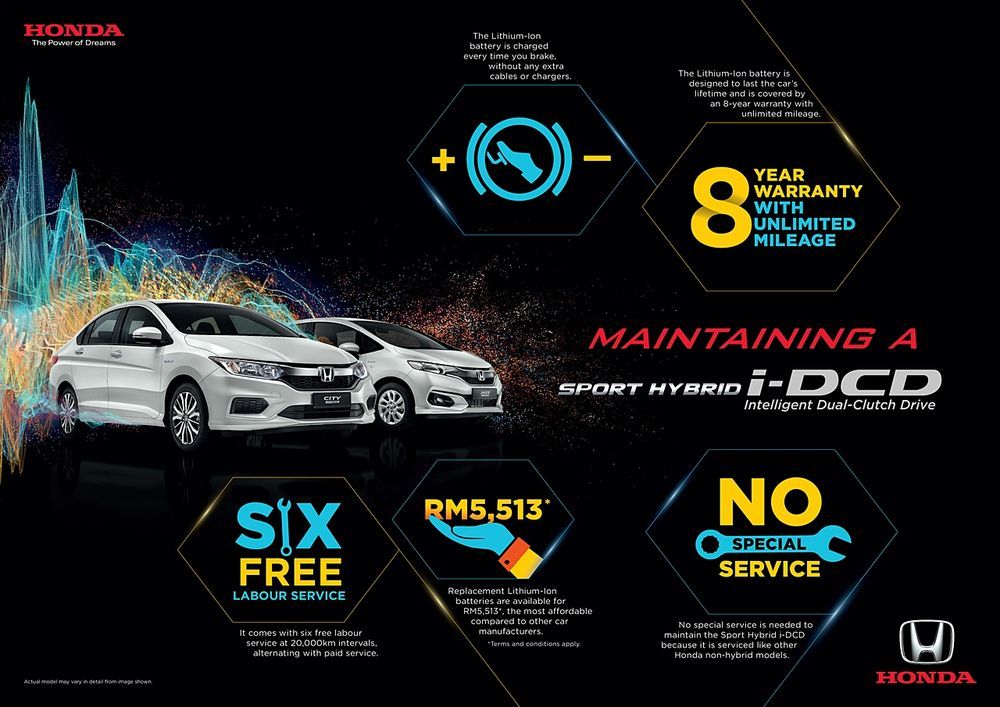 Starting with vehicle maintenance, like the regular petrol models, Honda is offering buyers of the new City and Jazz Hybrid a 10,000 km service interval with 6 free labour services at 20,000 km intervals, alternating with paid services.
A quick comparison between the hybrid and petrol variant does indicate that at certain service intervals, the hybrid variant is cheaper to service.
For example, the most expensive service for the Jazz 1.5 is priced at RM945, while the same service package for the Jazz Hybrid costs RM100 less, at RM845.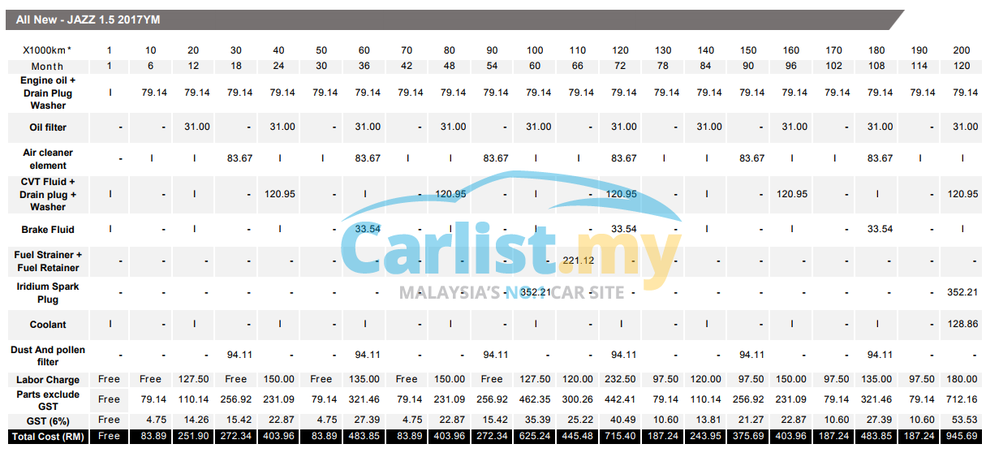 Apart from that, the petrol Honda Jazz requires its CVT fluid to be replaced at every 40,000 km interval, compared to the hybrid's 160,000 km interval. That's almost a RM500 savings right there.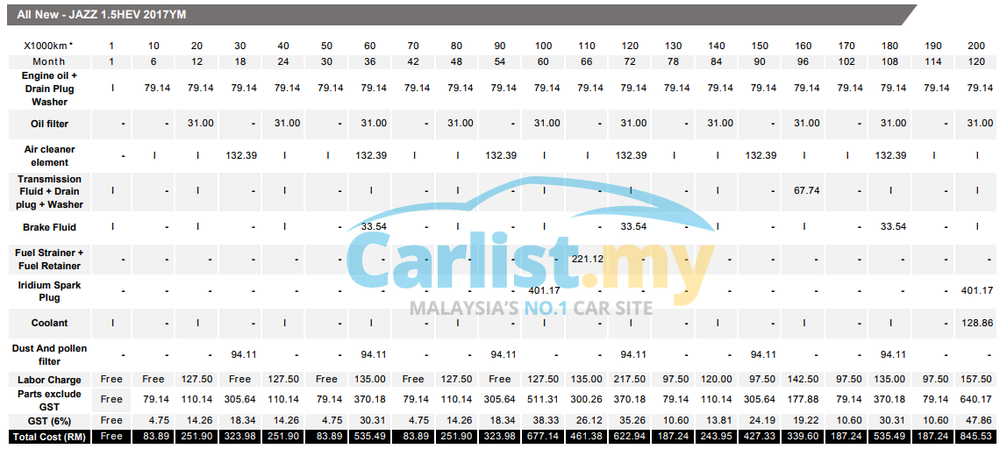 In short, the new generation hybrid models from Honda does not require special service.
What about the spare tyre, you may ask.
Well, in the case of the Honda Jazz and City Hybrid, both these models come equipped with a tyre repair kit, designed to fix one damaged tyre. The tyre repair kit can fix tyre tread punctures up to 4 mm in size in about 10 minutes.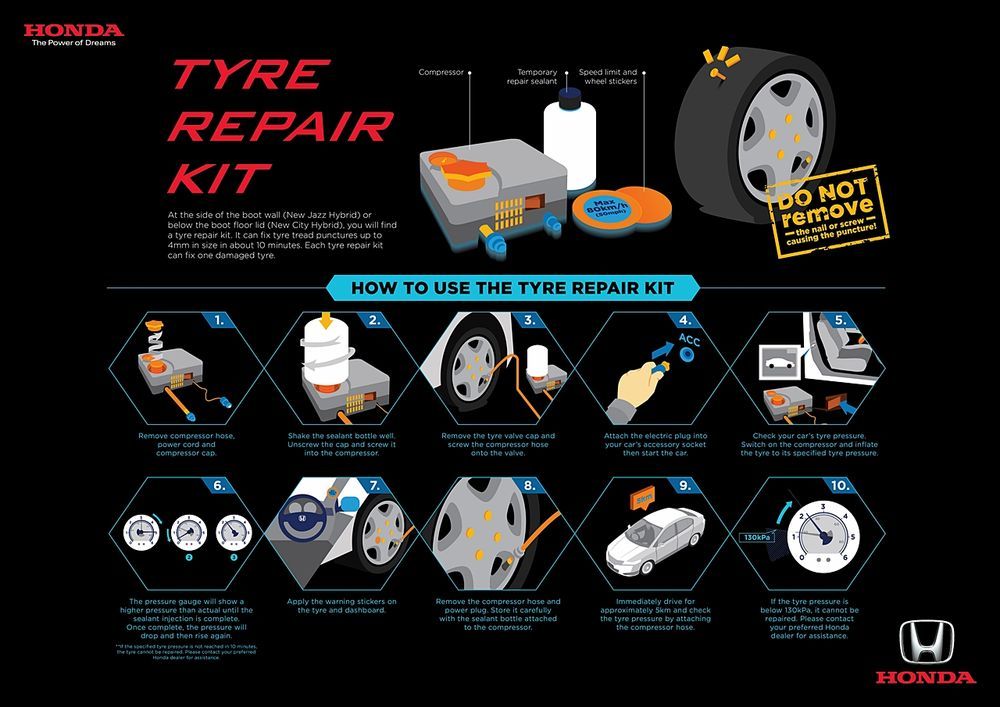 Watch the demonstration video below, showcasing how easy is it to fix the tire.
Bear in mind that the tyre repair kit can only fix one tyre. Replacement tyre repair kits can be purchased at any authorized Honda service centres for RM182.85 (after 6% GST and 15% discount).
In an event that the lithium-ion battery needs to be replaced out of the 8-year warranty window, Honda Malaysia states that the replacement battery will cost RM5,513 to replace. The Hyundai Ioniq's larger 1.56 kWh capacity hybrid battery costs RM9,800 to replace.
As for the vehicle's 12V starter battery, both Honda's hybrid models can utilize any regular battery that costs between RM180 to RM200. While the infographics provided by Honda mentioned that the high capacity starter battery in the Ioniq costs roughly RM1,000 to replace, officials from Hyundai Sime-Darby Motors clarified that high capacity auxiliary battery costs only RM436 to replace.
According to Honda, over a 5 year period, owners of the Honda City and Jazz Hybrid just need to fork out RM2,867 for regular maintenance, exclusive of tyre change or fuel costs. Honda's infographics also showed that the Hyundai Ioniq requires RM3,208 to service, though HSDM did clarify that the RM3,208 figure is inclusive of air-conditioning service. Without that, the Ioniq costs RM2,299 to service over the same 5 year period.
Seeing that hybrids offer an advantage in terms of fuel economy and driveability over its regular petrol variants without the need of any special service, we reckon that potential buyers should seriously consider Honda's hybrid offerings.
---
---
---
Comments