We Visit The World's Only Source Of Honda Hybrid Dual Clutch Transmissions
Insights Established in 1960, Honda Motor's Suzuka plant is its third oldest. Only the the Saitama plant (opened in 1950, now combined with Saitama Factory) and Hamamatsu Factory (currently known as Hamamatsu Transmission Factory) predates the Suzuka plant. Today, the Suzuka plant specializes in producing compact and mini cars like the N-Series (N-Box, N-Box+, N-Box Slash, N-WGN, N-One) and the Jazz, which is sold in Japan as the Fit.
All finished vehicles that roll out of the Suzuka plant are the domestic market. Up until last year, Suzuka-made Fits were exported to North America but that role has since been taken over by Honda's plant in Mexico.
Apart from finished cars, the plant also exports quite a number of automotive parts, to nearly 30 countries in total.
Beyond parts, the plant also exports expertise. As a 'mother plant' to several overseas plants, the Suzuka plant sets the standard for all Honda overseas plants to adopt the Global Standard Line format, including ones in USA and UK.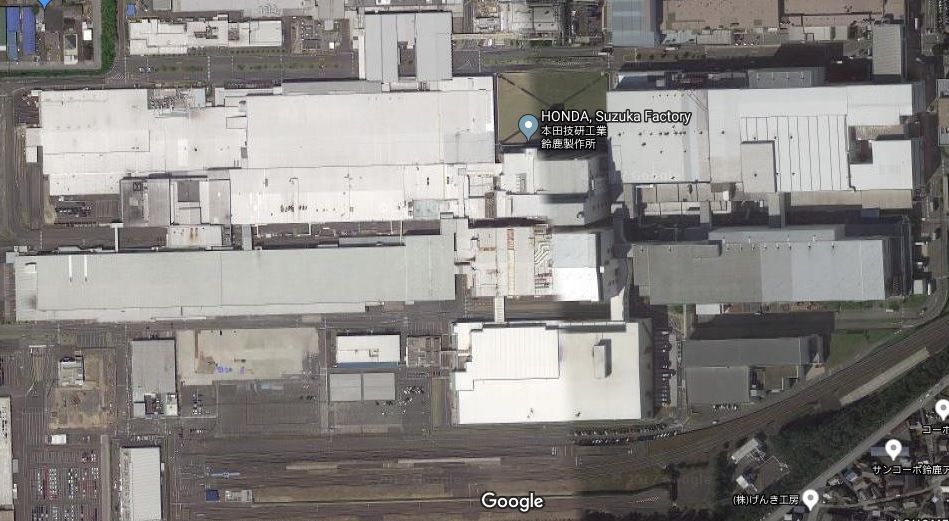 The plant is capable of full-scale end-to-end vehicle manufacturing, covering metal parts stamping, assembly of engines and transmissions. Housed within this expansive 890,000 square metre facility are over 6,500 Honda associates who put together up to 30,000 parts that constitute a car, completing one car every minute. In total, it takes about 3 hours and 20 minutes for a car to move from the most basic assembly stage to the paint shop to passing the final quality inspection gate.
In 2016, the plant produced over 600,000 vehicles – that's nearly as many cars that are sold in Malaysia annually! The main building, the car frame assembly building houses two vehicle assembly lines:
Line 1 assembles the N-Box, N-Box+, N-WGN, Fit
Line 2 assembles the N-One, N-WGN, N-Box Slash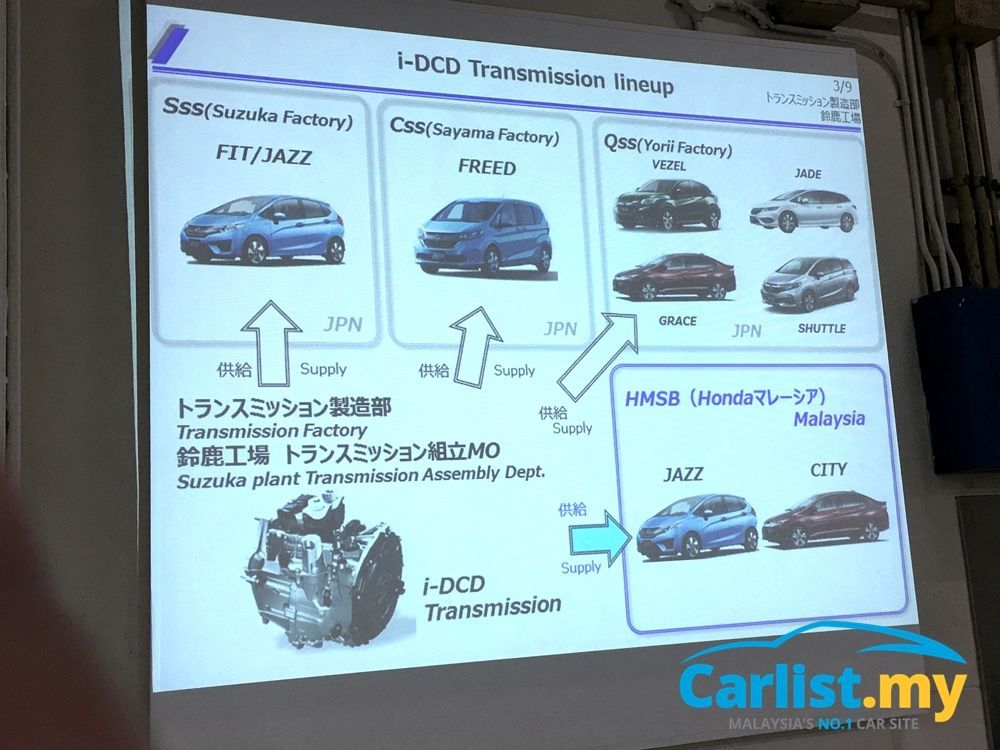 Adjacent from the main vehicle assembly building are the transmission assembly, which is the focus of today's topic. The transmission assembly building houses six production lines, assembling anything from simple manual transmissions to torque converter-type automatics, to Continuously Variable Transmissions (CVTs) and even Dual-Clutch Transmissions (DCTs) for Honda's Sport Hybrid i-DCD models.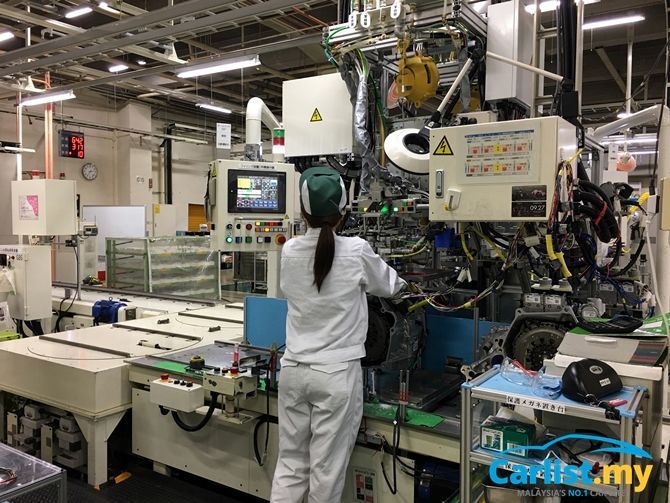 Finished DCTs are then sent to other plants within Japan - Sayama plant (Freed Hybrid) and Yorii plant (Grace aka City Hybrid, HR-V Hybrid aka Vezel, Jade, and Shuttle).
The plant also exports finished DCTs to Malaysia, the only country outside of Japan to assemble Sport Hybrid i-DCD equipped models – City Hybrid and Jazz Hybrid.
In case you are wondering, no the CVTs used in the CR-V and Civic don't come from Suzuka. Instead it's imported from Indonesia, which also supplies CVTs to Thailand.
Our visit is mostly focused on activities in Line No.3, which makes the hybrid motor that is installed within the dual-clutch transmission, and Line No.9, where all the sub-components are put together inside the transmission housing.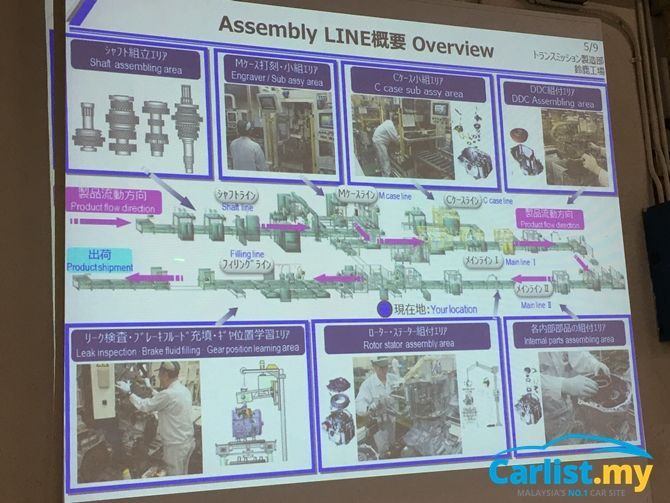 Honda is especially proud of its own in-house developed hybrid motor. Where most manufacturers will rather take the faster and easier way of purchasing a ready-made solution from a supplier and integrate it into their products, Honda recognizes that electrified powertrains are becoming increasingly important and thus, the company understands that it is extremely important for Honda to hold full-control over its development. All of Honda's electrified drivetrains, from hybrids to plug-in hybrids to hydrogen fuel cell electric drivetrains, are developed in-house by Honda.
Honda is the only company to use rare earth-free hybrid motor. All hybrid motors require a highly specialized component known as a hot deformed neodymium magnet – the strongest magnet on the planet. To make neodymium magnets suited for high-temperature applications in cars, two rare earth elements must be added - dysprosium and/or terbium.
These rare earth metals are mostly found only in China. Mining them isn't very environmentally friendly and being overly reliant on just one country for such a crucial raw material poses long term risks. Removing the need to have rare earth elements also presents significant cost savings to the customer.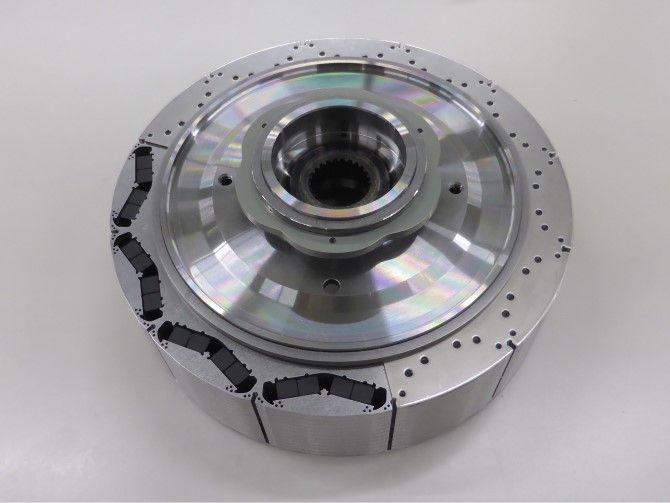 "The most convincing part of my argument at the time was mainly cost. Heavy rare earths accounted for up to 10% of the material used in hybrid motor magnets. Reducing that material represented a significant cost reduction. With demand for electric-drive vehicles such hybrids and electric vehicles on the rise, reducing costly heavy rare earths was an important strategy for meeting market needs," said the inventor of rare earth-free hybrid motor Haruhiko Shimizu, assistant chief engineer at the Automobile R&D Center of Honda R&D Co., Ltd.
"Most heavy rare earth elements are extracted from just one part of China. A disruption in the Chinese supply, for whatever reason, meant Honda could no longer produce its hybrid vehicles, electric vehicles, and fuel cell vehicles," he says. "That's equivalent to closing the doors on the future of Honda automotive manufacturing. If such an event were even remotely possible, we had better work now to cut that percentage, even by as little as 1%. That's the kind of worried thinking that preoccupied my mind," he added.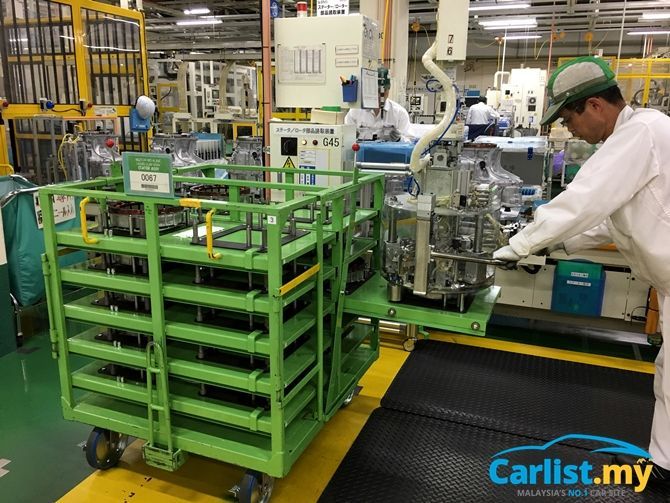 Together with Daido Steel, Honda had in 2016, commercialize the world's first rare earth-free hybrid motor, which is now used in all Honda Sport Hybrid i-DCD equipped models like the Jazz Hybrid and City Hybrid.
Being the first to do something so different on their own also meant that no supplier was able to produce the equipment necessary to manufacture such hybrid motors. However this is not a major problem for Honda, as the company has a long history of designing its own tools for its own unique plant processes anyway.
One often overlooked benefit of Honda's three-decade long experience in researching humanoid robots like the Asimo is that the company has the necessary expertise to build almost any type of robots/machine tools to be used at its manufacturing facilities.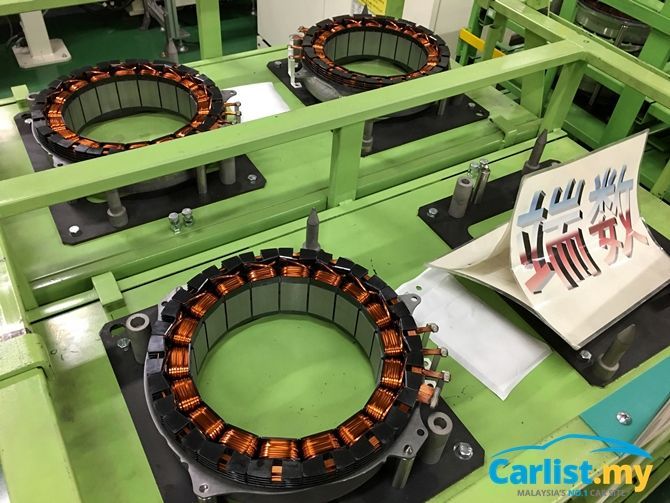 The equipments used manufacture and inspection of rare earth-free motor's stator is developed by Honda Engineeering Co. Ltd., the company's subsidiary that makes all its manufacturing tools.
Since 2003, the Suzuka plant has produced over 2 million hybrid motors, including the early generation IMA (Integrated Motor Assist), a mild-hybrid precursor to today's full-hybrid Sport Hybrid i-DCD.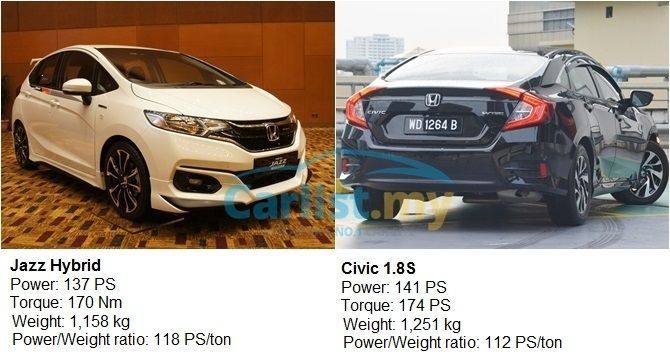 We've recently sampled the Sport Hybrid i-DCD drivetrain in the Honda Jazz Hybrid and came away impressed. It might not look the part, but the Jazz Hybrid does live up to the 'Sport' in the Sport Hybrid i-DCD very well. Its on-road dynamics and effortless performance makes us wish that we could transplant the drivetrain into the CR-Z, which had the looks but none of the go.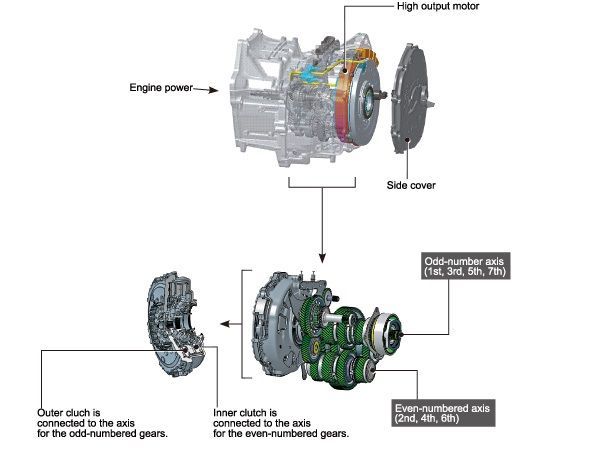 The geeks among you will be interested to know that its sophisticated inner workings is nothing like any other hybrid bar Toyota's two-motor Hybrid Synergy Drive. Unlike most hybrids, Honda's solution doesn't stop at simply adding a hybrid motor at the flywheel-end of the transmission. Instead, Honda's hybrid motor is installed at the other end of the transmission's housing. The motor is connected directly to a planetary gearset 1st gear, which in turn drives the wheels via conventional helical gear 3rd gear. The result is a full-hybrid that's fun to drive, fuel-efficient and works well in urban traffic.
More at:
---
---
---
---
Comments