July 2016 New Vehicle Sales – Someone Left The Handbrakes On
Auto News After the 28 percent month-on-month increase in new vehicle sales recorded in June, July saw sales tumbling down by 26 percent, negating much of the gains earned in June.
Data from the Malaysian Automotive Association (MAA) revealed that total new vehicles sold in the first seven months of 2016 stands at 317,890 units, which is 16.5 percent lower than the same seven-month period last year.
Compounding the slow market is the short working month in July due to Hari Raya.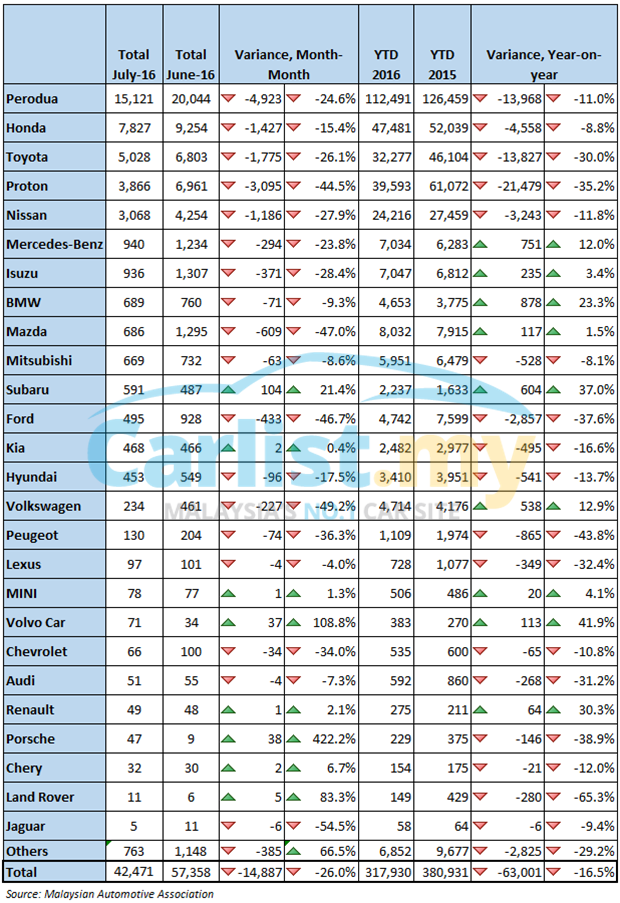 Highlights for July 2016:
Mercedes-Benz Malaysia continues its winning streak by overtaking Mazda. Not only is Mercedes-Benz now the top-selling European marque, overtaking not just BMW but also Ford and Volkswagen, the three-pointed star is now the fourth best-selling non-national brand, ranked just behind Nissan.
Archrival BMW might be ranked behind Mercedes-Benz but the white-blue roundel which is celebrating its 100th anniversary is actually doing a lot better than last year. Year-to-date numbers for BMW show a 23 percent increase in sales, no doubt thanks to the reduction in prices for its EEV-compliant locally-assembled models.
BMW is expected to pull better numbers in the coming months with its recently launched 330e, which at RM249k, is the cheapest plug-in hybrid on sale in the country. That is assuming that the company can ensure sufficient supply of the 330e to meet the demand.
Toyota reclaimed its third place position from Proton, but not necessarily due to its own efforts as Proton's sales tumbled 45 percent while Toyota ceded 26 percent, nearly twice as much as second-placed Honda.
The phasing in of the all-new Proton Persona, and the upcoming all-new Proton Saga also probably played a role in the sharp drop experienced by Proton.
Mazda also experienced a sharp drop of almost 50 percent, but this is due to upgrading works at the Mazda Malaysia assembly plant in Kulim. Deliveries of locally-assembled Mazda CX-5 and Mazda 3 models in July were sharply reduced following a five-week plant shutdown in June to upgrade its existing paint shop. We expect Mazda's numbers to return back to normal in the following month.
While the automotive market has seen better days, several brands are bucking the trend. Volvo and Subaru are posting solid double digit growths for both month-on-month and year-on-year.
Volvo's fortunes should improve further as the company continues to ramp up production of the locally-assembled XC90 T8 and the reduced prices EEV-compliant Drive-E engine powered V40 and the XC60, while Subaru's wider range of locally-assembled models, which now includes the Forester as well as the XV, is gaining solid traction on the marketplace.
---
---
---
---
Comments