Malaysia TIV 2018 Forecast – 601,000 Units, 2% Growth Vs 2017
Auto News Frost & Sullivan, a global research and consulting organization, has indicated that 2018 will be a better year for the Malaysian automotive industry.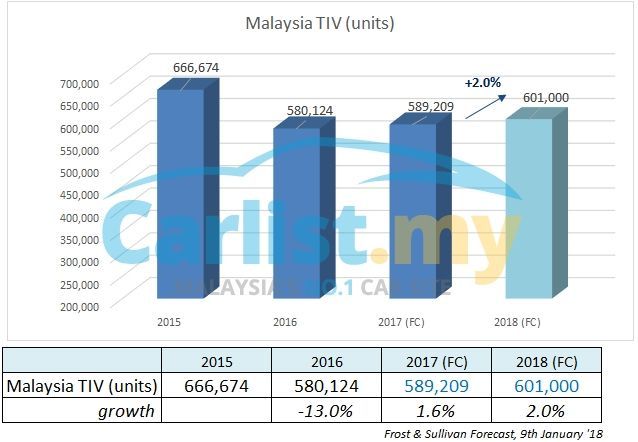 The company forecasts Malaysia's new vehicle sales in 2018 is expected to reach approximately 601,000 units, which is improvement of 2% against 2017.
Frost & Sullivan put an estimate of 589,209 units for 2017, as MAA has yet to released the December 2017 sales data.
Mr. Vivek Vaidya, Senior Vice President of Mobility at Frost & Sullivan listed a number of key drivers including strengthening Ringgit, rising consumer confidence and launch of new models.
However, high household debt and stringent loan approvals are the major obstacles in pushing the growth rate higher.
The strengthening of Ringgit should play a vital role in consumer price stabilization, as cost of parts and assemblies are expected to reduce.
Improvements in public transport as well as growth in alternative mobility solutions e.g. ride hailing apps will impact the automotive market in the long term but unlikely to have any significant impact in 2018.
With Bank Negara's continued efforts to improve the quality of loans, low income families and young buyers plus SMEs could have difficulties in securing loans.
Mr. Vivek's team also expects an update or revision to the National Automotive Policy (NAP) which was first implemented in 2014, to have more focus on "Green vehicles" and advanced manufacturing to align with global requirements.
---
---
---
---
Comments